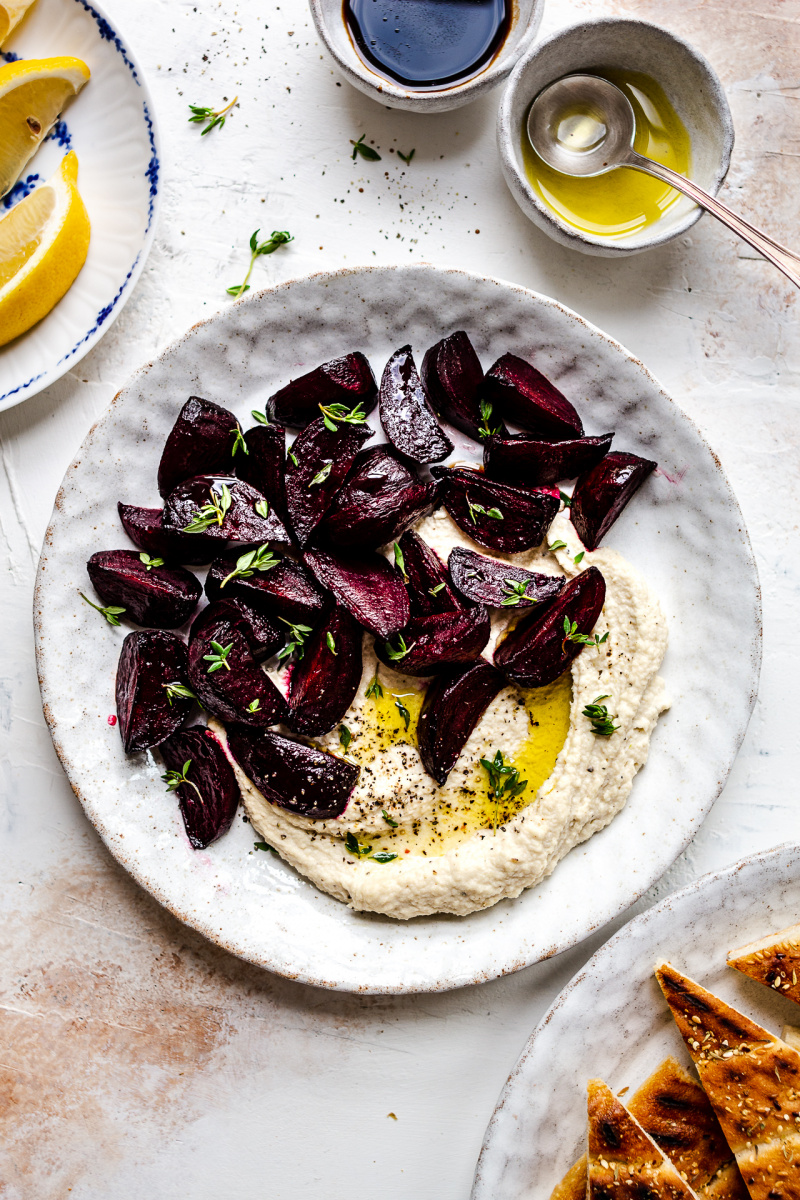 Happy beetroot season everyone and if you are a beetroot fan, I have a treat for you today. Not a sweet one (although it does make luscious chocolate cake – see this recipe), but a treat all the same. This recipe is inspired by a traditional mezze dish from my 2 second adopted country of Greece, which after having lived there for 4 years, we tend to visit around this time of the year every year. Unfortunately, this year, due to the pandemic induced uncertainty, we have not been brave enough to book any flights yet and we miss that trip (and general travelling) a lot.
We are going up to the Lake District this weekend, to visit my friend and while we are looking forward to it immensely, it's quite a different experience. Anyway, I miss Greece, I miss mezze by the sea and therefore I figured it's time that I revisit this old recipe of mine and do it more justice this time round. παντζάρια με σκορδαλιά (pantzária me skordaliá) or beetroot with garlic sauce is one of those dishes we always used to order in our favourite taverna on Paros and it always delivered. Dolmadakia was another firm favourite. Skórdo (σκόρδο) simply means garlic in Greek and this dish is so simple yet so divine, it's become my favourite way to consume beets now.
For the purists amongst you, let me point out that my version is an adaptation of the original. While many Greek tavernas use raw garlic cloves to make this dish, I find that (especially if you don't have the time to make this dish in advance) it tends to render the dip a little harsh for some palates. My solution is to use oven roasted garlic cloves, which are much mellower and a couple of raw cloves immersed in lemon juice for a bit to take that harshness out. If you are like "give me all the garlic you've got, I live in constant fear of stumbling upon a bunch of hungry vampires on my way back from work", please feel free to adjust this recipe to your preference. Finally, if you are allergic to nuts, feel free to use cooked starchy potatoes (and some olive oil) or stale sourdough bread soaked in soy or oat milk – that's what many Greek tavernas use too. I hope you'll enjoy this simple yet delicious way to eat beetroot as much as we do.
PS: If you do make my skordalia with roasted beetroots, don't forget to tag me on Instagram as @lazycatkitchen and use the #lazycatkitchen hashtag. I love seeing your takes on my recipes!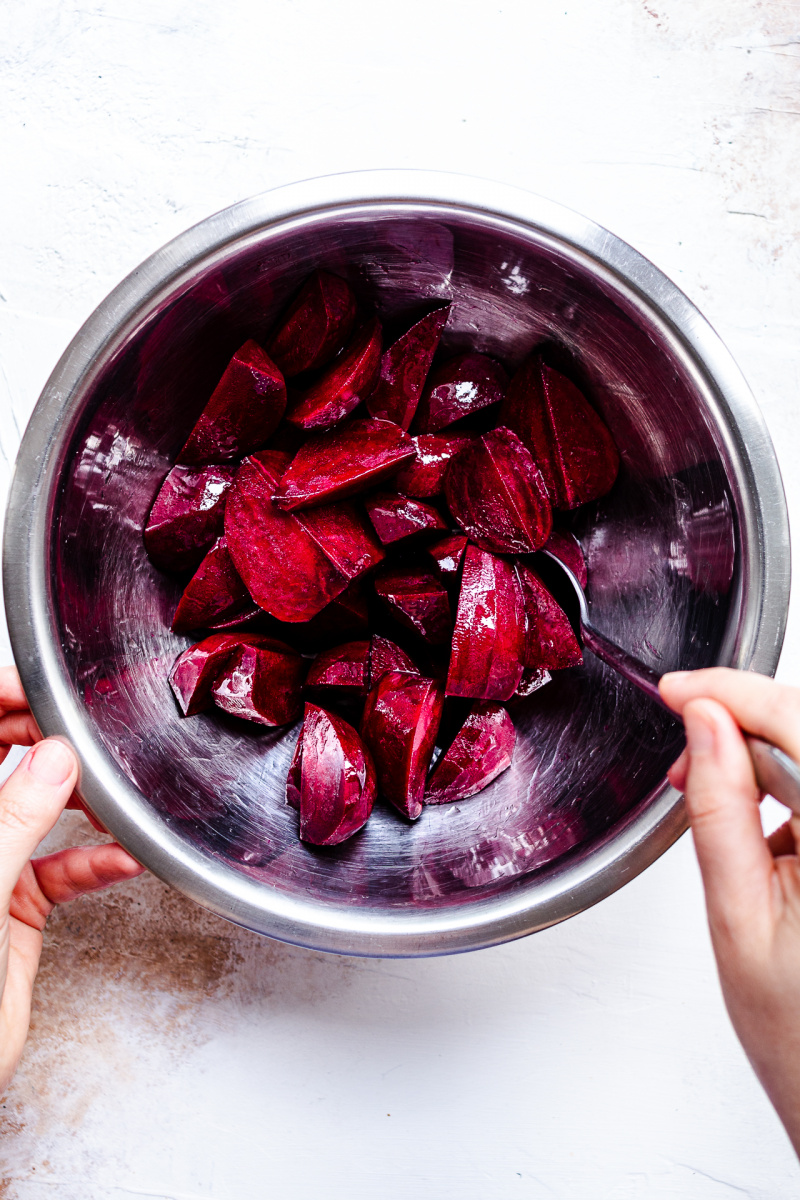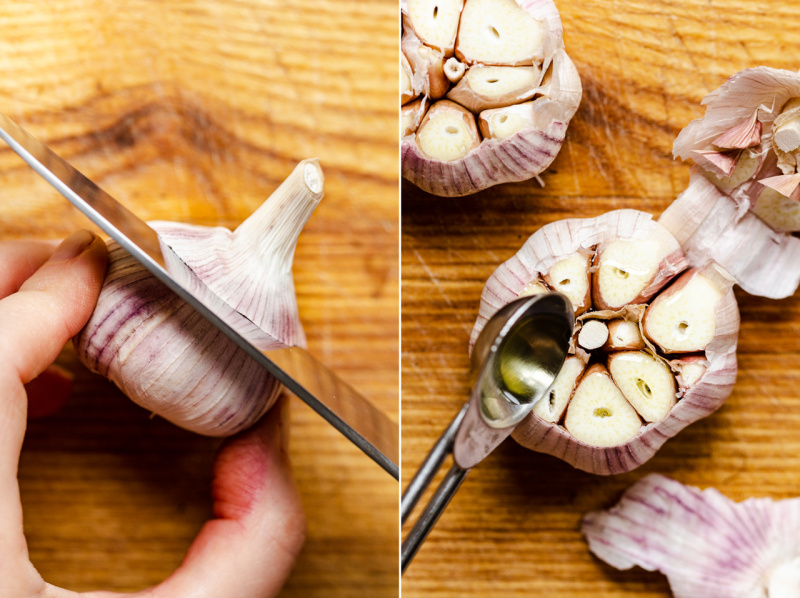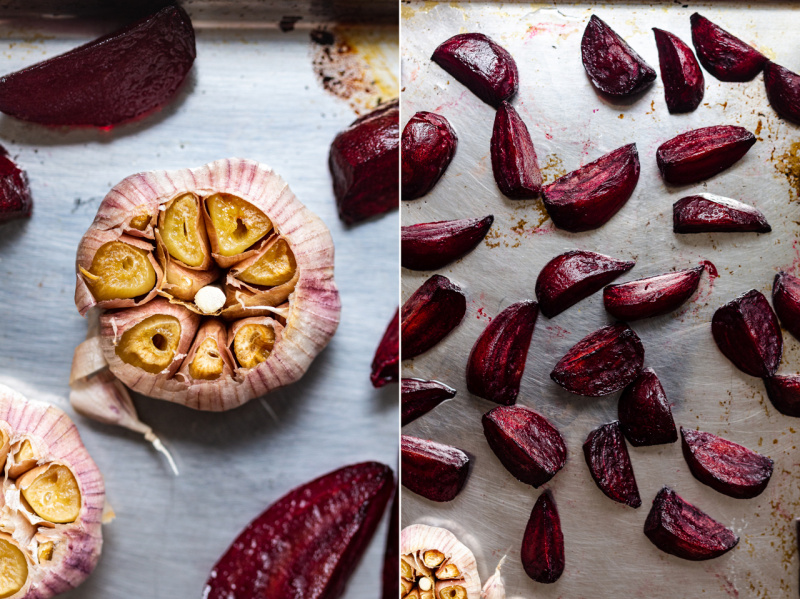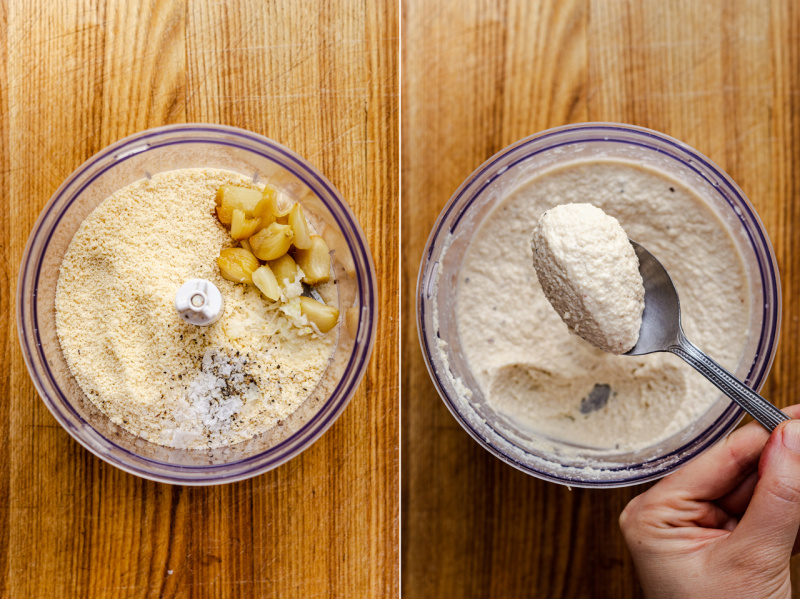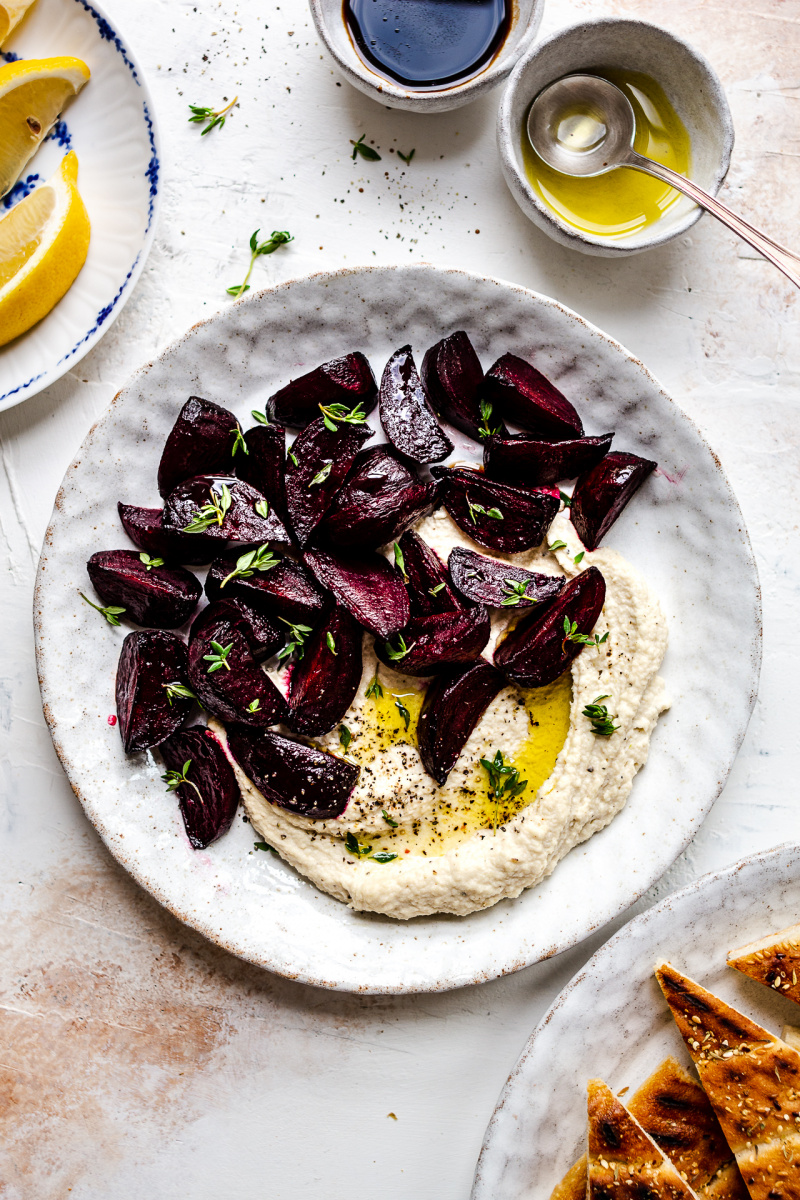 Ingredients
450 g / 1 lb raw beetroot
15 ml / 1 tbsp olive oil
15 ml / 1 tbsp quality balsamic vinegar or balsamic glaze (optional)
SKORDALIA (GREEK GARLIC SAUCE)
1 head of garlic + optionally extra 1-2 cloves*
30 ml / 2 tbsp lemon juice, adjust to taste
100 g / 1 lightly packed cup almond* flour / meal
salt and pepper, to taste
approx. 80 ml / 1/3 cup almond milk
fresh thyme leaves, to garnish (optional)
Method
Heat up the oven to 200° C / 390° F and grab a large baking tray. If you don't use oil, you can steam your beetroots whole (skin on) for about 30 minutes and peel the skins off once they are done and cut up into wedges.
Scrub and peel (you can leave the peel on if you like) all of the beetroots. Cut them into wedges, small ones 4 ways, medium ones 6 ways and really big ones 8 ways. Coat in 2 tsp of olive oil and season with salt. Arrange them on the other side of the tray. Cut the top off the garlic head, drizzle the exposed cloves with the remaining teaspoon of olive oil. Wrap in a piece of kitchen foil or baking paper so that the exposed cloves are covered or else they will burn.
Bake for about 25-30 minutes, flipping the beetroot wedges to the other side 15 minutes in. The garlic may take a little longer – it's ready when the cloves are soft all the way through.
OPTIONAL: I like to toss the beetroot in a tablespoon or so of quality balsamic vinegar 5 or so minutes prior to taking it out of the oven or drizzle on a little balsamic glaze at the end.
SKORDALIA (GARLIC SAUCE)
While the beetroots and garlic are roasting, you may want to grate the fresh garlic finely and immerse it in 1 tbsp of lemon juice to take the harshness out of it.
Once the garlic head comes out of the oven, squeeze all of the cloves into the bowl of a mini food processor or a small chopper, add almond flour, a good pinch of salt and pepper and enough almond milk to bend it into a dip consistency.
If you like an extra oomph of garlic, add some fresh garlic cloves or the cloves that mellowed in lemon juice in step 4. Season with lemon juice, more salt and pepper to taste. Serve alongside warm or room temperature beetroots.
Notes
*GARLIC: traditionally, this dip is made with quite a few raw garlic cloves but it can taste quite harsh, especially if consumed straight after being made, so I prefer to use more mellow roasted cloves and add an extra clove or two for another flavour dimension. If you love garlic, feel free to use raw cloves, otherwise you may want to stick to my roasted garlic version to begin with.
*ALMONDS: If you are allergic to nuts, this dip can be made nut-free too. In Greek tavernas, it is often made with cooked starchy potatoes or stale sourdough bread soaked in milk (soy or oat milk is perfect for that).
*OIL-FREE: for oil-free version, simply split the garlic head into cloves (do not cut the tops off) and scatter them a baking tray. They should be fully roasted in 15-20 minutes.
If you want more info on some of the ingredients that we use in our recipes, check out our
glossary
.