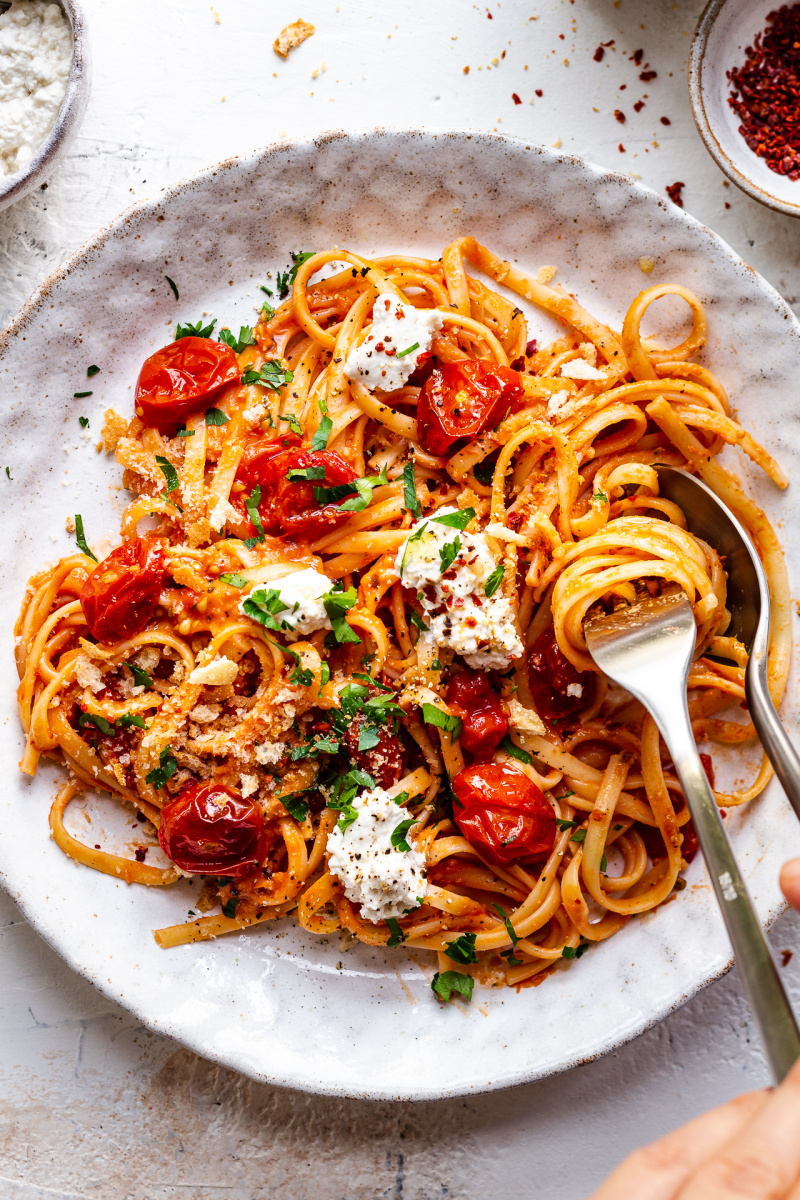 Hello everyone, hope you are well and (if you live in the Northern Hemisphere) cosy! The weather has been a bit on the chilly and rainy side lately, hasn't it? At least here, it has. I am wrapped up in a blanket and downing cup after cup of warming herbal tea as I type this. You can certainly feel a chill in the air and my body starts craving comfort food more and more often even though I am still keeping up our summer tradition of making a massive salad for lunch consisting of late summer vegetables.
Today's recipe is super quick and easy, yet deliciously indulgent. It's super cosy yet reminiscent of late summer sunshine and packed with umami. Yes, that's right, even though mushrooms, seaweed and garlic all steal the limelight when it comes to umami (depth of flavour also known as fifth taste), tomatoes are actually jam packed with it. Ripe tomatoes contain a lot of glutamic acid which is the compound colloquially referred to as umami and slow-roasting them in the oven with tons of garlic and herbs enhances it even more.
What I love about this recipe is the ease with which it comes together – no need to stand over the stove and stir the sauce for hours – and how much flavour it delivers! It is especially delicious the day after it's been made. I like to pair it up with some capers or olives and little clumps of almond ricotta, which I make (recipe coming soon) but they are totally optional extras. It's pretty special on its own too. I don't get to eat tomato based dishes too often these days as they give Duncan really bad gastric reflux so this is my little treat to myself when Duncan is off kayaking and I cannot get enough of this pasta. I hope you'll give it a go and enjoy it just as much.
PS: If you make my roasted tomato sauce pasta don't forget to tag me on Instagram as @lazycatkitchen and use the #lazycatkitchen hashtag. I love seeing your takes on my recipes!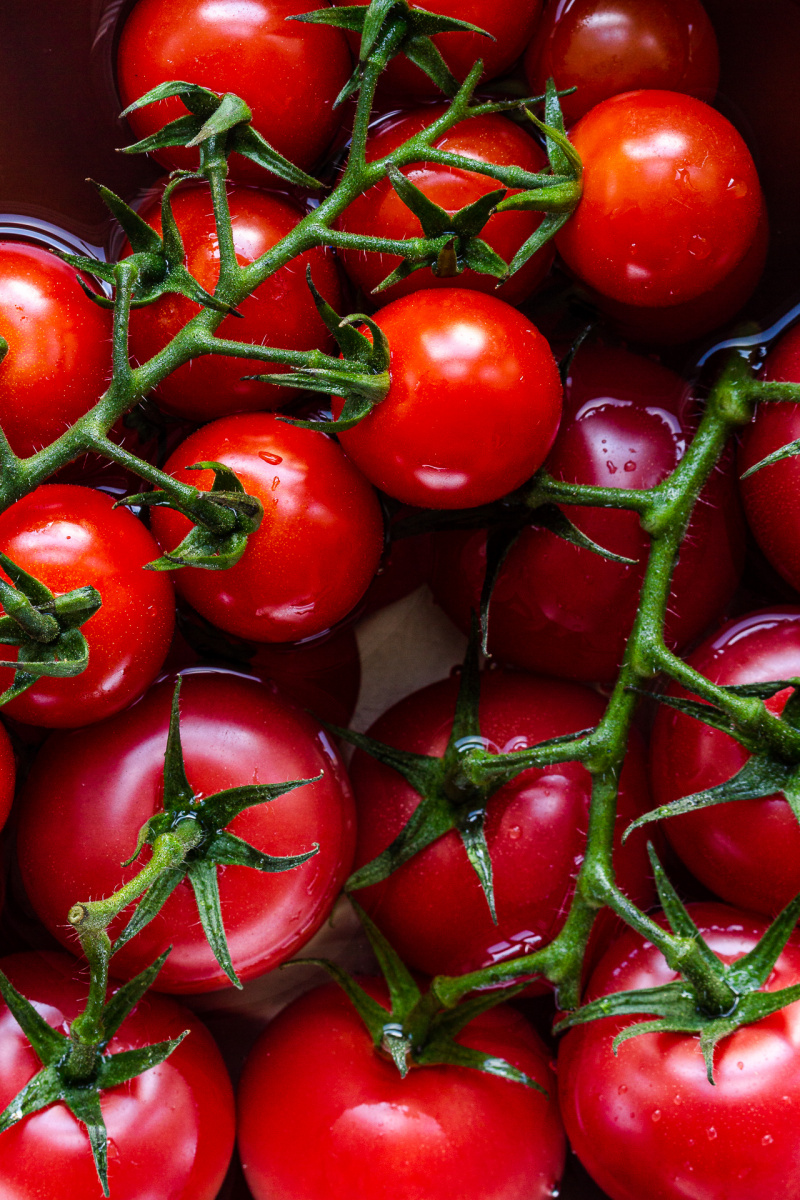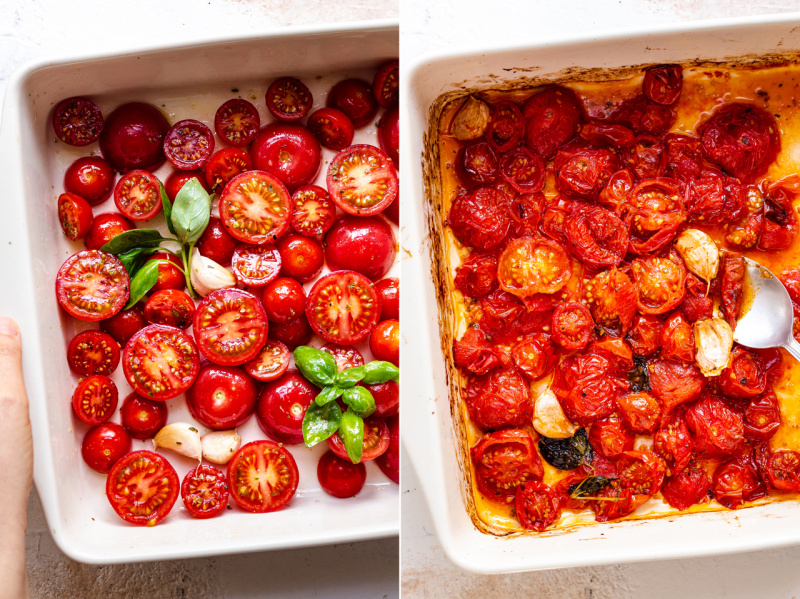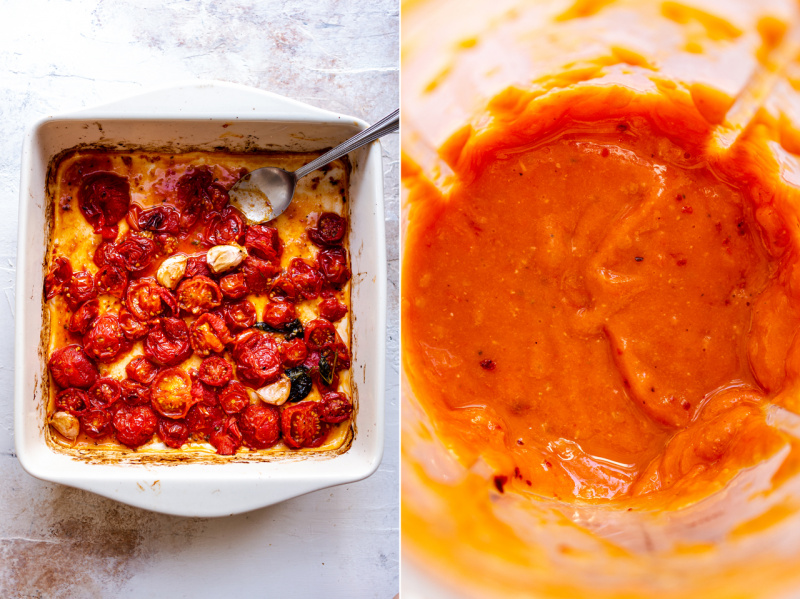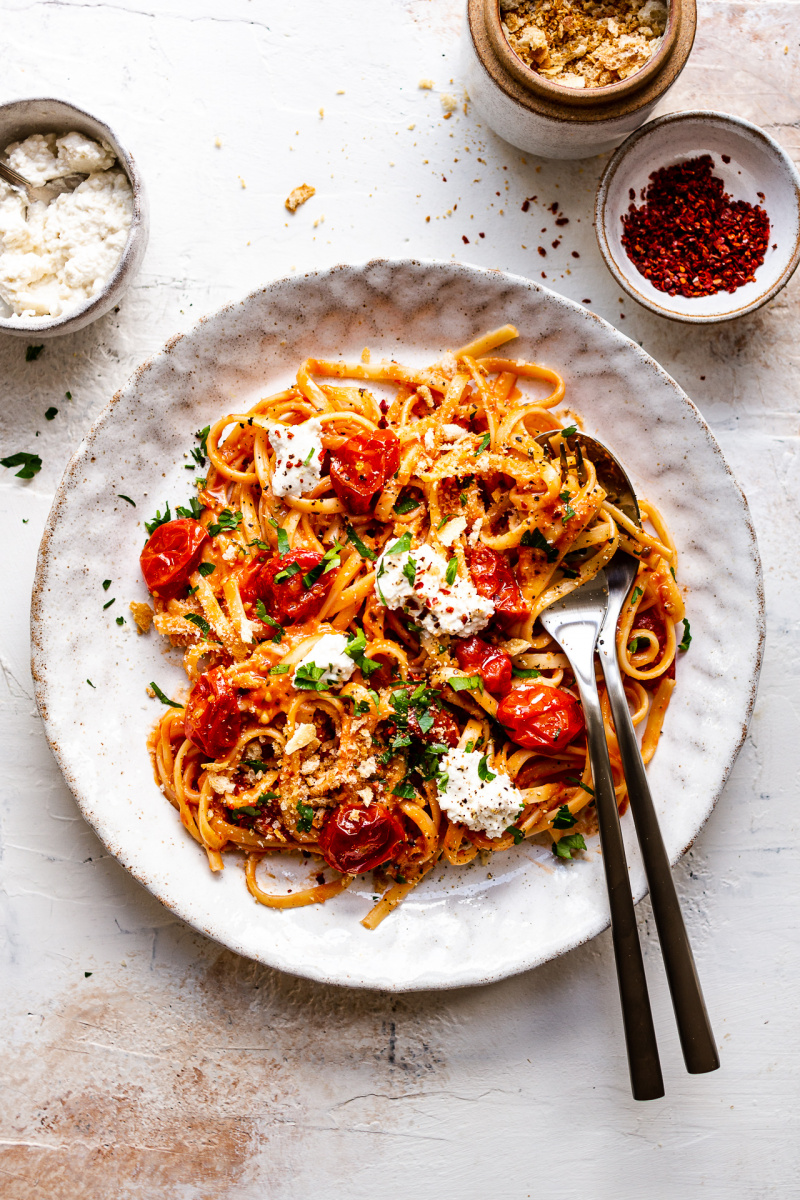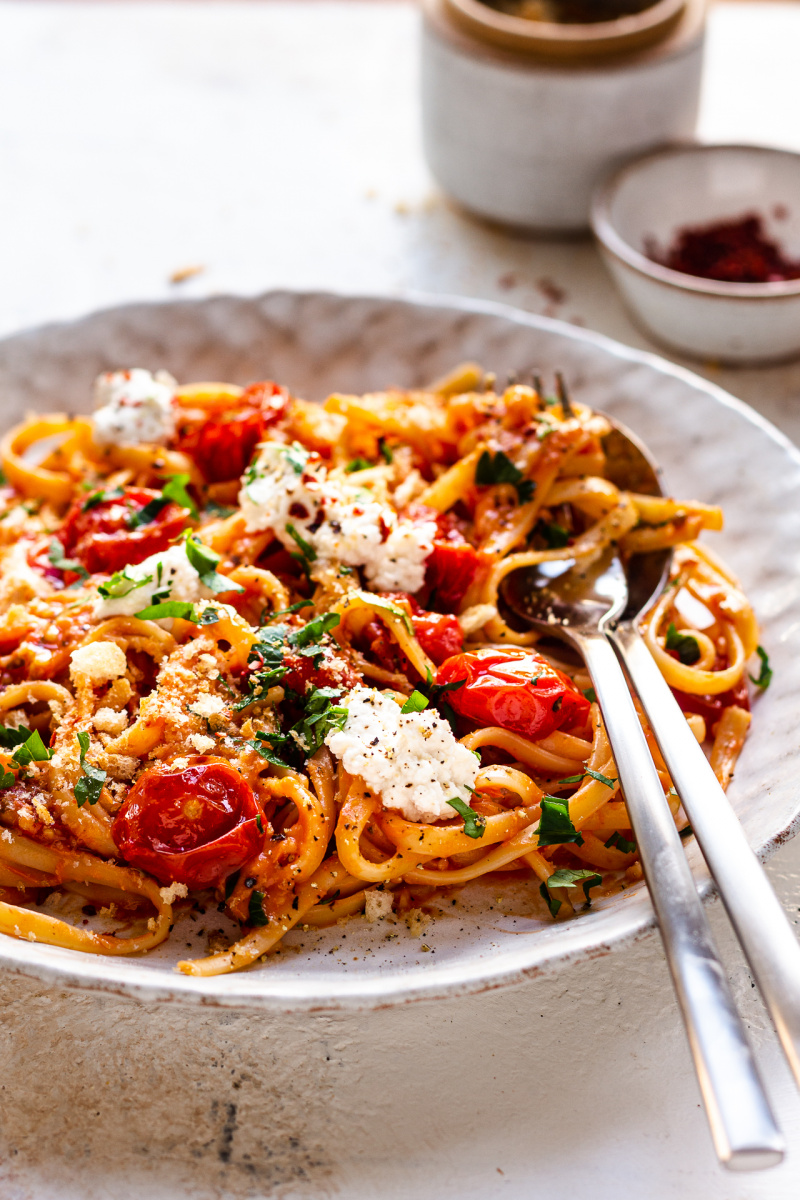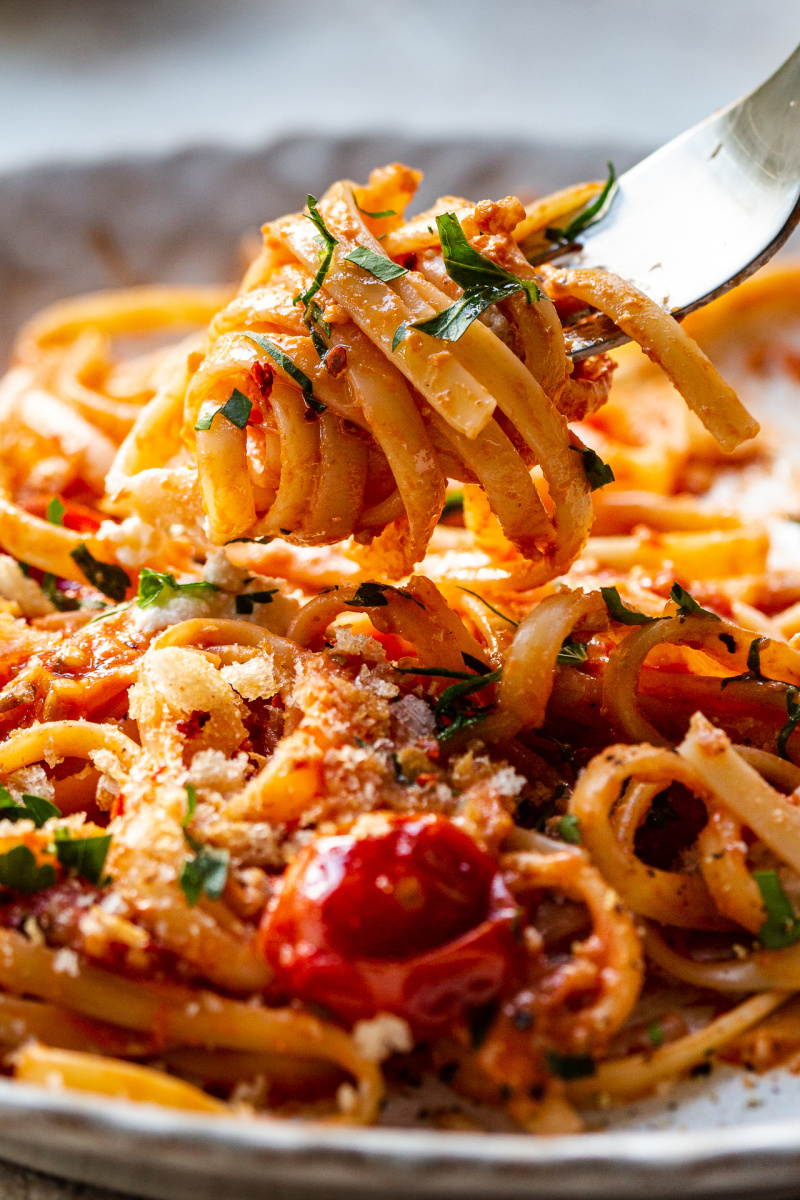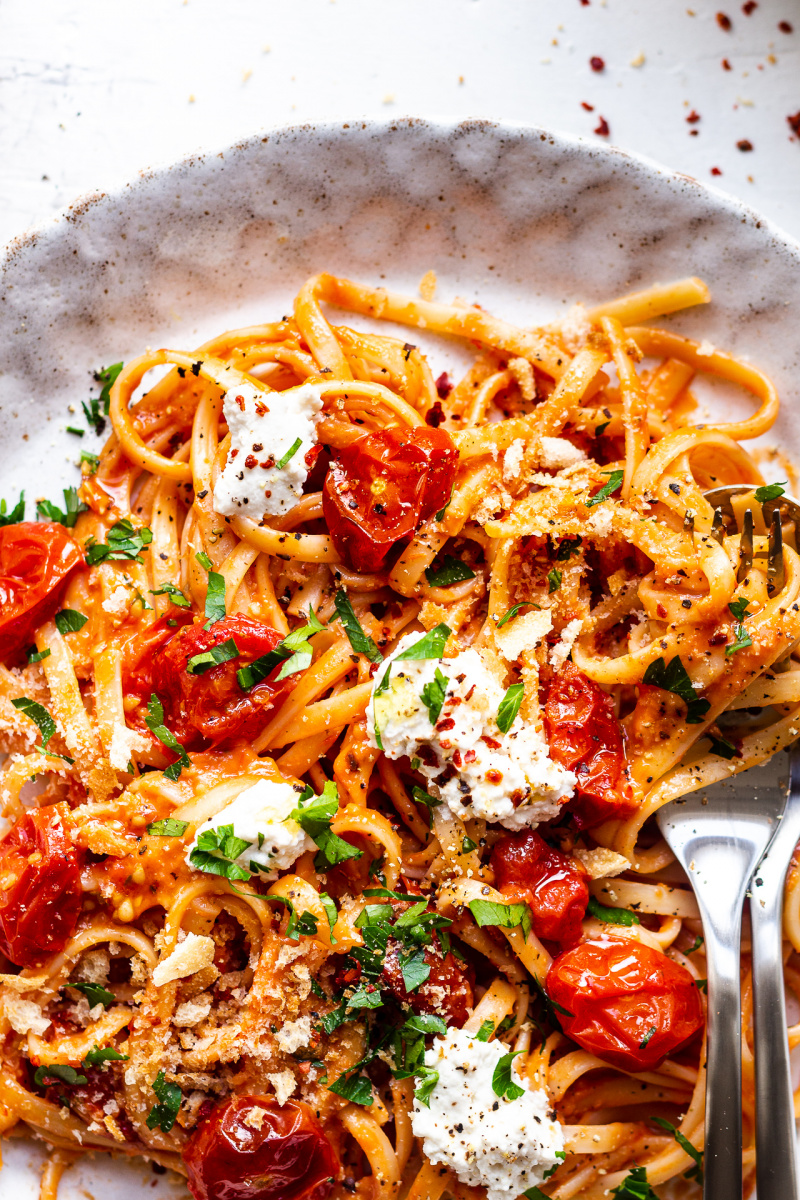 Ingredients
1 kg / 34 oz small tomatoes*
8 cloves of garlic
45 ml / 3 tbsp olive oil
1½ tsp dried oregano
salt and pepper, to taste
pinch of chilli, adjust to taste (optional)
pinch of sugar (optional)
a sprig of basil (optional)
300 g / 10½ oz favourite pasta* (GF if needed)
OPTIONAL EXTRAS
2 tbsp toasted coarse breadcrumbs
2 tbsp pine nuts (or almonds), toasted
2 tbsp capers or sliced olives
almond ricotta, shop-bought or homemade (recipe coming soon)
fresh herbs, basil or parsley
Method
Heat up the oven to 220° C / 425° F.
Cut your tomatoes into halves and put them in a large baking dish together with unpeeled, crushed with the side of a knife garlic cloves. Stir olive oil through, season with oregano, salt, pepper, chilli (if using) and a little bit of sugar if your tomatoes lack sweetness. You can also throw in a sprig or two of fresh basil if you have some.
Bake for 25-30 minutes, giving the tomatoes a good stir halfway through the cooking time.
While the sauce is in the oven, cook your pasta just short of al dente.
Once tomatoes are soft, juicy and lightly charred in places, place the tomatoes and their juices into a blender (discard wilted basil). Squeeze garlic cloves out of their skins and add them in. Blend until smooth although you may want to keep a few of the tomatoes whole, like I did.
Transfer to a pan to heat it up gently, adjust the seasoning if needed and toss cooked pasta in the sauce.
Divide between four plates, garnish with your choice of toppings. I used toasted breadcrumbs, vegan ricotta and parsley.
Notes
*Small tomatoes are best as they are sweeter and less watery. I used a mixture of cherry tomatoes and small-medium British pink tomatoes.
*PASTA – smooth pasta shapes like linguine, spaghetti or penne works best.
If you want more info on some of the ingredients that we use in our recipes, check out our
glossary
.