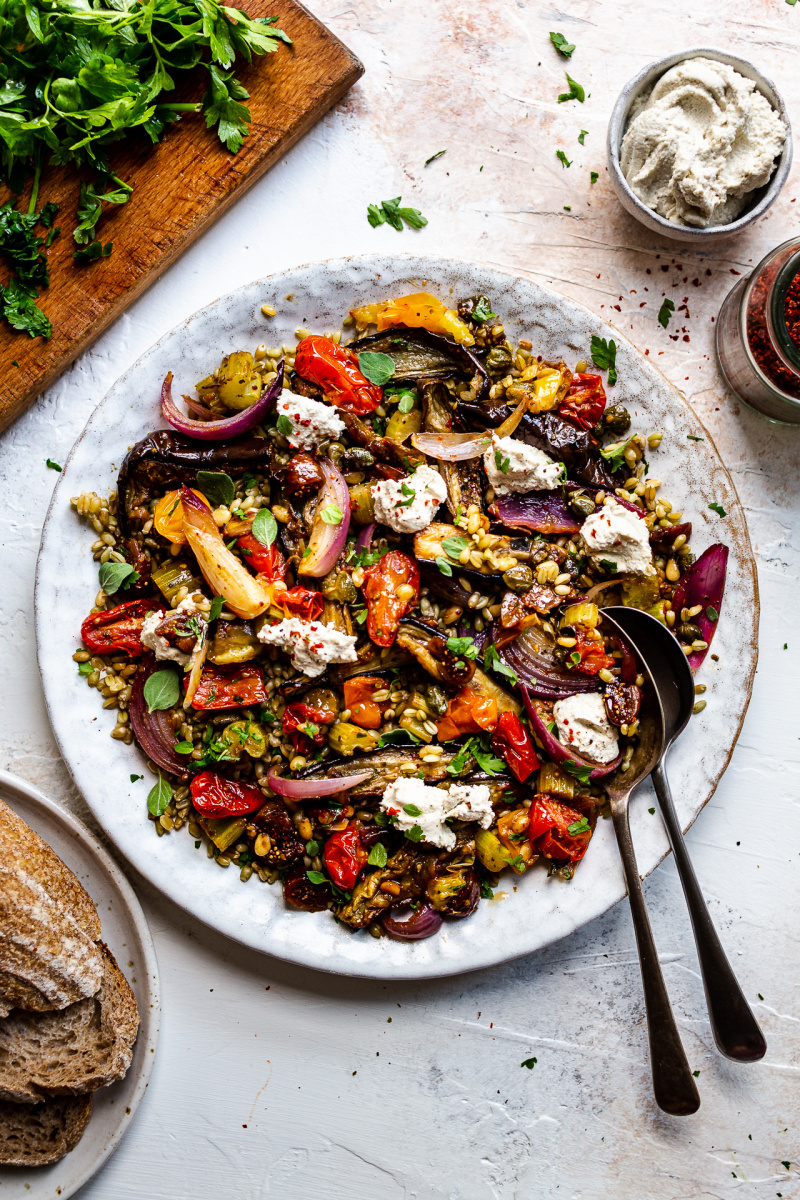 A quick drive-by recipe from me today as I am still knee deep in my 4 weeks long bathroom renovation and I don't have the mental capacity for anything too complicated. We were poised to have the bathroom done by this Friday, but it turned out that it will probably have to run into Monday as there is still a lot to do. We were like 'that's okay, we can live with that'. We waited this long, 3 more days without a shower isn't the end of the world…And then it turned out that I ordered too few wall tiles (faceplam)…
I could not believe it and I am still not sure how this happened as one thing I was convinced about was that I have way more wall tiles than we will need – I was actually wondering if I would be able to return some of them…There have been a few small changes to the walls that I didn't account for but we are actually missing 22 tiles and given that I ordered 10% more than what I thought we would need I must have made a serious miscalculation error. I begged my tile supplier to send more as soon as possible and even though the express delivery cost had my eyes watering, the tiles should be with us tomorrow, so our bathroom fitter won't be sitting there with nothing to do.
I sincerely hope that this is the last hiccup with this project and that we will be able to finally have a proper shower in almost a month early next week. The room is looking great. The elongated metro tiles are looking really handsome – we opted to stack them vertically to accentuate the tall Victorian ceilings. We painted the walls late last night and we are really happy with the colour we chose in the end. It's a very pale peachy pink with strong yellow undertones which makes this small North East facing room look surprisingly spacious and inviting without seeming too pink and sugary. I am not entirely sure it goes with the pink of the floor tiles as they seem colder in comparison but that's the best pink paint we could find that we both liked, so I hope that this juxtaposition will grow on me. We still need to have the walls grouted, toilet, bath screen, towel rail, taps and vanity unit installed, which will easily take us until Monday / Tuesday next week, but I can already see that it will be worth the wait…
Recipewise, I have a simple warm salad recipe for you that makes the most of late summer aubergines. They get roasted in a hot oven with a bunch of other seasonal veg, topped with fresh herbs and dotted with soft vegan cheese. To make this dish filling enough for lunch or dinner, I like to serve the vegetables alongside farro or orzo (any small pasta shapes will work). If you are after a gluten-free option, wild, red or brown rice works well. Chickpeas or firm lentils would also make a great addition that will add more protein and turn this salad into a full meal. It's been a hit in our house, especially consumed al fresco, in the warm autumn sunshine that we are lucky enough to have right now. I hope you'll enjoy it just as much.
PS: If you make my roasted aubergine salad, don't forget to tag me on Instagram as @lazycatkitchen and use the #lazycatkitchen hashtag. I love seeing your takes on my recipes!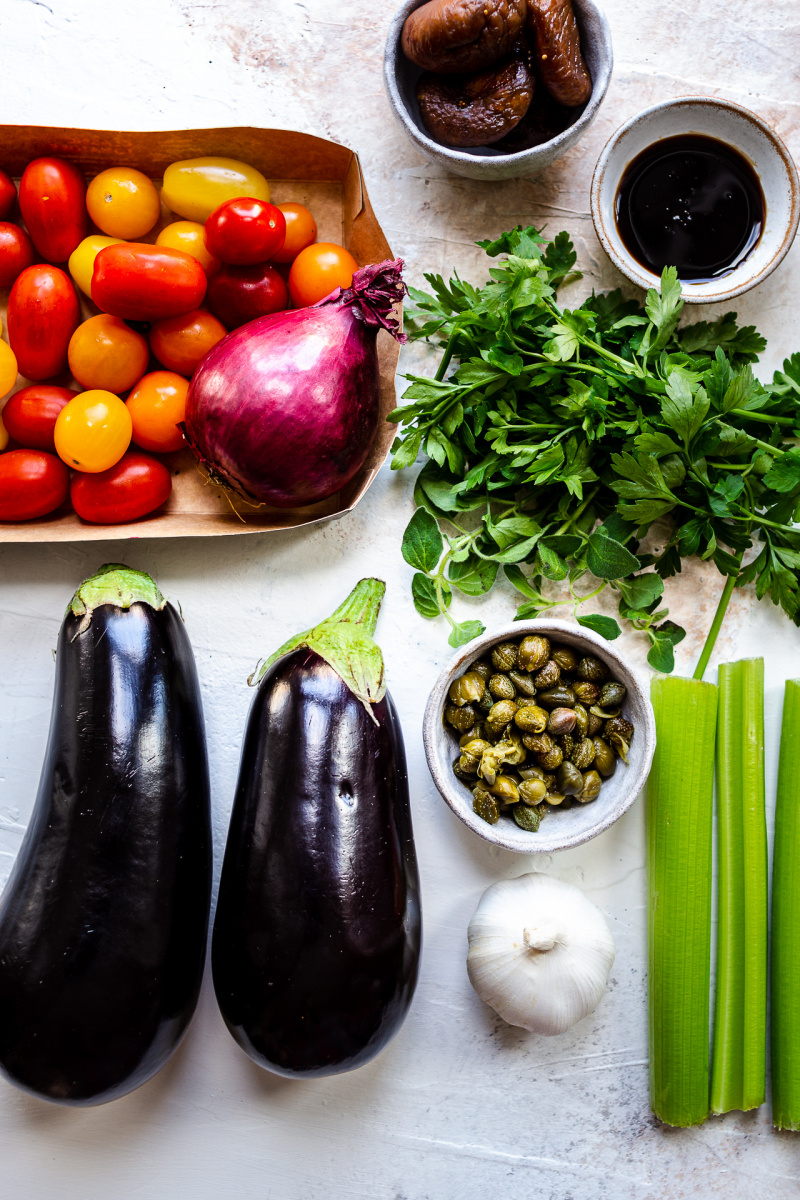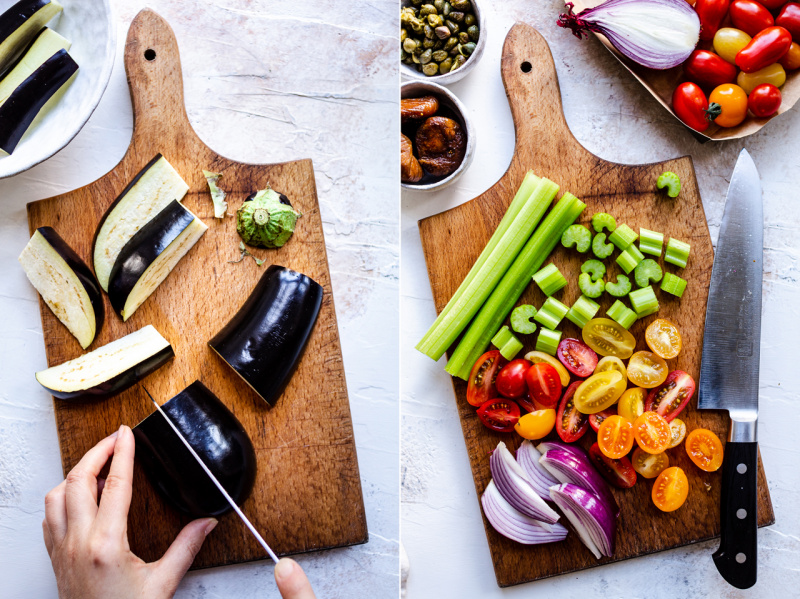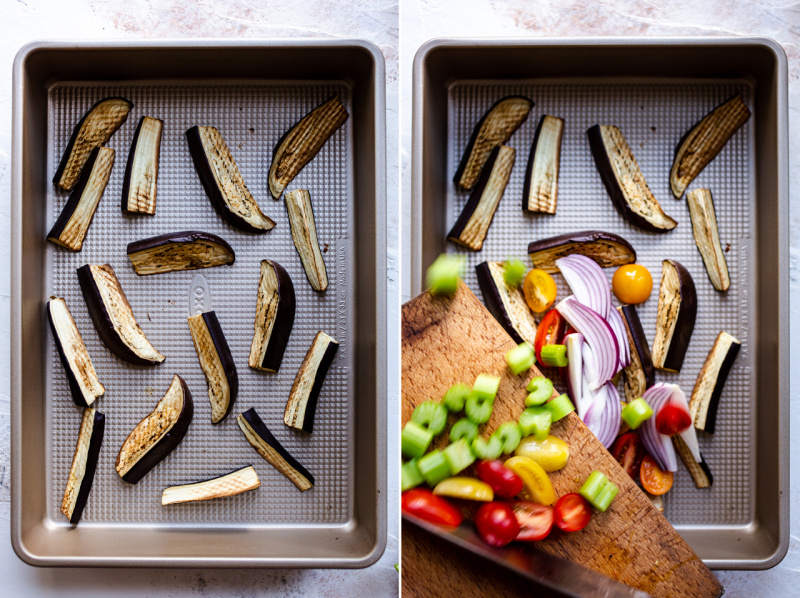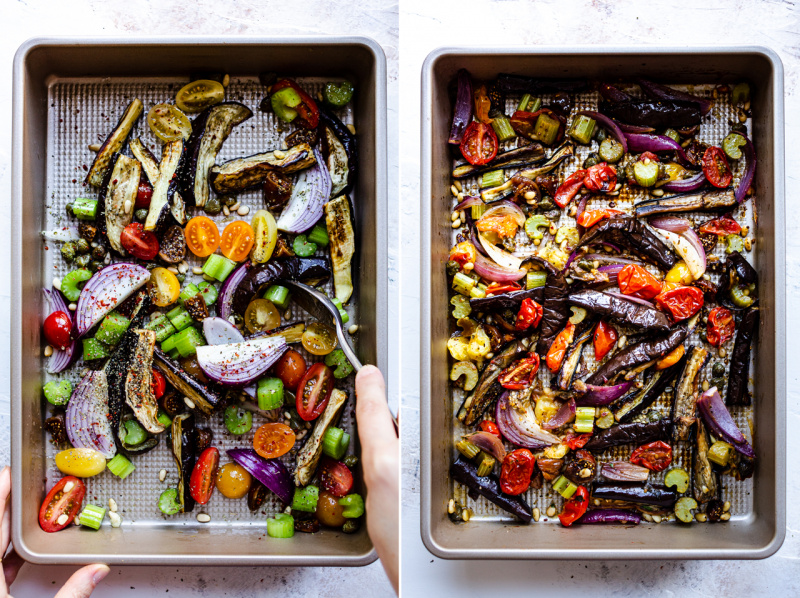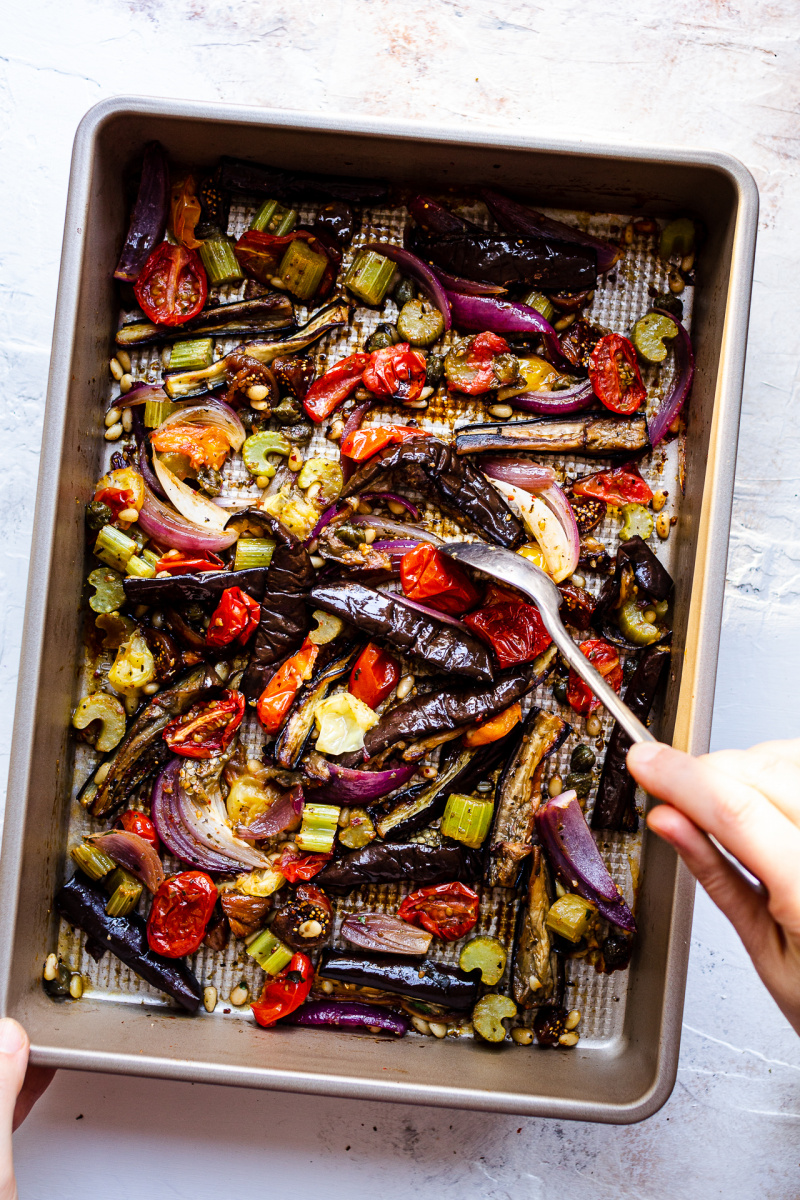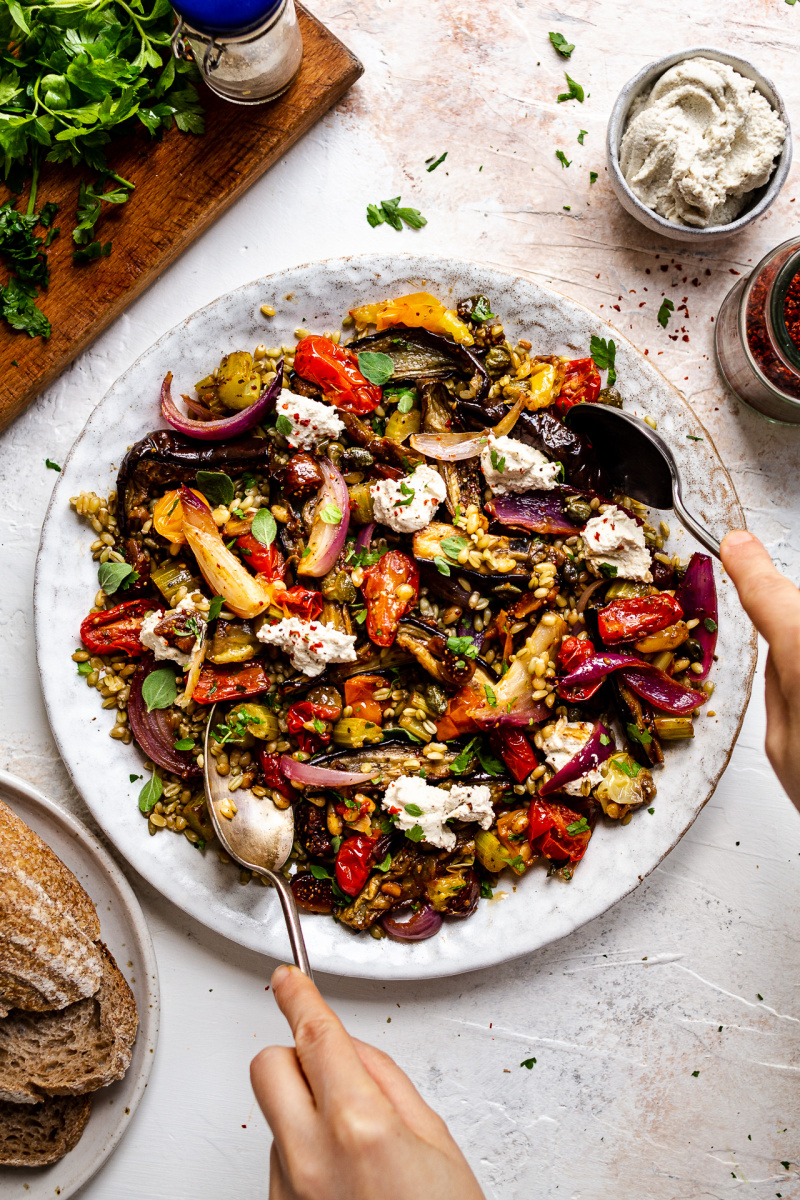 Ingredients
240 g / 1 cup farro* or small pasta (like orzo)
1 large (300 g / 10½ oz) aubergine / eggplant
1 small red onion, cut into wedges
1 celery stalk, thinly sliced
12 cherry toms, halved
1 tbsp capers
1 tbsp pine nuts
2 dry figs, finely chopped
30 ml / 2 tbsp olive oil
1 garlic clove, finely grated
1 tsp dried oregano (or marjoram)
1 tsp smoked paprika
¼-½ tsp mild chilli (like Turkish pul biber), adjust to taste (optional)
salt and pepper, to taste
15 ml / 1 tbsp quality balsamic vinegar
10 g / 1/3 oz parsley, oregano or basil leaves, finely shredded
soft vegan cheese, shop-bought or homemade (optional)
Method
Cook farro, pasta or whatever else you are using (wild rice, brown rice, Puy lentils would all work really well) as the base according to packet instructions.
Heat up the oven to 200° C / 425° F. Top and tail the aubergine / eggplant and cut it into half widthwise and then into eights lengthwise.
Lay them on the side in a medium size* deep baking tin and prebake for 10 minutes, then turn to the other side and carry on baking for another 10 minutes.
Add red onion wedges, celery, cherry toms, capers, pine nuts and chopped figs to the tray. Stir olive oil and minced garlic through. Season with dried herbs, smoked paprika, chilli (if using) and a generous amount of salt and pepper. Return to the oven and bake for another 20 minutes, giving the vegetables a good stir and adding balsamic vinegar halfway through.
Plate roast vegetables on top of farro or pasta on a large plate / platter. Sprinkle with fresh herbs and dot with vegan cheese.
Notes
*FARRO: If you want to keep this dish gluten-free, you can use brown or wild rice or green or Puy lentils instead.
*BAKING TRAY: I used a tray of the following dimensions: 24 cm / 9½" by 34 cm / 13½".
If you want more info on some of the ingredients that we use in our recipes, check out our
glossary
.