These lentil tahini wraps are a simple, tasty, and nourishing plant-based lunch! They incorporate nutritious vegetables and legumes, and they're easy to customize.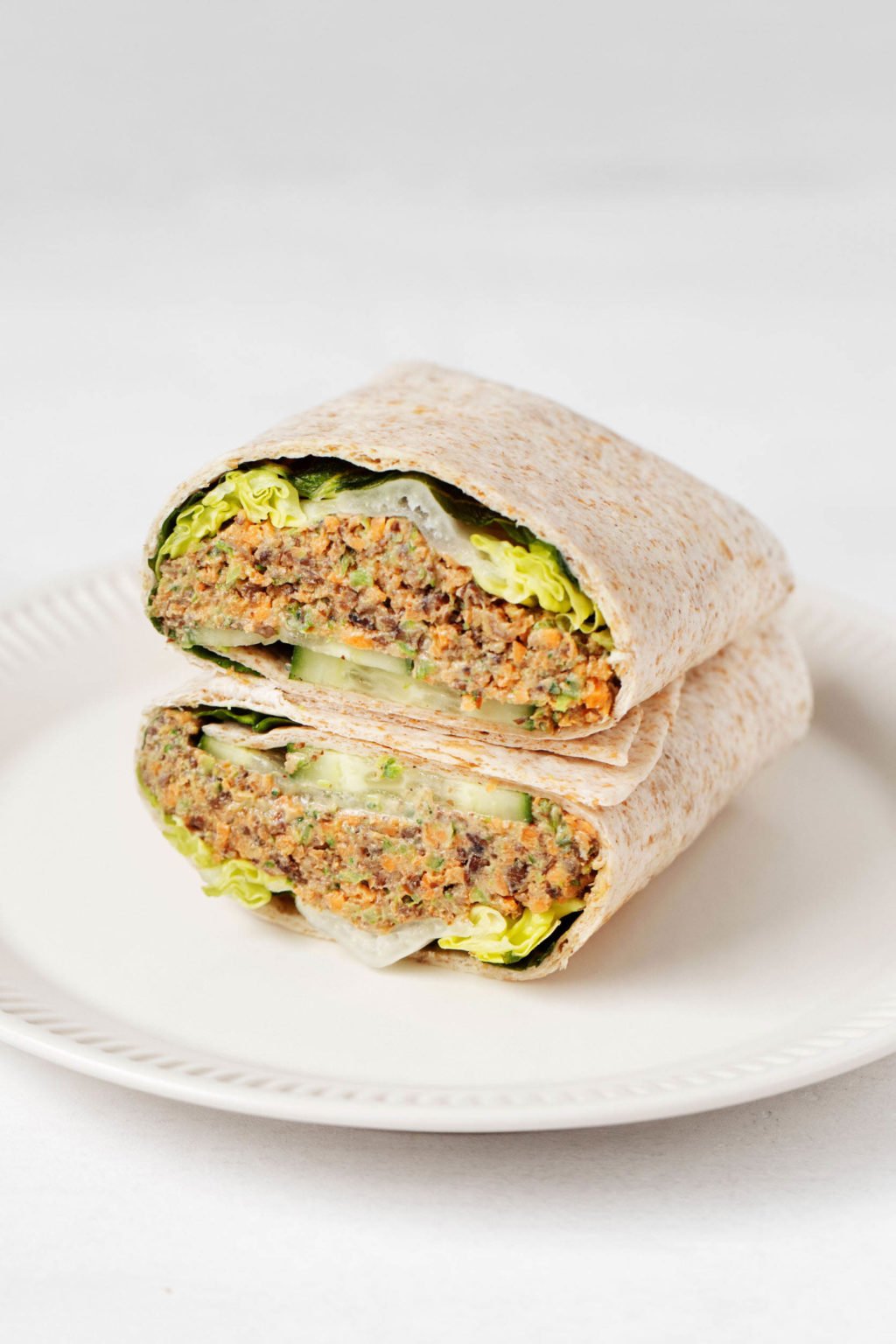 Feels like a while since I've checked in—because it has been!
I'm just back from a really special week with my oldest friend and her family. I got away at a moment when I needed to get away. And the little escape was exactly what I needed to recharge, regroup, and feel like myself again.
This is one of many special weekend trips that I've taken to be with friends this summer. I'm making an effort to live and connect in a way that is truly new for me. I'm less attached to routine, less solitary, and less fixated on work. It feels good.
Amid these weekends of connection and the feelings and desires that drive them, I've been taking it really easy with food.
These lentil tahini wraps are a perfect example of the kind of simple, nourishing meals that have sustained me this summer.
If quarantine was the year of Gardein meatballs and spaghetti, then the summer of 2021 has been my summer of sandwiches and wraps.
Wraps are quick, easy, and satisfying to me. They're a canvas for endless possibility, but they never stress me out, which is an important consideration during the cookbook development process. And it's easy to pack them with healthful ingredients, like the lentils, tahini, and vegetables in this recipe.
A quick, nutritious lunch
What are lentil wraps? Quite simply, they're whole grain wraps that are filled with lentils. In this lentil tahini wrap recipe, the lentils are joined by finely chopped vegetables and tahini for creaminess.
I was first inspired to make the lentil tahini wraps when I purchased something similar at a local health food store. A spinach wrap was filled with a mixture of shredded vegetables, tahini, and cooked lentils.
I grabbed the wrap before hopping on a train to go upstate, too short on time to prepare something myself. And I was so glad to try it, not only because it tasted great, but also because it was convenient and healthful.
I was inspired right away to try a version of my own. I've made countless hummus wraps, and I also love my chickpea caesar wraps. But in spite of how much I love the mighty lentil, it took me until now to try lentils in a wrap.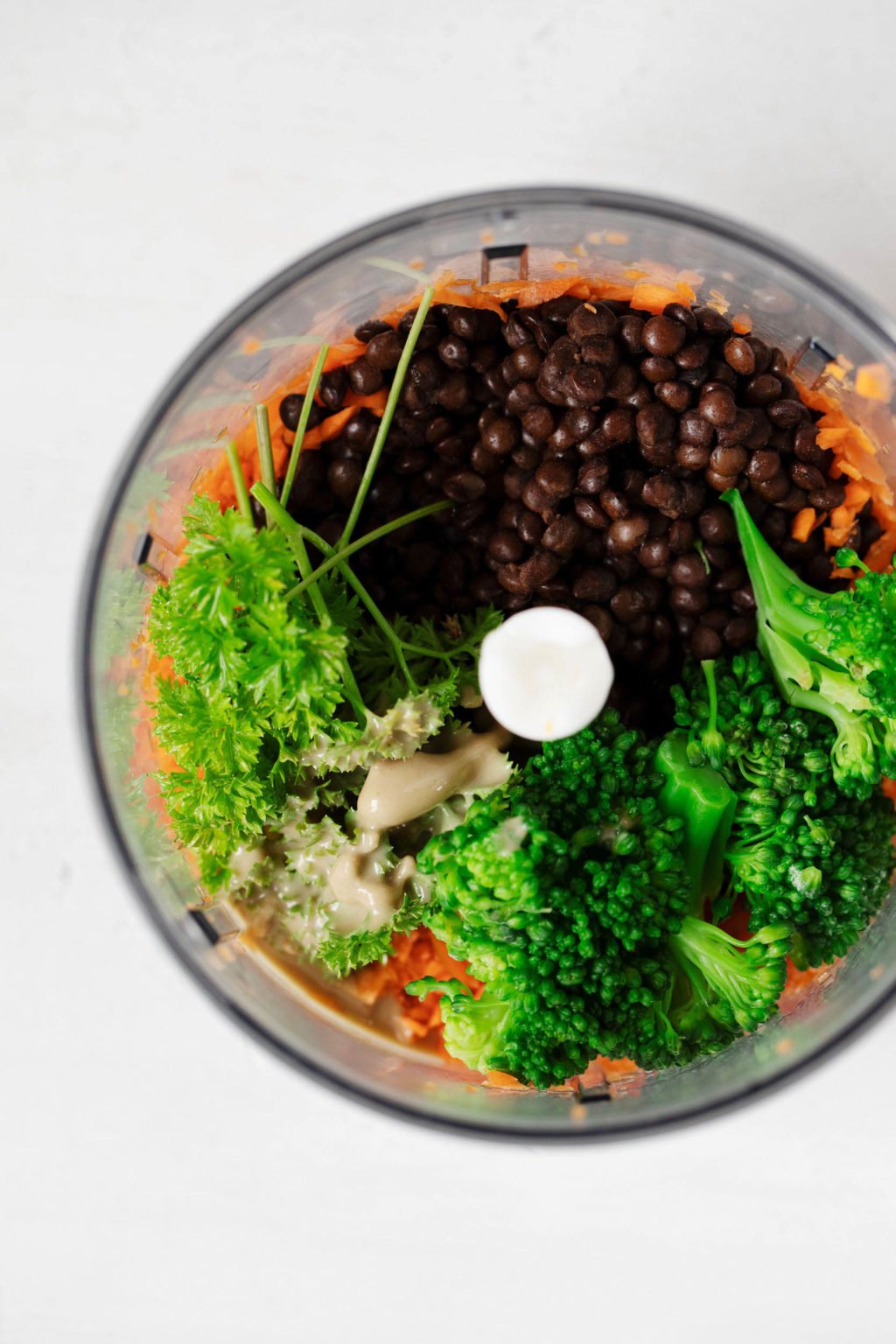 How to make lentil wraps
To prepare the lentil tahini wraps, you'll first shred some carrots into the bowl of a food processor. You could also grate the carrots by hand, but so long as you're using the processor, you may as well use it to grate the carrots.
Next, you'll put the S blade into the processor. Add cooked lentils and broccoli, tahini, lemon juice, herbs, and seasoning. Then, pulse until all of the ingredients are finely mixed.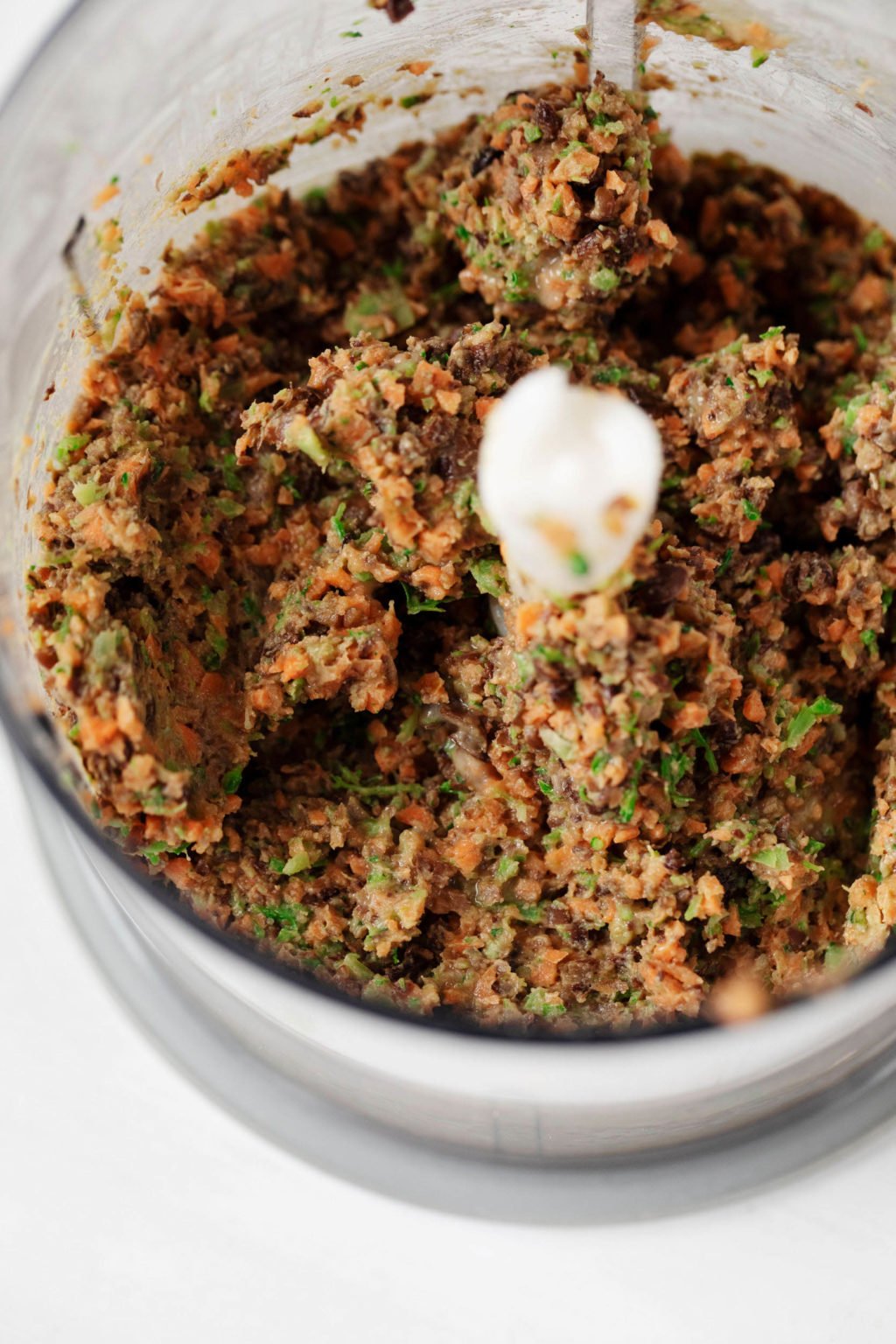 Just look at that nutritious mixture!
Honestly, I think the filling of the wraps is delicious in its own right. It would work well as a tasty, nutrient-dense dip or snack. But it's also great in these wraps, and it's also really good on a sandwich—especially with my multigrain or maple oat bread.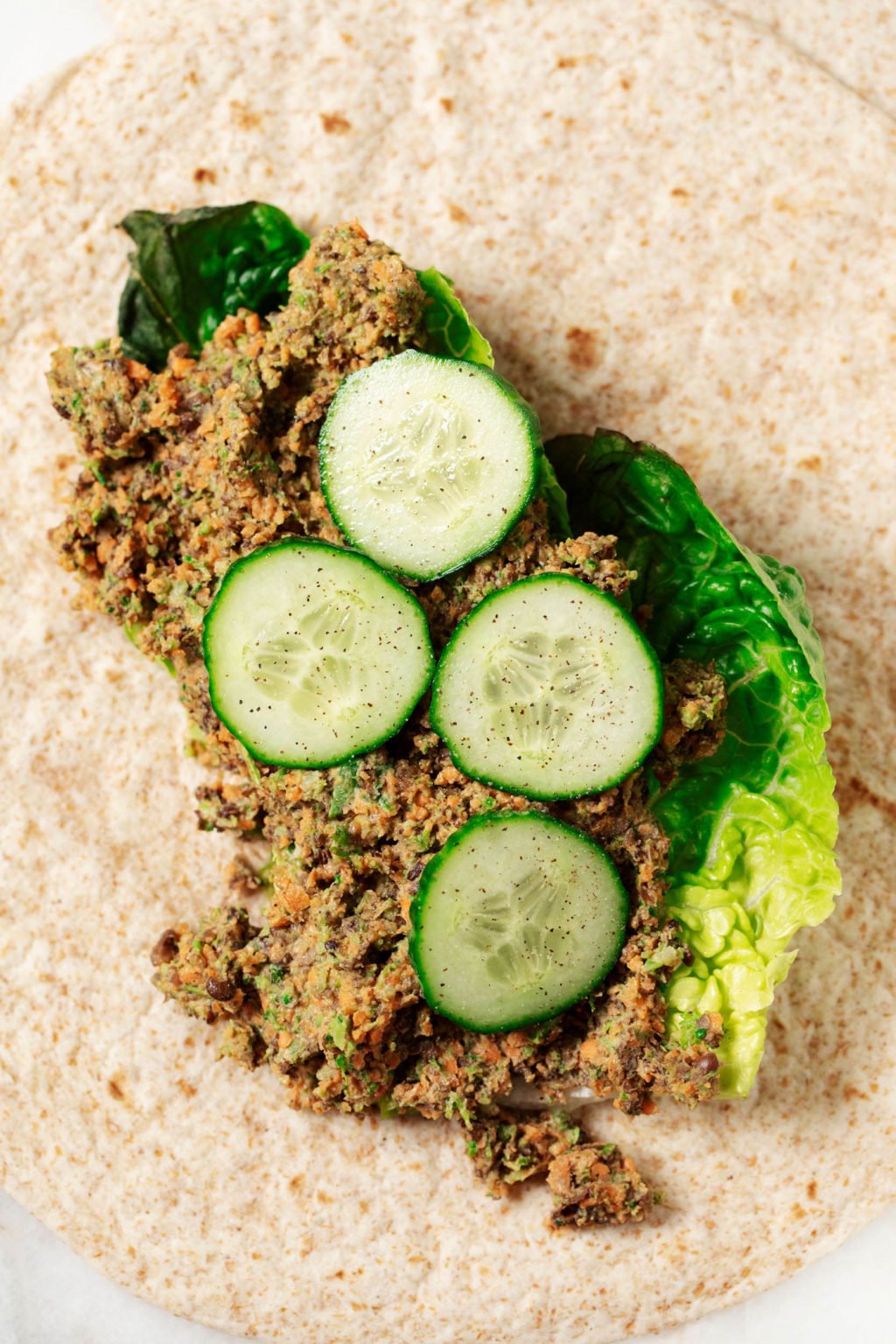 Filling lentil tahini wraps
Once the lentil tahini filling is ready, it's time to assemble your wraps.
You can add any vegetables you like to the wraps—in addition to the vegetables that are already in the filling, of course. I love to add cucumber slices and lettuce leaves. Tomato slices, thinly sliced radish, red onion, and additional fresh herbs would all make nice additions.
If you'd like to add more plant protein to the wraps, you could add smoky tempeh slices, strips of smoked tofu, soy curls, or a vegan bacon of choice.
It's also worth saying that the broccoli in the wrap filling can be substituted as well. I can never get enough broccoli, but steamed kale, cauliflower rice, or shredded collard greens would be nice, too.
As for the wraps themselves, I love using a whole grain wrap here. But it's hard to beat the fun color of spinach wraps, if you have them on hand ?
Best lentils for lentil tahini wraps
I most often use black or green lentils in the lentil tahini wraps. But most types of lentils, including brown and pardina lentils, will work in the recipe.
The only type of lentil that I don't recommend for the wraps is red lentils, which become a little too mushy to work in the filling.
Make ahead & storage options
The lentil tahini wraps can be incorporated into a meal prep routine in a number of ways.
First, you can prepare the lentil vegetable filling up to three days before storing your wraps. Once made, it can be frozen for up to four weeks.
You can also prepare the wraps themselves up to two days before eating. If you do this, I recommend adding vegetables that aren't too juicy—like shaved carrots and lettuce—to the filling, rather than tomatoes.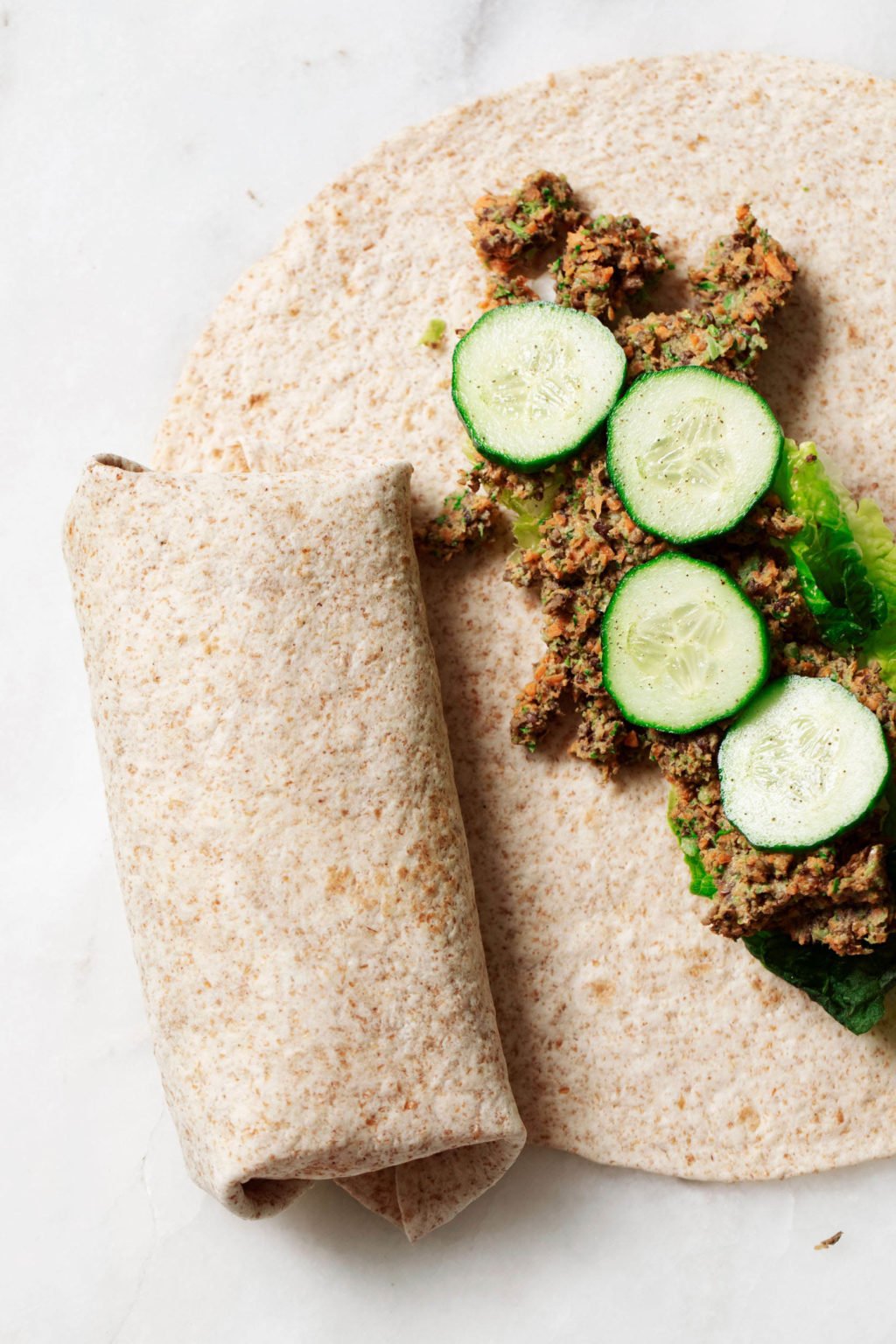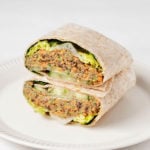 1

cup

green, black, or brown lentils

(200 g)

3

carrots

1

cup

steamed broccoli

(or another green, such as raw or steamed kale, spinach, or arugula)

5

tablespoons

tahini

2 1/2

tablespoons

freshly squeezed lemon juice

1

clove garlic

(or 1/4 teaspoon garlic powder)

1/4

cup

parsley leaves

1/2

teaspoon

fine salt

freshly ground black pepper to taste

4

wraps of choice

lettuce leaves, tomatoes, cucumber slices, or any other wrap fillings you like
Bring a medium sized pot of water to a rolling boil. Add the lentils. Boil the lentils for 25 minutes, or until tender. Drain the lentils and set them aside—you should have about 3 cups.

Peel and trim the carrots. Use a food processor to grate them. Switch the grating attachment to the S blade. Place the cooked lentils, broccoli, tahini, lemon juice, garlic, parsley, and salt into the food processor. Pulse about 20-30 times, or until the mixture is broken down significantly, but not pureed. 

Taste the lentil mixture. Add freshly ground black pepper to taste. Adjust the salt and lemon juice to your liking. 

Pile about 3/4 cup of the lentil mixture into a wrap. Add lettuce leaves and any other fillings you like. Fold in the sides and bottom of the wrap and wrap it up snugly. Slice and serve. Enjoy!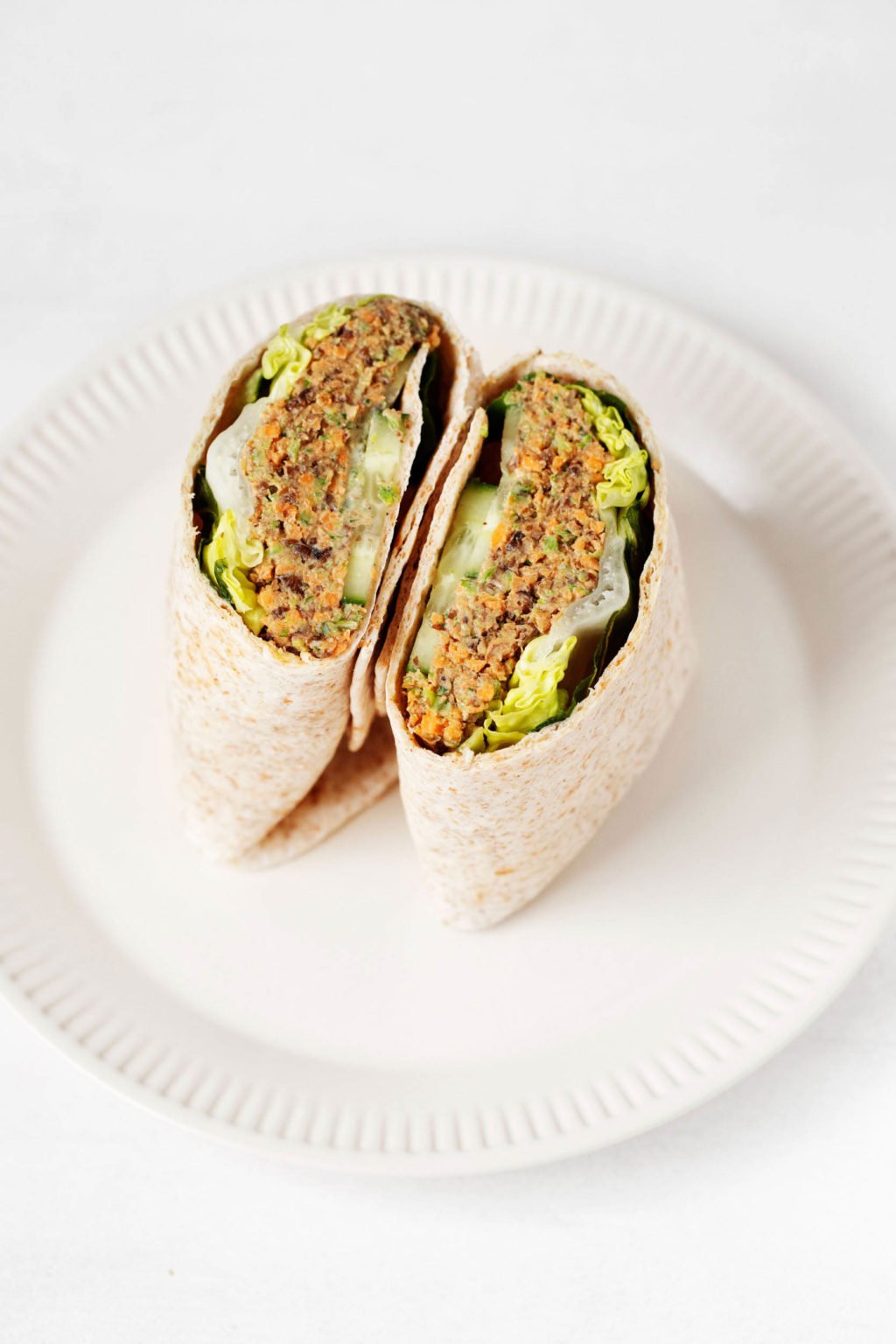 The lentil tahini wraps are really simple, but they're a refreshing departure from the vegan BLTs, Tofurky mixtures, and hummus sandwiches that I lived on during lockdown. I love that they're an easy vehicle for greens, and I know that I'll be making them often through the seasons.
I hope that the wraps find their way into your lunch routine sometime soon!
xo