This vegan date BBQ sauce is perfectly tangy, smoky, and sweet. It's a no-sugar added, homemade BBQ sauce that's incredibly easy to make. Just blend, heat, and enjoy!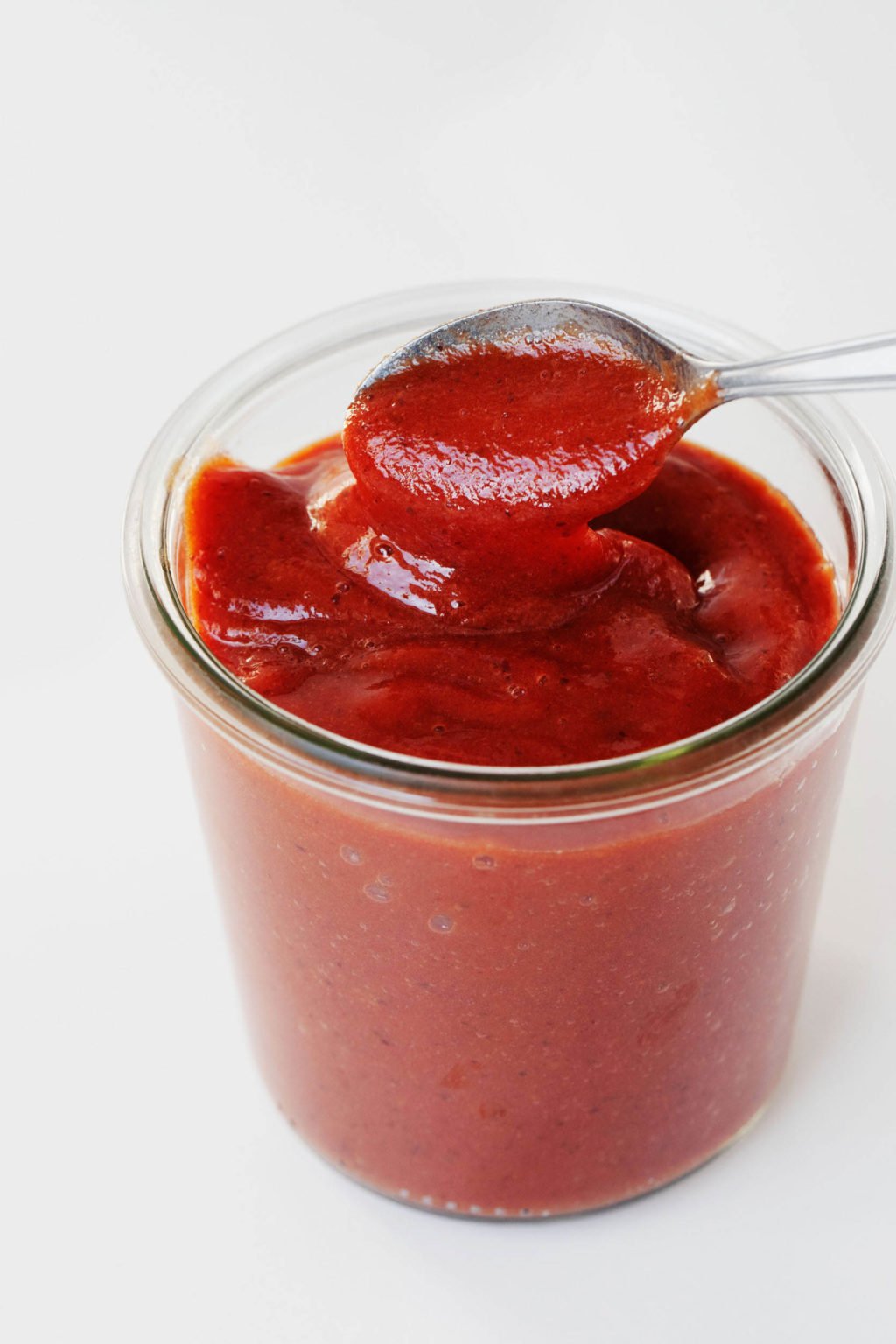 Given all of the commotion of the last few days, I've been grateful for any and every simple recipe.
This homemade vegan sauce couldn't be simpler. It's a date-sweetened BBQ sauce that's tangy, sweet, and has a thick texture. You can use it as a marinade, as seasoning, or as sauce for bowls.
My inspiration for the sauce was the tangy BBQ from Haven's Kitchen, a local sauce brand that I love. I sampled their date BBQ sauce over the summer. It was irresistibly tangy, and my curiosity was piqued when I saw that the sweetener was dates.
Dates are one of my favorite delights. They're nature's candy, and I'll take any opportunity to use them in recipes. I started to wonder if I might try making my own date BBQ sauce at home, inspired by what Ali and her team had created.
I'm so happy that I tried it! This sauce is very, very yummy and versatile. Moreover, it's fast and easy to prepare.
A no-sugar added BBQ sauce
While I'm certainly not opposed to baking or cooking with sugar, I also welcome opportunities to experiment with other sweeteners. I love the flavor of maple syrup, which finds its way into a lot of my muffins and cakes.
Coconut sugar is another favorite of mine. I think it tastes a little burnt, and I mean that in the best way possible. It's not unusual for me to swap it 1:1 for brown sugar in my baking.
Although I blend soaked dates directly into this sauce, I'm also a great fan of date syrup and date caramel. They're both easy to make at home, and since dates taste a little like caramel anyway, the latter recipe doesn't require many ingredients.
All of these sweeteners add more depth of flavor to baking and cooking. When they work in a recipe, they help to deepen and enhance flavor, rather than diminishing it.
This date BBQ sauce demonstrates that perfectly: I think that the dates add more character than brown sugar or even maple syrup would.
Health benefits of dates
It's easy to love the way dates taste, but they've also got some nutritional benefits to offer.
First, dates are packed with dietary fiber. This is a good thing in general, since fiber is associated with digestive health and cardiac health. But it's especially good news in sweetened foods. Fiber helps to blunt how quickly sugar is absorbed into the bloodstream. Maximizing dietary fiber at mealtimes can be an important part of dietary management for those who are keeping an eye on blood sugar.
Dates are also a good source of numerous minerals, including potassium and magnesium. Potassium and magnesium are electrolytes, which means that they help with fluid balance. They also play a role in muscle and nerve function.
Finally, dates are a good source of vitamin B6, or pyridoxine, which is important for immune function and energy maintenance.
Dates are so unbelievably delicious to eat that I'd reach for them even without these benefits. Still, I don't mind knowing that the benefits are there when I use dates in a recipe.
The best type of dates for BBQ date sauce
The type of dates that I use in this recipe—and most all of my recipes—are pitted Medjool dates.
Medjool dates are bigger than the Deglet Noor dates that are also widely available in US grocery stores. They're softer, too, and they have a caramel-like flavor that I think is totally irresistible. I do sometimes use Deglet Noor dates if they're what I can find—they tend to be cheaper than Medjool—but Medjool dates are my go-to.
You can find good Medjool dates all over the place. They're easy to locate at Middle Eastern markets. There are also a number of US date farms that produce them and ship them nationwide.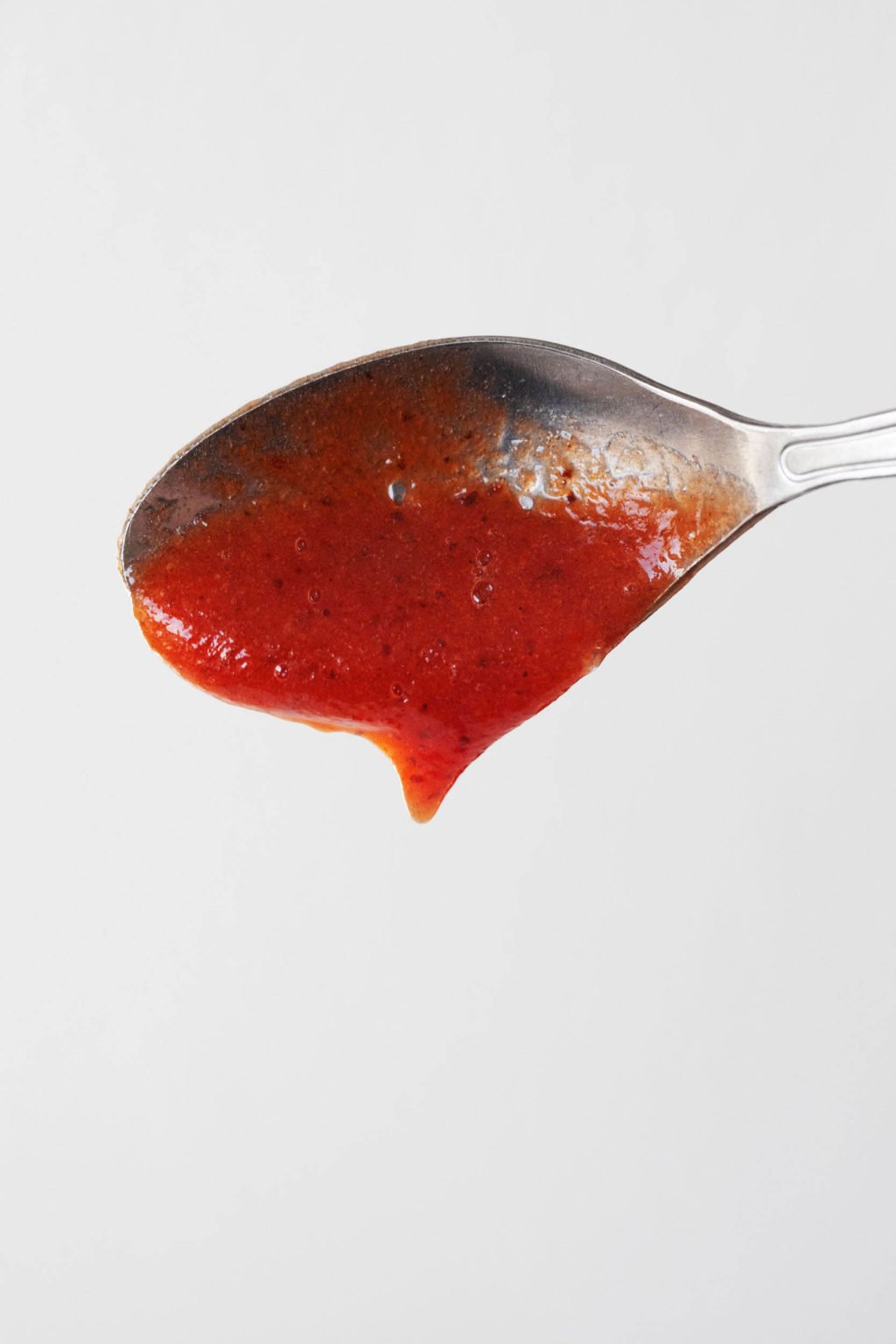 BBQ date sauce ingredients
The ingredients for this sauce are pretty simple.
Dates
You'll need about six medium-sized, pitted Medjool dates to make the date BBQ sauce. Dates can vary wildly in their size, so you may also wish to measure. I use about 90 grams of dates, which is a scant 3/4 cup.
You'll see that the sauce doesn't call for maple syrup, molasses, or sugar. Dates are the only sweetener here! This is intentional, and I really like the result. The sweetness is very present without being cloying.
However, if you love the flavor of molasses in BBQ sauce, you can certainly trade one date for a tablespoon or two of molasses.
Tomato sauce or puree
You can use a fifteen-ounce can of tomato sauce or fifteen ounces (that's just shy of two cups) of tomato puree for this recipe.
Tomato paste
The tomato puree is the base of the date BBQ sauce, but tomato paste also plays an important role. It intensifies the flavor of the sauce, and it gives the sauce some thickness, too.
Seasonings
I use a few seasonings in the sauce:
Onion powder
Garlic powder
Smoked paprika
Mustard powder
I love using powdered alliums here! It adds a lot of flavor, but it saves me the work of having to sauté onion or garlic for the recipe.
I like the way mustard powder works in the recipe, but if you don't have it at home, you can use a tablespoon of Dijon or yellow mustard instead.
Apple cider vinegar
Tart flavor is part of what I love about BBQ sauce, and the date BBQ sauce is no exception. I use apple cider vinegar to achieve that, and I think four tablespoons is just right. Tomatoes add a lot of acidity to the recipe as well. If you want more tangy flavor, feel free to add an extra splash of the vinegar.
Tamari (or coconut aminos)
I love the flavor and little umami kick of using tamari for saltiness in the date BBQ sauce. That said, I've now tested the recipe once with tamari, once with soy sauce, and once with coconut aminos. I love the subtlety and hint of sweetness in the coconut aminos!
If you have coconut aminos at home, it's worth a try here. You'll need either two tablespoons of tamari or three tablespoons of coconut aminos (which is slightly less salty than either tamari or soy sauce).
How to make date BBQ sauce
The date BBQ sauce recipe is so easy. You begin by soaking your dates. Boiling water is fastest for this—it's the same technique that I use in my much loved vegan sticky toffee pudding. After ten minutes, the dates will be soft enough for blending.
Next, you'll drain your dates and add them to a blender with all of the other ingredients. Blend for a minute, or until the sauce is smooth.
At this point, you can use the sauce. I think it becomes a bit more flavorful when you simmer it on the stovetop for about five minutes, causing it to reduce just a little. So, I recommend transferring the blended sauce to a saucepan, bringing it to a gentle simmer, and then letting it cook for about five minutes, uncovered. Stir the sauce as it simmers.
After this, the sauce is ready to use.
Storage and freezing
The date BBQ sauce will keep in an airtight container in the fridge for up to six days. It can also be frozen for up to six weeks. I usually store my sauce in a larger mason jar.
Things to do with your date BBQ sauce
This sauce works nicely in so many recipes! Here are some things you might want to use it for:
Basically, use the date BBQ sauce anyplace you'd use regular BBQ sauce. Or even some fun, creative places you wouldn't.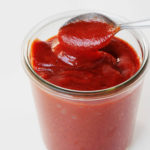 6

pitted

Medjool dates

(90 g, or a scant 3/4 cup)

15

ounces

tomato sauce

(substitute a scant 2 cups tomato purée)

1/4

cup

tomato paste

1/4

cup

apple cider vinegar

1 1/2

teaspoons

smoked paprika

1

teaspoon

mustard powder

1/2

teaspoon

onion powder

1/4

teaspoon

garlic powder

3

tablespoons

coconut aminos

(or 2 tablespoons tamari or soy sauce)

1/8

teaspoon

freshly ground black pepper

pinch

cayenne pepper (optional)
Pour boiling water over the dates. Allow them to soak for ten minutes. Drain them.

Add the dates and all remaining sauce ingredients to a powerful blender. Blend till smooth.

At this point, you can use the sauce or simmer it to intensify its flavor. If you wish to do that, transfer the date BBQ sauce to a medium saucepan. Bring it to a simmer and simmer, uncovered, for five minutes, stirring frequently. Serve or store.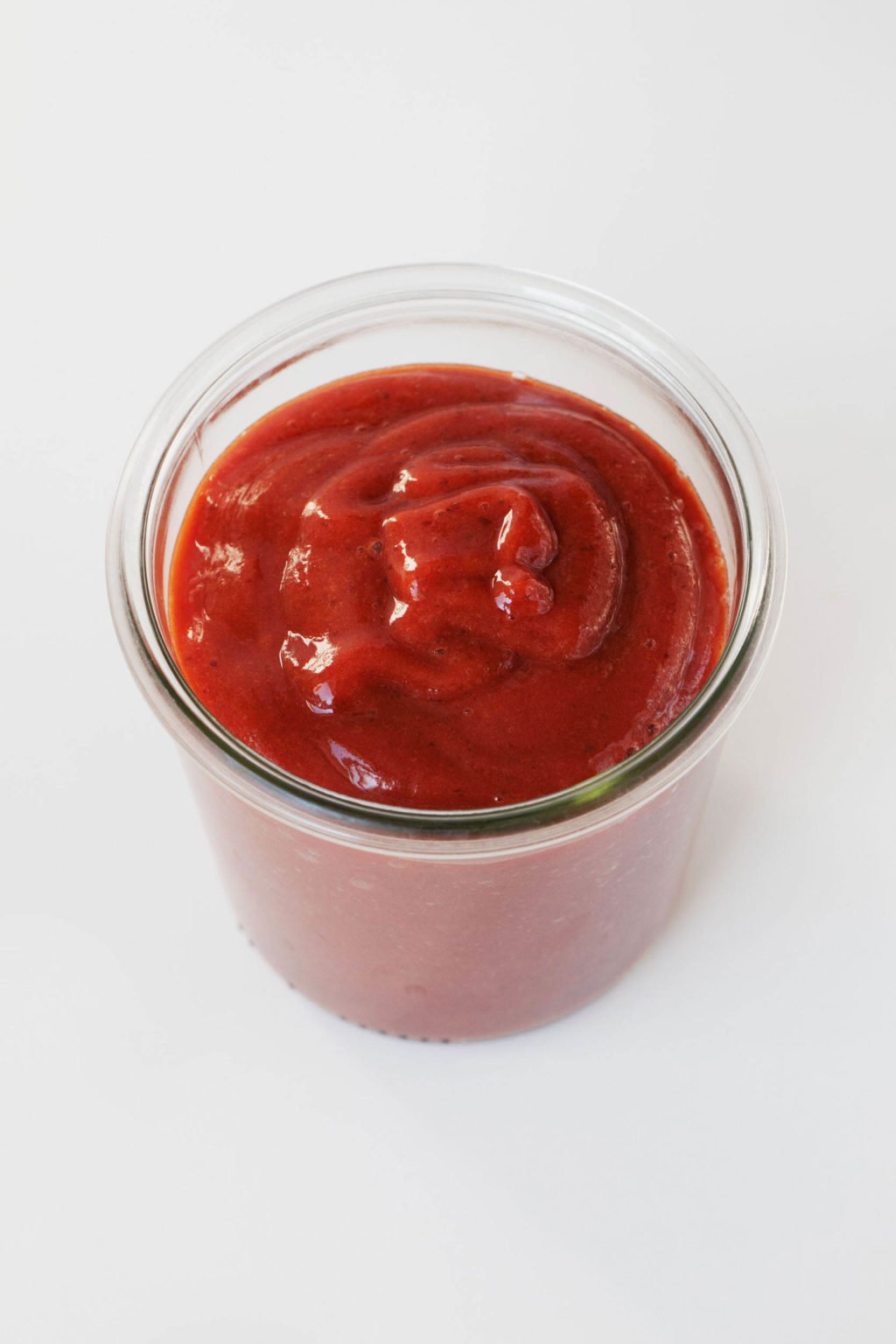 I know that BBQ sauce is one of those recipes that evokes strong opinions. Many people have cherished family recipes, which are regional and time-honored. I don't pretend that this simple, quick version can compare to those.
For a homemade condiment that's flavorful, fast, and relatively nutritious, though, this date-sweetened BBQ sauce is a keeper. I hope you'll get a chance to try it sometime!
xo