If you have some ripe bananas on hand, you have to try these delicious Banana Chocolate Chip Muffins. These muffins are studded with sweet chocolate morsels and chopped nuts in each bite.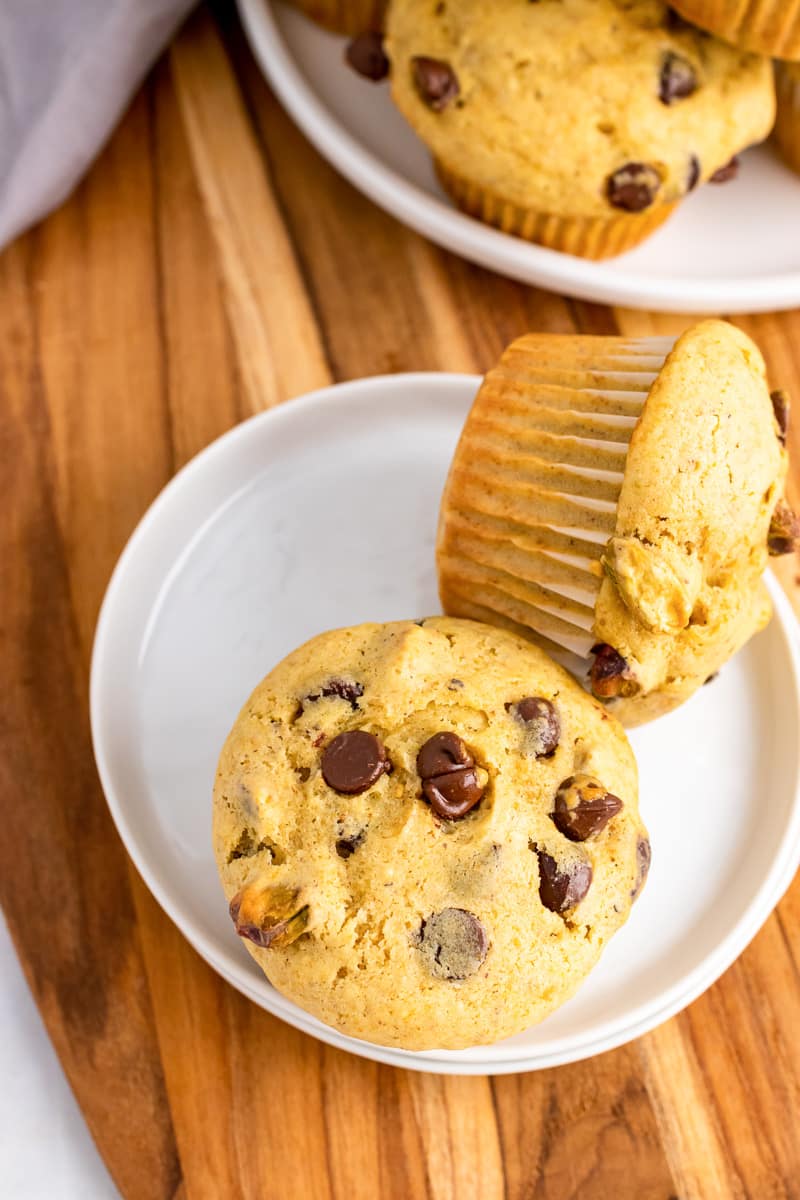 Jump to:
Give these muffins a try! Your whole family will enjoy these sweet and flavorful muffins. The cinnamon adds a nice warm spice flavor that makes the banana really stand out.
Serve them with some cool ice cream, alongside a fresh breakfast smoothie, or by themselves. These muffins taste great for breakfast, dessert, or an afternoon snack.
This Banana Chocolate Chip Muffins recipe is…
Homemade
Made with ripe bananas 
Easy 
Moist
Freezer-friendly 
Quick to make 
While you're here, be sure to grab our FREE 5-Day Meatless Meal Plan. It's packed with tasty recipes to make vegetarian cooking easy and delicious!
How to Make Banana Chocolate Chip Muffins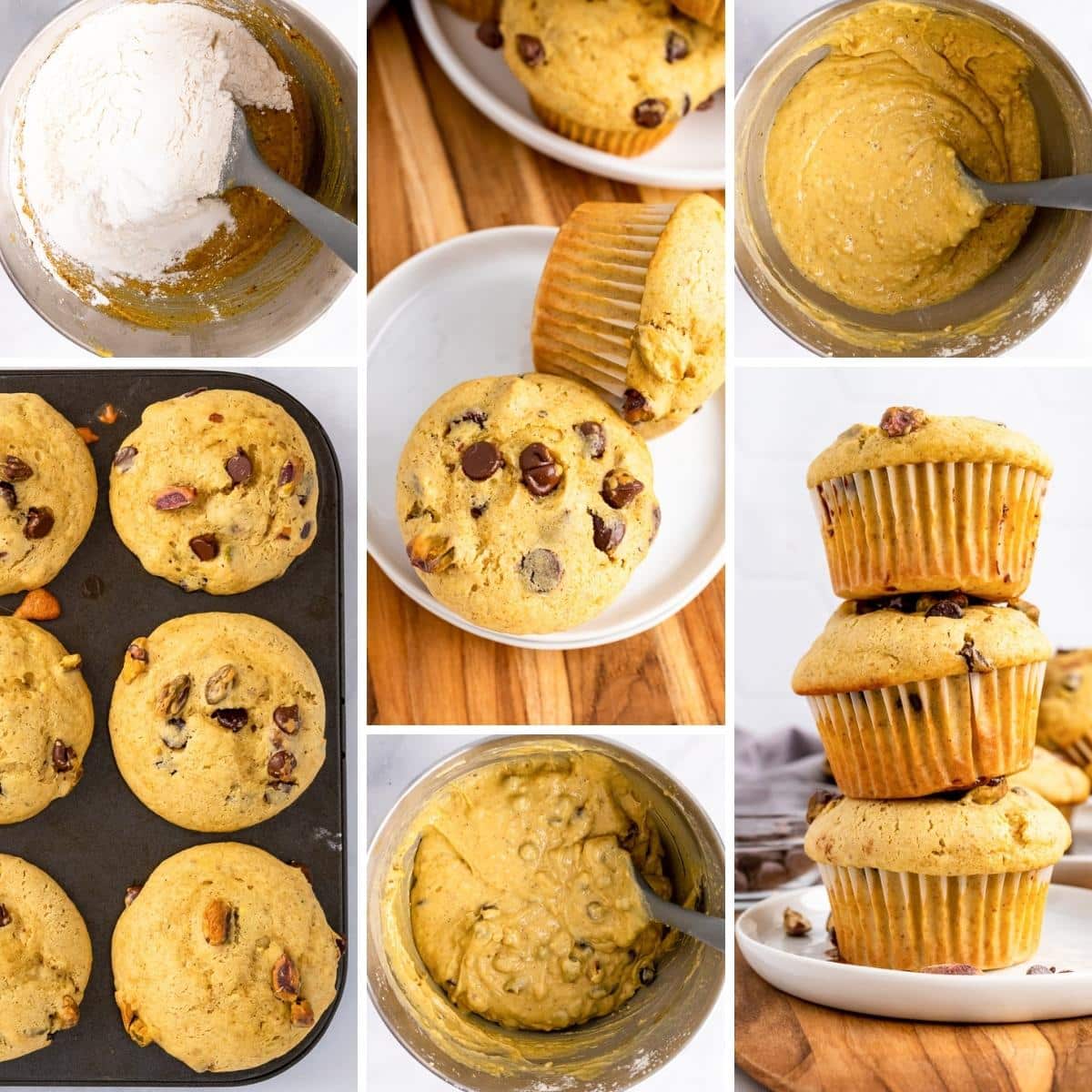 Preheat oven, line muffin tin with papers, and set aside. 
In a bowl, mix dry ingredients and set aside. 
Peel and mash bananas. 
Add the egg, butter, and vanilla to the banana and mix to combine. 
Mix in the dry ingredients, and fold in the nuts and chocolate. 
Scoop the batter into the muffin tin, and bake as directed. 
Full directions for Banana Chocolate Chip Muffins are in the printable recipe card at the bottom of the post.
Tips & Tricks for Banana Chocolate Chip Muffins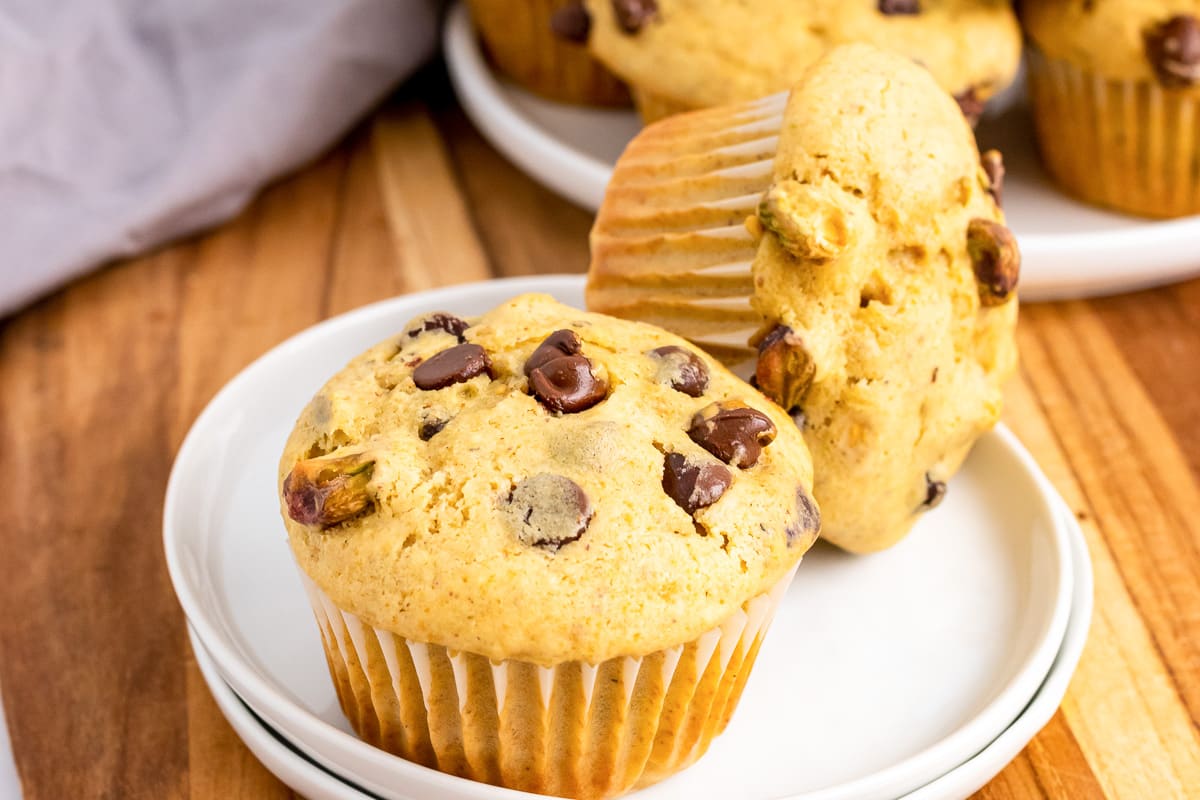 Ripe Bananas
Make sure that you use ripe bananas for this recipe. If your bananas are not ripe, you will find that your muffins lack flavor. 
Mashing Bananas 
When mashing your bananas, make sure to use a fork to mash them into small pieces. If you have bigger chunks of bananas, they can affect the texture of the muffins. 
Variations to Banana Chocolate Chip Muffins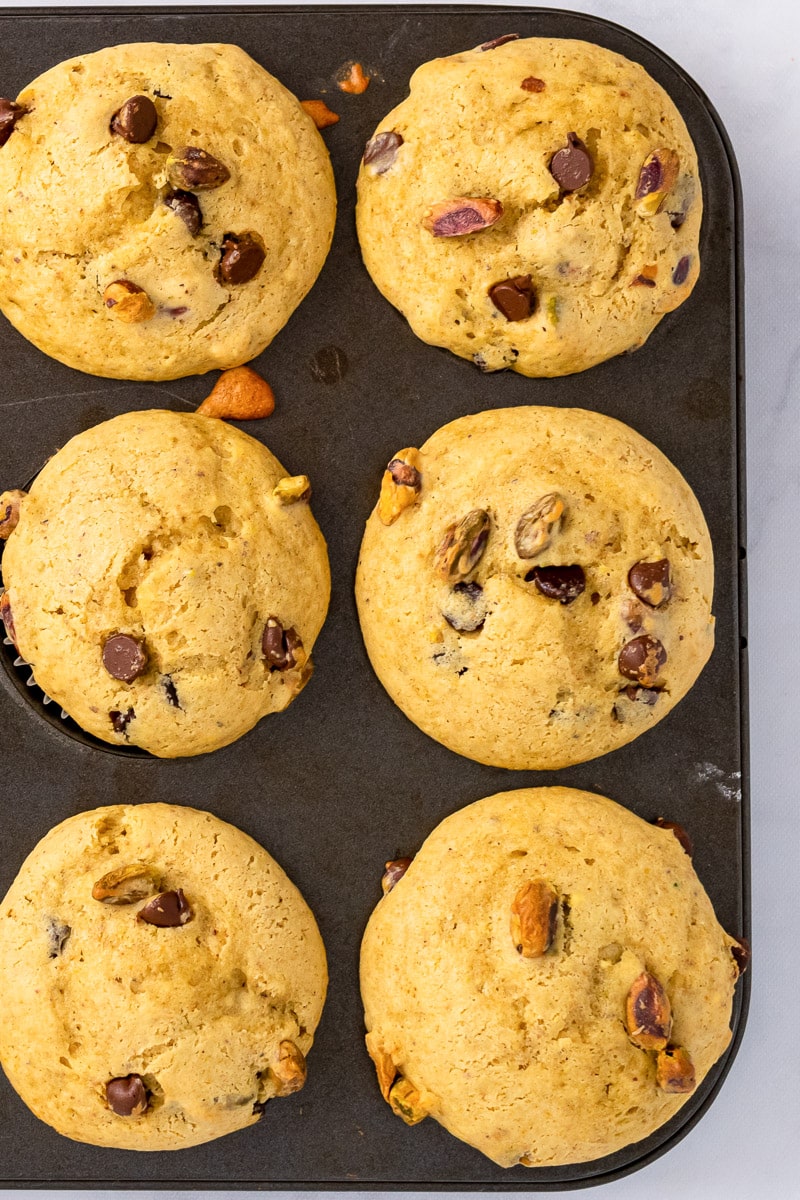 More Chocolate Chips 
Once you get your muffins in the tin, you can add extra chocolate chips on top for added flavor and a nice presentation. 
Mix In Chips 
Instead of classic chocolate chips, you could swap them with white chocolate chips, caramel chips, peanut butter chips, etc. 
Raisins or Cranberries 
Consider mixing in some dried raisins or even cranberries for a sweet twist. The dried fruit will plump up a bit as it bakes in the oven, making your muffins even fluffier.
Nuts 
I find that the nuts add a nice crunch and flavor, but you can leave them out if you prefer. You could also simply replace them with cacao nibs or something similar.
Banana Chocolate Chip Muffins FAQs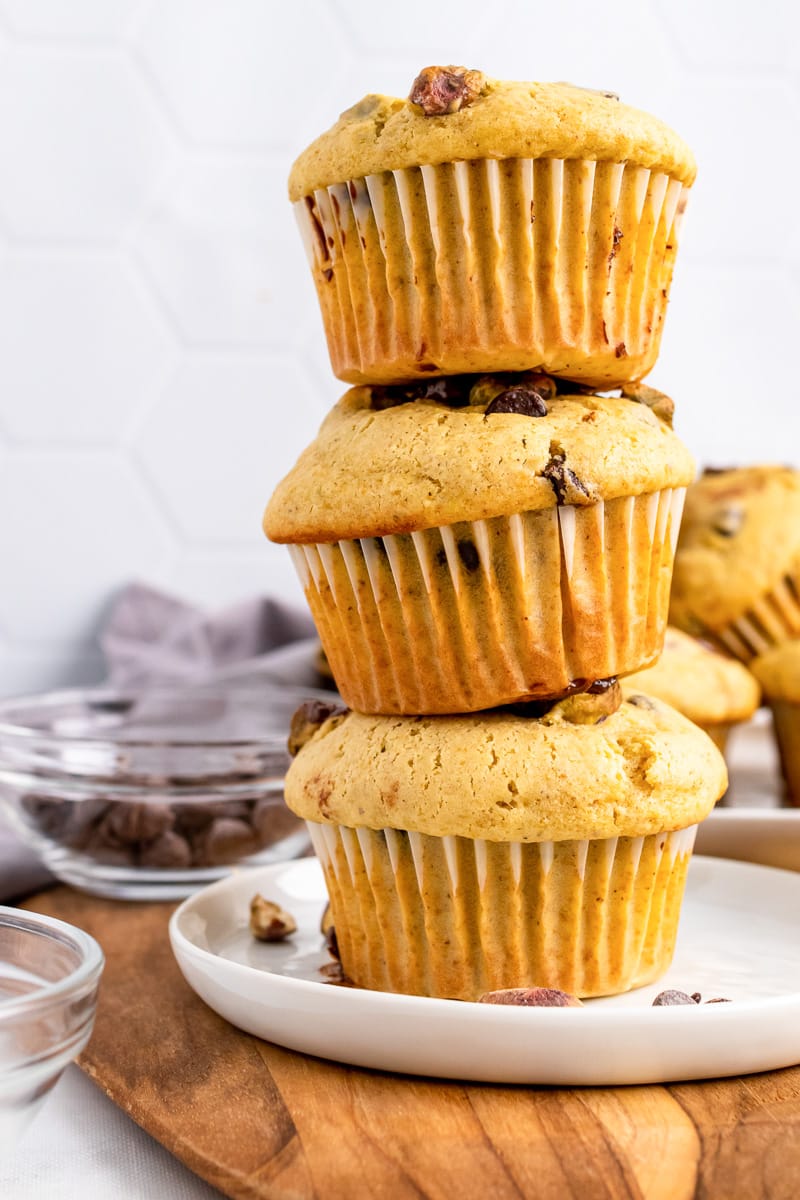 How can you ripen bananas quickly? 
Place bananas on a baking sheet and cook at 350°F for 8–10 minutes. This will darken the peels and ripen the bananas. Let them cool a bit, then peel, mash, and mix. 
How should you store these banana muffins? 
Storing your muffins in an airtight container or bag in the fridge will extend their shelf life up to 5 days. If you store them at room temperature, they will spoil faster. 
Can you freeze these banana muffins? 
Go right ahead and freeze the muffins for 2–3 months. You just need to allow them to cool completely before placing them in a proper container and freezing. When you're ready to eat them again, let them thaw on the counter or warm up in the microwave. 
Recipe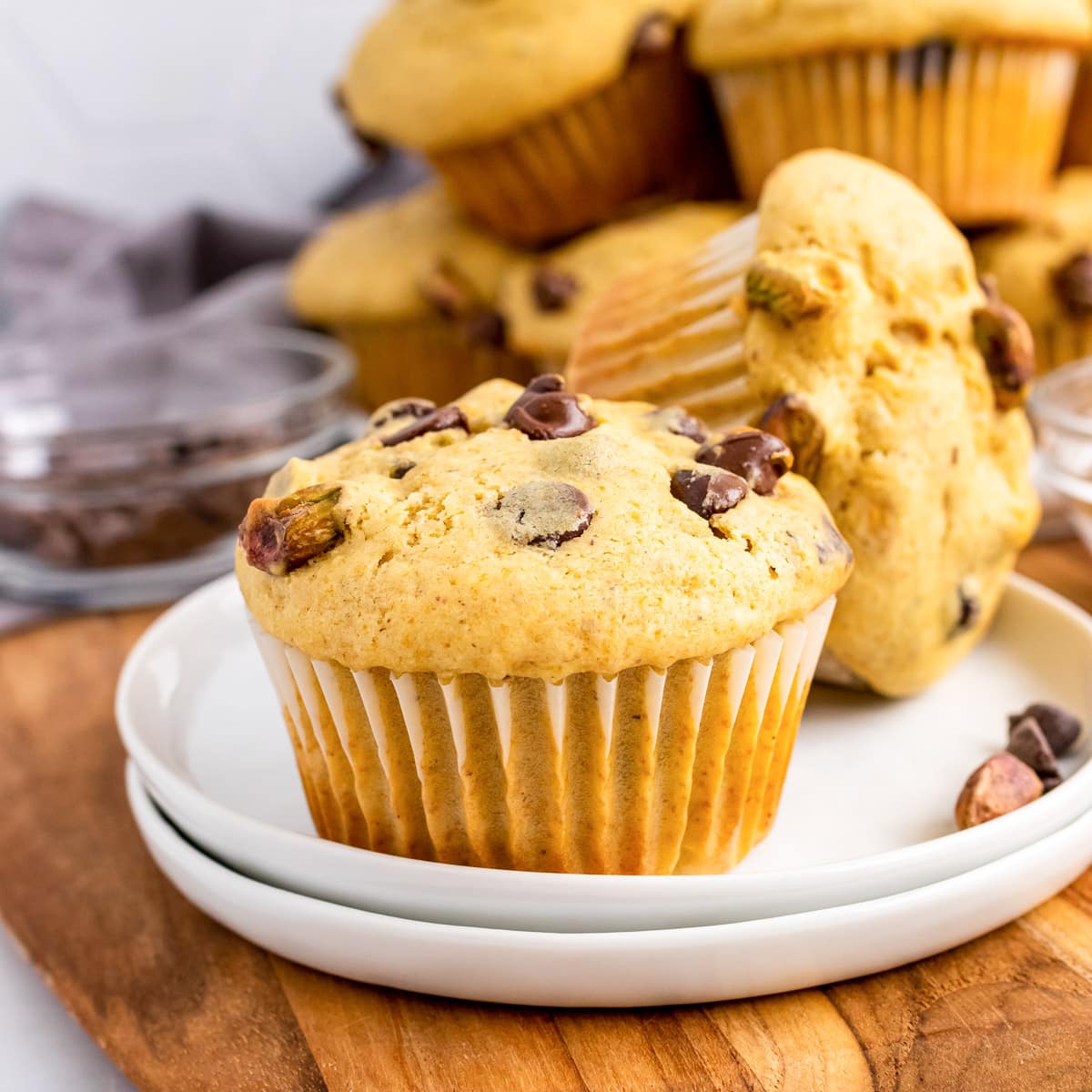 Servings: 12 muffins
Calories: 193kcal
Instructions
Preheat oven to 375°F. Grease a muffin tin or line it with papers.

In a mixing bowl, combine the flour, sugar, cinnamon, baking powder, baking soda, and salt.

Peel the bananas and place them into a separate mixing bowl. Use a fork to mash them. You should have approximately 1 ⅓ cups mashed bananas.

Add the egg, butter, and vanilla to the bowl with the bananas. Mix until well combined.

Fold in the chocolate chips and nuts if using.

Pour the muffin batter into the muffins tins, filling each about ⅔ of the way full.

Bake for 18–20 minutes, or until a toothpick inserted into the center of a muffin comes out clean.
Notes
After pouring the batter into the muffin tins, you can add a sprinkling of extra chocolate chips for garnish, if desired.
The chocolate chips can be swapped for caramel chips, white chocolate chips, or even raisins for a totally new recipe!
Your bananas should be quite ripe for this recipe! If your bananas are not ripe enough, you can soften them in the oven. Peel the bananas and bake on a baking sheet for 8–10 minutes at 350°F. This will "ripen" them so they are easier to mash.
Store the muffins for up to a week in a sealed container, or freeze for up to 3 months.
Nutrition
Calories: 193kcalCarbohydrates: 34gProtein: 3gFat: 5gSaturated Fat: 1gPolyunsaturated Fat: 2gMonounsaturated Fat: 1gTrans Fat: 1gCholesterol: 16mgSodium: 238mgPotassium: 159mgFiber: 2gSugar: 18gVitamin A: 51IUVitamin C: 3mgCalcium: 39mgIron: 1mg
Craving more veg-friendly recipes?
Shop our collection of vegetarian and vegan cookbooks, including our new Vegan Thanksgiving and Vegan Christmas cookbooks!