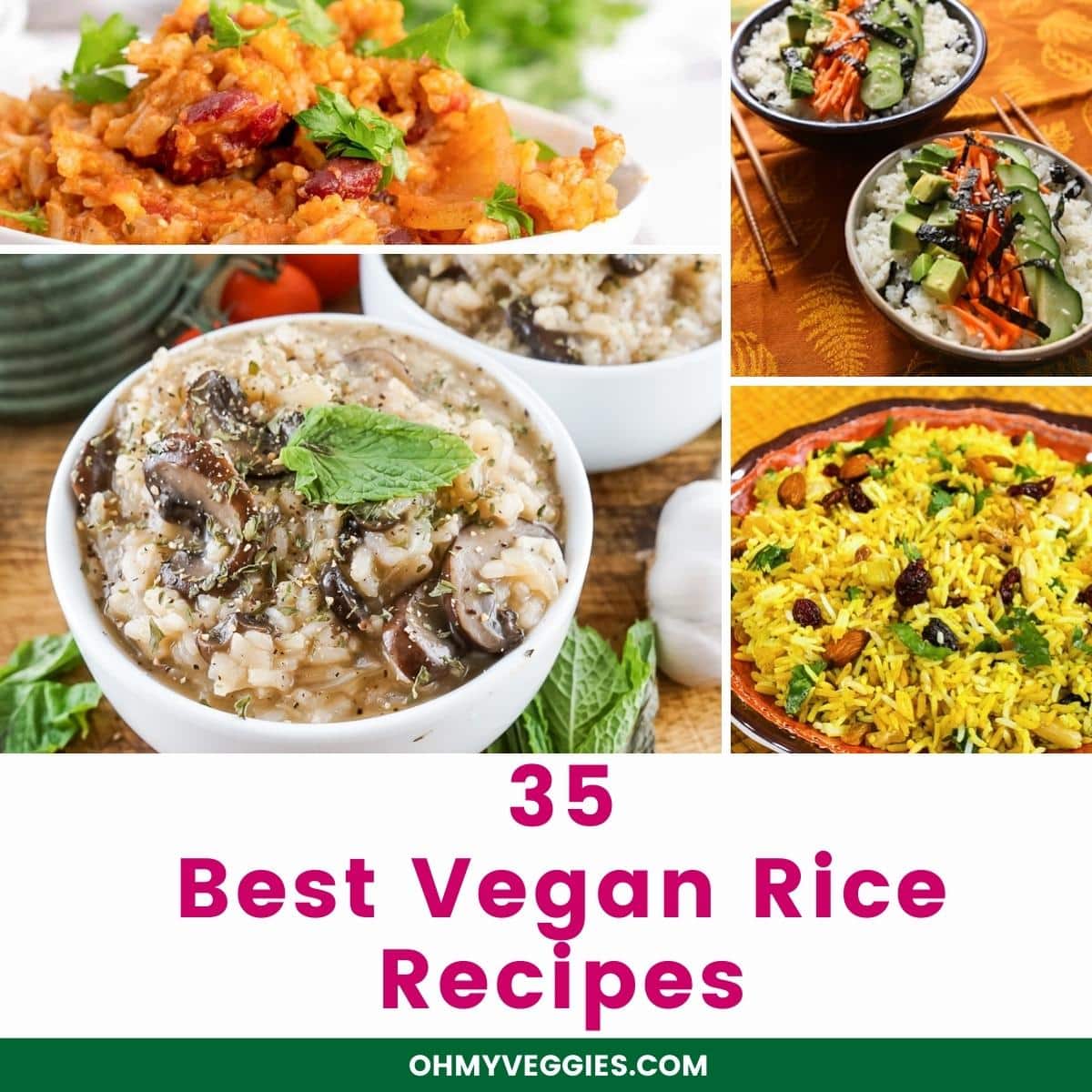 Rice is such a versatile food. It fits into pretty much any cuisine from Asian to Mexican—and it tastes delicious! From rice puddings to casseroles, there's a rice dish for everyone in this list of the best vegan rice recipes.
Best Vegan Rice Recipes
From rice puddings to casseroles, there's a rice dish for everyone in this list of the best vegan rice recipes.
Spanish Rice and Beans make for a hearty side dish or filling meal. They're made with protein-packed red kidney beans and fluffy brown rice. This dish has a great mix of savory seasonings and will keep you satisfied bite after bite. The rice's bold orange hues are in large thanks to the smokey spicey seasonings the dish is infused with!
If you need a soothing snack, then this Vegan Rice Pudding is for you! Almond milk, orange, and comforting cinnamon spices combine with soft white rice to create a fantastic pudding. As a bonus, this recipe includes several tasty variations to try!
Velvety wild rice, roasted grapes, and crunchy walnuts combine to make this delightful vegan rice recipe. This nourishing meal comes together quickly with little effort. In addition, Wild Rice with Roasted Grapes and Walnuts has a great aesthetic, making it fantastic to serve for festive dinners and celebrations.
Brown Rice and Apples Salad is a light and refreshing salad packed with juicy fruit and fluffy rice. It's like a bowl of energy in the form of a salad! This vegan rice recipe can easily be doubled or even tripled. It's great to serve as both a side and an entree—a versatile rice dish that belongs in every chef's kitchen!
This healthy vegan rice dish is one you'll want to make repeatedly. It's fluffy, soft, and the perfectly seasoned. Flavors of sriracha and pineapple will invite you to have another bite. As a bonus, this Vegan Baked Fried Rice is very easy to make!
These Cauliflower Rice Sushi Bowls with Tofu are healthy and packed with 15 grams of protein. They're also low in calories and taste incredible! Enjoy tamari sauce, maple syrup, cucumbers, and beets as they combine to make a delightful meal.
Veggie-Packed Spanish Rice is loaded with fantastic vegetables! The dish takes just ten minutes to prepare, and it's ready to eat in just under an hour. It's a vibrant, bold orangey-red color with flecks of green leaves.
Creamy, refried beans combine with a vast selection of crisp vegetables to make this savory meal. Lightened-Up Black Bean Burrito Bowls with Carrot Rice are filled with many vegetables and fantastic seasonings such as cumin, chile powder, and salt and pepper. This vegan rice dish is very low in calories and still very hearty and filling!
Creamy Wild Rice Mushroom Casserole is a hearty dish. It can be adjusted to become gluten-free with little effort. This casserole is plant-based comfort food. It looks fantastic and is bright and bold in color!
This vegan rice recipe is made with earthy wild rice and roasted root vegetables. Wild Rice & Roasted Root Vegetable Bowls take just 15 minutes to prepare and are drizzled with a simple savory tahini dressing.
Vegan Wild Rice with Marinated Mushrooms is fantastic! It boasts hues of brown, green, and red all throughout the dish. This meatless dish is excellent for leftovers as well! It's easy to prepare and sure to please everyone you're serving.
This Brown Rice and Wgite Beans with Shiitakes and Spinach pilaf dish is going to be your new favorite. It has a fantastic, nutritious flavor and is ready to enjoy in less than 1 hour! It's perfect for meal prep, and the recipe can be changed up for various taste variations.
Vegan Thai Pineapple Stir-Fried Rice is a filling dish. It's made with brown rice, pineapple, broccoli, crisp bell peppers, and more. This dish is sweet and spicy, and easy to put together!
This Vegetarian Biryani Rice is fantastic! It's very low in calories and ends up being a beautiful, golden color with bright green peas peeking through. This dish is incredibly fragrant and will draw a crowd for you to serve!
Stuffing is a necessity for festive dinners, but sometimes it can be rather bland. However, this Cranberry-Pear Wild Rice Stuffing is fantastic! It has celery, peas, and dried cranberries, giving it a wonderful bitter-sweet flavor.
Black Rice with Black-Eyed Peas and Greens is a dazzling dish. It has many healthy ingredients such as black-eyed peas, sweet corn, and rice. This vegan rice dish is perfect for serving alongside any entree!
This recipe makes a wonderful southern smokey rice dish. It combines eggplant, onion, celery, and long grain rice to make a satisfying, hearty side dish or fantastically-flavored meal. Southern Creole Dirty Rice Vegan Style is filling, healthy, and super low in calories.
Ginger Coconut Rice is a fragrant dish. It's made with creamy coconut milk, garlic, ginger, and a few more ingredients. This delicious rice looks beautiful, tastes fantastic, and is simple to make!
This vegan rice dish has less than 300 calories and approximately 6 grams of protein. It's a healthy dish with plenty of hidden nutrients seeping through every bite. Quick Jamaican Red Beans and Rice is a beautiful golden-colored dish that will be loved by the entire familyl!
This Almost-Instant Fruit and Nut Rice Pilaf is a treat! It has a fantastic texture, thanks to the trail mix and rice. It's also very healthy and packed with nutrients!
These Cauliflower Rice Sushi Bowls make for an elegant meal. They're a fun way to enjoy sushi without the meat. In addition, these bowls look fantastic when they're done!
Chinese-Style Cauliflower Fried Rice is packed with vegetables. In fact, the base of this meal itself is a vegetable! You can customize this dish to your heat/spice liking. This dish tastes so great that even the littles at your table will love it!
Cauliflower rice is a great way to indulge in a hearty, satisfying dish while ensuring you get a ton of vegetables at the same time. This Cauliflower Rice Pilaf is healthy, low calorie, and complements nearly any kind of entree quite nicely. It has a great texture and is packed with tasty, fragrant spices.
This awesome recipe includes a great cauliflower rice hack that will make ricing the vegetable so much easier! In this dish, you'll find black beans, bell pepper, onion, and a few more healthy foods. Cauliflower Spanish Rice is a beautiful golden orange color with flecks of cilantro peeking through.
This dish is exquisite, and it's made from simple, healthy ingredients. Cauliflower Fried Rice with Mushrooms & Chickpeas delivers fantastic, good-for-you food in a veggie-packed dish.
This Winter One-Pot Lentils and Rice offers a warm, cozy, heavenly meal. It's sort of like a hug in a bowl! Made with brown rice, lentils, potatoes, and rosemary, this dish is packed with 19 grams of protein and will keep you satisfied for a long time.
Cuban Brown Rice with Sweet Plantains has a great earthy-sweet flavor. This dish has many healthy nutrients, and it takes just 15 minutes to prepare. It's low in calories but very filling and satisfying.
This vegan rice dish combines three main ingredients—peanuts, rice, and tofu—that come together to create a delicious meal. The dish is packed with protein and has many delicious flavors. It's seasoned perfectly and tastes fantastic—and it's also great for leftovers!
Cilantro Lime Cauliflower Rice is a refreshing, versatile dish. It makes a wonderful side dish or a hearty meal. This rice is tasty, healthy, and simple. It allows for easy prep and easy cleaning up, making it a great meal to put on the workweek menu.
Creamy Vegan Pumpkin Soup with Cauliflower Rice makes for a comforting, cozy meal. It's thick, creamy, brightly colored, and contains minimal carbs. This soup is gluten-free, dairy-free, and vegan. Exceptionally nutritious, this soup is satisfying bite after bite!
Baked Stuffed Tomatoes with Pico de Gallo and Cauliflower Rice is a quick and healthy dish. It's incredibly fragrant, low-carb, and gluten-free. These tomatoes are ready to enjoy in under 30 minutes. They're a great side dish for the busy work week.
Vegan Fried Rice with Tofu is a simple meal that's packed to the brim with protein. The dish has a beautiful golden color with bright green peas and chopped orange carrots peeking through. This Asian-inspired dish is tasty and a crowd-pleaser!
This recipe for Vegan Mushroom Risotto includes many variations to make it exactly to your liking. It can be made thicker, thinner, creamy, etc. This risotto has a great texture and tastes fantastic.
Cauliflower Risotto is a versatile dish. It goes great with any entree! This dish is garnished with toasted pine nuts giving the meal a fantastic mix of creamy and crunchy. You'll be in for a treat when you smell this risotto dish cooking!
Lemon-Flavored Rice with Vegetables will help you eat less carbs and more healthy vegetables! If you're bored of regular rice and curry meals, this variation is a must try.
Reader Interactions