Choose from 25+ healthy vegetarian lunch ideas to spice up your lunch routine. From bowls to sandwiches and salads to wraps, there are loads of healthy and delicious options!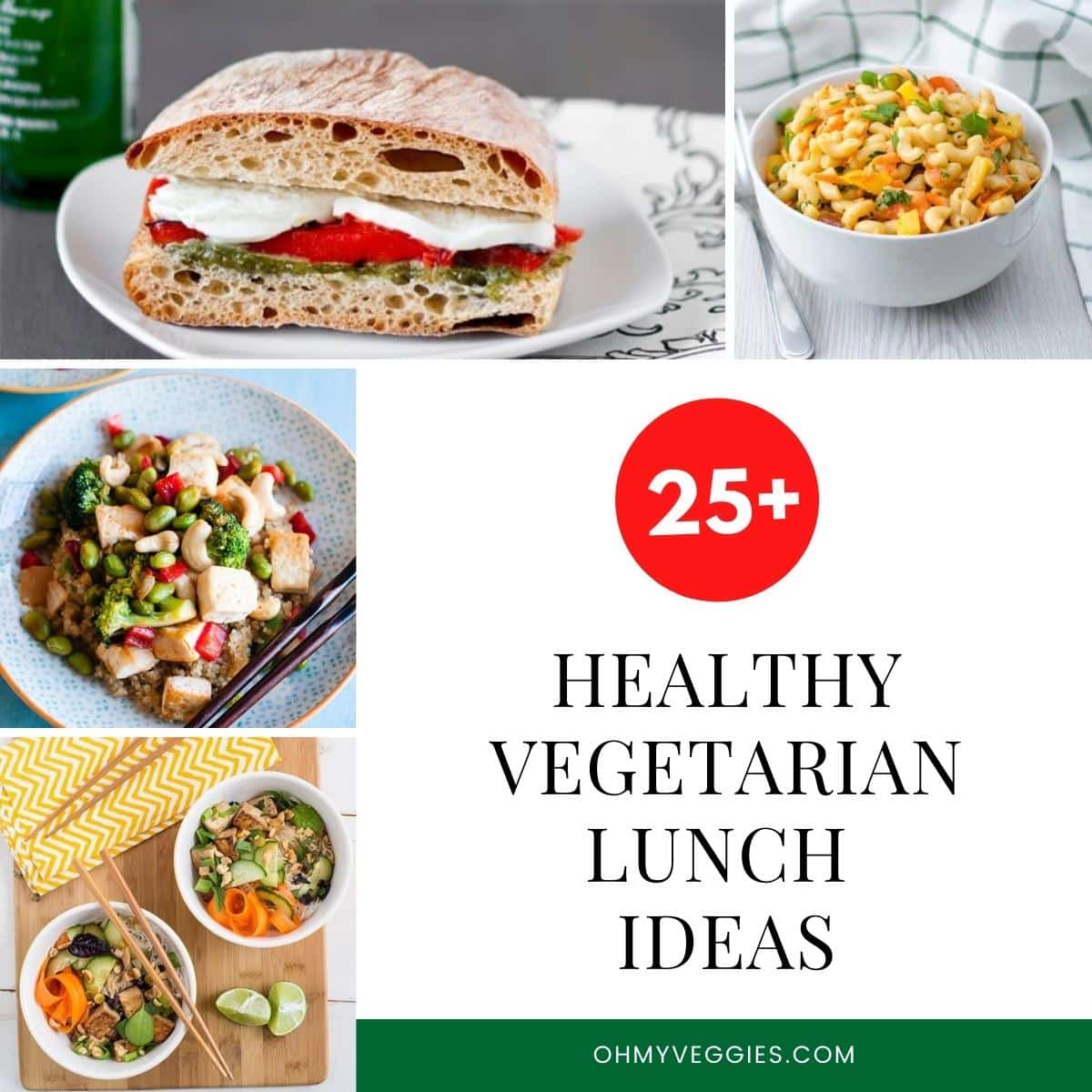 I've found that lunch can often be the most challenging meal of the day. It needs to be something that can be prepared quickly, easily packed for on-the-go eating, and still be reasonably healthy.
That's a pretty tall order!
So I've pulled together a list of my favorite healthy vegetarian lunch recipes to get you headed in the right direction. (I also have lists of healthy vegetarian breakfasts and healthy vegetarian dinners that you should check out!)
If you're just getting started on a plant-based lifestyle (or just looking to up your food game) be sure to check out my Veggie Kickstart Kit too, which comes complete with my famous mix-and-match lunch ideas.
25+ Healthy Vegetarian Lunch Ideas
Choose from 25+ healthy vegetarian lunch ideas to spice up your lunch routine. There's loads of healthy and delicious options!
This creamy, zingy Vegan Potato Salad is fantastic! Light but filling, this refreshing salad is the perfect balance of creamy and crunchy—and includes a few variations to explore. It can be served warm or cold and tastes delicious both ways!
Vegan Chopped Power Salad with Almond Miso Dressing is a delicious mid-day meal. Tossed with unique good-for-you ingredients such as oven-baked tofu, hemp hearts, and cashews, every bite of this salad delivers a ton of nutrients and vitamins! This salad makes for a healthy, robust meal.
This velvety smooth Creamy Vegetarian Macaroni Salad makes for a great lunch. It's tossed with crisp bell pepper, diced green onion, and shredded carrot. This creamy salad gets its gourmet flavour from dijon mustard, honey, red wine vinega,r and a handful of simple seasonings likely already in your cupboard. It's easy to make and tastes great!
This super simple Brown Rice and Apple Salad makes for a refreshing lunch that is packed with nutrients. This recipe is easy to double, making meal prep just a little bit easier.
These colorful Slow-Roasted Tomato and Basil Hummus Wraps make for a delightful meal. They're made with bright, crisp vegetables and take just 15 minutes to prepare. They do require some cooking time, so keep that in mind when meal prepping. However, these wraps are definitely worth the extra time commitment!
This meatless lunch is packed with nutrition. Southwestern Veggie Wraps are made with black beans, sweet potato, baby spinach, and more. They also have 6 grams of protein and are sure to keep you energized throughout the afternoon!
Enjoy the sweetness of caramelized onions dancing around with kale and black beans with these Sweet Potato Quesadillas. They are very healthy and very filling!
This Butternut Squash Kale Salad with Lentils and Tahini Dressing is delicious and jam-packed with healthy ingredients. It's also loaded with protein and sure to keep you satisfied.
This bright Lunchbow-Friendly Mexican Cauliflower Rice Salad can be enjoyed warm or chilled. It can also be made with cooked or raw cauliflower. This salad is delicious to eat and simple to make!
These bright and bold Cauliflower Rice Sushi Bowls with Tofu are full of savory goodness. They're packed with protein (from the tofu) and fresh, crisp vegetables. This dish is slathered with a homemade dressing and loaded with maple syrup, beets, cucumber, and avocado. These sushi bowls make for a hearty lunch with a ton of vitamins and nutrients.
Creamy and rich, this Vegetarian Broccoli Salad with Coconut Bacon is packed with fibre and is very satisfying. The dressing is made with maple syrup, apple cider vinegar, and a few other easy pantry ingredients. This salad is crunchy and perfect for meal prepping!
Roasted Red Peper and Mozzarella Sandwiches are incredible! Ready in just 15 minutes, these sandwiches are bursting with crisp red bell pepper, arugula pesto, freshly melted mozzarella cheese, and more. This kind of sandwich is perfect and tastes delicious served hot or cold.
These savory Spinch, Roasted Garlic, & Butternut Squash Grilled Cheese Sandwiches make for an excellent lunch. Stuffed between two slices of bread is a heavenly mix of spicy pepper jack, roasted garlic, and butternut squash. It's loaded with stringy, melted cheese—making every bite irresistible!
Vagen Caprese Sandwiches with Garlic Cashew Cheese are made with slices of crunchy, crusty bread. Filled with tangy tomatoes and crunchy sprouts, this sandwich is a low-calorie lunch idea worth trying!
Cauliflower and Chickpea Salad is crunchy and delicious. It's easy and fast to prepare and is full of healthy, good-for-you ingredients. Juicy, diced red peppers dance with salty green olives and cauliflower in every bite! This salad is healthy and loaded with protein from the chickpeas.
Vegan Thai Tofu and Noodle Salad is impressive. It is made with delicious, healthy ingredients like tofu, cucumbers, and carrots. It's also dressed with a spicy soy dressing that gives it an intense flavor.
This kale take on a traditional caesar salad is crunchy and delicious. It's slathered in a rich, creamy caesar dressing and tossed with rye bread croutons. This Kale Caesar Salad has 15 grams of protein, making it a fantastic mid-day meal.
Crisp vegetables roasted in a delicious pesto make these Pesto-Roasted Veggie Sandwiches very satisfying. Zucchini, squash, and portabello mushrooms are sandwiched between toasted bread.
Crispy seasoned and breaded zucchini strips are layered with stringy melted cheese and basil to make these delicious Zucchini Parmesan Sandwiches. Packed with healthy nutrients, these sandwiches have 25 grams of protein and are sure to keep you satisfied and energized all afternoon.
This versatile Vegan Queso can be eaten as a dip or a topping. However, for lunch, it would be best enjoyed as a dip. This queso is easy to make and velvety smooth. Pack it alongside some crunchy tortilla chips for a filling lunch!
Be sure to pack these Oh-So-Easy Broccoli Cheddar Pot Pies in a Thermos to keep them warm until lunch. These pot pies only take 15 minutes to prepare and 15 to bake! They are savory and stringy, with gooey melted cheese filling every forkful.
These Cashew Tofu Quinoa Bowls are bright, colorful, and uber-healthy. There are so many amazing, good-for-you ingredients packed to the brim in this bowl! Enjoy perfectly seared tofu paired deliciously with crunchy cashews. Each bowl has 23 grams of protein, making it a hearty lunchtime meal.
Sweet, succulent, juicy, and refreshing, this Bell Pepper and Corn Pasta Salad is colorful and filled with spiraled fusilli pasta. This salad is an excellent low-calorie lunch that's tossed with pine nuts.
Bright, juicy, and refreshing, this Caprese Orzo Pasta Salad with Blueberries makes for a great mid-day meal. Spicy arugula dances with antioxidant-packed blueberries, and they're tossed with a homemade dressing. This salad has 11 grams of protein and is going to keep you satisfied all afternoon!
This sweet take on a nostalgic childhood favorite is sure to be a delightful lunch. Maple, Sage, Apple, and Cheddar Grilled Cheese Sandwiches are gooey, stringy, and make for a fantastic gourmet lunch!
This Vegan Carrot Ginger Soup is warm, comforting, and a little bit spicy! It's perfect for a cozy lunch!
Here is a meatless version of Buffalo wings made with tofu and served with a Buffalo sauce that's completely vegan. These Buffalo Tofu Wings with Creamy Ranch Dip are spicy, crisy, and abosolutely delicious!
I hope you've found something delicious to satisfy that mid-day craving. And if you love these lunch ideas, be sure to check out these other tasty recipes: