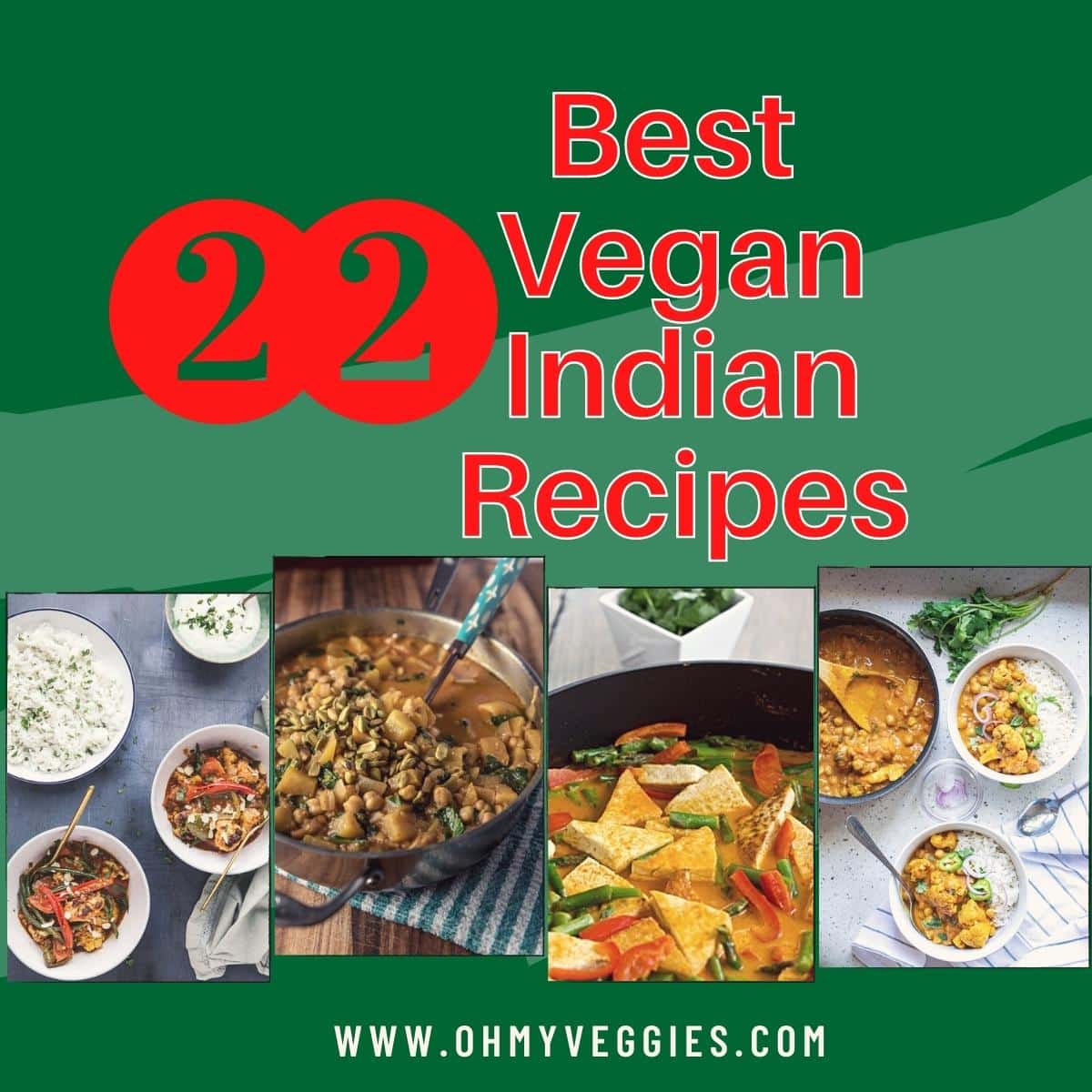 From chickpea and pasta curries to masala-flavored everything, this list of the best vegan Indian recipes has you covered.
Best Vegan Indian Recipes
From chickpea and pasta curries to masala-flavored everything, this list of the best vegan Indian recipes has you covered.
Tofu Aloo Gobi is a cozy, comforting meal. It's made with cauliflower, garlic, potatoes, and a handful of other simple ingredients. Tofu Aloo Gobi is very low in calories and makes a fantastic addition to an Indian-inspired meal. This delicious meal is satisfying, bite after bite!
Vegan Curry-Spiced Pumpkin Bisque is a thick, creamy, delicious soup. Thanks to the pumpkin puree, it's a bright, bold color and packed with healthy nutrients. This bisque is a great vegan Indian recipe. It has a ton of great flavor and is the perfect consistency.
Pasta Curry with Cauliflower and Chickpeas looks beautiful in the bowl and is extra hearty, thanks to the vast number of vegetables and protein-packed chickpeas. This dish is an Italian take on traditional Indian flavors. Pasta curry is a versatile dish that can be enjoyed warm, chilled, or hot.
This Lentil Curry is packed with exotic Indian flavors. It has a great texture and is bold in color. The curry is made with potato, cauliflower, onion, and fantasticly fragrant and enticing spices. As a bonus, this dish has 33 grams of protein and makes for a great vegan Indian dinner dish.
If you're looking for a quick vegan Indian dinner idea, this is the recipe! Quick Lentil and Kidney Bean Curry Dinner is a well-balanced meal made with brown lentils, kidney beans, and your favorite Indian simmer sauce. Packed with protein, this vegan Indian recipe is effortless to put together!
Healthy greens, sweet green peas, and golden potatoes combine to make this Quick and Easy Vegetable Curry. This bold orange dish really packs a punch! The recipe is versatile and includes several tasty variations to try.
This fantastic vegan Indian recipe takes less than 20 minutes to prepare! Greens-Stuffed Potato Curry Dinner is a favorite Indian dish. It's healthy and easy to make.
These Indian spiced fries are addictive. They're great to serve at dinner parties and perfect for a late-night snack. Masala Zucchini Fries are a fantastic way to indulge without the added carbs. These fries are low in calories and can be served alongside a creamy yogurt dip. The dip offers a cool balance to the hot Indian flavors!
This impressive lentil dish is packed with healthy nutrients and vitamins. It's made with a spicy sauce that has hints of garlic and chile seeping through. Masala Lentils—also known as Sabut Masoor—are made with brown lentils, onion, garlic, and the perfect blend of spices. This dish is fragrant thanks to the cumin, cinnamon, nutmeg, and other simple spices. When they combine, they make this Masala lentil dish next-level good!
Tumeric, cinnamon, and cayenne blend together to make a savory blend for this Okra Masala dish. This simple dish can be accompanied by Indian naan bread or rice.
This particular Chana Masala recipe is simple to make and requires very little effort. It is made with protein-packed chickpeas and earthy green beans. This dish is full of color and gets a spicy kick from small hot chile peppers. Made with ripe, juicy tomatoes, fresh cilantro, this dish can be served with your favorite hot grain.
If you're looking for a fantastic curry dish with plenty of bold flavors, then this recipe is for you. Red Lentil Curry is lusciously thick, creamy, and delicious. Serve this curry over hot quinoa or fluffy rice. This curry dish is vegan, gluten-free, and vibrant in color and taste. And you can make it as spicy asd you want!
Ready to enjoy in just 30 minutes, this Mushroom Curry is sure to be a new staple in your house! It makes fantastic leftovers, and the recipe is super simple—just five steps before you're welcome to dive in!
This curry is sweet and swirling with delicious flavors. It's ready to enjoy in just 25 minutes and can be served over your favorite warm grain. Pineapple Curry is a simple recipe and tastes exquisite!
This curry dish tastes elaborate but is simple and effortless to make. It's made with asparagus, rice, cilantro, and a hint of brown sugar. Thai red curry with asparagus and tofu is a well-balanced meal packed with nutrition.
This Tandoori Cauliflower with Indian-Spiced Quinoa is made with simple, healthy ingredients. Tandoori Cauliflower makes for a fantastic lunch the next day—and it's incredibly fragrant!
Curried Red Lentil & Quinoa Bowls with Chutney are a spectacular vegan Indian dish. They're filled with quinoa, onion, ginger, and a few more simple ingredients. This dish takes just ten minutes to put together and is a fantastic add-on to your workweek menu.
One-Pot Vegan Chickpea Curry is creamy and simple. It's an elegant meal that has a thick coconut base. Thanks to it's being a one-pot recipe, this dish has an easy and quick clean-up. Preparing this dish is effortless. Toss the ingredients in the pot and allow them to simmer. Then, enjoy!
Indian Vegetable Curry is a dish that's entirely vegan. It's made with perfectly roasted cauliflower, crisp bell peppers, and a diverse mix of vegetables. This curry is plant-based and tastes fantastic. It's colorful and super healthy!
This vegan Instant Pot Vegetable Curry is packed to the brim with fragrant Indian spices. It takes only 20 minutes to prepare and becomes a fantastic bold dish. This recipe even includes small hacks to make this dish taste even better!
Vegan Chickpea Curry with Coconut Romanesco is a dish with a diverse range of flavors. Each ingredient in this meal is important and adds so much delicious taste! This curry is simple to prepare and only requires 15 minutes to prepare.
This Butternut Squash Curry is bold in Indian and Thai flavors. It fuses traditional spices and flavors to make a fantastic dish. This curry is absolutely delicious.
Reader Interactions