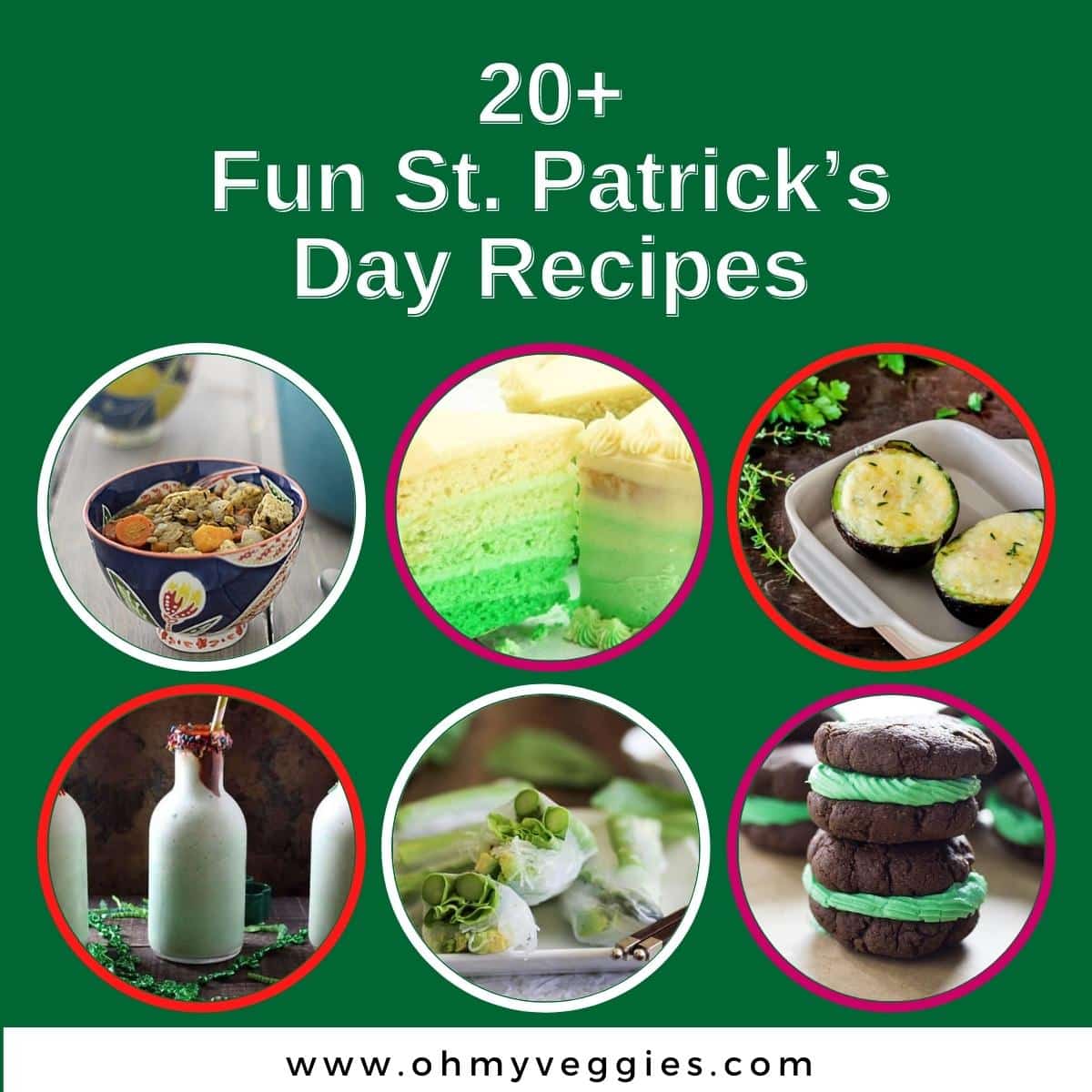 The easiest way to celebrate St. Patrick's Day is to eat something green. These recipes take it up a notch by being green and delicious! From Irish stew to shamrock shakes, these fun St. Patrick's Day recipes are sure to leave you feeling lucky.
Fun St. Patrick's Day Recipes
From Irish stew to shamrock shakes, these fun St. Patrick's Day recipes are sure to leave you feeling lucky.
This delightful Vegetarian Irish Stew with sweet Potatoes and Tempeh is made with Guinness, sweet potatoes, lentils, and more. Even better, it only requires ten minutes to prepare. This stew is low in calories and tastes delightful!
This bright green Kale-Ginger Detox Smoothie is packed to the brim with healthy ingredients! It's made with banana, cinnamon, almond milk, kale, and a few more simple ingredients. As a result, it takes just 2 minutes to prepare and even less time to indulge!
This light green edamame hummus looks extra festive for St. Patrick's Day! It's made with fresh herbs, lemon juice, and edamame. Better-Than-Trader-Joe's edamame hummus is drizzled with olive oil and seasoned perfectly with salt and pepper.
There is never a wrong time to indulge in a green smoothie, and St. Patrick's Day gives us reason to enjoy it even more! This Green Apple Pie Smoothie has a tangy taste with a hint of spice.
These bright green Asparagus and Avocado Spring Rolls with Citrus Dipping Sauce are perfect for St. Patrick's Day. They require just 10 minutes to prepare and 30 minutes to cook!
Green Bean Summer Salad is a bright, festive, and healthy salad. This salad contains juicy corn, zucchini, and vibrant tomatoes. It's filling and delicious!
This Chia Green Super Smoothie is bold in both aesthetic and taste. It's healthy, low-calorie, and made with super-food Chia seeds. This smoothie has a slightly sweet and tangy taste. Enjoy the combination of lettuce or kale mixed with cucumber, chia seeds, and a few others.
Spicy Avocado Edamame Dip boasts a heavenly texture and the perfect amount of spice. This dip is very low-calorie and tastes great! In addition, its bright green color makes it perfect to serve for your St. Patrick Day festivities!
Bright green Edamame beans are perfectly seasoned and taste delightful in this Seasoned Edamamde Appetizer. This simple appetizer is a great addition to any St. Patrick Day spread!
This Edamame Guacamole can be as smooth or chunky as you like. Enjoy the healthy benefits of edamame, cumin, chile spice, and more. Enjoy this dip with your favorite tortilla chip!
This green salad is packed with healthy nutrients! There are bright, crunchy carrots, tart apples, and pickled beets. This Mixed Greens Salad with Apples, Carrots, and Pickled Beets looks beautiful! It also tastes fantastic and is easy to put together.
This green salad is crunchy and sweet, and it tastes absolutely heavenly. It's made with celery, walnuts, apple, quinoa, chickpeas, and more. Celery & Apple Walnut Salad with Honey Miso Dressing is a beautiful-looking salad that's also very filling.
These Avocado Baked Eggs with Crème Fraîche and Herbs are delightful. They make for a fantastic appetizer alongside a festive meal. These eggs are sprinkled with cheese for a touch of added goodness.
Vegan Green Spring Salad with Quinoa and Lemon Mustard Dressing is so tasty. This vibrant salad is gluten-free and vegan. It's perfect to serve for St. Patrick's Day festivities and sure to be enjoyed by everyone.
This Green Smoothie Bowl delivers a wonderfully balanced meal. It's made with avocado, spinach, banana, lime, and a few more ingredients. This smoothie bowl is delicious and packed with healthy nutrients and vitamins.
This simple Fruity Green Smoothie is a delight! It's made with simple fruits and vegetables. This smoothie is delicious—and perfect for St. Patrick's Day!
An Irish classic, Kale and Cabbage Colcannon is made with potatoes, cabbage, kale, leeks, and scallions. It's easily made vegan with non-dairy milk and olive oil!
This delicious Ombre Cake with Ombre Frosting is an excellent way to celebrate St. Patrick's Day. The beauty and flavor of this cake make it a wonderful layer cake recipe to use for your festivities this year.
It's so much fun to make green desserts for St. Patrick's Day! This delicious Peek-A-Boo Cake is an excellent way to celebrate your Irish heritage or simply enjoy the holiday with family. The cake itself is simple, but inside you'll find a hidden St. Patrick's Day treat!
I've made these Homemade Mint Oreos with St. Patrick's Day in mind. And you'll be happy to know that this mint cream cheese frosting is to die for! Another awesome thing about this recipe is that you can adjust the frosting to match any occasion.
This fun Shamrock Shake will really hit the spot on St. Patrick's Day—or anytime you find yourself craving a sweet green shake! It's super easy to make and makes for a great dessert or snack.
This Very Green Avocado-Tahini Dip is a marriage of guacamole and hummus that's infused with a good amount of tender greens. This rich green dip makes a unique statement for your St. Patrick's Day celebrations.
Reader Interactions