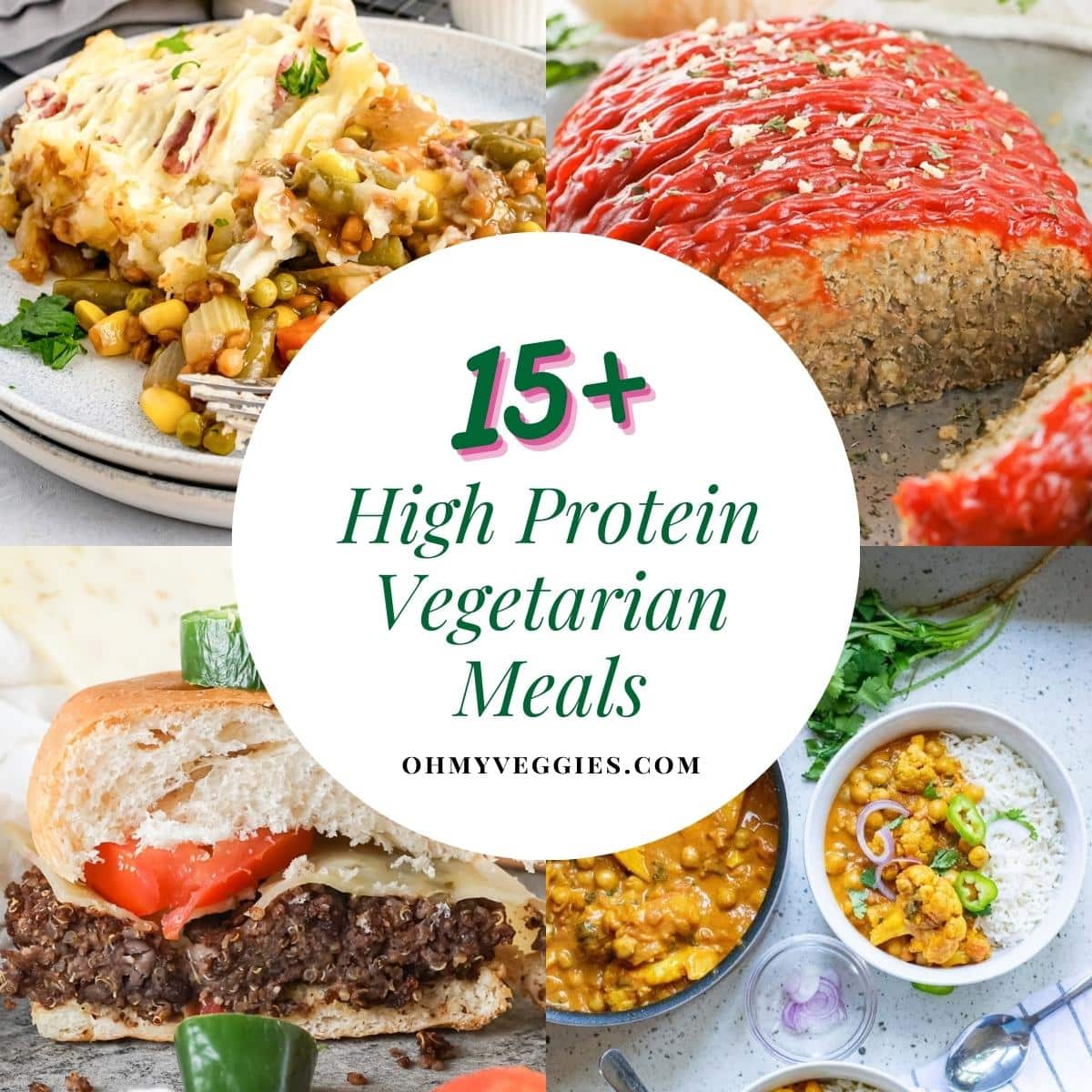 Just because you're not eating meat doesn't mean that you can't eat high-protein meals! This list of high protein vegetarian meals includes veggie versions of all the classic meat-based comfort foods like shepherd's pie, burgers, and enchiladas.
High Protein Vegetarian Meals
This list of high protein vegetarian meals includes veggie versions of all the classic meat-based comfort foods like burgers and enchiladas.
Vegan Shepherd's Pie is a well-balanced, hearty meal made with potatoes, chickpeas, and many vegetables. This high protein meal is a freezer-friendly, making it great for meal prep! In addition, this shepherd's pie is a great low-calorie meal and perfect to serve to dinner guests.
This Black Bean Quinoa Burger is a very high protein vegetarian meal made with black beans, quinoa, and delicious smokey spices. These quinoa burgers are high in protein and are super delicious! They can even be made with additional vegetables like crisp bell peppers, onion, and cilantro.
This Vegan Lentil Loaf takes very little time to prepare. It has under 400 calories and is packed with protein! This lentil loaf is made with hearty lentils, sweet onions, and a great selection of seasonings.
Coconut, chickpea, and cauliflower combine to make this comforting and delicious One-Pot Vegan Chickpea Curry. This Indian-inspired dish is ready in under 20 minutes and makes for a healthy, simple weeknight dinner.
These Vegan Enchiladas are packed with traditional Mexican flavors. They're made with refried beans and can be dressed with your favorite toppings, such as sour cream and cheese. Even better, these enchiladas are super simple to make!
Vegan Lentil Soup is a cozy and comforting dish to come home to during the workweek. It's delicious and very high in protein. And the best part is that this soup only requires a small amount of time to prepare and cook!
Bursting with protein-packed black beans, creamy goat cheese, and sweet corn, these veggie enchiladas are delicious! They have an incredible flavor and healthy filling, and they're smothered with a homemade enchilada sauce. Veggie Enchiladas with Black Beans, Corn, and Goat Cheese are great to serve up for a big family meal or when you have dinner guests.
Vegetarian Thai Veggie Burgers are delicious. They do require some time to prepare, but I promise it's worth it! These burgers are topped with cashew curry cream and packed with vegetables. Enjoy healthy, good-for-you ingredients like chickpeas, green onions, and rolled oats in this delicious protein-packed vegetarian meal.
Vegetarian Pot Pie is super delicious, and I'm sure you're going to love it! It's hearty filling is made with many vegetables, spices, and healthy nutrients. This pot pie is packed with protein and has a perfectly flaky crust.
Easy Chickpea Pot Pie is a simple, nutritious meal. This meatless pot pie is filling and bursting with protein. Enjoy delicious vegetables like green peas and spices like smokey paprika. This veggie pot pie is sure to become a new favorite!
Curried Red Lentil & Quinoa Bowls with Chutney are a very high protein vegetarian meal. They're spicy, smokey, and delicious! And this festive-looking meal tastes just as good as it looks!
Brussels Sprouts Pasta looks beautiful in a bowl and is filled with healthy ingredients. Brussel sprouts, spaghetti, and pine nuts combine to create a heavenly dish. This pasta dish is low in calories and high in protein! In addition, it's very quick to prepare—making it a perfect weeknight dinner.
Serve these delicious Vegan Sloppy Joes with Pinto Beans and Quinoa on a bun or in a lettuce wrap. They are absolutely delicious and made with excellent healthy ingredients!
Quick Mixed Beans and Corn Stew is a simplified chili-inspired dish. It's made with pinto beans, chickpeas, corn, and additional ingredients. This excellent vegetarian dish is packed with protein thanks to the beans and chickpeas. In addition, this cozy, comforting dish also contains plenty of vitamins!
Pinto Bean, Green Olice, & Sweet Potato Turnovers are portable protein-packed vegetarian meals. These sweet potato turnovers are delicious and perfect for make-ahead dinners or a simple weeknight meal. They have a bold fiery, smokey flavor and the perfect blend of seasonings.
Easy Vegan Bean Burritos are exactly what they say they are: Easy! These burritos are made with lettuce, salsa, and spicy peppers. Each burrito is packed with protein-rich pinto beans, making them extra hearty and satisfying.
Reader Interactions