Have you ever wondered how to cook those adorable, tiny honeynut squash? Roasted Honeynut Squash is the perfect fast, easy, delicious autumn or winter side dish! Honeynut squash is like the smaller cousin of butternut squash, with a sweeter and more concentrated flavor. Its small size means a more delicate (and edible!) skin with a much faster cooking time. It only takes 20 minutes to roast these, so it's easy to stick them in the oven while the turkey is resting for Thanksgiving dinner.
Because the flavor of honeynut squash is so naturally delicious, I chose to roast these simply with olive oil, salt, and pepper. But it's so easy to experiment with other flavors here – a sprinkling of cinnamon, a brush of pure maple syrup… with such an easy, no-fuss recipe, it's hard to mess up no matter what you add!
Another joy of the small size of honeynut squash is that each squash is a single serving. You can follow the cooking directions for this for any number of squash – so if it's just you, pop one in the oven, and if you're cooking for a crowd, roast a bunch so everyone can put a cute little roasted squash half on their plates.
What does honeynut squash taste like?
Honeynut squash tastes similar to butternut squash, with a more concentrated flavor. It's sweet, rich, and a little malty. As for the texture, it's less grainy than butternut squash, velvety smooth and soft throughout.
Can you eat honeynut squash skin?
As for the skin? Completely edible! Some larger sized honeynut squash or those harvested when they are more mature may have some tougher skin – in that case, it's easy to scoop the cooked squash out with a spoon and forgo eating the skin.
How to cook honeynut squash
Roasting honeynut squash is the best way to cook it because it helps bring out those naturally sweet flavors through caramelization. And it's so easy because you just cut it in half, scoop out the seeds, season, and roast. No peeling, and completely hands-off cooking!
I like to roast honeynut squash cut-side-down on a rimmed baking sheet. This will ensure more contact with the hot baking sheet which will result in browning. Cut-side up also works, and this may be a better option if you are using a glass baking dish, since glass doesn't get as hot as metal.
After about 20 minutes, check to see if the squash is cooked by inserting a paring knife into one of them. If it slides in with little to no resistance, the squash is fully cooked. If not, it may need a bit more time (cooking time may vary based on freshness and size of the squash).
Can I roast honeynut squash ahead of time?
Definitely! Just cook according to directions and store in the fridge for a day or two. When you're ready to reheat, just plop them on a baking sheet or dish cut-side-up and cook at 400 degrees F for 10-15 minutes, or until reheated.
What can I make with leftover honeynut squash?
It's wonderful to use leftover squash to make a roasted vegetable soup. Just scoop the squash out of the skins (the skins aren't great for soup), add to a pot with some broth, heat through, then blend using an immersion or standing blender and season to taste. You can use cooked honeynut squash as you would butternut squash.
Other squash side dish recipes
Did you know commenting and rating recipes is one of the best ways you can support your favorite food bloggers? If you made this recipe, please click the stars below to comment and Rate this Recipe and/or share photos on social media using the hashtag #bowlofdelicious or tagging @bowlofdelicious!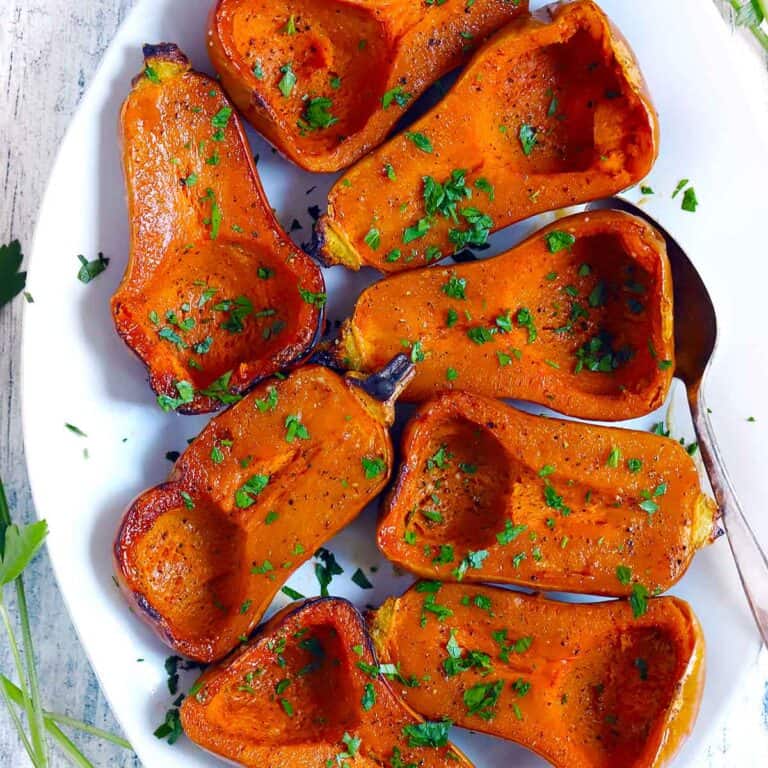 Roasted Honeynut Squash
Honeynut Squash is halved, seeded, simply seasoned, and roasted. Similar to butternut squash but sweeter with a more rich flavor, honeynut squash is so easy and fast to cook. Plus the skin is edible, so no peeling required!
Servings: 8 servings
Calories: 103kcal
Ingredients
4

honeynut squash

(or any amount you want, see notes)

2

tablespoons

olive oil

(more if needed)

½

teaspoon

kosher salt

(more if needed)

¼

teaspoon

black pepper

herbs for garnish, other spices if necessary

(see notes)
Instructions
Preheat your oven to 425 degrees F. Cut the honeynut squash in half and scoop the seeds out and discard.

Place the squash cut-side-up on a rimmed baking sheet (or other baking dish) and drizzle with the olive oil (about 2 tablespoons). If necessary, rub the oil in so everything is evenly coated. Then, season evenly with the kosher salt (about ½ teaspoon) and black pepper (about ¼ teaspoon).

Flip the squash so it's cut-side-down (see notes) and roast at 425 degrees F for 20 minutes. At this point, pierce one of the squash with a paring knife to see if it inserts very easily and the squash is soft and fully cooked. If not, give it 5-10 more minutes.

Remove from oven and serve, garnished with fresh herbs if desired.
Notes
Honeynut squash, like its cousin butternut, can vary in size and shape. You can use this recipe for any number of squash – just increase or decrease the oil and seasoning as needed. Cooking time will depend on the size and freshness of the squash, so be sure to allow for more time if you're on a schedule.
The skin of honeynut squash is edible because it's so small and delicate. Sometimes, the skin can be a little tough if the squash is on the larger end. I like to serve these as-is, and everyone can choose to scoop the squash out with a spoon to eat it and forgo the skin, or cut into it with a fork or knife for a whole bite.
Other seasonings and flavors: I love the natural flavor of honeynut squash, and find that simply seasoning it with oil, salt, and pepper is enough. But you may want to experiment with other seasonings – cinnamon would be a delicious addition, and a little brush of maple syrup or sprinkling of brown sugar would add some sweetness and caramelization to the squash. This is such an easy recipe, so feel free to experiment with it!
Roasting the squash cut-side-down on a metal baking sheet will help brown the squash and caramelize it because of the hot metal making contact with it. If you are using a ceramic or glass baking dish, I recommend roasting cut-side-up, since those materials don't conduct heat as much.
Nutrition
Calories: 103kcal | Carbohydrates: 19g | Protein: 2g | Fat: 4g | Saturated Fat: 1g | Polyunsaturated Fat: 0.4g | Monounsaturated Fat: 3g | Sodium: 152mg | Potassium: 562mg | Fiber: 3g | Sugar: 4g | Vitamin A: 16952IU | Vitamin C: 33mg | Calcium: 77mg | Iron: 1mg
Nutrition Information Disclaimer
The provided nutrition information is my best estimate and does not include any added sodium from seasoning to taste, any optional ingredients, and it does not take brands into account. I use an automatic API to calculate this information. Feel free to calculate it yourself using one of these tools:
Very Well Fit Nutrition Information Calculator