This one-pot Lasagna Soup is brimming with everything we love about traditional lasagna, including zesty Italian sausage and lots of melty cheese! Put down the casserole dish and make this flavorful homemade soup recipe in 30 minutes or less.
For another cozy one-pot recipe, try my Secret Ingredient Turkey Chili!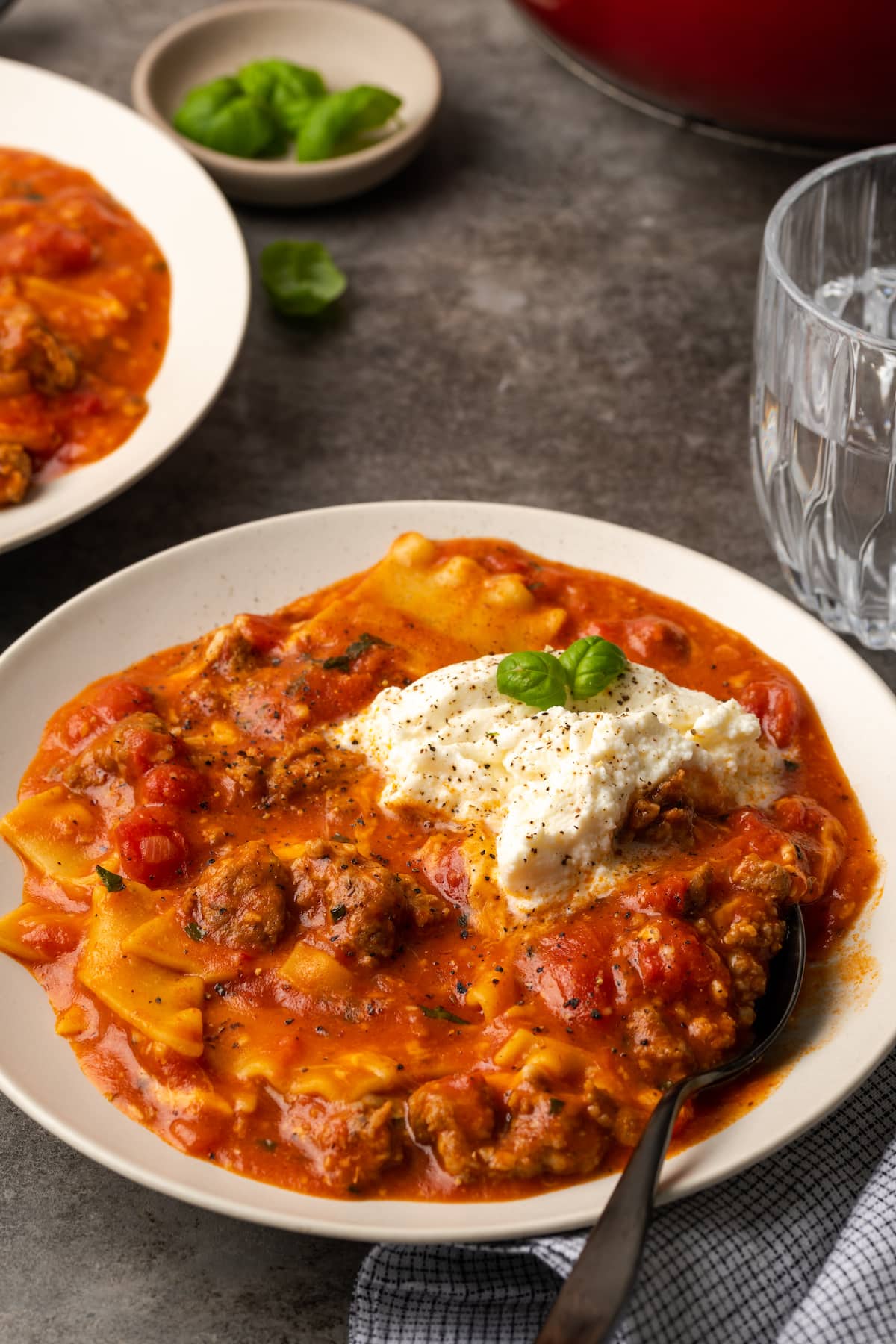 The Easiest One-Pot Lasagna Soup
Today we're turning an Italian favorite into a hearty, delicious homemade soup! Lasagna soup is everything I love about Homemade Lasagna: cozy, flavorful, and ultra-comforting. It's loaded with ground sausage, tender noodles, juicy tomatoes, and a generous amount of ooey-gooey melty cheese. 
Lasagna soup definitely hits the spot for classic lasagna without needing to turn on the oven. It's easy to make on weeknights, and perfect for chilly evenings. 
This is one of those easy dinner ideas that I just know is going to fast become a new favorite. My recipe has it all (flavor, convenience, cheese) packed into a rich and meaty one-pot soup. I can't wait for you to make it!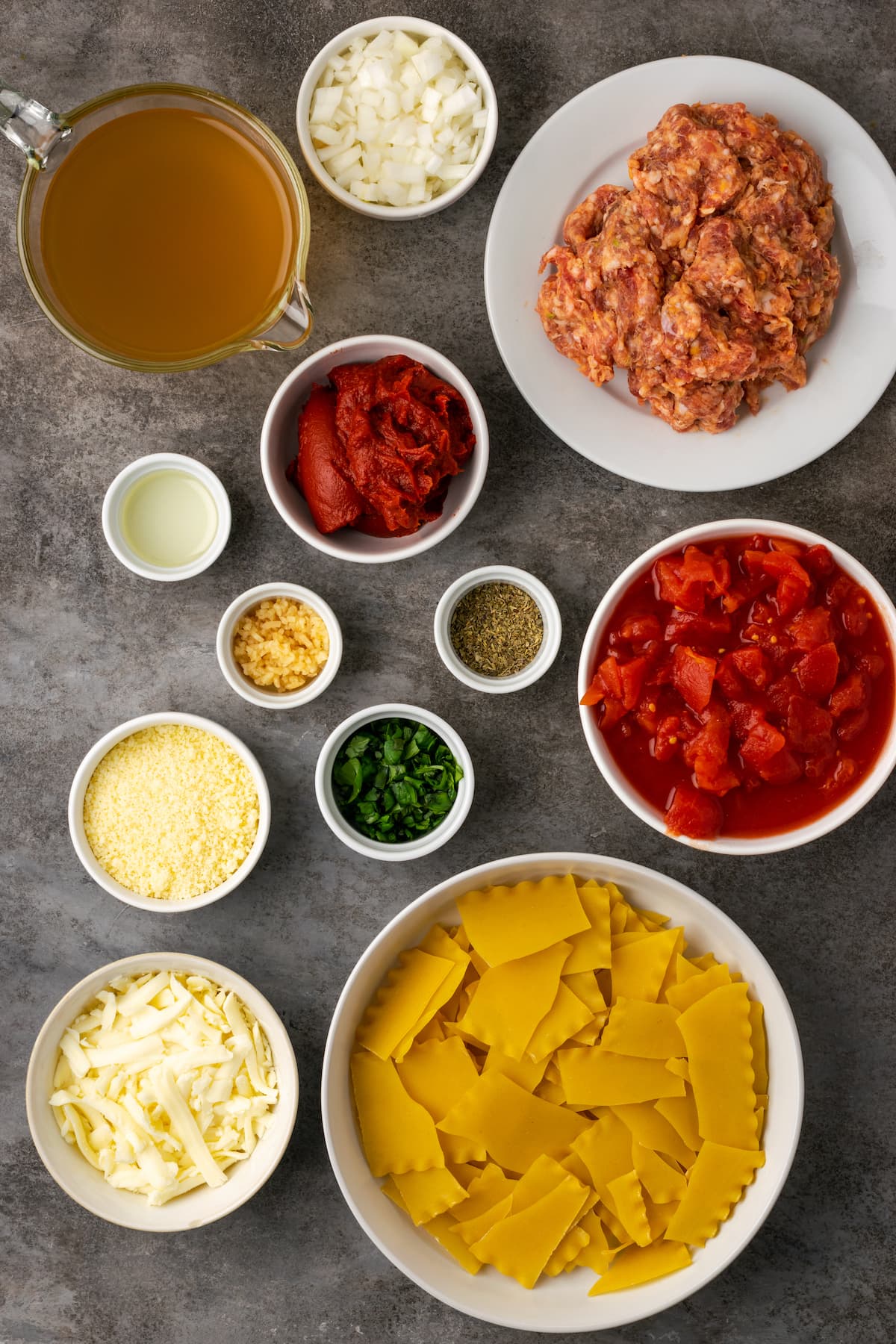 What You'll Need
Below is an overview of the ingredients you'll need to make the best-ever lasagna soup. Remember that the full amounts and details are available in the recipe card further down:
Onion and Garlic: Every delicious soup begins with good aromatics. You'll saute diced onion and garlic with a bit of olive oil to start.
Italian Sausage: I love the built-in flavor that comes with savory and spicy ground Italian sausage. You can substitute ground beef or ground turkey instead, but I'd recommend including additional seasoning in that case.
Broth: Use low-sodium chicken stock or broth (you can even make your own homemade stock), this way you can adapt the salt in the recipe to taste. Vegetable stock will also work, or use beef stock for a deeper flavor.
Tomatoes: You'll need canned diced tomatoes as well as tomato paste.
Italian Seasoning: This is a pre-mixed herb blend that you'll find in the spice aisle in most grocery stores. I use it to enhance the soup along with salt and pepper.
Lasagna Noodles: I keep things traditional and break up whole lasagna sheets for my lasagna soup. But you can really use any kind of short pasta you'd like. 
Basil: Fresh basil leaves bring a lovely herby flavor to the soup. Chopped basil also makes a nice green garnish to sprinkle over top.
Cheese: Just like a classic lasagna, this soup version isn't complete without freshly grated parmesan and melty shredded mozzarella. I also like to top my bowls with a dollop of creamy ricotta cheese.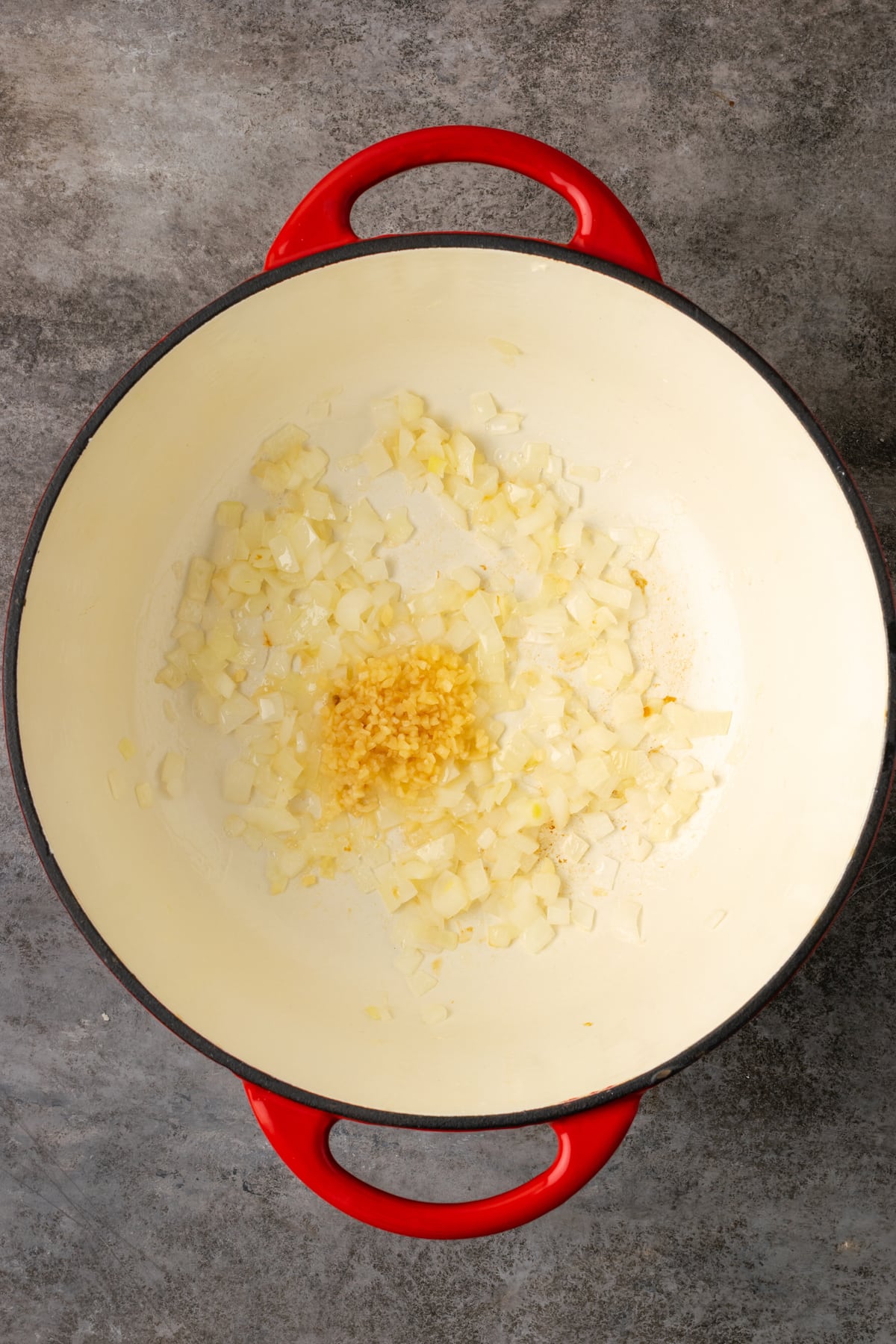 How to Make the Best Lasagna Soup
This easy soup recipe comes together in a single pot on the stovetop in about 30 minutes. It's the perfect time-sensitive alternative to a baked lasagna, filled with all the familiar well-loved flavors. Let's get started:
Saute: First, saute onion and garlic in a large Dutch oven with a bit of oil. Next, you'll stir in the sausage. Use a wooden spoon to break it up while it browns.
Add Stock and Tomatoes: Now, pour in the stock along with the tomatoes, and stir in the tomato paste. Sprinkle in some Italian seasoning while the soup comes to a low boil. 
Add Noodles: Toss in your lasagna noodle pieces, and leave them to cook until al dente. This usually takes about 15 minutes, but it's a good idea to refer to the package directions too, just in case.
Finish and Serve: Finally, add the chopped basil along with parmesan cheese and mozzarella, stirring until the cheese is melted. Give the lasagna soup a final seasoning with salt and pepper to taste, and then get ladling. I like to garnish my soup bowls with a spoonful of ricotta and an extra sprinkle of basil. See below for more easy serving suggestions!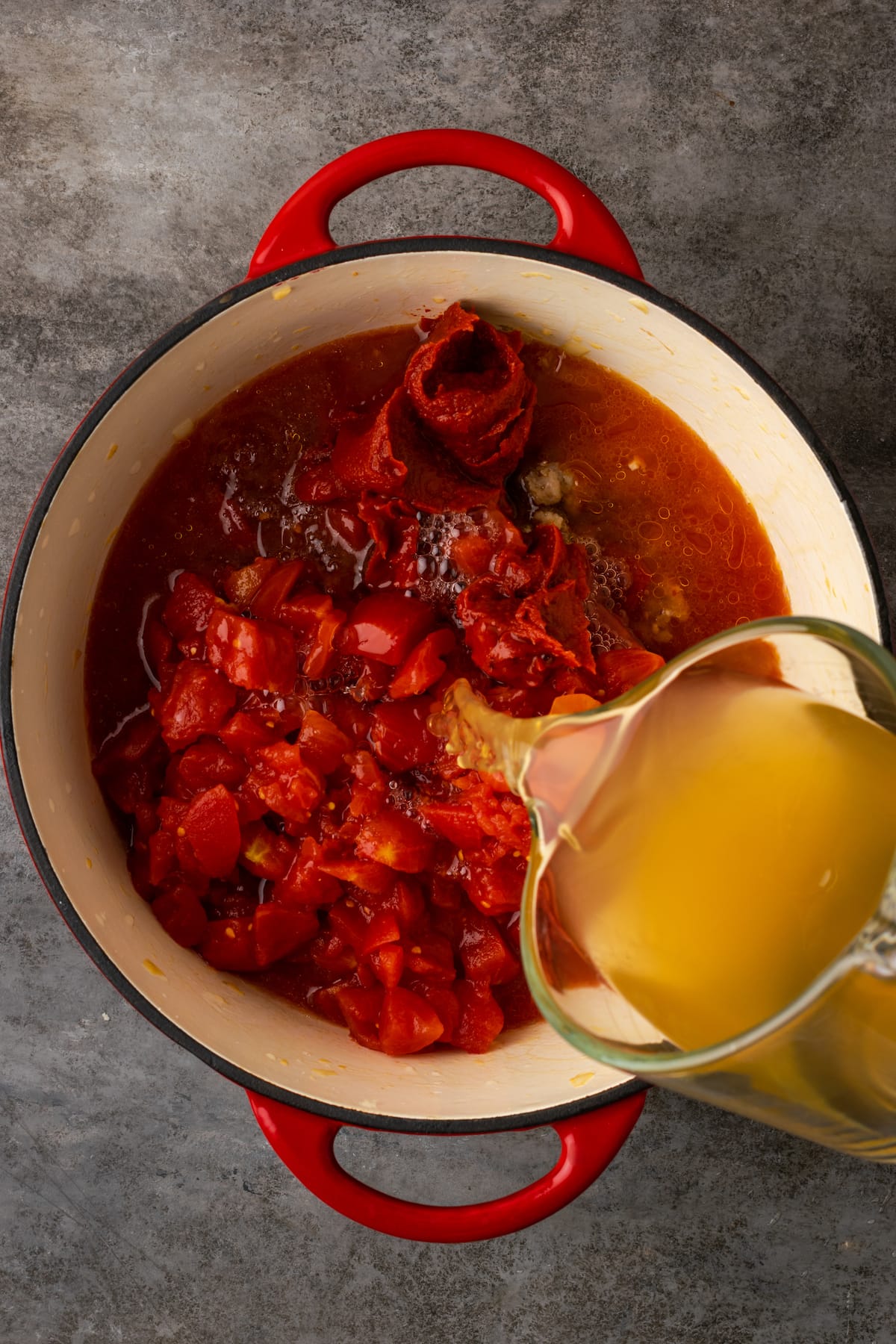 Can I Make This Soup In the Crock Pot Instead?
Absolutely. If you have the time, you can easily make crockpot lasagna soup. This is a wonderful way to make the soup ahead, too. Here's how to do it:
Follow the directions for sauteing the onions and browning the beef on the stovetop.
Transfer the mixture to the bowl of your slow cooker, and stir in the tomatoes, tomato paste, and chicken broth.
Cook the soup on low for 8 hours, or on high for 4 hours.
In the final 30 minutes of cooking time, add in the lasagna noodles.
Lastly, just before serving, stir in the parmesan, mozzarella, and basil, then season to taste.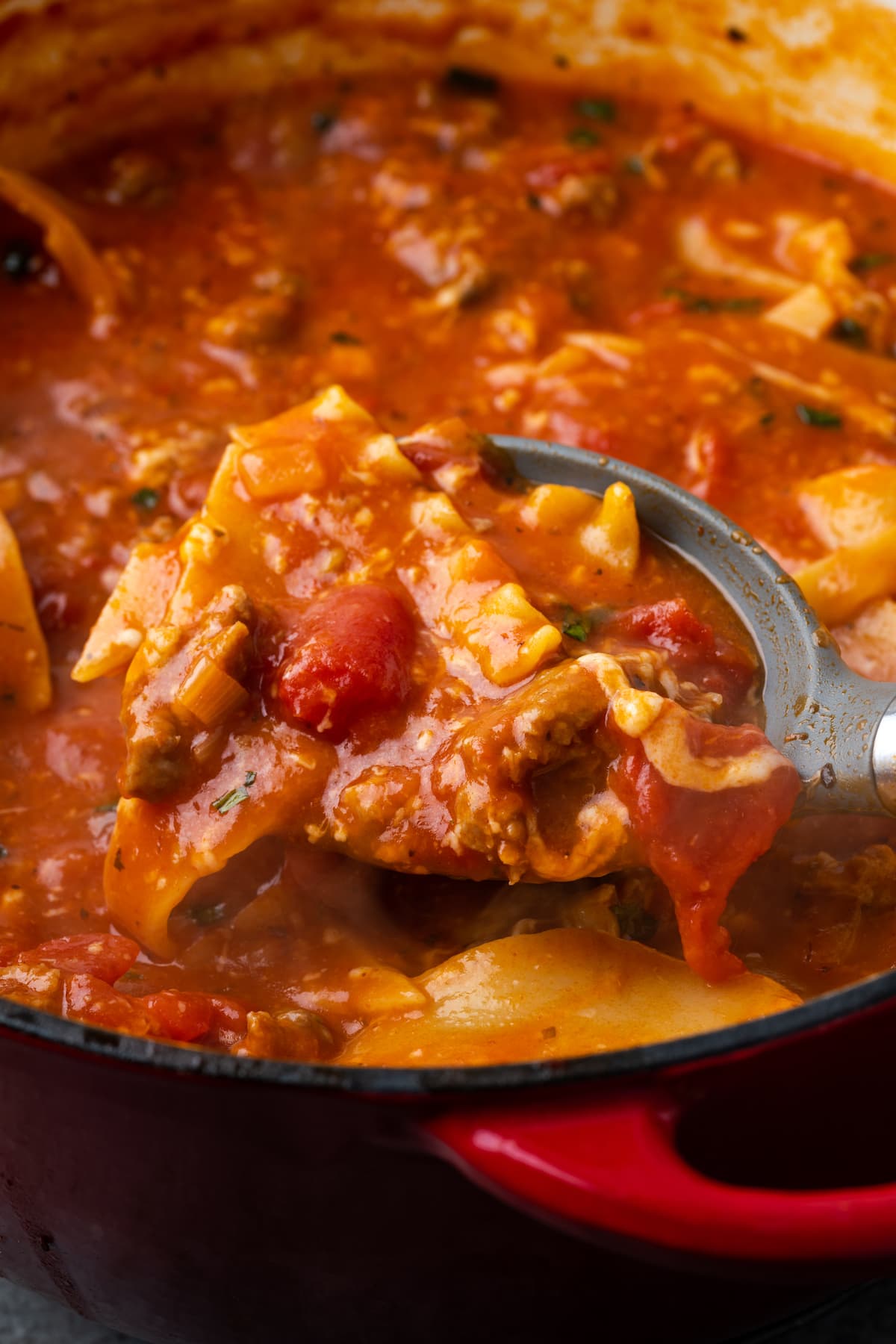 Tips for Success
This recipe is easy-peasy, so I just know it'll be a hit right off the bat. Still, a few helpful tips never hurt:
Don't overcook the noodles. Make sure you don't simmer the lasagna noodles (or whichever pasta you're using) for too long. You'll wind up with mushy, overcooked noodles. You can also boil the pasta separately, and add it to the soup at the end if you prefer.
Use the right pot. A large heavy bottom pot, like a Dutch oven, is my favorite to use when making one-pot soups. It's guaranteed to fit all the ingredients and everything cooks nice and evenly.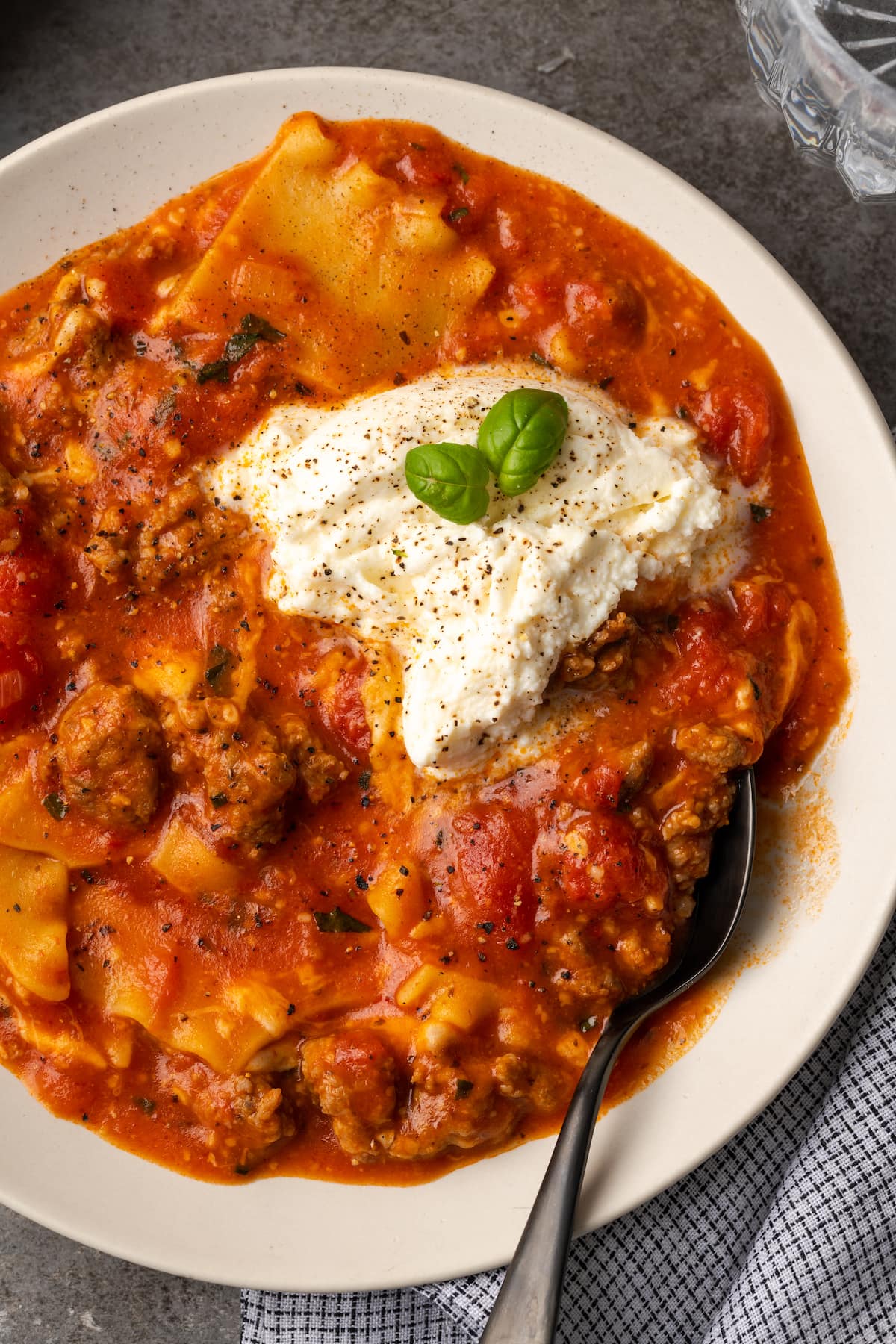 Add-Ins and Variations
Like a classic lasagna, it's easy to customize this lasagna soup any way you'd like. Here are some easy variation ideas:
Different Protein: Swap out Italian sausage for ground beef, ground chicken, or turkey.
Different Pasta: Rotini, fusilli, bow-tie, or small shell pasta can be used in place of broken-up lasagna noodles.
More Veggies: Dice up and add in additional vegetables like carrots, squash, zucchini, or bell peppers. You can also stir in greens like spinach or kale.
Vegetarian: Make vegetarian lasagna soup by substituting ground sausage with your choice of meat-free alternative. Cooked lentils, chickpeas, mushrooms, or crumbled tofu are all good plant-based options.
Creamy Soup: For an extra rich and creamy lasagna soup, stir in a bit of heavy cream right before the cheese.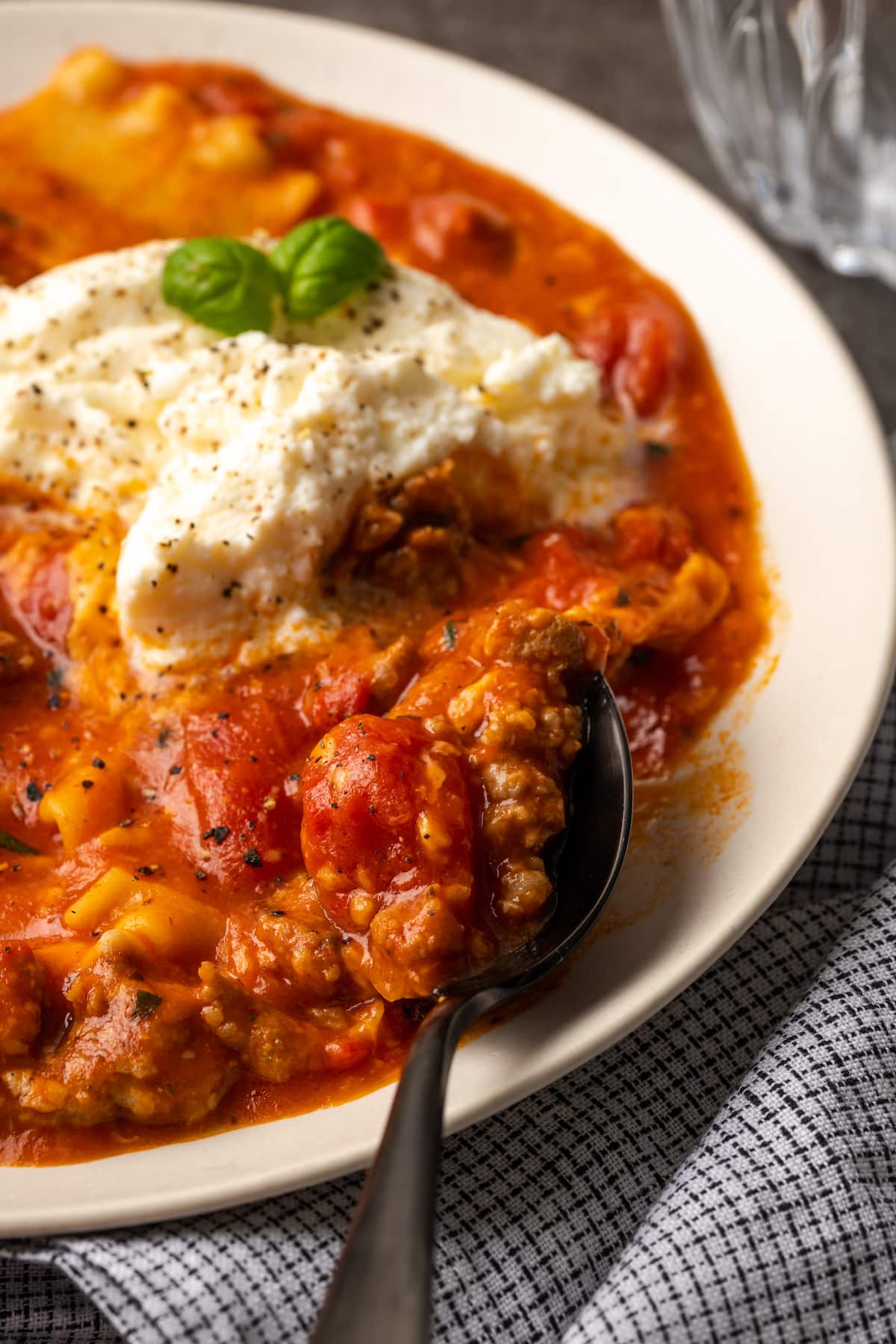 Serving Suggestions
We love serving a hearty bowl of lasagna soup with our family-favorite Garlic Bread or Garlic Knots. Fresh bread is the best for soaking up all that flavor!
Other easy side dishes are a fresh garden salad, Mediterranean Couscous Salad, or Air Fryer Asparagus. Just about any roasted or steamed veggies pair great with this soup and help to lighten up the meal.
This one-pot soup recipe makes a great game-day meal idea, too. I'll serve it as a quick alternative to White Chicken Chili alongside fun appetizers like Mac and Cheese Balls or my Tuscan Sausage Dip.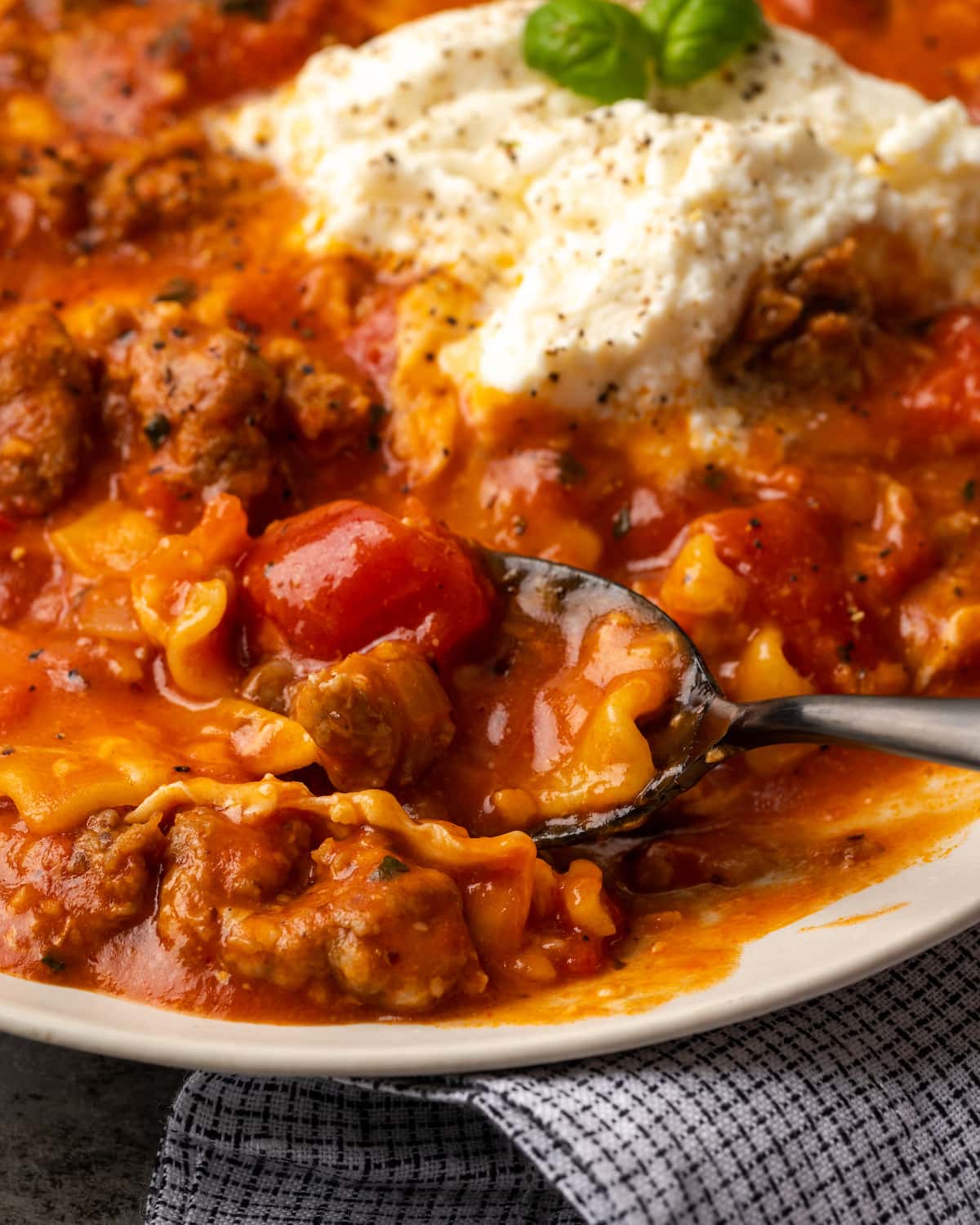 Storing and Reheating Lasagna Soup
Store any leftover lasagna soup in an airtight container in the fridge for up to 4 days. It's easy to reheat on the stovetop or in the microwave before serving.
If you're planning to make this lasagna soup ahead, you can also leave out the noodles so that they don't become soggy. Make the recipe right up until you add the broth and tomatoes, and then let it cool before storing. Reheat the soup on the stove, and when it comes to a boil, add the noodles and then finish the recipe as directed. 
Can I Freeze Lasagna Soup?
If you know you'll have lots of leftovers, I recommend freezing the soup before adding in the cheese at the end. Prepare the recipe as directed, allow the soup to cool, and then transfer it to an airtight container to freeze for up to 3 months. Defrost the soup in the fridge overnight and reheat, then stir in the cheese as usual.
---
Description
This one-pot Lasagna Soup is loaded with everything we love about traditional homemade lasagna. Put down the casserole dish and make this easy soup recipe on the stovetop in 30 minutes or less.
---
1 tablespoon

olive oil

1

small onion, chopped

2

cloves garlic, minced

1

pound ground Italian sausage

4 cups

chicken stock (32-ounce container)

2

(15-ounce) cans diced tomatoes, undrained

1

(6-ounce) can tomato paste

1 teaspoon

Italian seasoning

9

uncooked lasagna noodles, broken into pieces

3 tablespoons

freshly chopped basil, more for garnish if desired

1/2 cup

grated parmesan cheese

1 cup

shredded mozzarella cheese
Salt & pepper, to taste
Ricotta cheese for topping (optional)
---
Heat the olive oil in a large Dutch Oven or soup pot over medium heat. Add in the onion and cook for 4 – 5 minutes, until softened. Stir in the garlic and cook for an additional minute. Add in the sausage, and cook until browned, breaking apart with a wooden spoon. Drain any excess grease.
Add in chicken stock, tomatoes, and tomato paste. Stir until combined and then add the Italian seasoning.
Bring to a light boil and then add in the noodles. Cook for 15 minutes, or until the noodles are al dente.
Stir in the chopped basil, parmesan cheese, mozzarella cheese, and salt and pepper to taste.
To Serve: Ladle soup into bowls and top with a spoonful of ricotta cheese, pepper, and more basil if desired.
---
Notes
You can sub in lean ground beef or turkey for the ground sausage if desired. Add a little more seasoning if making this adaptation, as sausage adds a bit more flavor.
Store airtight in the refrigerator for up to 4 days.
Keywords: best soup recipes, one pot recipes, homemade soup
Want To Save This Recipe?
Find more recipes like this:
More Cozy Soup Recipes to Try
PIN for later: