I've been lucky to live in the vicinity of some world-class mushroom growers for most of my life. Far West Funghi were a staple at the weekly Ferry Building Farmers' market in San Francisco and Long Beach Mushrooms are a bright spot now that we are farther south. I've cooked a lot of mushrooms over the years and simple, baked mushrooms are an easy go-to for me. What you see here are mushrooms tossed in a simple ponzu marinade topped with little cubes of butter and citrus slices. Everything is covered and baked into succulent perfection in a hot oven. The sauce creates itself in the base of the dish. This is the type of preparation that is great whether you have regular button mushrooms or a fancy mix of exotic varietals. Promise.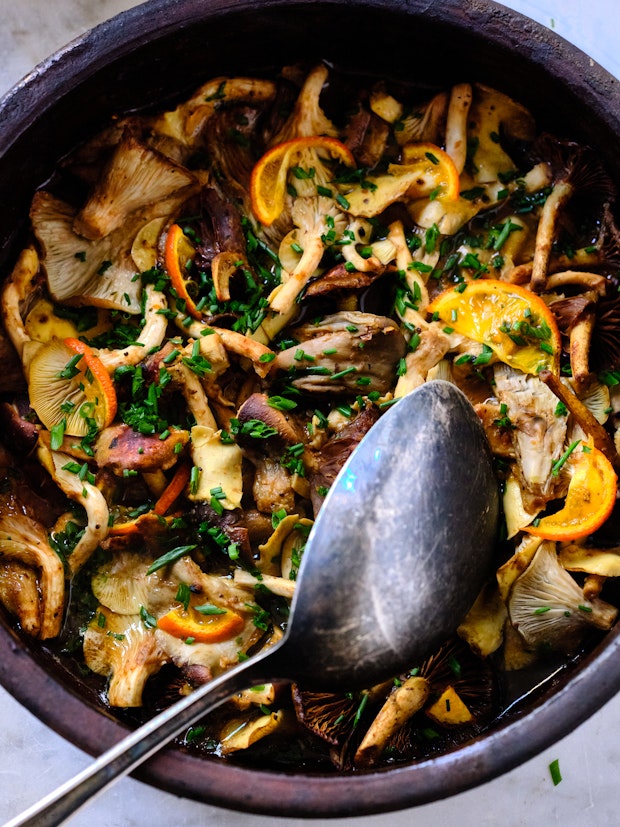 The Inspiration
Using soy sauce or ponzu as an anchor ingredient in a mushroom marinade is a fantastic combination. You see skewered soy-brushed mushrooms grilled as standard fare at many izakayas in Japan. I do variations on this at home a lot, switching variables up depending on what ingredients are on hand, and what cooking method is available. For example, the recipe today bakes the mushrooms in a hot oven, alternately, you might make a foil or parchment pocket and grill or bake that way. I tend to use ponzu sauce, and made a fresh batch of it recently. The citrus accent is key, and I like to use whatever citrus is coming out of the garden – in this case Rangpur lime. I'm equally happy using lemon, Meyer lemon, lime, slivered market lime leaves, or orange. Use whatever you have access to!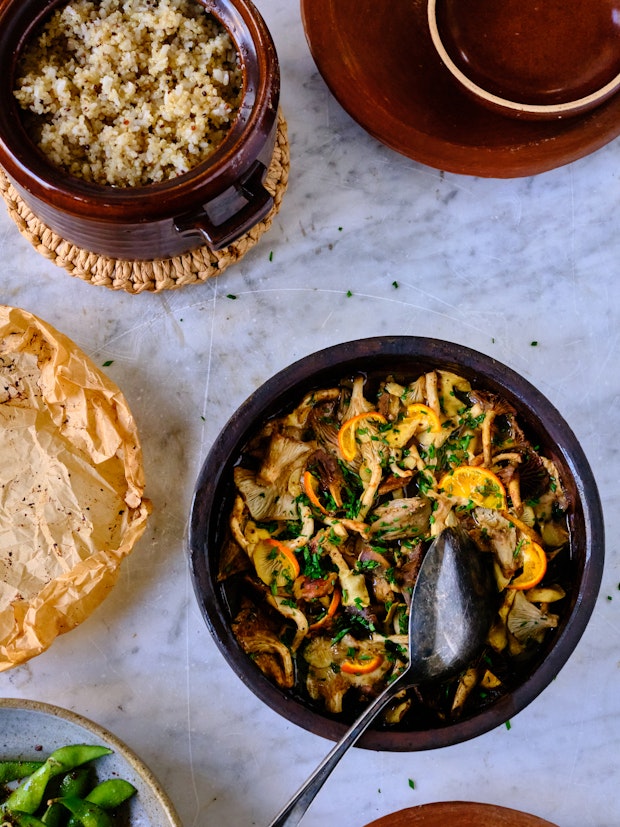 Make it Vegan
I like the richness and flavor the little dabs of butter lend to the recipe as written, the miso in the marinade melds with the butter into a fantastic sauce as the mushrooms bake. That said, a generous drizzle of good olive oil before baking would work nearly as well.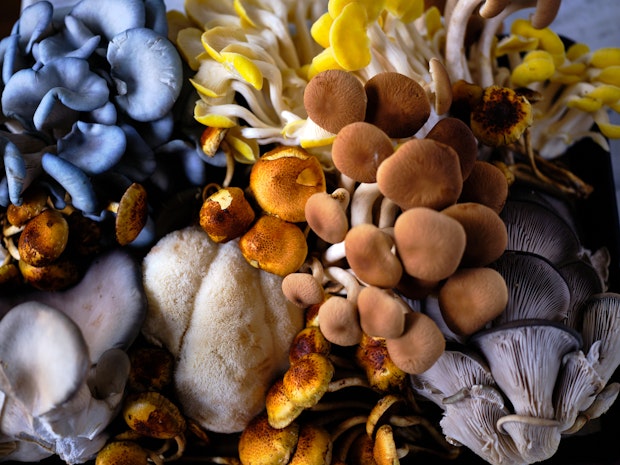 Baked Mushrooms: What Kind?
You have a lot of latitude here. The mushrooms you see pictured are beautiful cultivated types from a local mushroom grower including oyster mushrooms, mother of pearl, lion's mane, pioppino, chestnut, and golden oyster mushrooms. I like doing versions with enoki and nameko as well. I also made a fantastic version earlier in the week with straight-ahead grocery store cremini mushrooms – absolutely perfect over a bowl of steaming hot rice. So, don't sweat it if that is what is available. This is still going to be great. One pro-tip, I like to break (or cut) the mushrooms into slightly bigger than bite-sized pieces before tossing with the marinade. They will go on to collapse as they bake.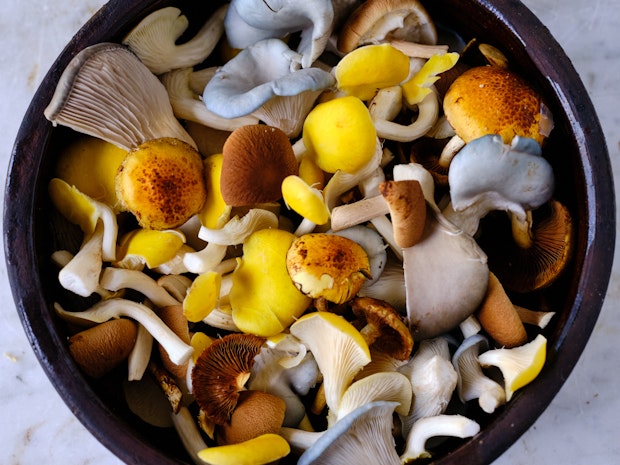 Above you can see the raw mushrooms in the dish they will eventually bake in. Some of the larger mushrooms, the oyster mushrooms for example, are torn into smaller pieces.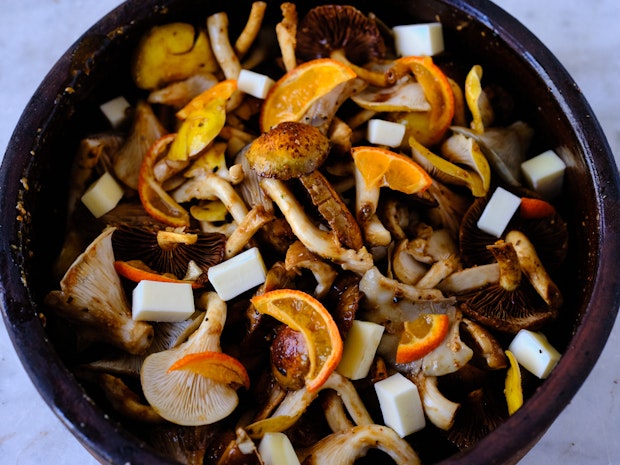 In this shot (above) you can see the mushrooms after they've been tossed in the ponzu marinade. They are topped with citrus and a bit of butter. At this point you will cover and bake for about 20 minutes.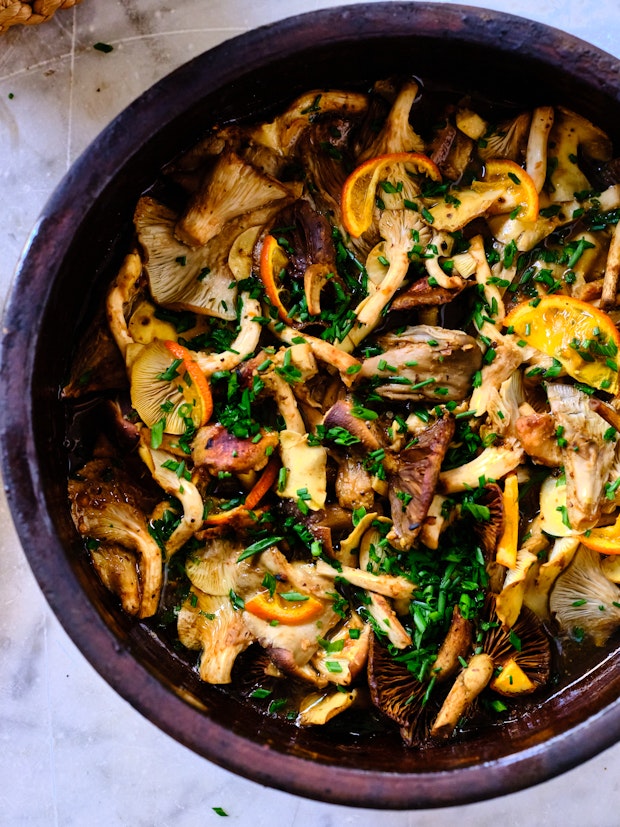 Here's what the finished mushrooms look like less than a minute after removing from the oven. I like to sprinkle fresh herbs on them before serving, chives are top of that list. And if you want to get a bit decadent, a dollop of sour cream or creme fraiche is magic.
This is so simple to through together, I hope you give it a try. And for the mushroom fans, here's where you can have a look through all the mushroom recipes.
Source link