This beauty falls squarely into the
easy-little-cake
category. It's a butter cake that isn't basic. Baked in a single pan, perfumed with grated nutmeg, and topped with well-chopped walnuts this is a versatile cake with a sugar-sweet heart and rustic rye soul. I love this cake and bake it (or variation on it) regularly. It's a favorite for picnics and a nice alternative to the usual suspects around the holidays. The key is upping your nutmeg game. If you've never grated your own nutmeg, consider this an invitation.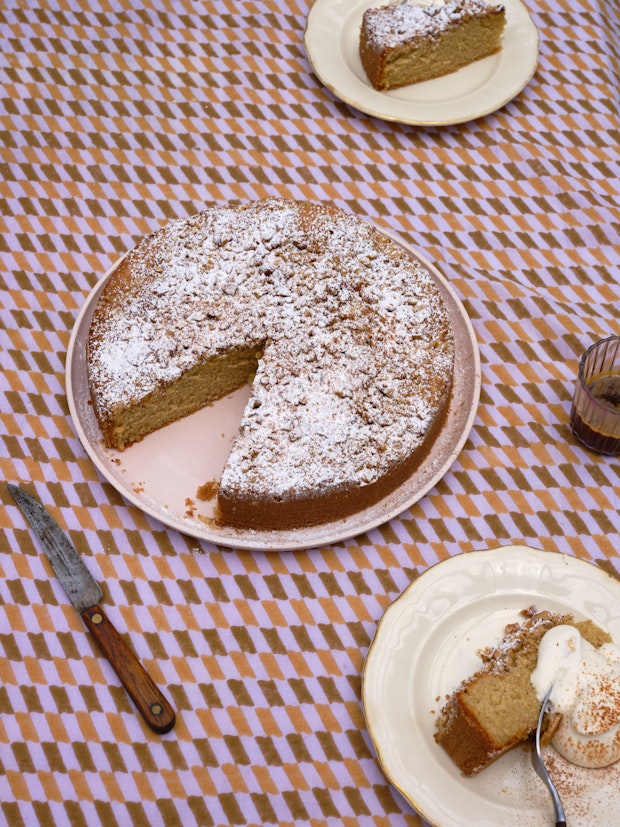 Let's Talk about Nutmeg
Great quality, freshly grated nutmeg will absolutely blow your mind. It is incredibly fragrant and powerful. Using whole nutmeg is a game changer for many things including this cake (or anything else you're baking), ice creams, and spice blends. I have two favorite nutmegs at the moment, this Belmont Estate organic family farm-grown nutmeg from Grenada changed how I think about nutmeg, and this beautiful single-origin Anamalia nutmeg from Diaspora Co. From here on skip pre-ground nutmeg and grate your own.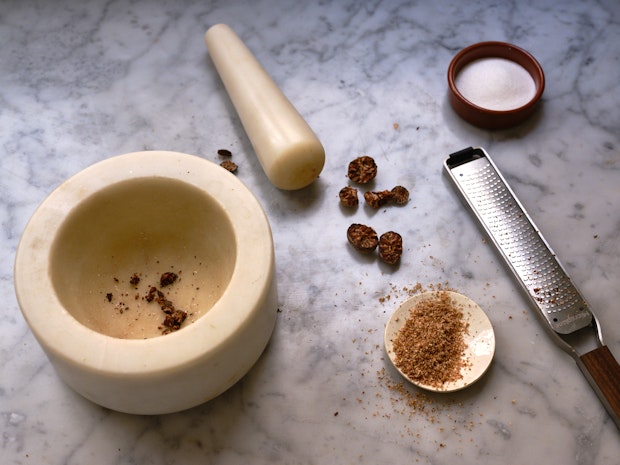 How to Grate Nutmeg
On occasion (and if you're fortunate) nutmeg comes in the shell. Simply crack it with a mortar and pestle (or nutcracker), and grate the inner pit using a Microplane-style grater. If your nutmeg is whole, but has been pre-shelled, simply have at it with a grater.
.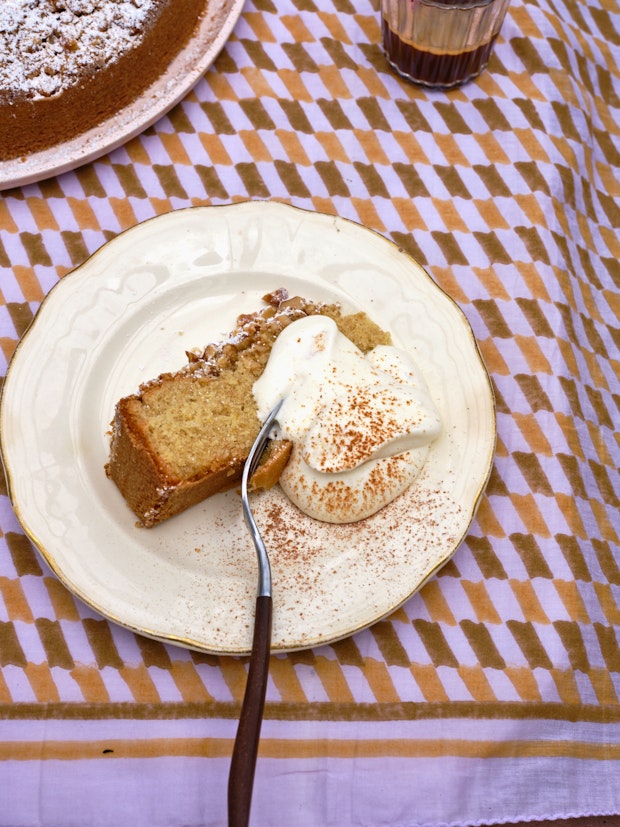 Let's talk about Cake Pan Size
If you don't have a 9-inch round cake pan, can you bake this cake in another pan? Let's talk. I've baked this cake in an 8-inch pan a number of times, but it can be a bit tricky. You need to make sure the center of the cake sets, and this takes quite a bit longer compared to the 9-inch cake pan. If you want to use a square pan, please report back – I always bake this cake round. You can certainly make a series of mini-cakes with the batter, just dial the baking time way back and keep a close eye on things. When the centers of the cakes set up you're all good.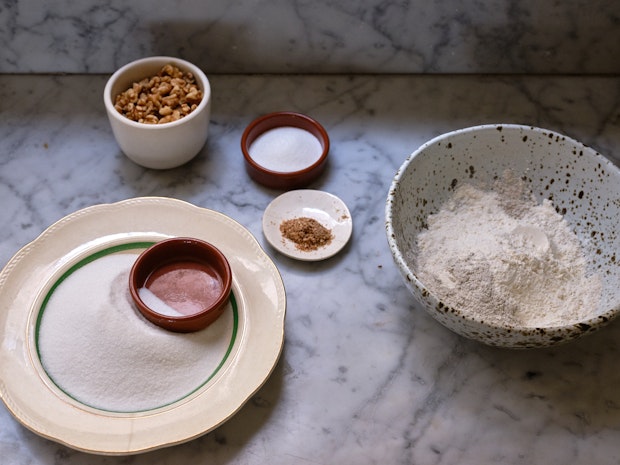 What if you Can't Find Rye Flour?
I encourage you to play around with the flours in the cake. I like this cake just a shade rustic, and the rye flour brings that in spades. If you think you might like a slightly lighter crumbed cake, dial back the rye and dial up the all-purpose flour. If what you have is all-purpose flour, you can use about 1 1/3 cups of that. If you have whole wheat flour instead of rye, give that a go. I haven't tried this cake with any of the GF flours available, but if you use one of those, let us know how it turns out.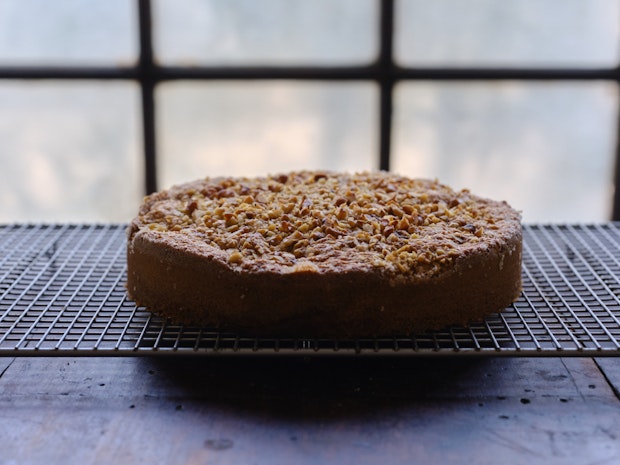 Butter Cake Variations
Pictured above is the cake straight from the oven (above).  I'm posting the basic recipe down below, but once you decide it's a cake you love, you can take it in many different directions.
Powdered Suga

r: I like to give this cake a heavy dusting with powdered sugar before serving. To be honest, I tend to use more powdered sugar than you see in the pictures here. I recommend really going for it, but I wanted you to be able to see some of the walnuts peeking through in the photos. Think about adding something to the sugar. Drop citrus rinds (or zest) that you've allowed to dry for a couple days into a baggie with powdered sugar and let it infuse in the coming days. Makrut lime is a favorite, and you can't go wrong with meyer lemon, or classic orange. Or grind up a few threads of saffron, and combine this saffron dust with the powdered sugar. If your powdered sugar gets clumpy at any point, use your finger to rub it against the strainer for even dusting across your cake.

Nuts

: I go all in with walnuts here, but can 100% get on board with pistachios, pecans, almonds, or walnuts for this cake. I've done versions with a blend when I'm low on any single nut variety. Well received! The main thing is to give the nuts a fine chop. This keeps things light & even on top of the cake, and makes for easier and more precise slicing.

Flours

: We talked about ways to explore different flours up above. Even if you don't have rye flour, give this cake a go!

Spices & Extracts

: Another way you can make this cake your own is through spices and extracts. Let's brainstorm! I bet a triple-vanilla version would be really good. You could add a splash of vanilla extract, a bit of vanilla paste to the batter, and a bit of vanilla powder to the powdered sugar on top. For my flower lovers out there, a rose cake would be gorgeous. In this case, I might actually scale back the rye flour, and use more all-purpose flour for a lighter cake overall. I'd add a splash of rose water and some freeze-dried raspberries to the batter, and then crumble some dried rose petals over the powdered sugar before serving. And if you're serving with a bit of whipped cream, go ahead and boost that with a kiss of rose water as well. I could go on all day – but I hope this gives you some creative inspiration.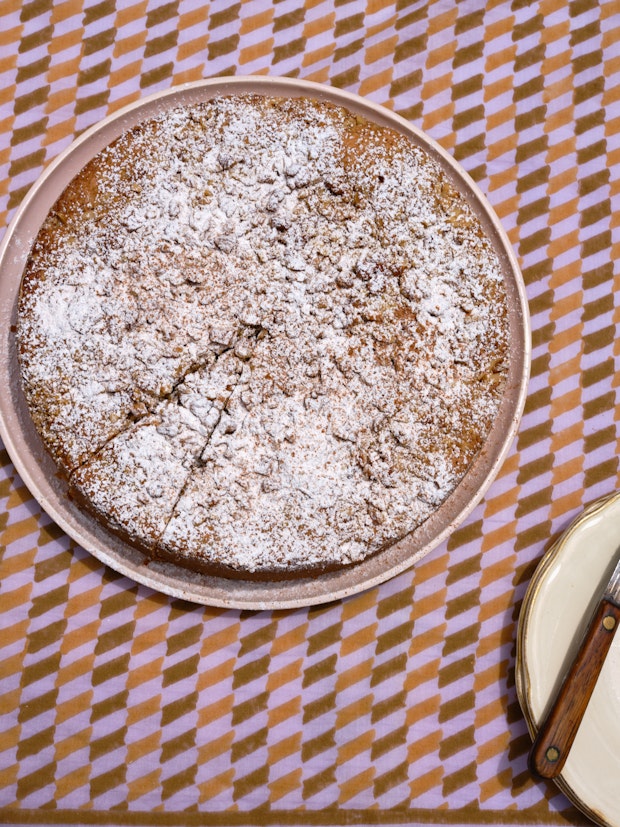 Have fun with this one. It's a fun, buttery cake canvas to experiment with. If chocolate is more what you're craving, be sure to try my all-time favorite brownie recipe, this Chocolate Devil's Food Cake, or the perfect chocolate pudding (no joke!).