These soft, chewy vegan breakfast cookies are studded with grated carrots, plump raisins, and rolled oats. They're wholesome, filling, and delicious! They're also freezer friendly and can be made ahead for breakfasts on-the-go.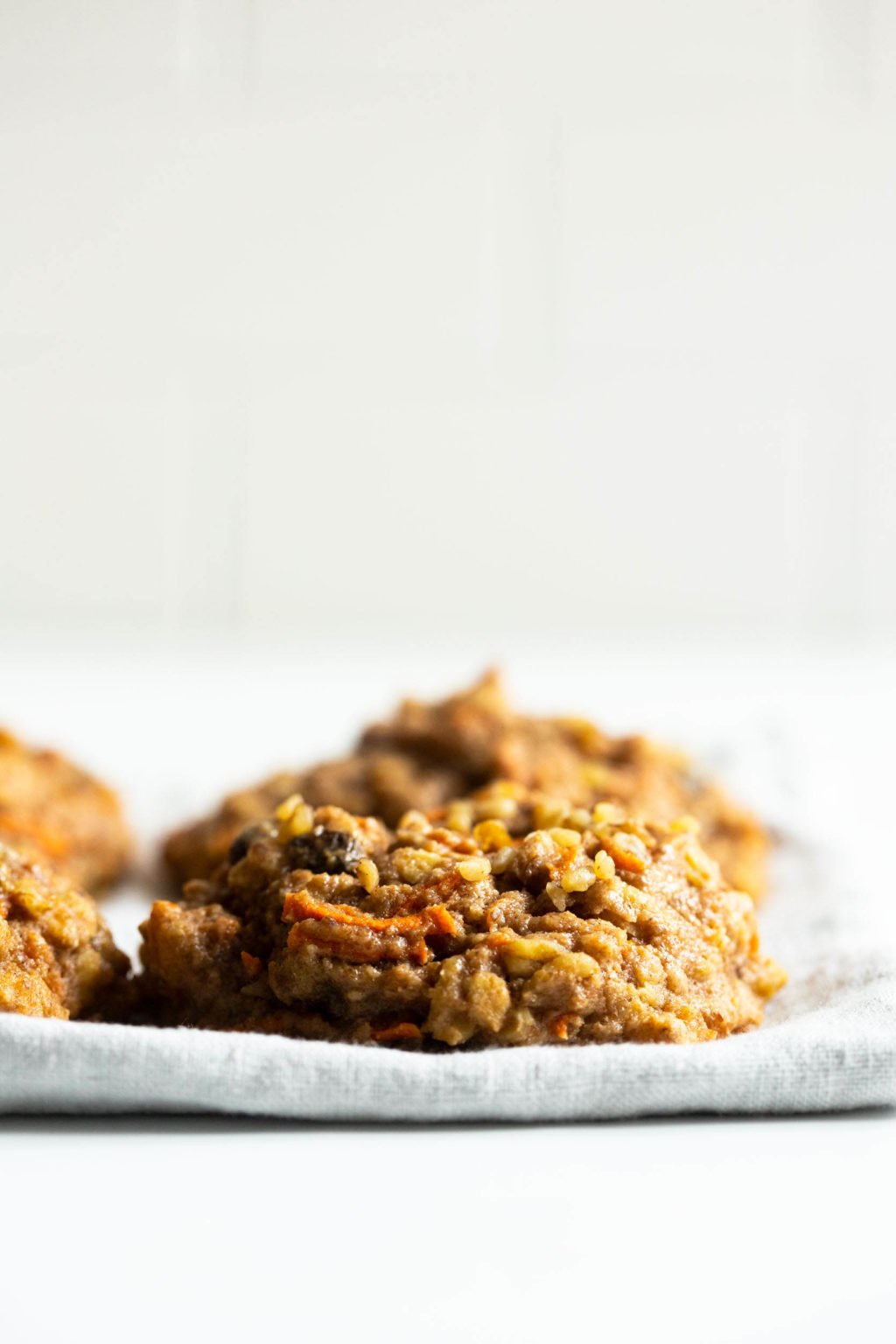 I've always loved the idea of a breakfast cookie. A freshly baked cookie, full of ingredients that are wholesome enough to qualify as a sensible breakfast? Sign me up. Until now, however, breakfast cookies have been more appealing in theory than in practice.
I've tried so many different combinations, and something was always amiss. Some versions were too dense, others too pillowy. I've made batches that were overly crunchy and others that were mushy on the interior. I've never quite landed on the right combination of spices and mix-ins.
These carrot raisin breakfast cookies change everything! They're soft and chewy, the way I like cookies to be. But they're also substantial. Rolled oats give them just the right amount of heft, while grated carrots and raisins add nutrition and sweetness.
The breakfast cookies can be meal prepped, eaten on the go, or enjoyed at home, with a cup of coffee. They're wonderfully versatile.
What is a breakfast cookie?
In short, a breakfast cookie is a cookie eaten at breakfast time.
There are no rules! Breakfast cookies can be crispy or soft, big or small, sweet or not-too-sweet. They can include whatever ingredients you like and be seasoned with your favorite spices and flavors.
The upsides of breakfast
As a dietitian, I'm passionate about messaging the benefits of breakfast. Research has linked breakfast eating to improved memory and concentration. There's also an association between breakfast consumption and reduced rates of chronic health challenges, including Type 2 diabetes.
Practically speaking, breakfast helps to provide energy. Most of all, it presents us with a chance to get more of the vital nutrients we need each day, including fiber, protein, calcium, and healthful fat.
In my practice, I don't force clients to eat breakfast if they don't wish to. But I do frame breakfast skipping as a missed opportunity for nutrition. Without breakfast, a person has to source all of the day's nutrition in two meals. It's not always an easy task. Breakfast—even a small breakfast—helps with some of that heavy lifting.
With all of this in mind, I've tried to keep these vegan breakfast cookies relatively wholesome. I've certainly been known to eat less wholesome sweets in the morning (hello, leftover carrot cake!). But I like to emphasize protein and fiber when I can.
These carrot raisin breakfast cookies get a nutritional boost from rolled oats and whole wheat flour from One Degree Organics.
My favorite breakfast oats
I used my favorite rolled oats, which are the organic rolled oats from One Degree Organics, in this recipe.
I love these oats so much. They're always fresh and have a wonderfully toothsome texture. I also admire and appreciate the way the oats are grown.
The One Degree brand is known for its transparent sourcing—right down to QR codes that trace individual ingredients.
The One Degree brand is known for its transparent sourcing—right down to QR codes that trace individual ingredients back to the farmers that grew them. The oats are organic, non-GMO, and produced without the use of glyphosate.
While oats are my favorite One Degree product, I also love the brand's cereals, granolas, and flours. I used the whole wheat flour, which has a wonderfully nutty, sweet flavor, to make these breakfast cookies.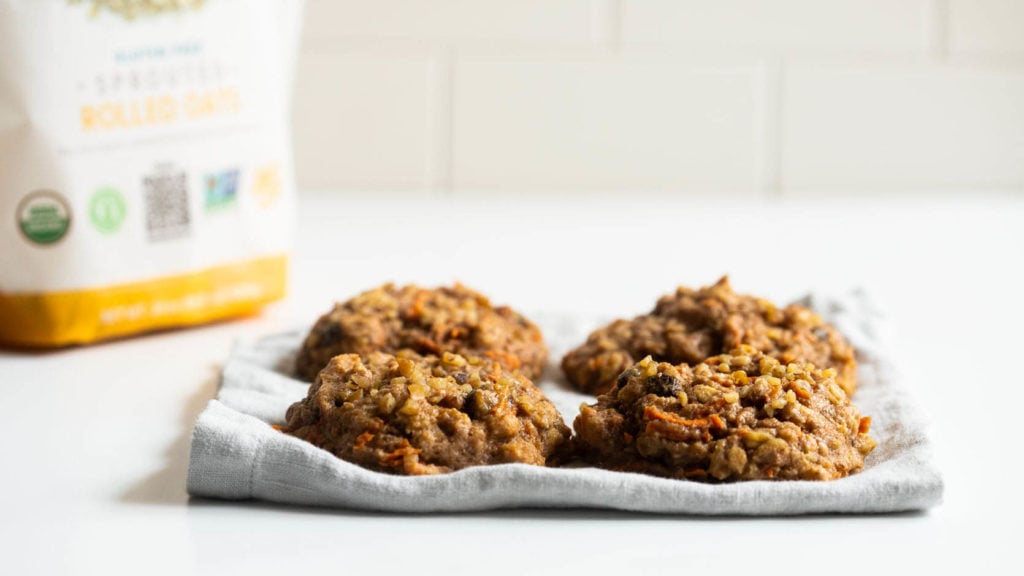 How to make breakfast cookies
The process of making these breakfast cookies is pretty simple.
I begin by mixing the wet ingredients and adding the rolled oats. This helps to soften the oats a little before baking. I think it improves the texture of the finished cookies (I tested them with and without this step).
Those wet ingredients include avocado oil (my first choice for baking), applesauce, which helps to add sweetness without too much added sugar, and a little non-dairy milk.
Dry ingredients include the whole wheat flour and ground flaxseed, which contributes some healthful fat and fiber to the recipe.
Once the wet ingredients have soaked for a while, you mix them with the dry ingredients and scoop them onto a parchment lined baking sheet. I use an ice cream scoop to do this, because I think the cookies are best when they're on the bigger side. You can easily use a 1/3 cup scoop instead.
The cookies bake for 25-30 minutes, or until lightly browning at the edges and puffed up in the center.
Are the breakfast cookies gluten free?
As written, the cookies aren't gluten-free. But you can use your favorite gluten-free, all-purpose flour blend in the cookies if you like.
Prepping and storing breakfast cookies
The breakfast cookies can be baked and stored in an airtight container in the fridge for up to five days. They also freeze very well. You can freeze them for up to six weeks at a time and defrost them whenever you need a quick, easy breakfast option.
Ingredient variations
As a serious lover of carrot cake and all things related to carrot cake, I love the carrot raisin combination in these breakfast cookies. However, there are plenty of variations to explore.
You can replace the grated carrot in the recipe with grated zucchini. The raisins can be swapped for currents, chopped apricots, or chopped, pitted Medjool dates.
If you don't have applesauce at home, you could use mashed banana, unsweetened, canned pumpkin, or prune puree instead. There will be some color variations, but they'll all work well!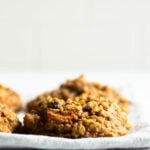 1/2

cup

brown sugar

(96 g)

1

cup

applesauce

(185 g)

1/4

cup

avocado oil

3/4

cup

oat, soy, almond, or cashew milk

1

cup

One Degree Organics rolled oats

(100 g)

1 1/2

cups

whole wheat flour

(180 g)

1 1/2

tablespoons

ground flax seed

1 1/2

teaspoons

baking powder

1/2

teaspoon

Kosher salt

1

cup

grated carrot

(1 large or 2 small carrots)

1/2

cup

raisins

1/4

cup

chopped walnuts

(optional, for topping)
Preheat your oven to 350F. Line one or two baking sheets with parchment paper.

Whisk together the brown sugar, applesauce, avocado oil, and non-dairy milk. Stir in the rolled oats. Allow this to sit while you proceed with the recipe.

In a large mixing bowl, whisk together the flour, flax seed, baking powder, and salt. Add the wet ingredients. Mix to combine. Fold in the grated carrots and raisins.

Use an ice cream scoop or 1/3 cup scoop to scoop the cookie batter onto your baking sheet. Be sure to leave a few inches of space between the cookies. Bake the cookies for 25-30 minutes, or until the edges of the cookies are lightly browning and the tops are puffy. Allow the cookies to cool for 15 minutes before transferring them to cooling racks. Enjoy right away, or store as needed.
With summer in full swing, I've been getting away on weekends and prioritizing time with friends. It's wonderful to have a grab-and-go option for travel mornings.
If you don't wish to have them for breakfast, the cookies also make an excellent snack. They're great to pack up for a long day at the beach, a hike, or so on. I hope you'll find them as tasty, versatile, and convenient as I have.
xo
This post is sponsored by One Degree Organics. All opinions are my own. Thanks for your support!