Today, we're eating waffles with Barack Obama, flipping pancakes with George W. Bush and picking out donuts with Bill Clinton. It's a trip though U.S. history as we examine American Presidents and their favorite breakfast foods.
In part one, you'll find images of recent Presidents ordering, making and eating breakfast.  Part two is a study of our Presidents and what they ate for breakfast, going all the way back to George Washington.
The Presidential Breakfast Image Library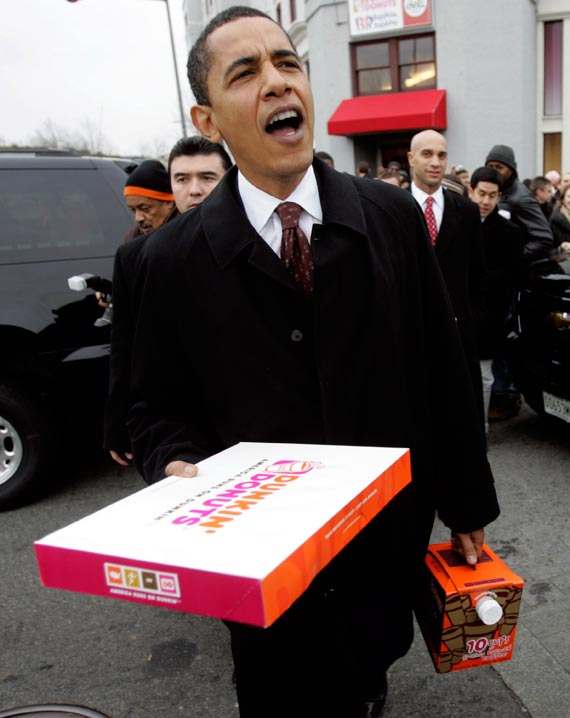 Candidate Barack Obama with a box of Dunkin' Donuts and a jug of coffee. (AP Photo/Rick Bowmer)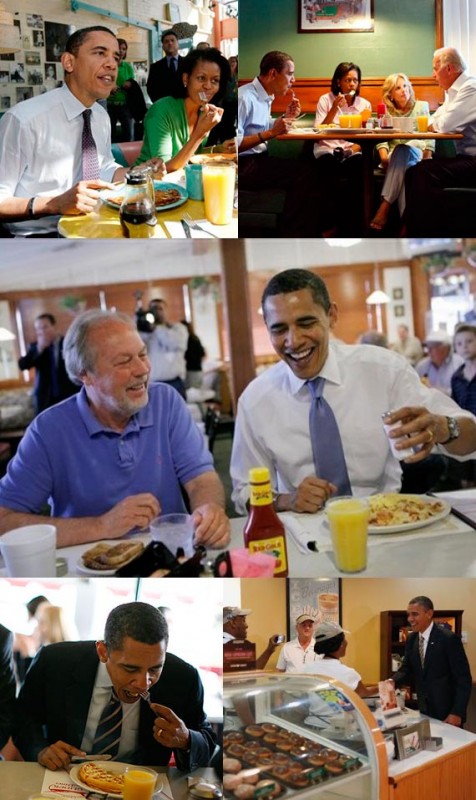 A montage of President Barack Obama enjoying breakfast.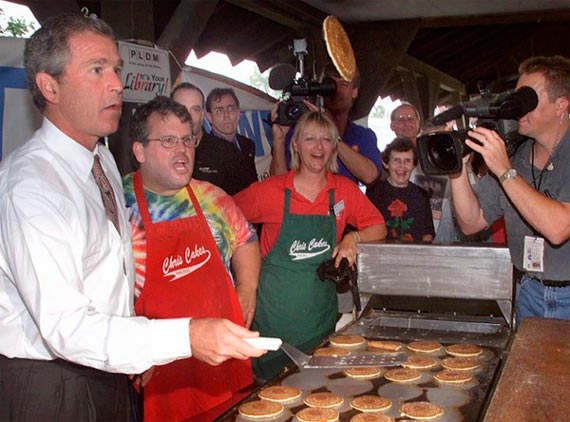 George W. Bush flipping pancakes on the campaign trail in 1999.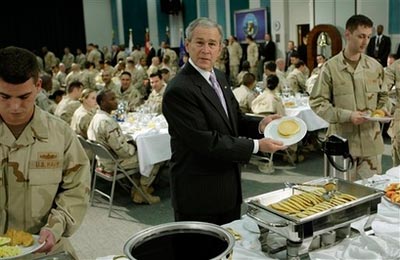 President George W. Bush showing off a pancake as he eats with the troops.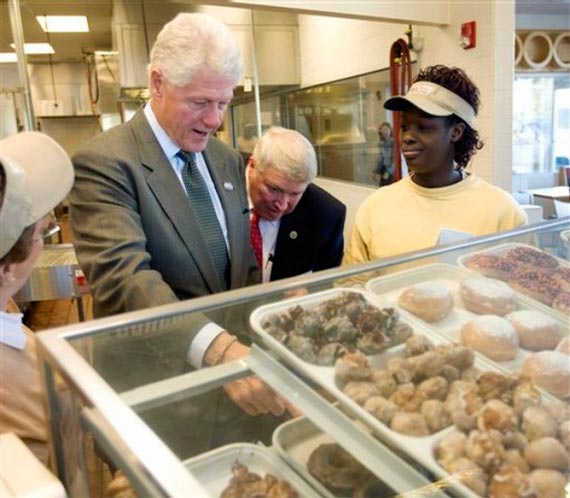 President Bill Clinton selects a doughnut.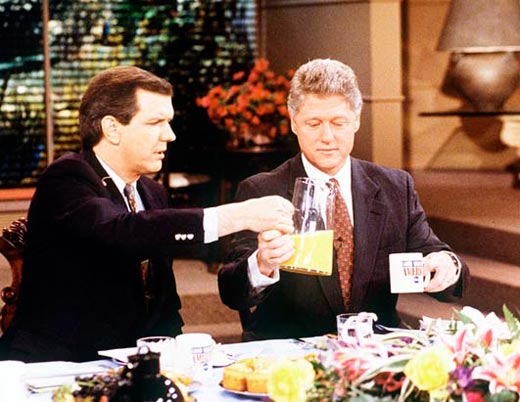 Bill Clinton, then governor of Arkansas, having breakfast with ABC's Charlie Gibson in 1992. (Credit: ABC News)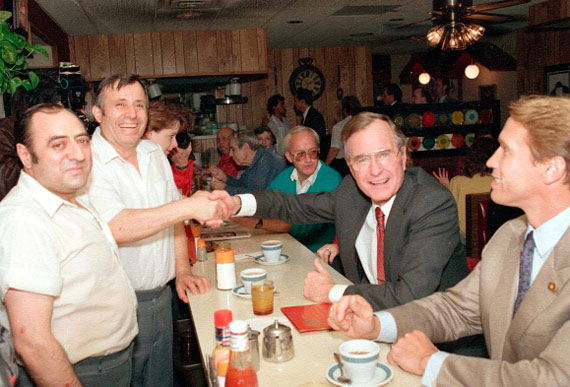 George H.W. Bush (candidate for President in 1988) having coffee at the Three Brothers Coffee Shop in Homewood, Illinois with Arnold Schwarzenegger (AP Photo/Scott Applewhite via thejournal.ie).  It's been reported that H.W. was a great lover of hot sauce which he would use to spice up eggs.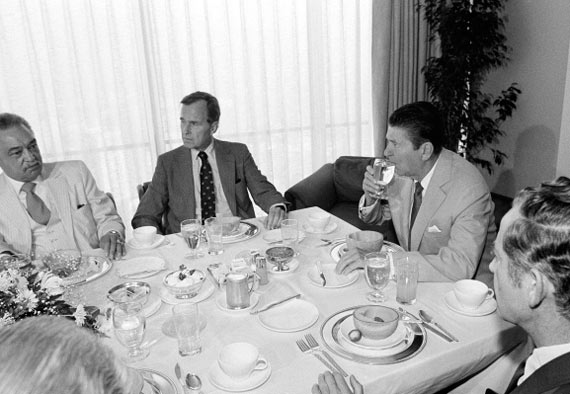 Ronald Reagan having a breakfast of Broiled Grapefruit (or possible a small melon) in 1980 with Vice President George H.W. Bush and Detroit Mayor Coleman Young. (AP Photo/Walter Zeboski via thejournal.ie)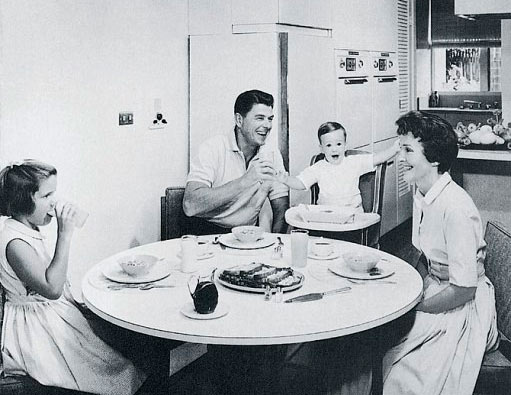 Ronald Reagan having breakfast with his family in 1959.  At that time, Reagan was an actor and the host of TV's General Electric Theater. (Credit: Ronald Reagan Presidential Library via architecturaldigest.com)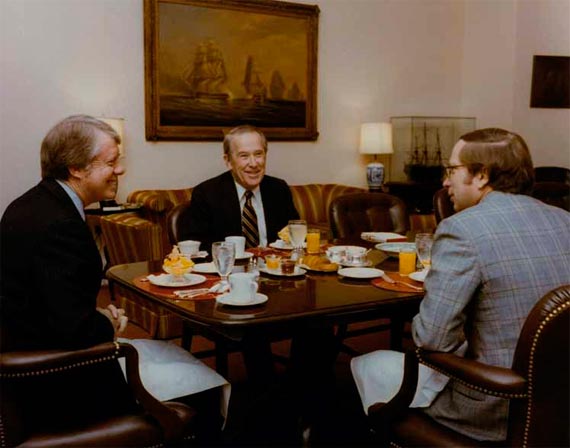 President Jimmy Carter having breakfast in The White House with Senator Henry M. Jackson and Senator Sam Nunn in 1977. (Credit:  University of Washington Libraries)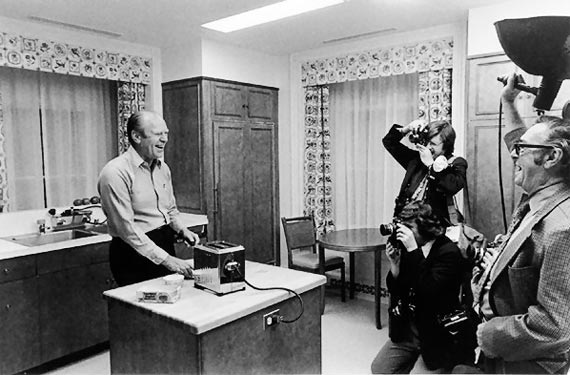 President Gerald Ford toasting English muffins in 1974. (Credit: National Archives, Gerald R. Ford Library)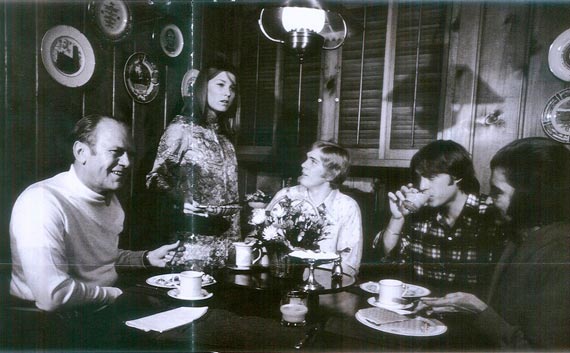 Congressman Gerald Ford and family having breakfast in the kitchen of their Alexandria, VA home before he became Nixon's Vice President. (Credit: Clover College Park Civic Association)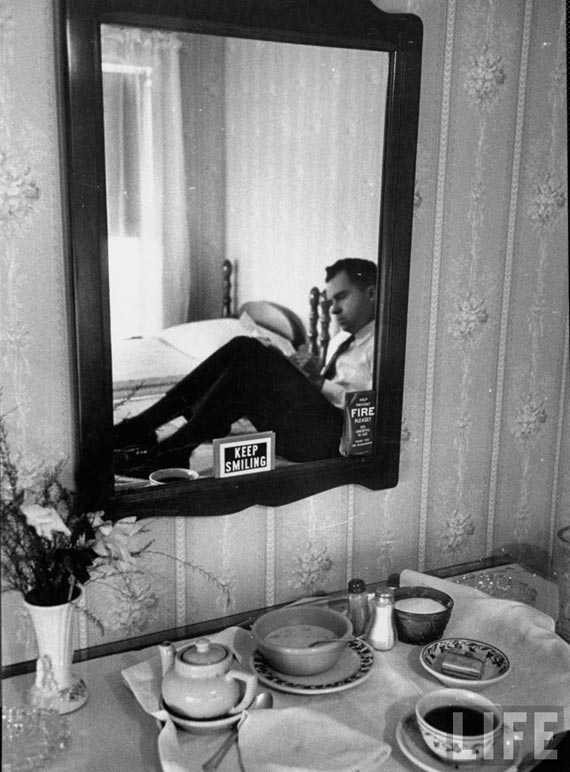 Richard Nixon as a Vice Presidential Candidate reflected in a mirror after eating a bowl of cereal. (Credit: Life Magazine via art.com)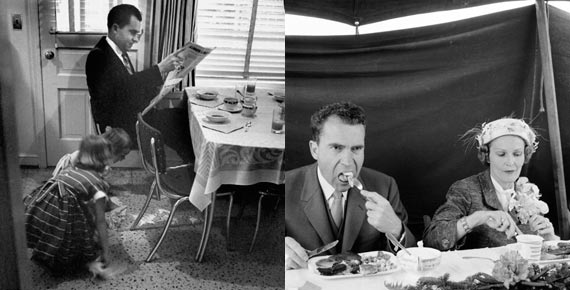 President Richard M. Nixon enjoying breakfast with his children and his wife Pat.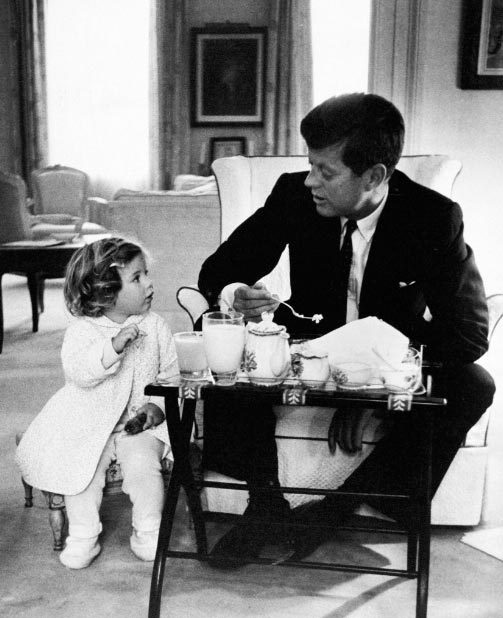 President John F. Kennedy having an adorable breakfast with his daughter Caroline in the White House in 1961. (Credit: Charles Del Vecchio, Washington Post)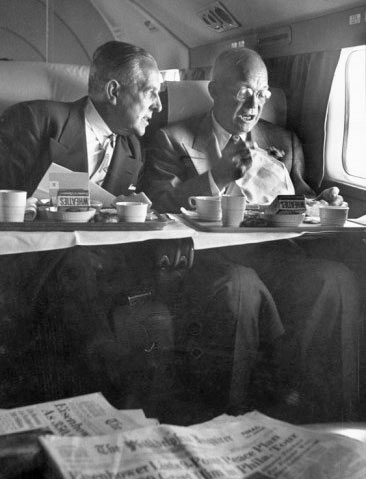 Dwight D. Eisenhower having breakfast on a plane with auto executive Paul G. Hoffman circa 1959. Notice the small boxes of Wheaties cereal. (Credit: allposters.com)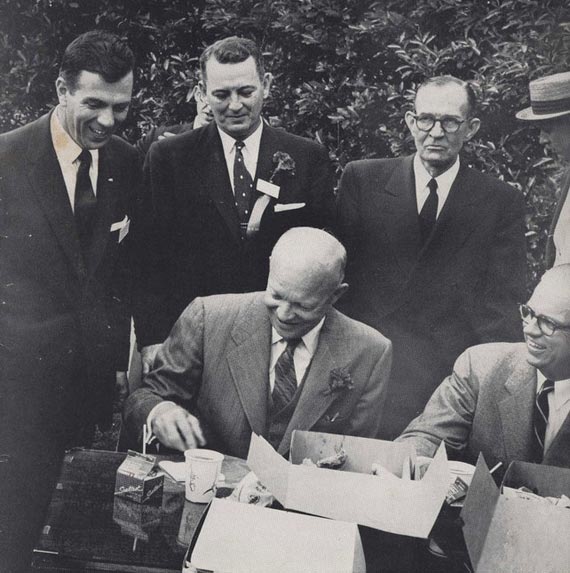 Dwight D. Eisenhower eating what appears to be a box of donuts in 1954. (Credit: Sealtest Southern Diary)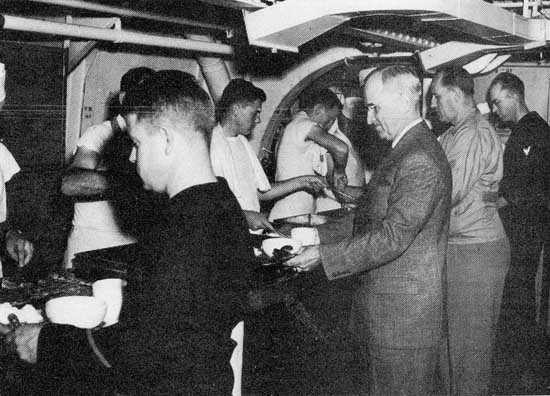 President Harry S. Truman having breakfast with the troops.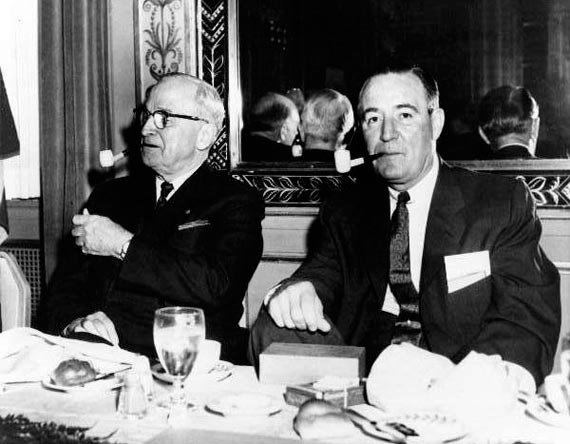 Five years after his Presidency, Harry S. Truman enjoys his pipe at an Ole' Missouri Country Ham Breakfast at New York's Waldorf Astoria in 1958. (Credit: hosttotheworld.com)
American Presidents & What They Ate For Breakfast
Ronald Reagan (1981-1989)
President Reagan usually had breakfast everyday at 7:45AM.  His most common breakfast was bran cereal with skim milk, fresh fruit and decaf coffee.  Once a week, he'd have eggs – either scrambled, poached or soft-boiled.  Whole wheat toast and homemade muffins were also common at the Reagan breakfast table.  For special occasions, Reagan would indulge in an old family favorite called Monkey Bread. 1
Jimmy Carter (1977-1981)
President Carter would typically wake up around 5:30AM.  He'd start the day with coffee and fresh-squeezed juice.  A couple of hours later, he would have a light breakfast – usually fruit and buttered toast.  Occasionally, eggs or cereal would take the place of his regular fare.  Sunday breakfasts tended to be more indulgent.  Some of his favorite heavier breakfasts included country-style ham with red-eye gravy, scrambled eggs, corn bread, hot fried apples and grits.  Carter loved grits.  They were included on The White House breakfast menu on his first day in office.  He also named his dog Grits. 1
Gerald Ford (1974-1977)
Like Carter, President Ford ate light on weekdays and went bigger on the weekends.  His typical weekday breakfast included toasted English muffins with jam, fresh fruit and fresh juice.  On Sundays, Ford loved a good waffle which he would top with strawberries and sour cream.  German apple pancakes also topped his list of heavier breakfast fare. 1
Richard Nixon (1969-1974)
President Nixon's typical breakfast was quite light – usually yogurt, cottage cheese and fresh fruit.  The most unusually thing about a Nixon breakfast was that he liked to top his cottage cheese with ketchup.  That alone might be an impeachable offense.  It's been reported that his final Presidential breakfast before he left office was cottage cheese and pineapple. 2
Lyndon B. Johnson (1963-1969)
President Johnson's most common breakfast was chipped beef covered in cream with a cup of hot tea.  He was also known to enjoy a good steak for breakfast, as well as for lunch and dinner. 1
John F. Kennedy (1961-1963)
President Kennedy was known to start his day with 2 poached eggs on toast, crisp bacon, additional toast with jam or marmalade, milk, orange juice and coffee.  He was also prone to enjoy corn muffins.  Kennedy took his coffee with cream and sugar. 3
Harry Truman (1945-1953)
President Truman had a regular breakfast menu that he rarely deviated from:  hot cereal during cold months and cold cereal during warm months.  He would augment his cereal with wheat toast, milk and orange juice (sometimes grapefruit or tomato juice). 5
Franklin Delano Roosevelt (1933-1945)
FDR was known to take breakfast on a tray in his bedroom.  His favorite items were creamed chipped beef, corned beef hash with poached eggs and fried corn-meal mush with maple syrup.  He was particular about his coffee.  It was a dark French roast made in The White House kitchen from green coffee beans.  Roosevelt was also fond of kippered herring and salt mackerel for breakfast. 4
Calvin Coolidge (1923-1929)
President Coolidge favored a hot cereal made with 3 parts whole wheat and 1 part whole rye.  The grains were not ground before they were cooked, so you can imagine it was a hearty concoction. 5
Warren G. Harding (1921-1923)
President Harding's favorite breakfast items were hot cereal, scrambled eggs, bacon, wheat cakes with maple syrup, corn muffins, grapefruit and toast.  He was also a very big coffee-drinker. 5
Woodrow Wilson (1913-1921)
It's often been reported that President Wilson regularly had a Rocky-style breakfast of two raw eggs in grape juice.  This conflicts with Wilson's own words, "I am very fond of country hams, peach cobblers, butter and buttermilk, fresh eggs, hot biscuits, homemade ice cream and plain white cake."  There are records that Wilson's first breakfast in The White House consisted of oranges, cereal with cream, bacon, eggs, steak, hot cakes, toast, tea and coffee. 5, 6
William Howard Taft (1909-1913)
President Taft was a steak and potatoes kind of guy.  For breakfast, his steak would usually be broiled and his potatoes were usually presented in the form of hash browns.  We know that on one particular trip to Savannah, GA, Taft had a breakfast consisting of grapefruit, potted partridge, grilled partridge, broiled venison, waffles with maple syrup, hominy, hot rolls and bacon. 5
Theodore Roosevelt (1901-1909)
President Teddy Roosevelt was pretty set in his ways when it came to breakfast.  He'd have hard-boiled eggs and homemade rolls.  He insisted that the eggs be cooked until solid throughout.  Medium or soft-boiled eggs wouldn't cut it.  As for the rolls, they had to be fresh and there had to be a lot of them.  In the rare times that he'd deviate from his routine, it was usually in favor of hominy with butter and salt. 7, 8
William McKinley (1897-1901)
President McKinley's morning menu consisted of eggs, steak or chops, hot breads, potatoes, fruit and coffee. He would occasionally throw fish into that mix. 5
Grover Cleveland (1893-1897)
A journalist named Frank Carpenter observed President Cleveland's morning routine and described it like this: "At eight, he is ready for breakfast. This is not a large meal… oatmeal, beefsteak, eggs or a chop, with coffee to wash it down." 5
Chester A. Arthur (1881-1885)
President Arthur was known to eat his breakfast as he dressed. It was usually a very simple meal consisting of only coffee and a roll. 5
Rutherford B. Hayes (1877-1881)
President Hayes had coffee for breakfast and tea for lunch.  He was fond of cornmeal batter-cakes. 5
Ulysses S. Grant (1869-1877)
President Grant's favorite breakfast items included steak, broiled Spanish mackerel, bacon, fried apples, flannel cakes, buckwheat cakes and strong black coffee. 5
Abraham Lincoln (1861-1865)
President Lincoln had simple tastes when it came to food.  It was said that his favorite beverage was water.  When it came to breakfast, The Great Emancipator preferred a single egg, a piece of toast and a good hot cup of coffee.  Many mornings, he would be satisfied with only an apple. 5, 9
James Madison (1809-1817)
According to the book James Madison: A Biography by Ralph Ketcham, President Madison "breakfasted at nine o'clock on ham or salt fish, herring… coffee or tea, and slices of toast or untoasted bread spread with butter."
Thomas Jefferson (1801-1809)
In her book The First Forty Years of Washington Society, Margaret Bayard Smith made the following account of having breakfast with President Jefferson, "Our breakfast table was as large as our dinner table… we had tea, coffee, excellent muffins, hot wheat and corn bread, cold ham and butter."
George Washington (1789-1797)
We get an idea of what President Washington had for breakfast from Henry Wansey, an English manufacturer who had breakfast with Washington on June 8, 1794.  He wrote, "Breakfast seems to have been the only meal in the Presidential house that was relaxed. Mrs. Washington made tea and coffee for them; on the table there were two small plates of sliced tongues and dry toast, bread and butter, but no broiled fish, as is generally the custom." Washington was also said to be fond of hoecakes, cornmeal pancakes that were cooked on a fire-heated hoe. 5, 9
Sources Used For This Article:
1 The White House Family Cookbook, Henry Haller, 1987
2 "How Nixon Lives, What He Likes," Marie Smith, Washington Post, January 17, 1969
3 The White House Chef Cookbook, Rene Verdon, 1967
4 The Presidential Cookbook: Feeding the Roosevelts and Their Guests, Henrietta Nesbitt, 1951
5 The Presidents' Cookbook, Poppy Cannon and Patricia Brooks, 1968
6 First Wilson Family Breakfast at the White House – The Economy Administration Cook Book, Susie Root, 1913
7 The President's Table: Two Hundred Years of Dining and Diplomacy, Barry H. Landau, 2007
8 "What the President Eats: Mr. Roosevelt Corrects and Epicurean Syndicate Story," Washington Post, June 26, 1906
9 "Lincoln's Favorite Foods" and "Washington's Favorite Foods", TheQuestingFeast.com
Happy Presidents Day!
You Might Also Like: