Toasted pumpkin seeds are the tiny, edible trophies you get for carving pumpkins. Don't carve a pumpkin (or any winter squash for that matter), without toasting or roasting the seeds. That's just how it needs to be. The question is, what's the best technique? There is some debate about the best approach, but I've settled on a foolproof method over the years. It's super easy, and I'm going to share it here.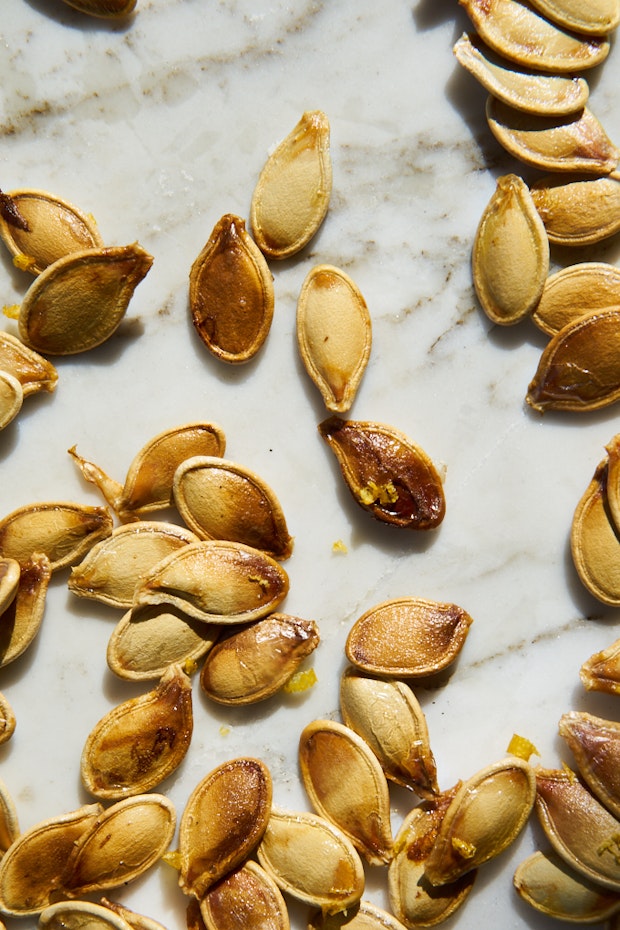 Take note, there are a couple points of departure you'll see in my technique (compared to most). First! Some people boil the pumpkin seeds prior to toasting. No need. Second, I now season and spice the pumpkin seeds
after
baking, and I'll talk more about why.
Different pumpkins, Different seeds
Pumpkins aren't the only winter squash with seeds. And seeds from different squashes have different sizes, shapes and textures. Have fun experimenting! Play around with white "ghost" pumpkins, blue Hokkaido, butternut squash, and all the other beautiful winter squash varietals out there for a range of seeds. Also, if you're going to roast the squash as well, they're often much better tasting versus carving pumpkins.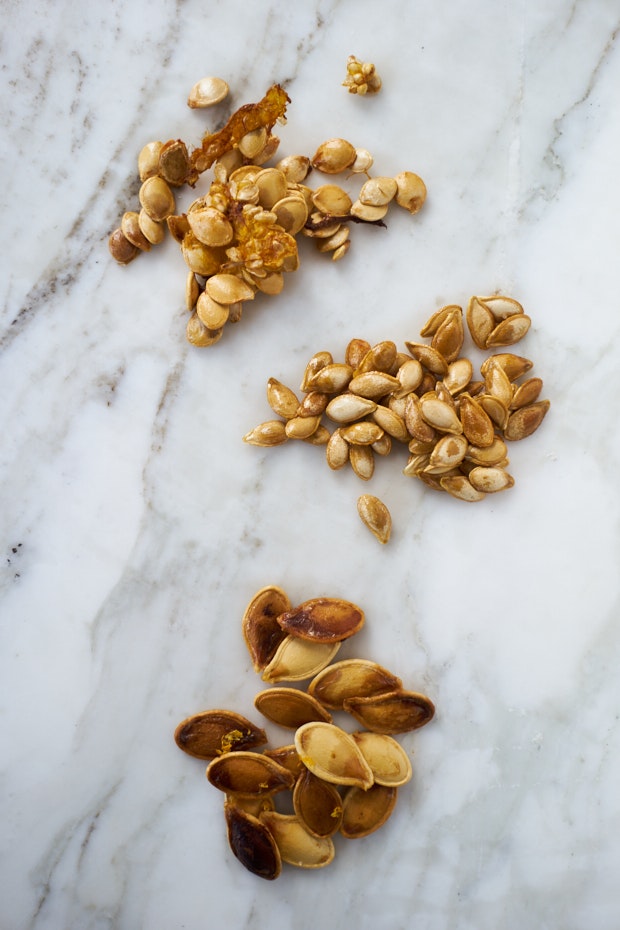 Different Sized Seeds
Smaller seeds roast more quickly, so adjust your baking time (less). Aside from that, treat them the same as you would regular "carving" pumpkin seeds. Pictured above (top to bottom): delicata squash seeds, butternut squash seeds, carving pumpkin seeds.
Nutritional Benefits of Pumpkin Seeds
I just want to mention, another reason I love pumpkin seeds is because they're tiny nutritional powerhouses. Pumpkin seeds are a great snack. They're known to be a good source of magnesium, fiber, zinc, iron and a whole host of other nutrients. A handful of them is a great way to boost your snack game.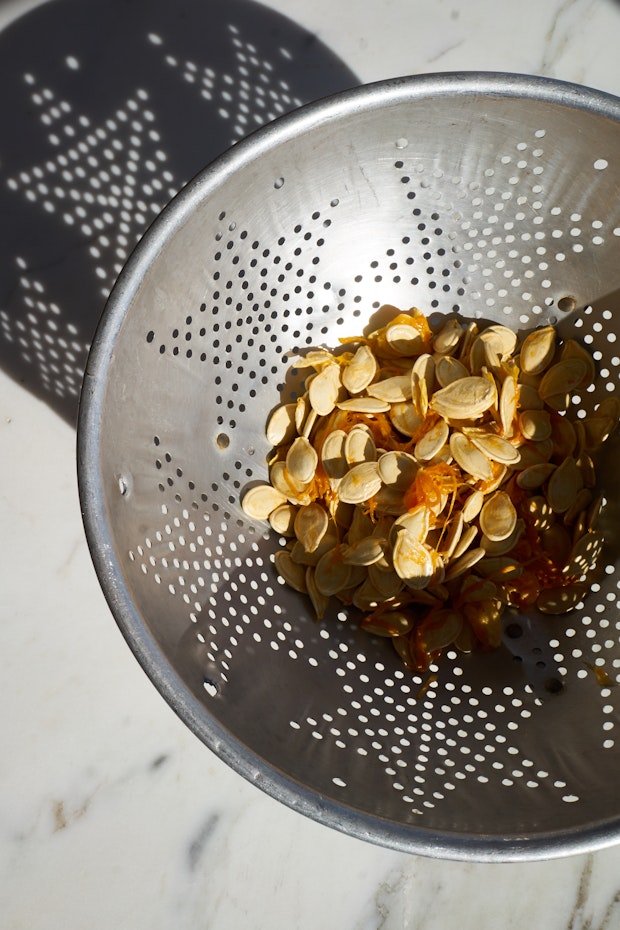 How to Clean & Make Pumpkin Seeds
Place a colander (or strainer) in a bowl filled with water. The seeds float, so this set-up makes separating the seeds from any stubborn pumpkin flesh much easier. Scoop the seeds from your pumpkin and transfer to the colander. Separate the seeds from any pumpkin flesh and pat dry with paper towels or a clean kitchen cloth.
How to Get the Strings off Pumpkin Seeds
Using the water-method I outline above will do the trick and make cleaning the goop-y fibers off your pumpkin seeds. You'll be able to clean the majority off this way. I've found that vigorously rubbing the seeds dry with a clean towel afterward tends to remove any remaining strands.
The Best Baking Technique
Bake the pumpkin seeds after a good rinse. The key? You need to dry them well. Get as much water off the seeds as possible. I'm convinced the seeds steam less using this method, and crisp more.
When to Season?
I used to heavily season seeds prior to baking, but I find that if you bake with lots of spice coating the seeds, the spices tend to over bake or even burn. I do most or all of my spice additions post-bake now.
Flavor Variations Beyond Classic Pumpkin Seeds
The directions you can go related to seasoning you seeds are endless. That said, I'm going to include three of my favorite variations down below.
Meyer Lemon Zest, Cayenne, and Olive Pumpkin Seeds
Sweet Curry Pumpkin Seeds
Garlic Chive Pumpkin Seeds
And, because I can't resist. If you don't mind stained fingertips, tossing the hot seeds with a dusting of turmeric, minced garlic, and cayenne or black pepper is also really great. Wasabi paste or powder is a great flavoring option, as is ponzu sauce. And nutritional yeast with crushed, toasted nori is another favorite. Have fun & play around!
Other Ways to Enjoy Them
Pumpkin seeds are great anytime you are looking to add a bit of crunch to a dish. That said, you can also blend them into dips, smoothies, and sauces. They're incredibly versatile. This Yucatecan salsa (Sikil P'ak) is one of my all-time favorite ways to use them. Note the difference in flavor between raw pumpkin seeds and toasted – it's quite dramatic. Start with whatever your preference is and go from there when you're thinking about incorporating more pumpkin seeds into your food and cooking. Other ideas:
Blend pumpkin seeds into a smoothie or chia bowl.
Make Pumpkin Seed Butter: With a high-speed blender you can puree pumpkin seeds into a pumpkin seed butter. Similar to how you make almond or peanut butter.
Add them to your favorite breakfast porridge, congee, or savory oatmeal.
Toss a handful onto your salad, grain, or pasta bowl.
Source link