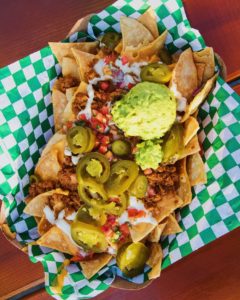 The Vegetarian Resource Group maintains an online Guide to
Vegan/Vegetarian Restaurants in the USA
and Canada.
Here are some recent vegan restaurant additions. The entire guide can be found
here: http://www.vrg.org/restaurant/index.php
To support the updating of this online restaurant guide,
please donate at: www.vrg.org/donate
Here are some new additions to VRG's guide (Note: Due to
the COVID-19 pandemic many are doing take-out
and/or delivery now):
Bistro
Vonish, 701 E. 53rd St., Austin, TX 78751
Find this food truck at the corner of 53rd & Martin
behind Tapehead Electronics and enjoy your meal sitting at picnic tables
nearby. Menu items include sandwiches, tacos, mac & cheese, soups, sides,
small plates, and desserts. You can text or call to place your order and then
come and pick it up.
Chez Zac Pizzeria, 8
Avenue Duluth E., Montreal, QC H2W 1G6 Canada
Enjoy a wide variety of vegan pizzas. Many unique toppings
and combinations are available including pesto, artichokes, and zucchini. Pies
can be made gluten-free.
Chicago
Not Dogs, 4332 30th St., San Diego, CA 92104
Chicago Not Dogs offers 100% vegan Chicago-style hot dogs
as well as Italian "beaf" and "sassage" sandwiches made with house-made seitan.
All sandwiches are served with freshly cut fries and a variety of toppings. The
restaurant also provides a cooperative sales space for vegan merchants with
products such as chocolates, cookies, and vegan food supplies.
Dirty
Vegan, 317 Oak St., Sandpoint, ID 83864
This vegan food truck serves dishes including a Greek
Salad with Falafel, a Jackfruit Buffalo Sandwich, Jamaican Jerk Jackfruit
Tacos, Fettuccine Alfredo, Green Thai Curry, and more. You'll find outdoor
seating nearby.
Eureka
Plant-Based Foods, 396 South Main St., Phillipsburg, NJ 08865
Craving some classic deli foods like cheesesteaks,
paninis, sub sandwiches, or mac n' cheese? Eureka plant-based foods has it all!
Everything they sell is made in-house from scratch. Their selection of soy-milk
cheeses and their wide variety of seitan-based meats are available to buy, or
you can find them in one of Eureka's many vegan meal options. Try out a
classic, like their "Eureka Club" sandwich, or something unique, like their "Oh
Henry" sandwich (vegan egg salad, cheddar, and bacon on a Kaiser roll).
Hippie
Hibachi, 1235 Chattahoochee Ave. NW, Atlanta, GA 30018
Located in the Chattahoochee Food Works, a food hall in
ATL's Upper Westside with multiple restaurant stalls with indoor and covered
outdoor seating in addition to a 13-acre green space to enjoy your meal. Serves
flavor-packed, all-vegan traditional Japanese hibachi-style bowls (in
eco-friendly packaging). Each meal features teriyaki grilled protein — from a
choice including Impossible, tofu, and soy-free options like mushroom and
shrimp made from konjac root — alongside vegetables, fried rice, yum yum sauce,
and sesame, with optional vegan egg and a selection of sauces. Free of gluten
and tree nuts.
OrVeganic,
16200 Hawthorne Blvd. #E, Lawndale, CA 90260
Mouth-watering options include the Billy Jack Bow, which
is a blend of adzuki beans, black beans, navy beans, green lentils, and Indian
moong dal slow cooked with black pepper corns and local farmers market
vegetables. The dish is then topped with their heirloom Oaxacan salsa,
jackfruit, raw avocado seed guacamole cabbage, crushed corn tortilla chips, and
drizzled with chardonnay cheddar cheese Mealk dressing plus sprinkled red
pepper flakes. It is served with (3) three ingredient corn tortillas. Another
sample dish is Kettle Ballz, which consists of organic oat groat, buckwheat groat,
amaranth groat, organic fresh roasted peanut, heirloom jungle raised peanut,
medjool date, sunflower seed, hemp seed, chia seed, organic fresh-tapped maple,
organic Ceylon cinnamon, organic real vanilla extract, and Himalayan pink sea
salt.
Planta
Queen, 15 W. 27th St., New York, NY 10001
Planta Queen offers a plant-based menu that promotes
environmental sustainability. Their menu features Asian-inspired cuisine such
as vegan sushi, dumplings, fried rice, and noodles. Their brunch menu includes
sticky buns, French toast, truffled omelets, and endless mimosas. Soft serve
made with coconut and oat milks is available for dessert.
Put
Me in Coach, 4939 York Blvd., Los Angeles, CA 90042
Put Me in Coach offers a vegan spin on the classic
American sports bar. With a founding concept of community and inclusivity, the
restaurant hopes to bring people together using both delicious comfort food and
sports. Everything is plant-based, from their cocktails to their tacos to their
burgers. Order some chili cheese fries on their outdoor patio while watching a
football game with friends. Or, head over on the weekend to get brunch and
enjoy some French toast topped with fresh berries.