Posted on
December 18, 2021 by
The VRG Blog Editor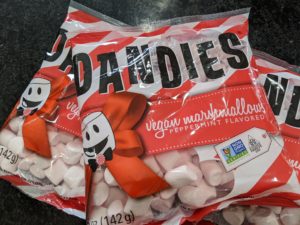 By Rissa Miller, Senior Editor Vegetarian Journal
(Makes 60 small, bite-sized pieces)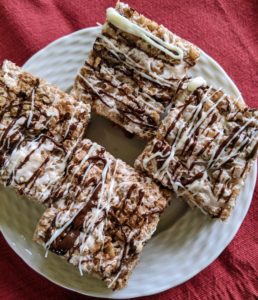 These old-fashioned favorites get a seasonal twist—cool,
refreshing peppermint with smooth, elegant chocolate will upgrade your
vegan marshmallow treats to the next level. It's like a minty hot chocolate in
a square!
Non-stick spray
1/4 cup vegan margarine
4 bags Dandies Peppermint vegan mini marshmallows (20
ounces)
1 teaspoon vanilla extract
1 teaspoon peppermint extract
7 cups chocolate puffed rice cereal (such as One Degree,
Nature's Path, or Love Grown)*
3 Tablespoons vegan chocolate chips, optional, to garnish
Prepare a 9- x 13-inch casserole with non-stick spray or
parchment paper or both. Set aside.
In a large pot, melt the vegan margarine on the stove until
just liquid, then add the Dandies. Stir with a silicone or rubber spatula
almost constantly over very low heat to melt the vegan marshmallows completely.
This may take several minutes and will require regular attention. When the
marshmallows are melted it will look like a large, soft glob. Add the extracts
and stir in, then pour in the chocolate rice cereal. Working quickly,
fold the cereal into the melted marshmallow combination. This might take
some muscle. 
Turn mixture out into the prepared casserole pan and press
down using your hands until flat. Allow to cool at least 45-60 minutes before
decorating or cutting. 
To decorate with chocolate drizzles, pour vegan chocolate
chips into a glass or ceramic dish and microwave 10 seconds at a time on 50%
power. Repeat until smooth and melty when stirred. Using a fork drizzle evenly
over the uncut treats. Allow chocolate to set up in a cool place at least 30
minutes before cutting to serve.
To serve, cut a knife or bench scraper sprayed with
non-stick spray to slice the treats into 60 small, bite-sized pieces. They will
be sticky but the nostalgia and seasonal flavors are loads of fun!
* Note that as of this writing, Kellog's Rice Krispie cereal
is not vegan because of animal-sourced D3. But the other cereals listed all
work in the recipe and are vegan-friendly and gluten-free.