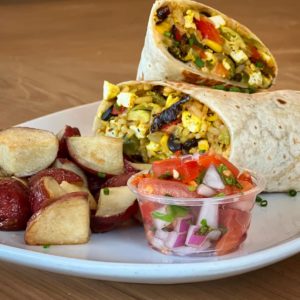 The Vegetarian Resource Group maintains an online Guide to
Vegan/Vegetarian Restaurants in the USA
and Canada.
Here are some recent vegan restaurant additions. The entire guide can be found
here: http://www.vrg.org/restaurant/index.php
To support the updating of this online restaurant guide,
please donate at: www.vrg.org/donate
Here are some new additions to VRG's guide (Note: Due to
the COVID-19 pandemic many are doing take-out
and/or delivery now):
Boca
Fresca, 676 Cherry St., Winter Park, FL 32789
Build your own Boca bowl with a Puerto Rican twist.
Options include apastelao, mofongo, pernil, coconut ranch, cilantro zest, and
more.
Dharma
Southern Kitchen, Market on South, 2603 E. South St., Orlando, FL 32803; Armature
Works, 1910 N. Ola Ave, Tampa, FL 33602; and Henry's Depot, 212 W. 1st St., Sanford,
FL 32771
The orange bird, pulled jackfruit from Carolina BBQ,
Dharma Fried Chick'n, BBQ cauliflower, and more are offered. With sitting in
the front and a private garden in the rear with light music playing, the
ambiance is hipster, stylish, and relaxed. Parking is available both in front
and behind the building.
Hollycake
House, 300 Main St., Ste. 25, East Rochester, NY 14445
Hollycake House is a café-style cake house that not only
has gorgeous vegan cakes, but also vegan breakfast and lunch. Some of the cakes
they offer include Vanilla Cookies & Cream Cake and Chocolate Chip Cookie
Dough Cake. For breakfast and lunch they offer items such as Avocado Toast,
Fruit & Yogurt Parfait, and Chick'n Salad, as well as bakery items like jumbo
muffins and danishes. On their coffee menu, Holly Cake House has everything
from lattes to frappuccinos. Their bakery offers gluten-free options.
Koshari
Mama, 585 Somerville Ave., Somerville, MA 02143
Enjoy delectable Egyptian foods made with rice, lentils,
eggplants, chickpeas, pasta, and more that are all flavorful.
Meek's
Vegan Pizza, Blodgett Food Hall, 2616 Blodgett St., Houston, TX 77004
Meek's provides a variety of pizzas, including Plug's
Lawyer, Brunch, Mean Green, Big Chill, stuffed peppers, and more.
Secret
Vegan Café, 38 McEntee St., Kingston, NY 12401
Tucked away on a corner in the heart of a residential
neighborhood half a mile from the touristy Rondout area, this cozy café offers
quality Dutch and American comfort food. 
With bright, down to earth décor including a beautiful mural of a tree
with birds, and both indoor and outdoor seating, Secret Vegan Café offers vegan
versions of both American fare like espresso, cheeseburgers, pancakes, and
apple pie, and the kinds of snacks you would be more likely to find late at
night in a bar in Amsterdam: the fluffy doughnut/beignet-like oliebollen fried
in avocado oil; and bitterballen, breaded and fried croquettes filled with
mushrooms rather than the traditional meats. 
Made, like the rest of their menu, with locally sourced, Non-GMO and
mostly organic ingredients, these unique bitterballen are also shipped
nationwide through their brand Vegan Junk Food.
SomethinGood To Eat,
2210 Larchmere Blvd., Cleveland, OH 44120
Sweet fries, messy mac, BBQ jack mac, excellent bread,
nice nuggets, and salad are among the tasty foods served. Outdoor dining, as
well as a comfortable eating room and a contemporary interior.
The
Lafayette Place, 1978 N. Farwell Ave., Milwaukee, WI 53202
The Lafayette Place serves fruit bowls, veggie burrito,
southern Po'boy, soup, avocado toast, chorizo Joe, and more.