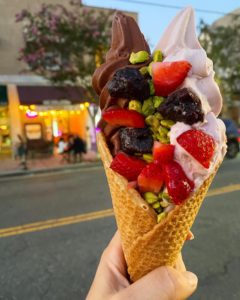 The Vegetarian Resource Group maintains an online Guide to
Vegan/Vegetarian Restaurants in the USA
and Canada.
Here are some recent vegan restaurant additions. The entire guide can be found
here: http://www.vrg.org/restaurant/index.php
To support the updating of this online
restaurant guide, please donate at: www.vrg.org/donate
Here are some new additions to VRG's
guide (Note: Due to the COVID-19
pandemic many are doing take-out and/or delivery now):
BJ's Bites, 1806 Del Prado Blvd. S., Cape Coral, FL 33990
BJ's Bites serves tacos, cauliflower
bites, tofu bites, fries, and a baked Mac and Cheese dish that's too good to
pass up! They also offer soft serve for dessert!
Estella's Vegan Dessert Boutique, 19120 Grand River Ave.,
Detroit, MI 48223
Family recipes form a key element of
this black-owned bakery's offering. There are four flavors available at the
bakery: red velvet, lemon, chocolate turtle, and strawberry crunch. Their
facility was once a bookshop, with seating limited to 6 people. When customers
arrive, they can anticipate a warm, family-friendly atmosphere.
Grandma's Kitchen, 123 South Catherine St., Montour Falls,
NY 14865
This charming restaurant in the center
of Montour Falls serves up all-vegan versions of classic American breakfast and
lunch foods. The old-timey décor with family pictures and plenty of light
creates a cozy ambience in which to enjoy the likes of casseroles, scrambles,
salads, soups, and shepherd's pie — or just a selection of teas or coffee and
baked goods. Menu, handwritten on a chalkboard, varies daily, but you can be
sure they will offer a variety of delicious, filling, plant-based options to
choose from.
Green Street Eatery, 7 Emerson Ave., Levittown, NY 11756
Green Street Eatery was previously a
subway station on the south side of Hempstead T'pike in Levittown, behind the
racetrack. The north and west storefronts are connected by a huge outdoor mall
that stretches all the way to Hicksville Rd. The staff is kind and
accommodating. The food's quality and portion sizes are outstanding. Definitely
check out the Jackfruit Carnitas Tacos, Vietnamese fries, Seoul Bowl, and so
much more! Brunch dishes on Sunday include pancakes, French toast, smoothies,
and donuts.
Kula Ice Cream Shop, 9883 Pacific Heights Blvd., Ste. F, San
Diego, CA 92121
This female-owned shop offers pints of
plant-based ice cream. They also offer customized items. Customers may select
from 12 lip-smacking varieties such as Chocolate Chip Cookie Dough, Lava Cake,
Unicorn Poop (which sounds odd), and others. Scoops come with a house-made waffle
cookie and can be served on a cone or in a cup. The vegan and gluten-free cone
selections include waffle, sugar, and cake. Some of the ice creams are made
with various nuts and seed bases to accommodate each customer's preferences and
sensitivities. Not all ice creams contain nuts; some are soy-based. They also
sell seasonal sorbets (water-based). Kula Ice Cream Shop also sells ice cream
with trace quantities of alcohol. They ship once a month to California, Nevada,
and Arizona. The ice cream is packaged in compostable and recyclable materials.
Preference, 360 Boniface
Pkwy., B11, Anchorage, AK 99504
Preference is a low-impact business
that uses biodegradable forks and cups to reduce waste. The menu varies weekly,
so be sure to check it out before you go.
The Cocinita Miami, 70 SE 5th St., Ste. 107, Miami, FL 33131
Vegan cuisine is no longer boring! From
tacos to arepas, this restaurant serves a wide range of delectable and
nutritious Latin-inspired plant-based cuisine. With charming outside seating,
the ambiance is earthy and clean. The staff is really courteous and
knowledgeable, and they provide prompt and excellent service.
Yoga-Urt, Kenneth Village, 1407 W. Kenneth Rd., Glendale, CA
91201; 2211 W. Sunset Blvd., Los Angeles, CA 90026; and 1700 Ocean Park Blvd.,
Santa Monica, CA 90405
Yoga-Urt is a California-based soft
serve and smoothie shop. The soft serve is made with a homemade almond cashew
base, almonds, and organic ingredients, as well as probiotics. Smoothie pies,
ice cream sandwiches, kombucha, coffee, tea, all organic, and gluten-free
waffle cones are on the menu.
Zonk Burger, 2919 Race St., Fort Worth, TX 76111
Zonk Burger is an all-vegan fast-casual
burger restaurant in Fort Worth's River East area that serves a limited,
straightforward menu of burgers, hand-cut fries, salads, desserts, and
beverages. They do not serve Impossible Burger, Beyond Meat, or Gardein since
they aim to develop unique dishes. Kindly notify the cashier of any allergies
so that they can answer specific inquiries or check with the kitchen. Customers
may sit and enjoy lunch, happy hour, or dinner on the exterior, which is pink
and has an attractive patio with blue chairs and yellow and white umbrellas.