Posted on
October 08, 2021 by
The VRG Blog Editor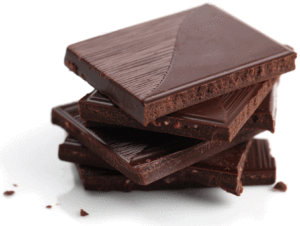 By Reed Mangels, PhD, RD
Walk down the candy aisle in a natural foods store or in
many supermarkets and the number of vegan choices is astounding. There are
"mylk" chocolates, dark chocolates, very dark chocolates, and a myriad of
flavored chocolate selections. How do these compare in terms of nutrition?
Chocolate is made from the seeds of a tropical tree called
the cacao tree. The seeds, which are also called beans, are fermented, dried,
roasted, shelled, and ground in the process of making chocolate. The result of
this processing is a thick liquid, called cocoa liquor, that contains fiber,
fat, and protein from the cacao seeds. Cocoa butter is the fat that is produced
from cacao seeds. (Although "butter" may sound like a dairy product, cocoa
butter does not contain dairy.)  Additional
pure cocoa butter is added to the cocoa liquor. Sugar and other ingredients are
also added, and the mixture is formed into chocolate bars.
An ounce of chocolate, whether vegan or not has around 150
to 190 calories. Some chocolate bars may indicate the percentage of chocolate
on the label. The percentage indicates the percent by weight of the product
that is cocoa butter and cocoa solids. For example, a bar that is 71% chocolate
is 71% by weight cocoa butter and cocoa solids. The remaining 29% is mostly
sugar. Generally, the higher the percentage of cocoa butter and cocoa solids,
the (slightly) higher the calories. For example, Equal Exchange 71% has 180
calories in an ounce,  but Equal Exchange
92% has 190 calories per ounce. This difference is insignificant.
Generally, products with higher percentages of cocoa butter
and cocoa solids, have more fat and saturated fat and less added sugar. Those
with lower percentages of cocoa butter and cocoa solids have less fat and more
added sugar.
Additions like mint or orange flavoring have little impact
on a chocolate bar's nutrient content. Nuts add a small amount of protein and
chocolate bars with salted nuts or sea salt will have more sodium (about 50-100
milligrams more per ounce of chocolate) than those without added salt.
An ounce of dark chocolate provides around 15% of the Daily
Value for iron and magnesium and more than half of the Daily Value for copper.
Reference:
McGee, H. On Food and
Cooking. The Science and Lore of the Kitchen. New York: Scribner; 2004.
For vegan recipes featuring chocolate see:
https://www.vrg.org/journal/vj2014issue1/2014_issue1_savory_side.php