If I told you this was the best lasagna recipe, would you believe me? Let's give it a try. This is thousand layer lasagna. I first posted the recipe in 2006, and still make it all these years later. Imagine dozens and dozens of whisper-thin sheets of fresh pasta brushed with a simple, vibrant red tomato sauce, threaded with layer after layer of warm, oozy, fresh mozzarella. Where the sauce and cheese and pasta touch the pan, particularly in the corners, everything gets crunchy and caramelized. The corner pieces, omg.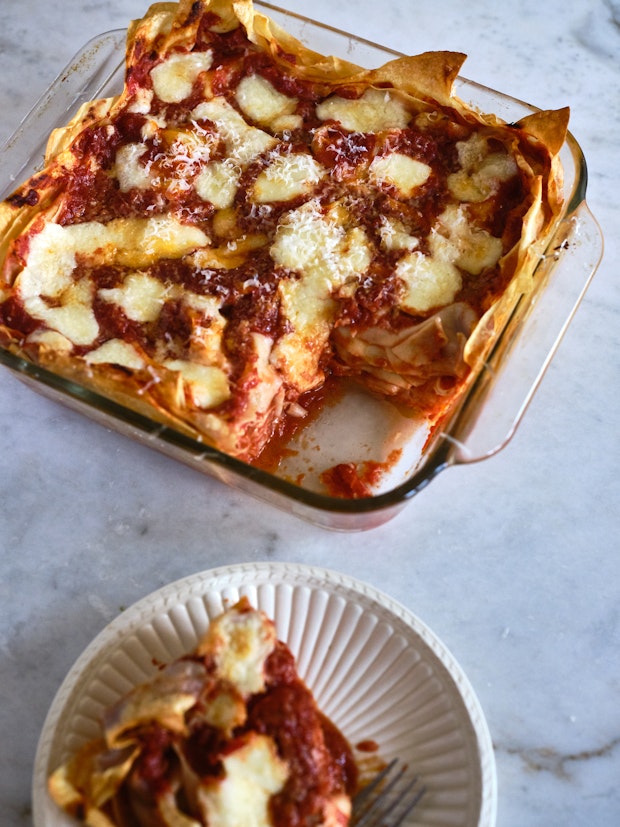 I should say, this isn't a lasagna path for the faint-hearted. This lasagna takes commitment, patience, and lots of time. Think weekend project. This is in part because you're using fresh pasta, and, well, there are a thousand layers. That said, I've streamlined the process a lot over the years. And will call out those tips in the recipe below.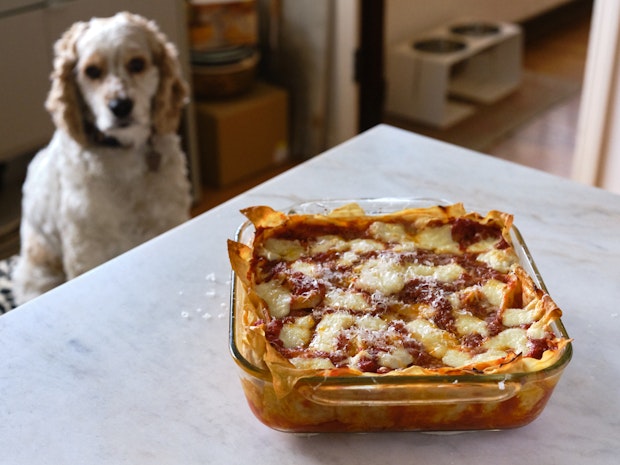 How to Make Lasagna: The Basics
Start by making the sauce: the sauce I use for this lasagna is super simple, vibrant, and a wink spicy.
Prepare the pasta: You'll either be using homemade pasta or purchase fresh pasta sheets. No dried pasta noodles for this lasagna. The key will be getting your pasta sheet extra thin before boiling.
Assemble the lasagna: You're on the home stretch.
Bake:  Until golden, hot, and bubbly – serve!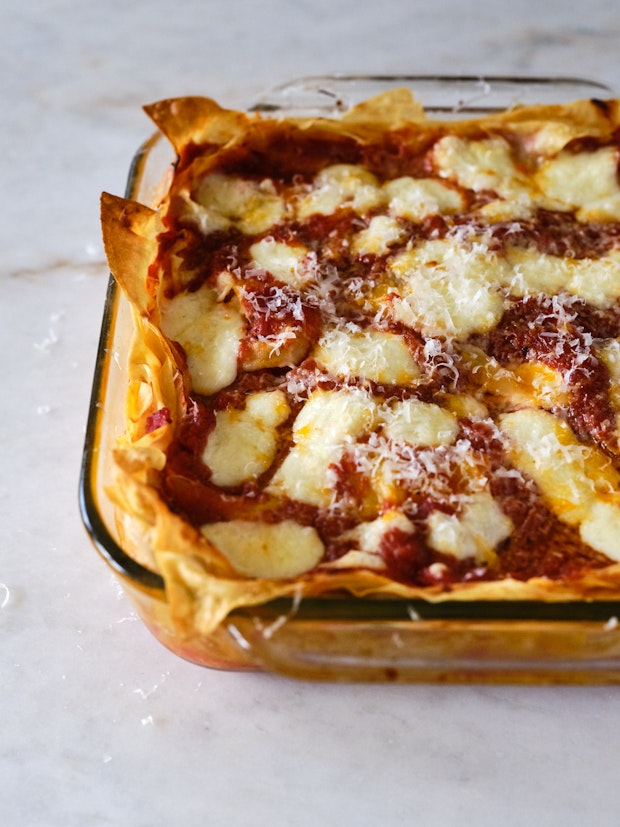 Homemade Pasta versus Store Bought
Originally, I would always make this lasagna with homemade pasta sheets. Eventually it dawned on me that I could buy pasta sheets and shave some time off the production. I'd say it cuts your time in half. The main thing, in either case, is that you want to get your pasta sheets super thin. So, even if I buy pre-made pasta sheets, I run them through my pasta machine at home a couple times to make them even thinner.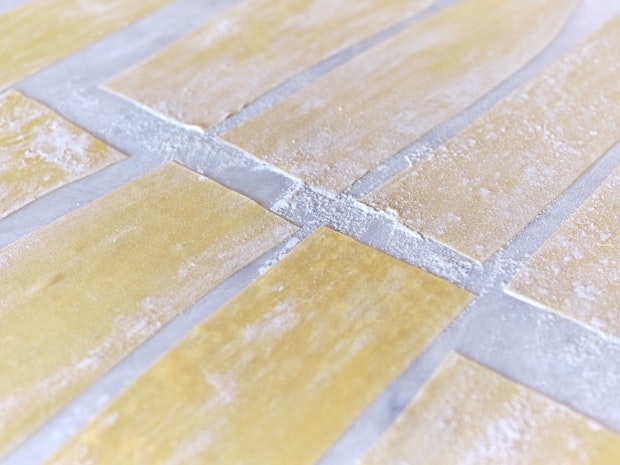 I'm using
homemade pasta
here, but the process is basically the same if you're using store-bought pasta sheets.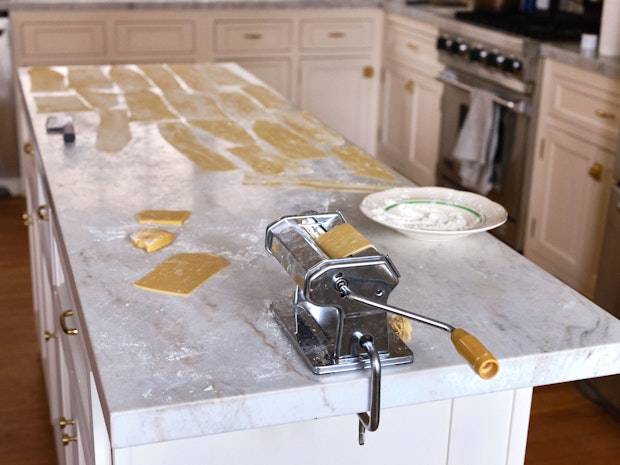 Can I Freeze Lasagna?
Yes! Absolutely. You can store it, assembled, either baked or unbaked.
To freeze an unbaked lasagna: Line your baking pan with a layer of parchment paper. Assemble the lasagna in the baking dish, allow to cool completely, and freeze until solid. Once frozen, transfer the frozen block of lasagna from the dish, wrap completely with foil and freeze for up to a month or two.

 

To finish an unbaked frozen lasagna: Remove all layers of foil, you can decide if you want to leave the parchment or not, and transfer to the original baking dish. Allow to thaw completely before baking as directed.
To freeze baked lasagna: If you know you're going to freeze your fully baked lasagna, line your pan with foil, and then a layer of parchment paper. Assemble the lasagna as directed, and then bake. I tend to undertake a shade here, knowing I'll be reheating later.Let it cool completely after baking, and then freeze solid. Transfer the frozen lasagna out of the baking dish, wrap tightly in foil, and freeze for up to a month or two.
Reheating a baked lasagna: remove the lasagna from the freeze and remove the foil. Transfer to the original baking dish, and allow to thaw completely. Cover with foil and bake as directed until golden and bubbly.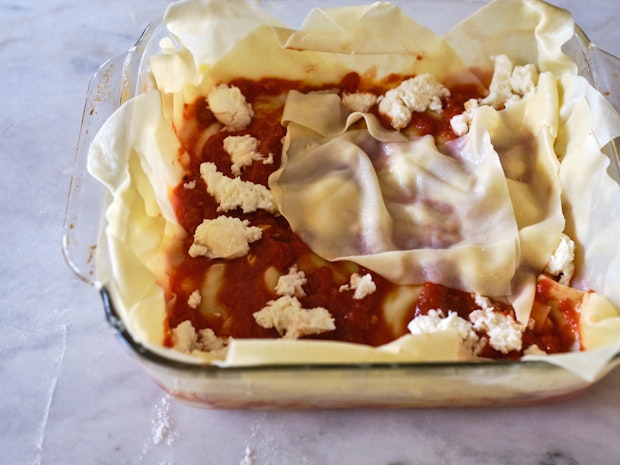 This is a good photo (above) demonstrating the ideal thickness of your pasta for this lasagna. The photo above shows you the amount of sauce you're aiming for, as well as mozzarella.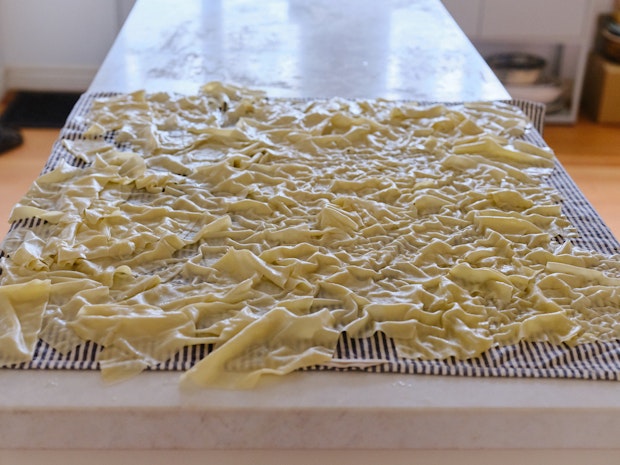 What you are seeing in the photo above is the pasta sheets boiled and ready for assembly. Because of the olive oil in the cooling water you use, overlapping the pasta sheets here isn't a problem. They separate relatively easily.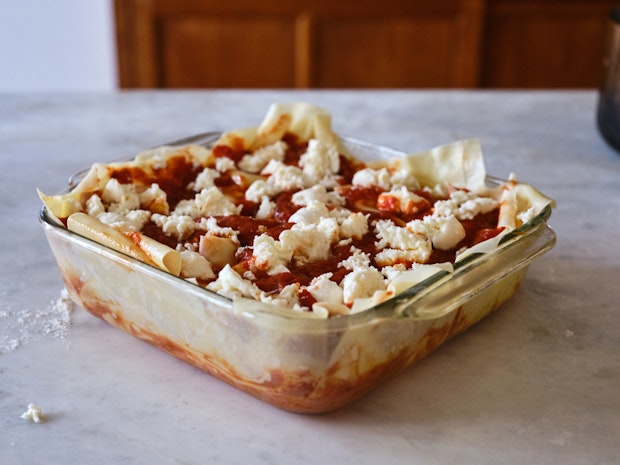 Ready for the oven! This is what it looks like fully assembled and ready to bake. Of course you can experiment with different pans and baking dishes. You can make extra pasta and sauce and go extra deep dish. Once you get the hang here, you can take the general idea and run with it.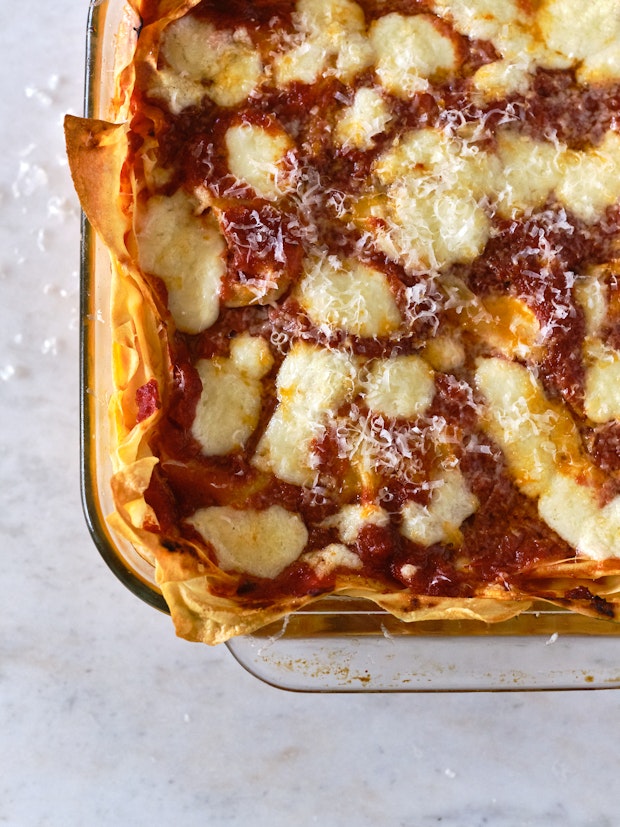 Thousand Layer Lasagna Variations
Today I'm sharing the tomato-based "starter" version of this lasagna, but feel free to experiment through the seasons. I've done roasted butternut squash + brown butter, or pesto and ricotta – play around, but keep the sauces + fillings simple and (key!) not too chunky. Part of the magic comes from the baklava-like layering of the pasta, one on top of the next. There's just enough going on between each layer to keep it all moist, flavorful, and feathery-light. Well, as feathery-light as lasagna gets.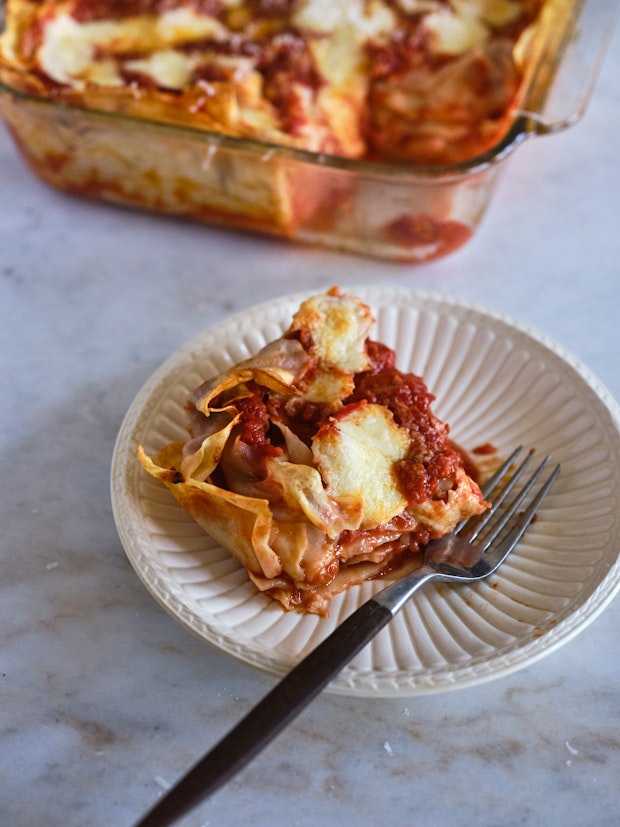 This is such a fun lasagna to make. Particularly if you're not in a hurry. Have fun, it's worth the payoff when it comes out of the oven! 
If you're looking for more pasta inspiration, here's where you can learn to make fresh pasta. Homemade cavatelli is a blast, and I love this pesto forever, especially with this gnocchi. 
Source link