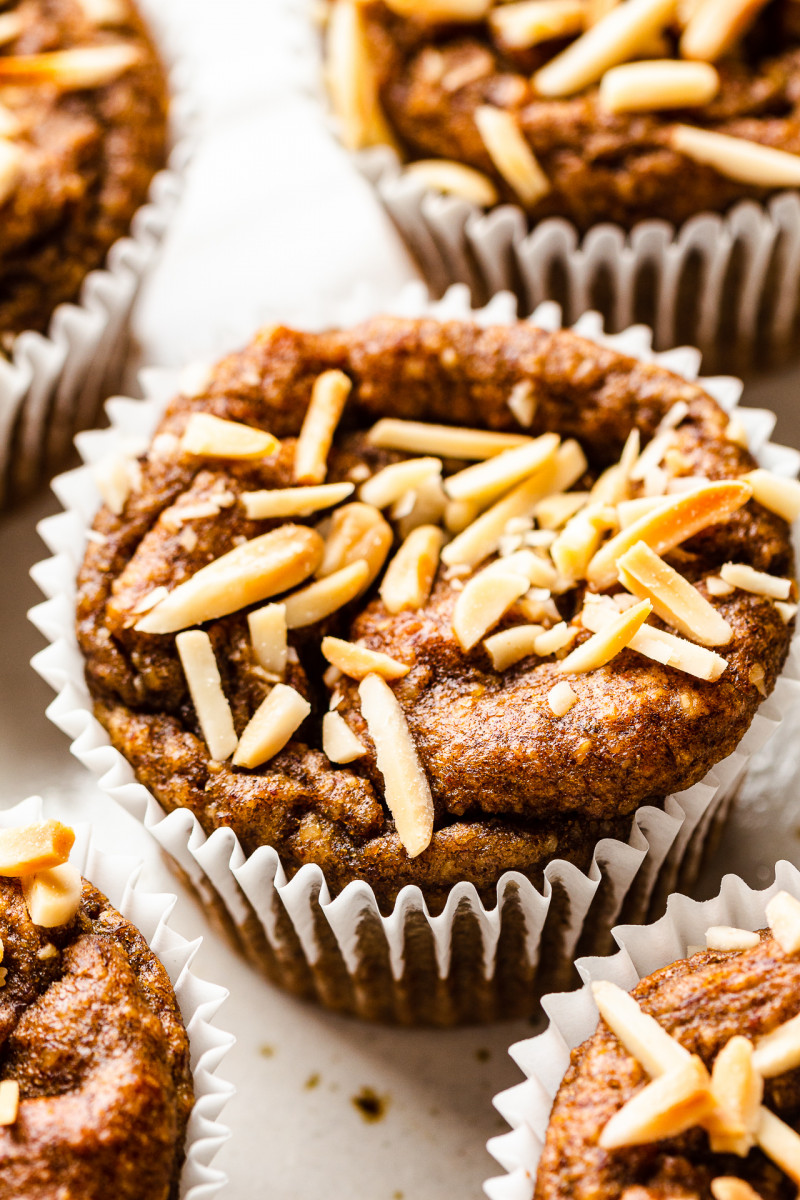 Hope you are managing to stay well away from cold weather viruses and infections. I wasn't that lucky. I came back from visiting my family last weekend and by Monday I landed in bed with a nasty cold that rendered me useless for the whole week. Luckily, it was not Covid (as I hear that it's on the rise again) and I am almost well again, but I did feel very wretched indeed. Because of that my planned recipes had to take a backseat and so today, I am sharing something a spare recipe I had prepared for this eventuality – sugarfree banana muffins.
I came up with these sugarfree banana muffins when I was going through a phase of cutting out added sugar and they really helped. They are sweetened with dates rather than sugar or any sugar syrup, which is helpful if going so cold cold Turkey is just too painful. They use simple ingredients and very little process so come together rather quickly. These muffins are a great thing to pack into a lunchbox, to grab for an on-the-go breakfast or to enjoy on a hike. We've enjoyed them and I hope you'll too.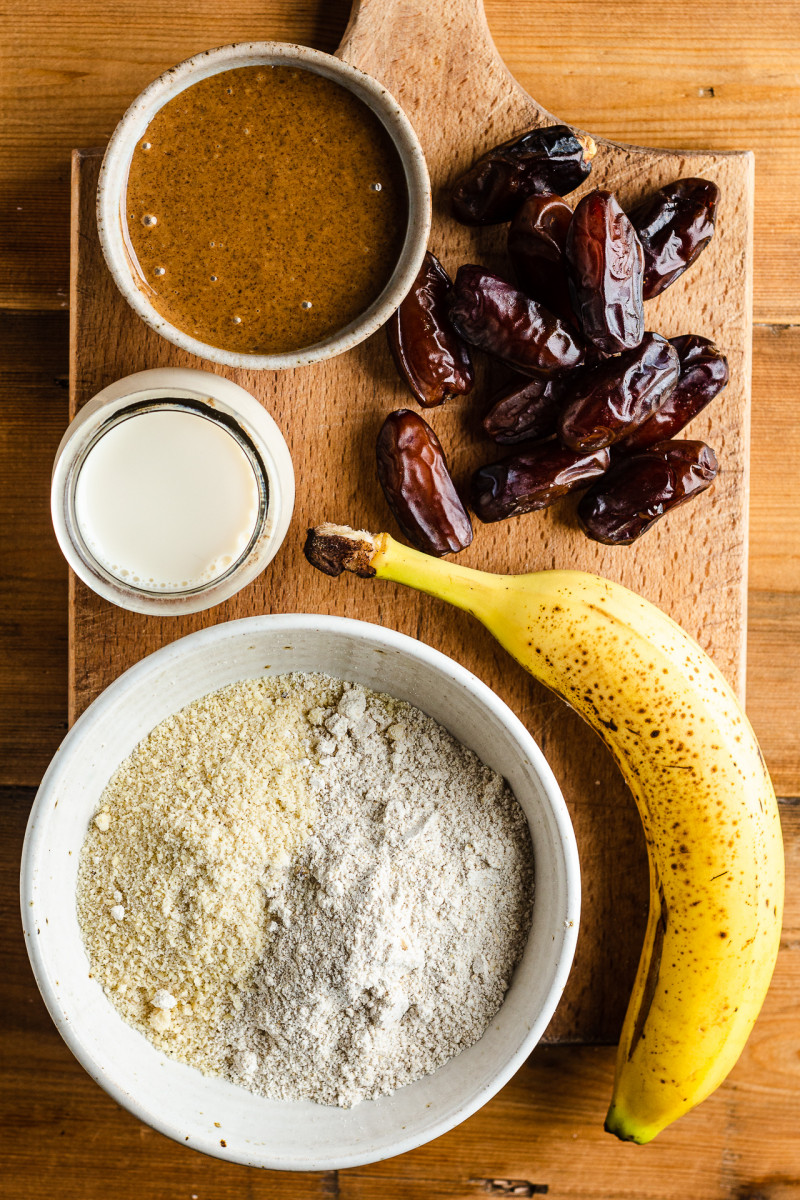 MORE ABOUT THE INGREDIENTS
BANANAS: Perfectly ripe, spotty bananas make for sweet and moist banana bread muffins, mash them well – I recommend doing that by hand as opposed to a blender so that there is a bit of texture left. While I am pretty sure this recipe will also work with frozen (and defrosted) bananas, I haven't had the time to test that. Frozen bananas tend to retain more moisture so I would compensate by using a little less plant milk.
DATES: Don't worry about splashing out for pricey and trendy Medjool dates for these muffins. I simply bought a box of Wonky dates from my local Morrisons and they worked a treat.
ALMOND BUTTER: Almond butter acts as fat here so be sure to use one that's runny rather the solid as that means that it has plenty of fat alongside ground almonds. I have also tried making these with tahini, but the result wasn't as good so I would not recommend.
FLOURS: I wanted to keep these muffins gluten-free and I also wanted to be able to have these for breakfast occasionally 😉 so this is why I reached for oat flour and almond flour. If you are not fussed about making these muffins without gluten, use plain flour instead.
RAISING AGENTS: A combination of baking soda and baking powder gives these sugarfree banana muffins just the right amount of lift. A dash of lemon or lime juice will help with the leavening so do use it if you have any citrus to hand.
SPICES: Cinnamon is a must in a banana flavoured dessert in my opinion and I am also a sucker for a bit of cardamom in baked goods so I added a touch of that fragrant spice too. In the case of cardamom, I recommend getting a bag of green cardamom pods (in the UK every corner store sells them) and grinding their black seeds in a pestle and mortar at home – it gives you the most aroma and flavour for your buck!
SALT: A true cupboard staple that most cakes and desserts benefit from.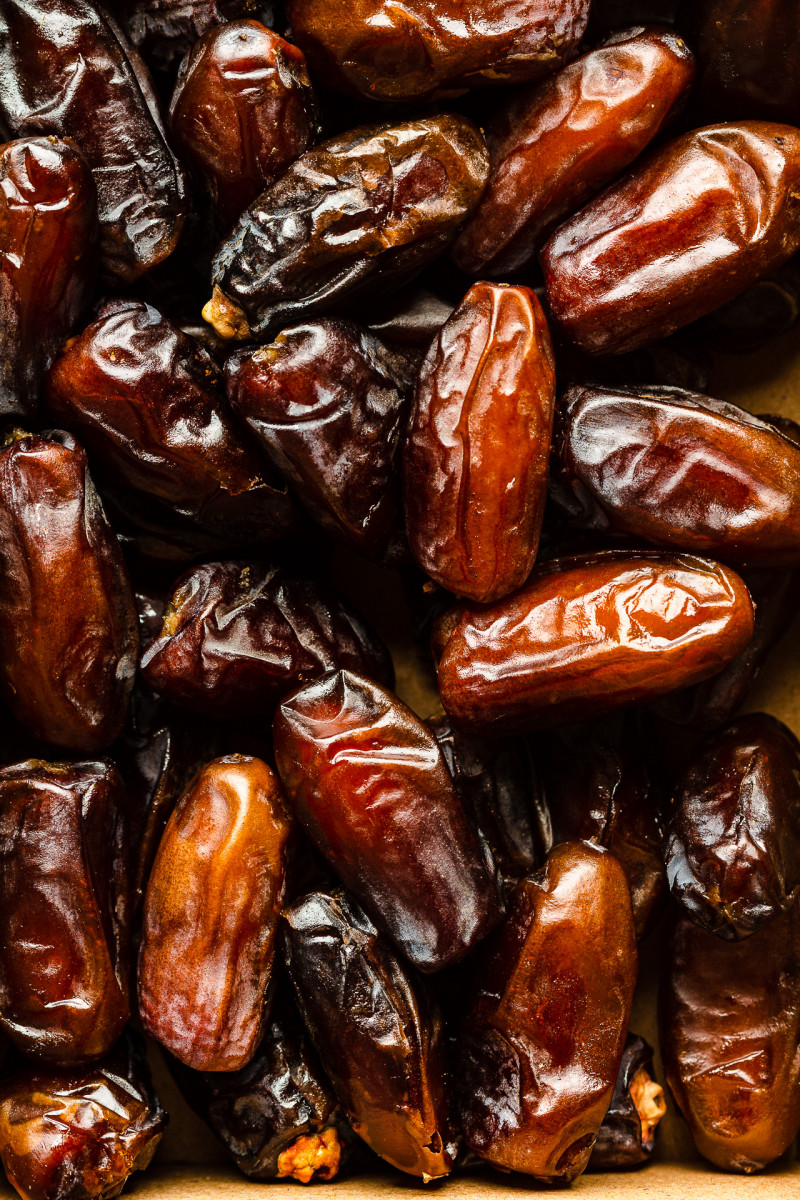 Don't feel the need to splash out on expensive Medjool dates for this recipe, these muffins work a treat with bog standard dates you can find. I used Morrison's Wonky range, which sells imperfect produce that would otherwise go to waste.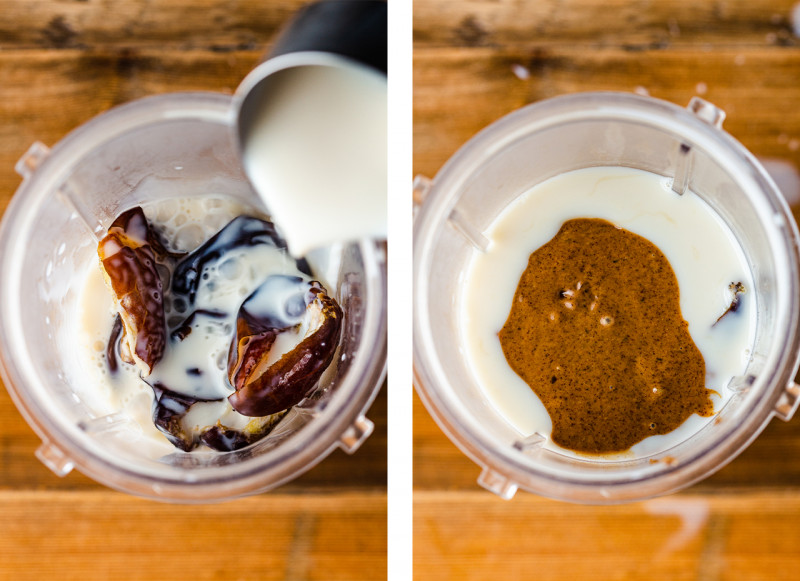 Combine pitted dates, plant milk, lemon juice and almond butter in a small blender, blend until smooth.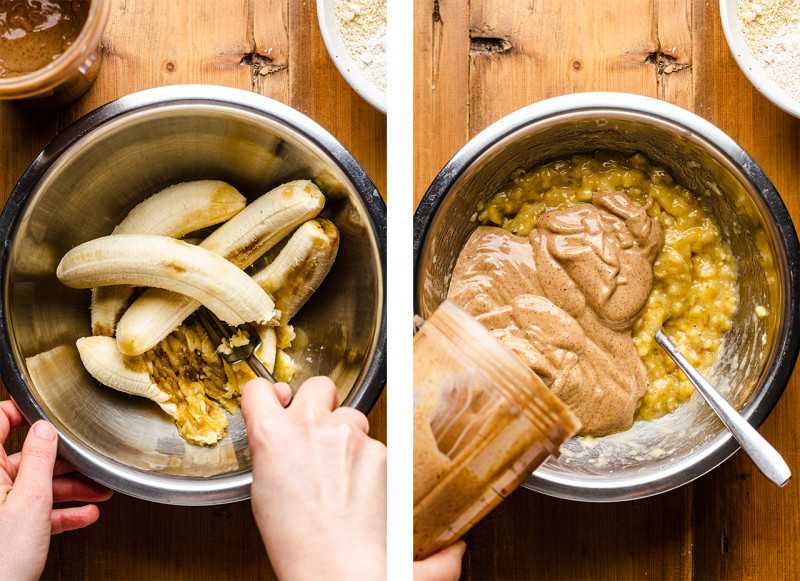 Mash ripe bananas by hand to keep some of the texture in and combine them with blended dates.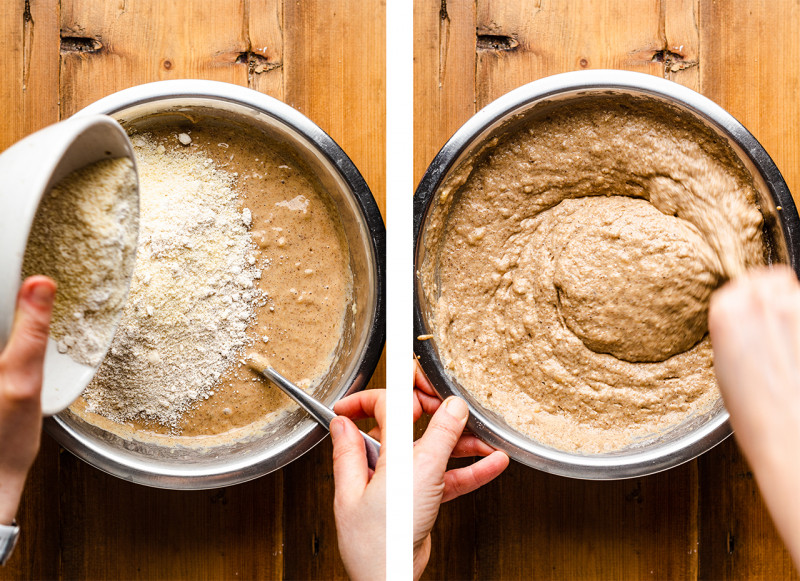 Add both flours, spices and baking agents to the wet ingredients. Stir well until thoroughly combined.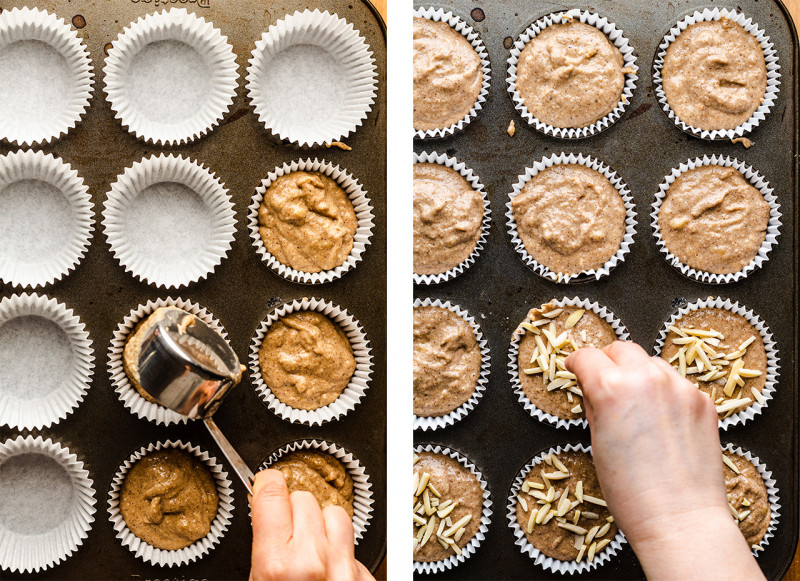 Transfer the batter to paper lined standard 12 muffin tin, top with almonds and bake for about 25 minutes.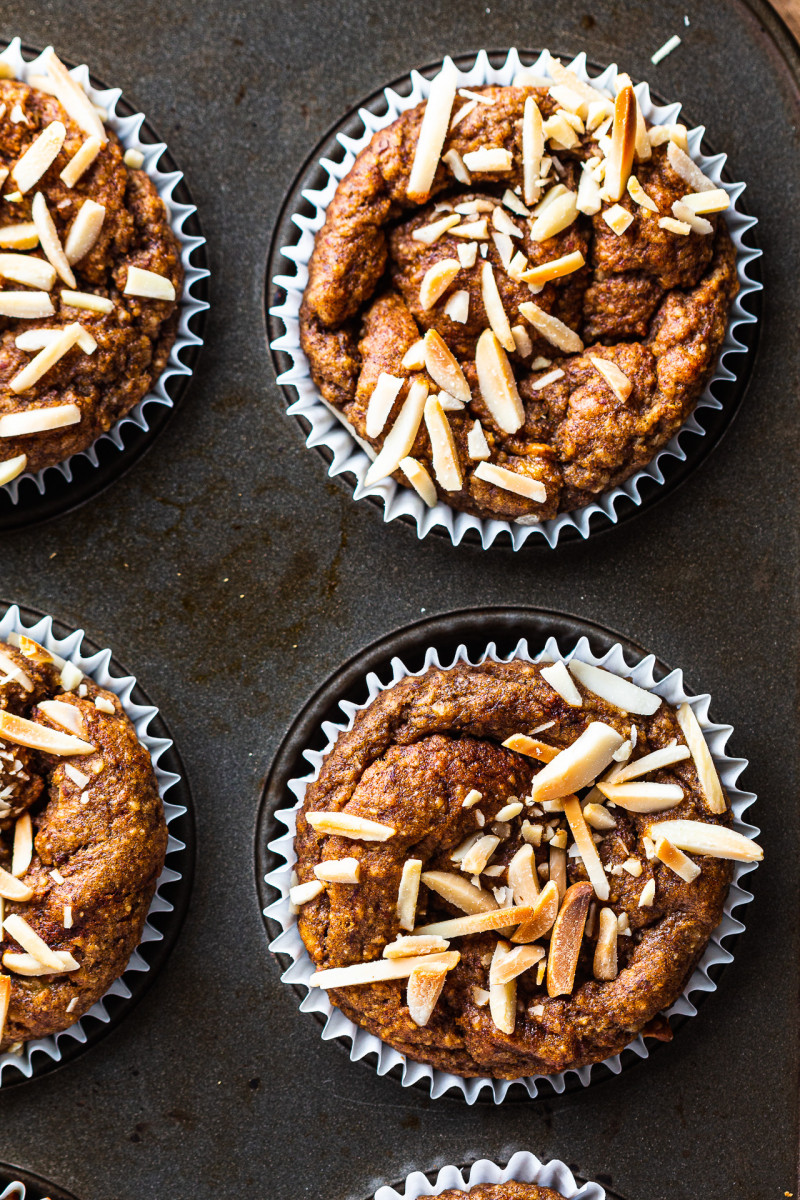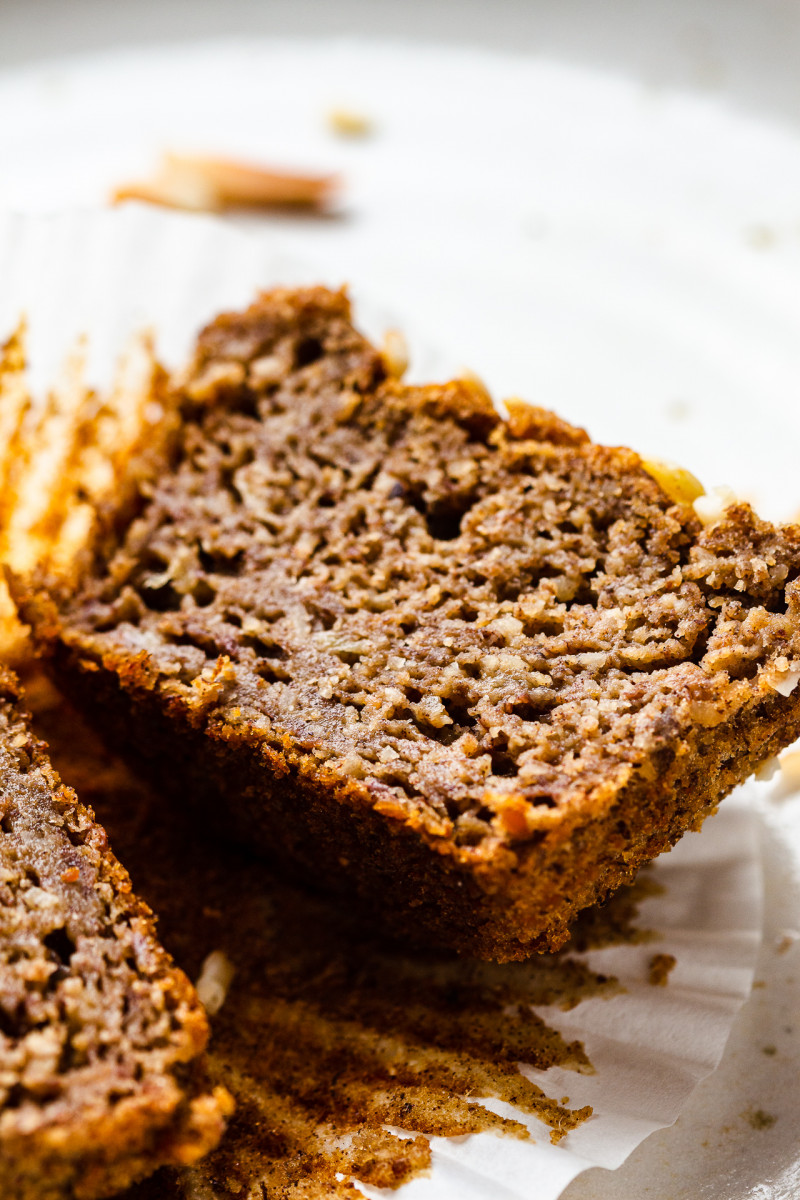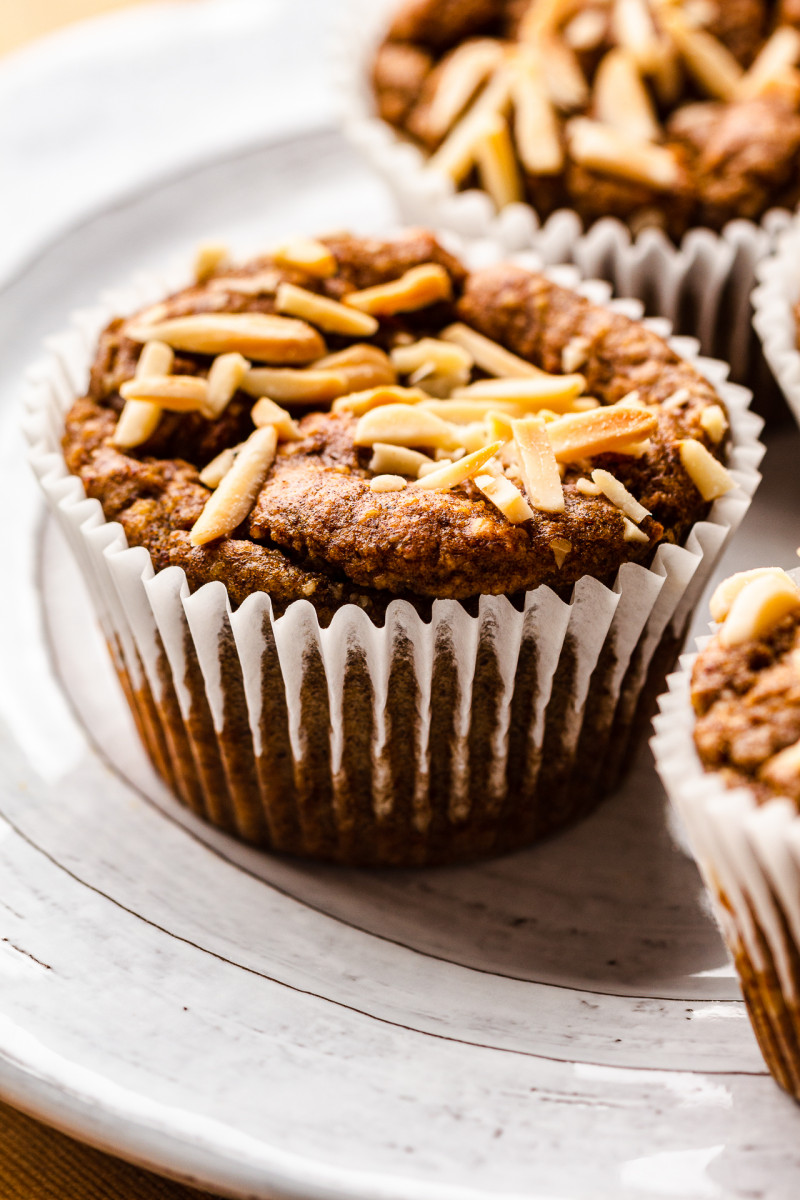 WET INGREDIENTS
200 g / 7 oz dates, pitted
180 ml / ¾ cup plant milk (I used almond)
120 g / ½ cup runny almond butter
10 ml / 2 tsp lemon / lime juice
360 g / 12.5 oz (about 1½ cups mashed up) peeled ripe bananas
DRY INGREDIENTS
100 g / 3.5 oz (1 cup) oat flour*
100 g / 3.5 oz (1 cup) almond flour*
1½ tsp cinnamon and ½ tsp cardamom (freshly ground is best)
1½ tsp baking powder
½ tsp baking soda
½ tsp sea salt
slivered or flaked almonds, to decorate (optional)
METHOD
Heat up the oven to 180° C / 355° F (regular, no fan setting) and line a standard 12 hole muffin tray with paper liners.
Place pitted dates, plant milk, almond butter and lemon juice in a small blender and process until smooth.
Mash ripe bananas in a large mixing bowl with a fork. Once mashed, add in blended dates and mix well.
Stir in both flours and baking agents.
Divide the batter between 12 muffin liners, top with slivered almonds if using. Bake for about 25 minutes – until a skewer comes out clean.
Remove from the oven and allow the muffins to cool down completely (they will seem underbaked whilst warm!) before eating. Store in an air-tight container for a couple of days.
NOTES
*OAT/ALMOND FLOUR: I used a mixture of oat and almond flour to keep these muffins naturally gluten-free, but if you don't worry about gluten, use 200 g (1½ cups) of plain flour.