Ribollita is a thick Tuscan stew – dark greens, lots of beans, vegetables, olive oil, thickened with day-old bread. It is hearty, filling, infinitely nourishing, and flat-out, the sort of food I crave. The amount of kale you collapse into each pot is impressive, and you'll be patting yourself on the back before, during, and after you eat. Here are the details – it's a soup I make constantly this time of year.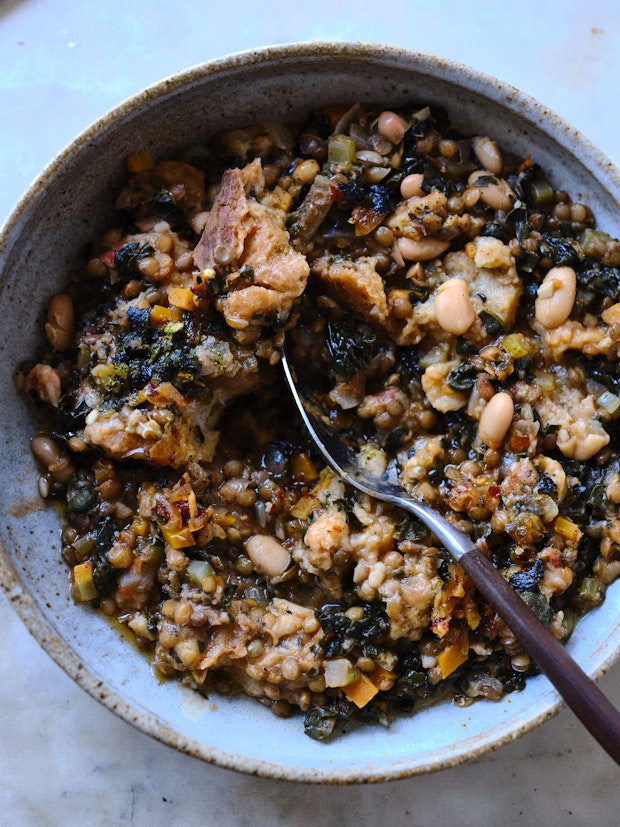 I should mention, with ribollita, it's one of those things where there are as many ways to make it as there are cooks. I normally use whole canned tomatoes this time of year – torn up. But had crushed tomatoes on hand, and they worked out nicely. You can use canned beans, beans cooked from dried, or cooked beans you've frozen and thawed. As far as guidelines go? Your ribollita should be thick – eventually. A sloppy sounding, bread stew. Use day old bread, preferably a rustic loaf cut (or torn) into big chunks. The bread absorbs the broth and simmers into beautifully plump zones of pillowy dumplings.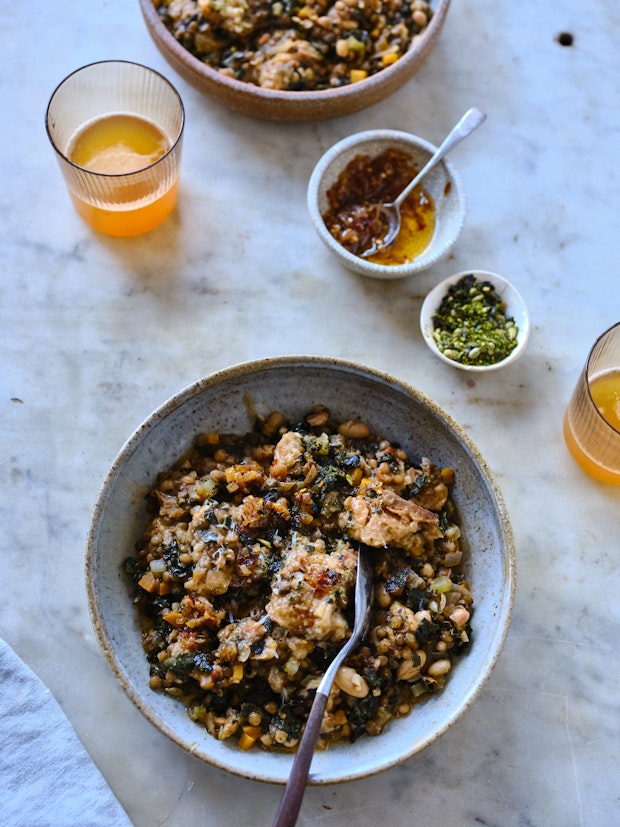 Ribollita Shortcuts
This isn't a difficult soup to cook, although it does require some chopping. If you're looking for a few ways to shave off some prep time. Use canned beans, and buy pre-washed & chopped kale. Also keep in mind, this recipe results in a large pot of soup. Enough for a couple days of leftovers, or more, depending on the size of your family.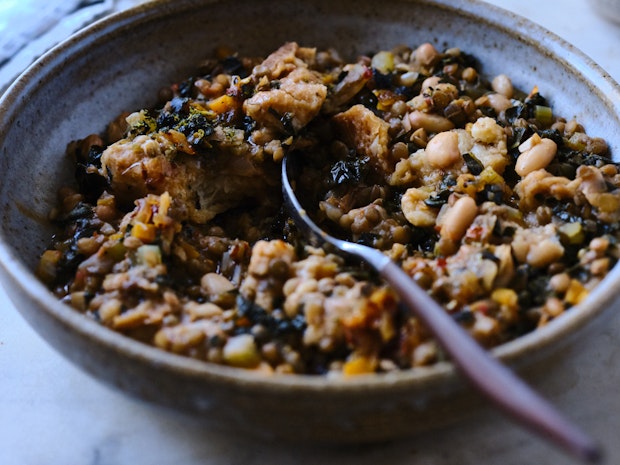 Ribollita Adaptations
There are a bunch! In addition to the tweaks I mentioned up above, I suspect a number of you will want to know how to make it GF. Yes, you can absolutely make it without the bread. it's not the same stew, and not really ribollita, but it is still wonderful. Bump up the amount of beans you use (both the whole & mashed). I've also taken to substituting a cup of the white beans with 1 cup of uncooked French lentils (added with the tomatoes). Once the lentils are fully cooked proceed with the addition of the kale, beans, etc.
Toppings!
I like to add a bit of lemon zest to each bowl for a bit of brightness, and because I can't help myself. And I also like the saltiness of a few olives alongside the kale, so that's a little bonus as well. I'll also drizzle a little thinned out pesto on top if I have it on hand, or, an herb oil made by pureeing olive oil, a couple garlic cloves, parsley, and marjoram together. This bowl was topped with a shallot and chiles oil.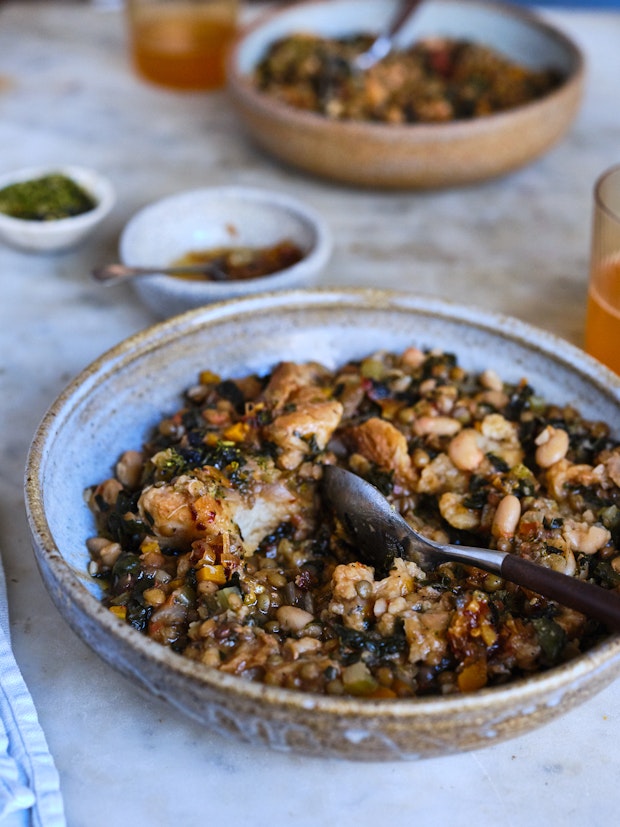 Freezer-friendly Ribollita
This is an excellent freezer friendly stew. I like to make an extra-large pot of it, let it cool, and transfer it to freezer-safe containers. It's good for a month or so frozen. If I know it's a pot primarily bound for the freezer, I sometimes hold off on adding the bread. I'll add it when I reheat later. But really, you can do it either way.
I hope you love this, and I hope you make it. It has all the good stuff in one pot. It's what I like to make when I feel like I need a bit of a re-boot.
This is the place if you're looking for more soup recipes, and I included this recipe in my list of best bean recipes, so be sure to check it out if you're looking for more bean-centric inspiration. Enjoy! -h
Source link