These vegan protein peanut butter stuffed dates taste like a Snickers bar. But they're made with wholesome, plant-based ingredients, including medjool dates, peanut butter, melted dark chocolate, and pea protein.
Hot summer days rarely deter me from turning on my oven, but July had enough super warm days that I often hesitated to bake. This left me in the position of seeking out no-bake treats instead. These protein peanut butter-stuffed dates are the best one of those that I've tried. 
The dates are sweet, gooey, and feature the completely irresistible combination of chocolate and peanut butter. They're easy to make with wholesome, simple ingredients, plus they incorporate pea protein as an added bonus!
Snacking on these treats has given me a lot of joy throughout this summer of frantic (and often tricky) recipe testing. I'm glad to be sharing the recipe today.
For the love of plant protein
Plant-based protein is part of the reason that the peanut butter-stuffed dates make such a great, filling snack.
Honestly? I never thought I'd become a "vegan protein dietitian," as I now jokingly refer to myself with clients. But I've come to see how important protein contributes to satiety, energy, and immunity. 
This is true in general, but it's especially important for those who are transitioning away from, or reducing, animal protein in their diet. Sourcing protein on a plant-based diet can be a learning curve. 
I lean on legumes, soy foods, and vegan meats for protein in my meals, but I also love adding a high-quality protein powder to my smoothies and snacks.
My favorite vegan pea protein
My number one plant-based protein powder is Clean Lean Protein by Nuzest.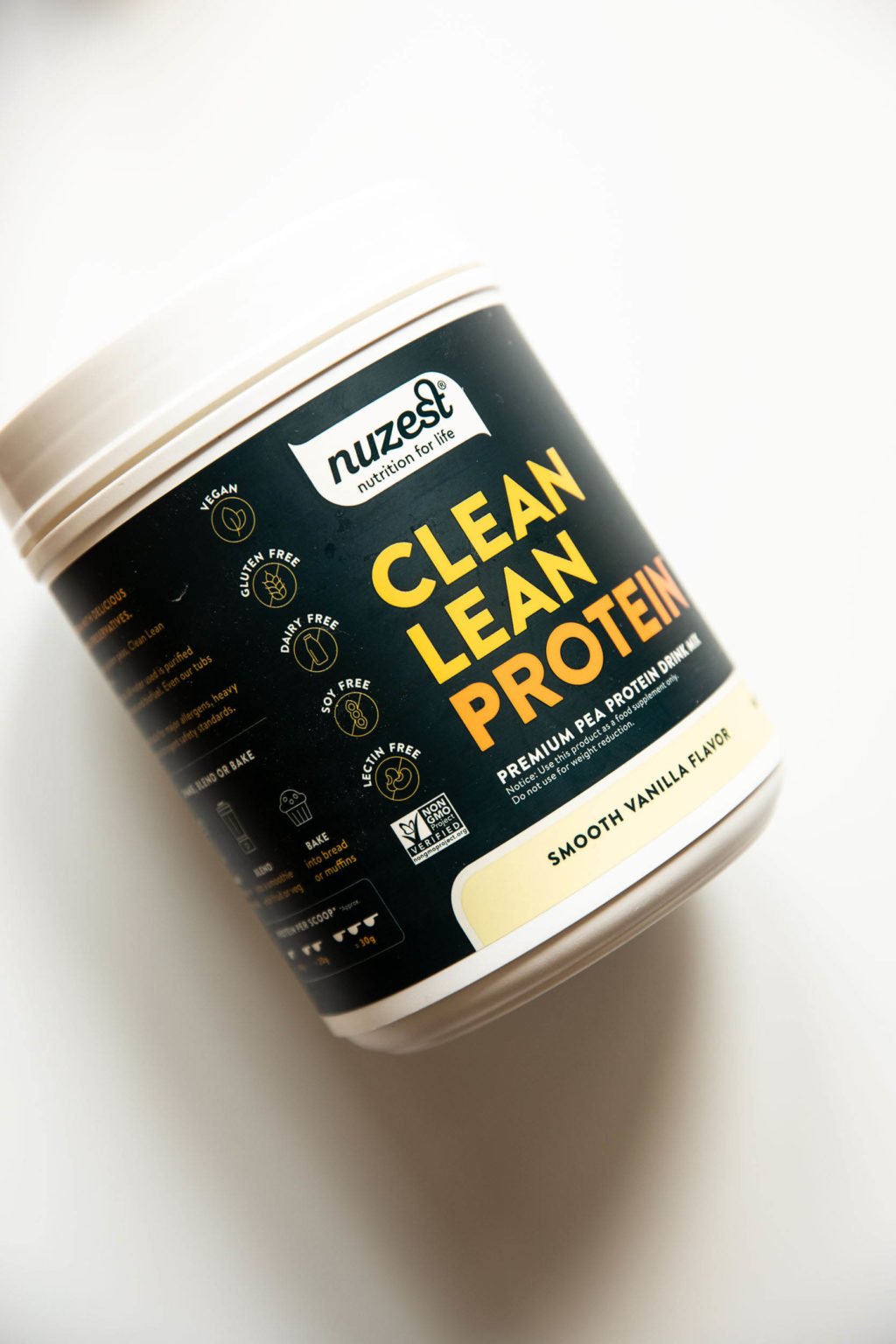 I first tried Clean Lean Protein in 2016. I was immediately impressed by its non-gritty texture and awesome flavor. 
Clean Lean Protein is sourced from peas. It's free from common allergens like gluten, soy and dairy, along with being easy to digest (read: easy on the stomach and less bloating), plus it's rigorously tested for gluten, so it's allergy-friendly. 
Most importantly, it tastes great, and there are a wide-variety of flavors to choose from. Nuzest is the smoothest protein powder I've tried, and I've been a devoted fan since I sampled it years ago. 
I've now sampled four of the Clean Lean Protein flavors: Smooth Vanilla, Rich Chocolate, Real Coffee, and Chai Turmeric + MACA. They're all fantastic; from a flavor perspective, they're probably the best-tasting vegan protein powders that I've tried. They add sweetness to recipes without being aggressively sweet or artificial-tasting, which is key.
I spent much of the summer making a cold brew and frozen banana smoothie with Real Coffee Clean Lean Protein by Nuzest. For these stuffed dates, I used Smooth Vanilla, but the Rich Chocolate would also work very well in the recipe. 
Vegan protein can be a useful addition to baked goods, snacks, smoothies, banana soft serve, energy bites, and more. If you'd like to give Clean Lean Protein a whirl, you can get 20% off your first purchase on the Nuzest website by entering the code GENA at checkout.
How to make stuffed dates
The first step in making the stuffed dates is to cut each medjool date open and remove the pit. To do this, simply make a lengthwise cut in the date with a paring knife. It should be easy to find and retrieve the pit. 
Next, you'll combine the ingredients for stuffing the date: protein powder, peanut butter, and maple syrup. It's a soft, but slightly sticky mixture that you'll stuff into each date by the heaping tablespoon. 
Next, you'll melt vegan dark chocolate (morsels, chips, or chopped chocolate bar) in the microwave (or over a double boiler). Use a tablespoon to drizzle each date generously with melted chocolate. 
Finally, you'll sprinkle flaky sea salt on top of the dates. Just for a touch of that wonderful, sweet and savory, dark chocolate-meets-sea-salt alchemy.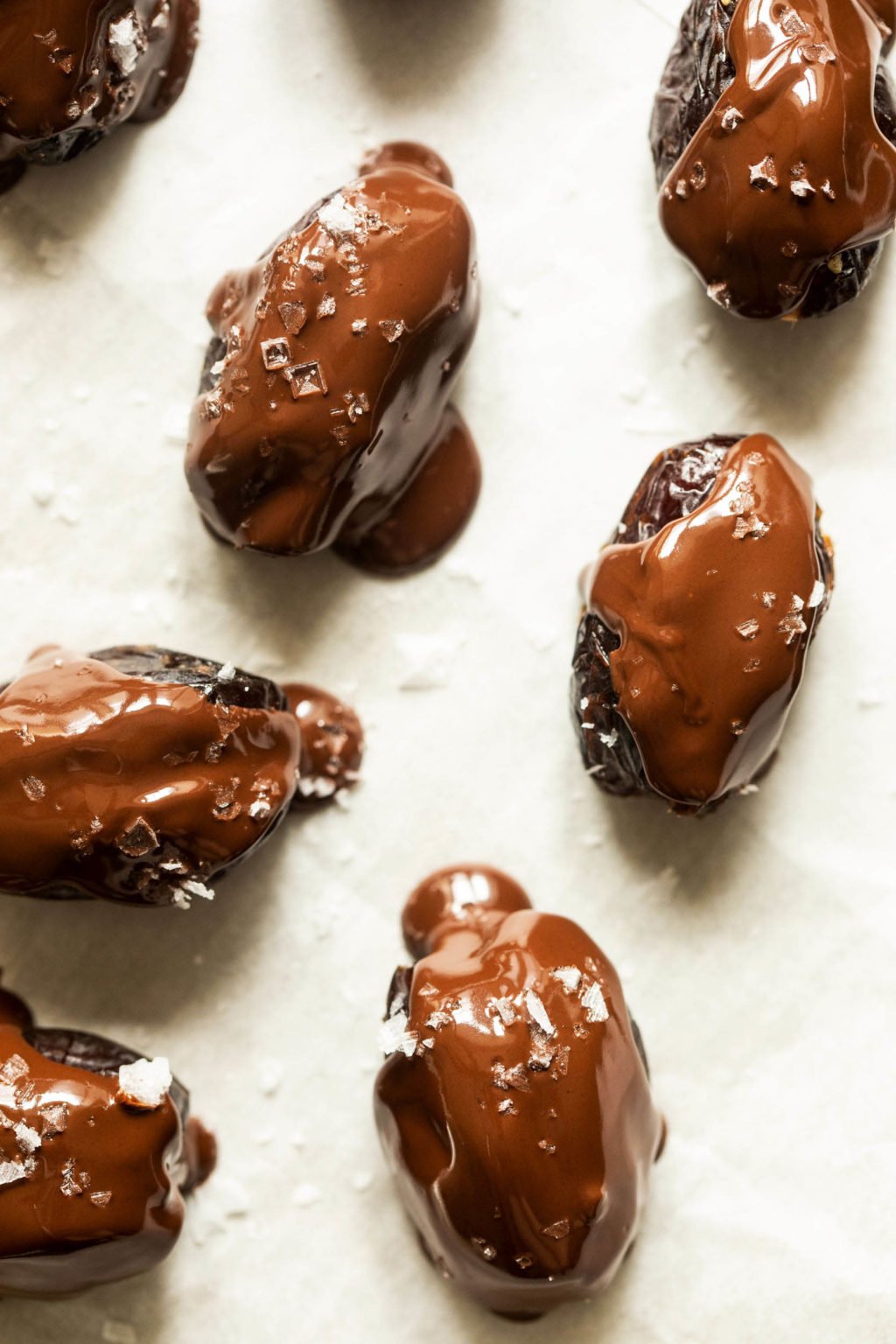 Finally, you'll chill or freeze the dates until the chocolate and sea salt is set. At that point, you can bite right into them and delight in how good they are.
The best dates for stuffed dates
I definitely recommend using medjool dates in the recipe! Deglet Nour dates can be great for using as a sweetener or using in raw energy bites, but they're missing the caramel-like, super-soft texture of medjool dates. 
That texture is what helps to make the stuffed dates as satisfying as they are.
Melting chocolate
The melted dark chocolate is what takes the stuffed dates to the next level. Without it, the dates are sweet, salty, nutritious, and very tasty. 
With the chocolate, however, they become amazing. 
I melt chocolate in a Pyrex bowl in my microwave in 30-second intervals. If you microwave longer than that, the chocolate may overheat and lose its glossiness. Stir between each interval. 
You can also make a double boiler to heat the chocolate in the recipe. 
Once melted, the chocolate needs an addition of a little coconut oil (just two teaspoons). This helps to make it a good texture for drizzling. It also helps to harden the chocolate once the dates are chilled.
Can I substitute peanut butter in the recipe?
Yes, you can absolutely prepare the stuffed dates without peanut butter. Almond butter is a fine substitute if that's your preference. 
If you're allergic to all tree nuts, you can substitute sunflower seed butter for peanut butter in the recipe. 
Storing protein peanut butter stuffed dates
Once prepared, the peanut butter stuffed dates can be stored in the fridge in an airtight container for up to ten days. 
Though there's a very, very good chance that you'll polish them off before that!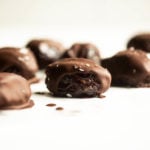 Use a paring knife to cut the dates open lengthwise. Remove the pits.

In a small mixing bowl, mix the peanut butter, protein powder, and maple syrup. Use a tablespoon to stuff the dates with the peanut butter protein mixture by the heaping tablespoon. Transfer the dates to a parchment lined baking sheet.

Melt the chocolate in 30 second intervals in a microwave or use a double boiler to melt it. Stir in the coconut oil. Drizzle the dates with the coconut oil so that they're almost entirely covered. Then, sprinkle them with flaky sea salt.

Transfer the dates to the fridge and chill for at least one hour, or freeze for at least fifteen minutes before enjoying.
Snack time is rarely this enjoyable or worth anticipating!
I hope you'll give the stuffed dates—and the awesome vegan protein that inspired them—a try. The world of plant-based food is rich in protein options, but it never hurts to have some wholesome assistance in getting more. Nuzest is a great way to make that happen! 
xo
This post is sponsored by Nuzest USA. All opinions are my own. Thanks for your support!