This peanut butter granola is my granola of choice as the seasons change. If mornings are cold enough to need a sweater, the homemade granola I'm baking is getting an extra layer as well. In this case that extra layer is a warm mixture of peanut butter and maple syrup accented with lemon zest. Combine this with a bowl of old-fashioned oats, and the granola it forms while baking develops a peanut-centric, powdery soft coating. Cashmere and crunchy clusters. So good.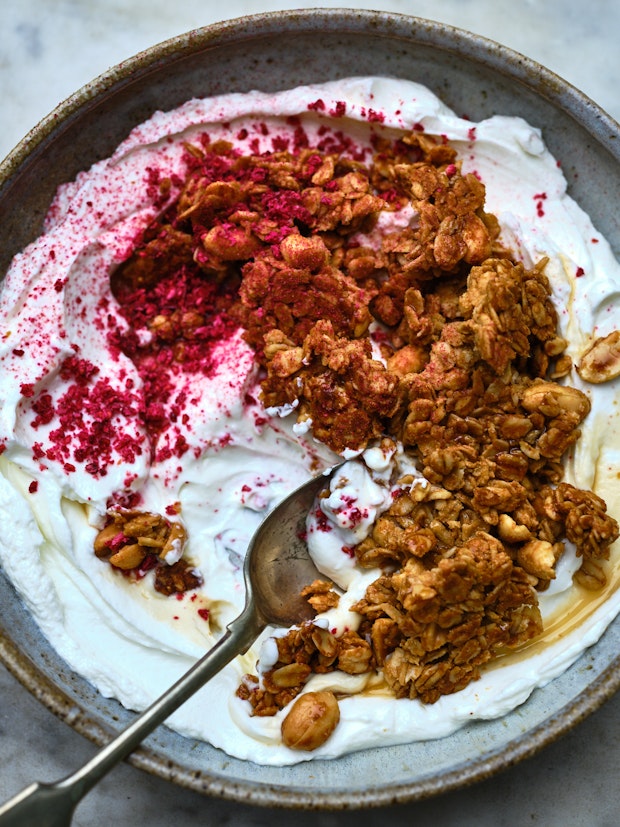 If you've never baked homemade granola before, this would be the recipe to try. The ingredient list is short, and consists of items you might already have in your pantry – oats, peanut butter, maple syrup, lemon, vanilla extract. It's not a lot of effort, you can bake a double batch, and you'll likely be way ahead on cost compared to store-bought granolas which can be super pricey.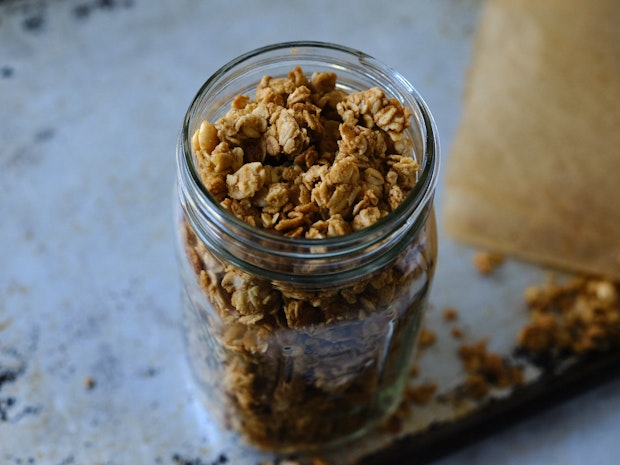 How To Make Peanut Butter Granola
Making peanut butter granola couldn't be simpler! You gently heat a mixture of peanut butter and maple syrup along with a couple other ingredients into a beautiful molten mixture that will have you licking the pan. Pour this mixture over your oats and peanuts and bake into golden-edged clusters.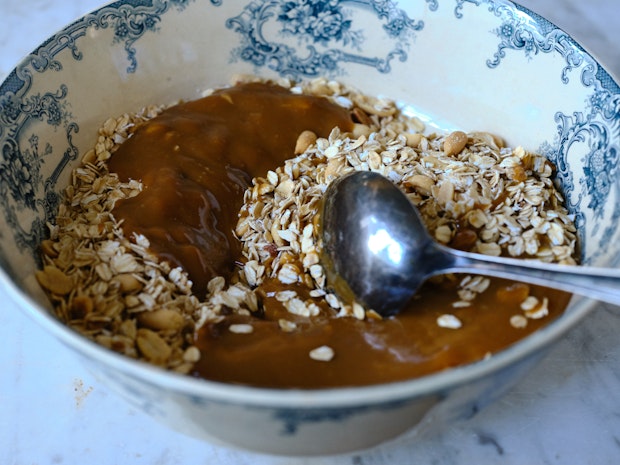 A Couple Tips
There are a couple things I pay close attention to when making this granola. I'm calling them out here, before you get down into the recipe, for emphasis.
Mixing matters

: First, you want to mix the oats and peanut butter coating *really* well. Stir, stir, and then stir some more. This way you get a uniform granola that will bake more evenly.

No blond granola

: For this granola (and most granolas, really) to be truly great you need it toasted. I'd rather over-bake this granola versus underbake. Go for golden edges, and stir the granola at least once to give some of the center a chance to toast out near the edges.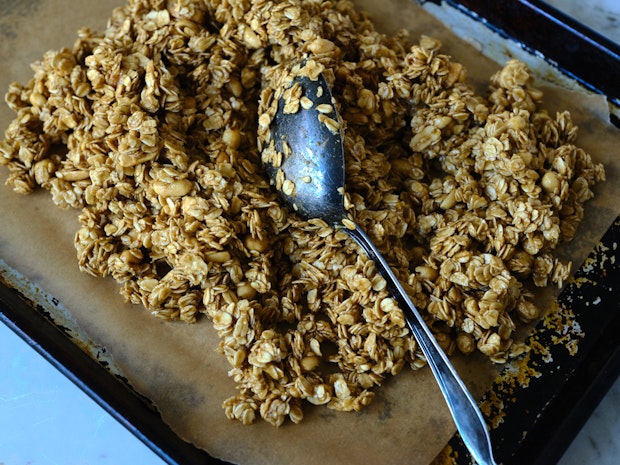 Well mixed granola before baking (above). And nicely toasted granola after baking (below).

Variations & Ideas
I've included the recipe down below, it's a great base recipe for peanut butter granola, but keep in mind you can use it to explore all sorts of other ideas and variations! For example:
Experiment with other nut butters

: Of the nut butters, I prefer the strong flavor of peanut butter, but almond butter is another option especially if you or someone close to you has a peanut allergy. I want to do a pistachio butter version, but would have to name it Millionaires' granola. The last small jar I bought was $25 – worth every penny, but so far it has been reserved for enjoying by the spoonful straight from the jar.

Add boosters

:

 

You can add nutritional boosters here and/or spices. Adding a couple tablespoons of chia or hemp seeds to the oat mixture is one option. Adding a tablespoon of curry powder to granola is another favorite flavor boost.

Gluten Free Peanut Butter Granola

: use gluten-free oats and follow the recipe as written.

Use granola in baking

: Mix a couple cups of clumps of peanut butter granola into your next batch of chocolate chip cookies, or shortbread.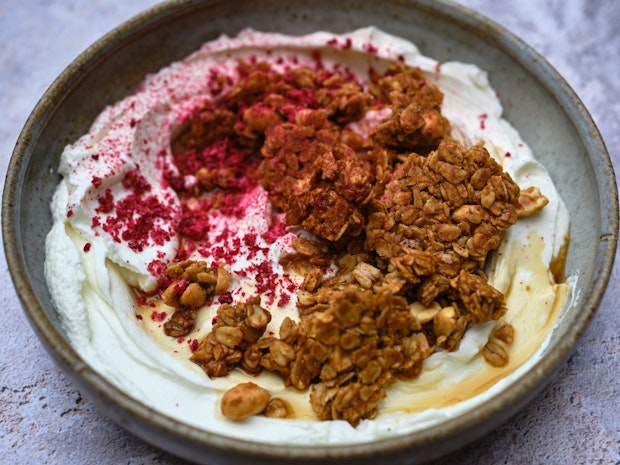 Peanut butter granola served over Greek yogurt with a drizzle of maple syrup and some crushed freeze-dried raspberries.
More Breakfast Recipes
Source link