This is my go-to recipe for marinated beets. The beets are sweet and tangy, made with a simple vinaigrette. They're a perfect component for adding to grain bowls or salads, and they also make a nice side dish.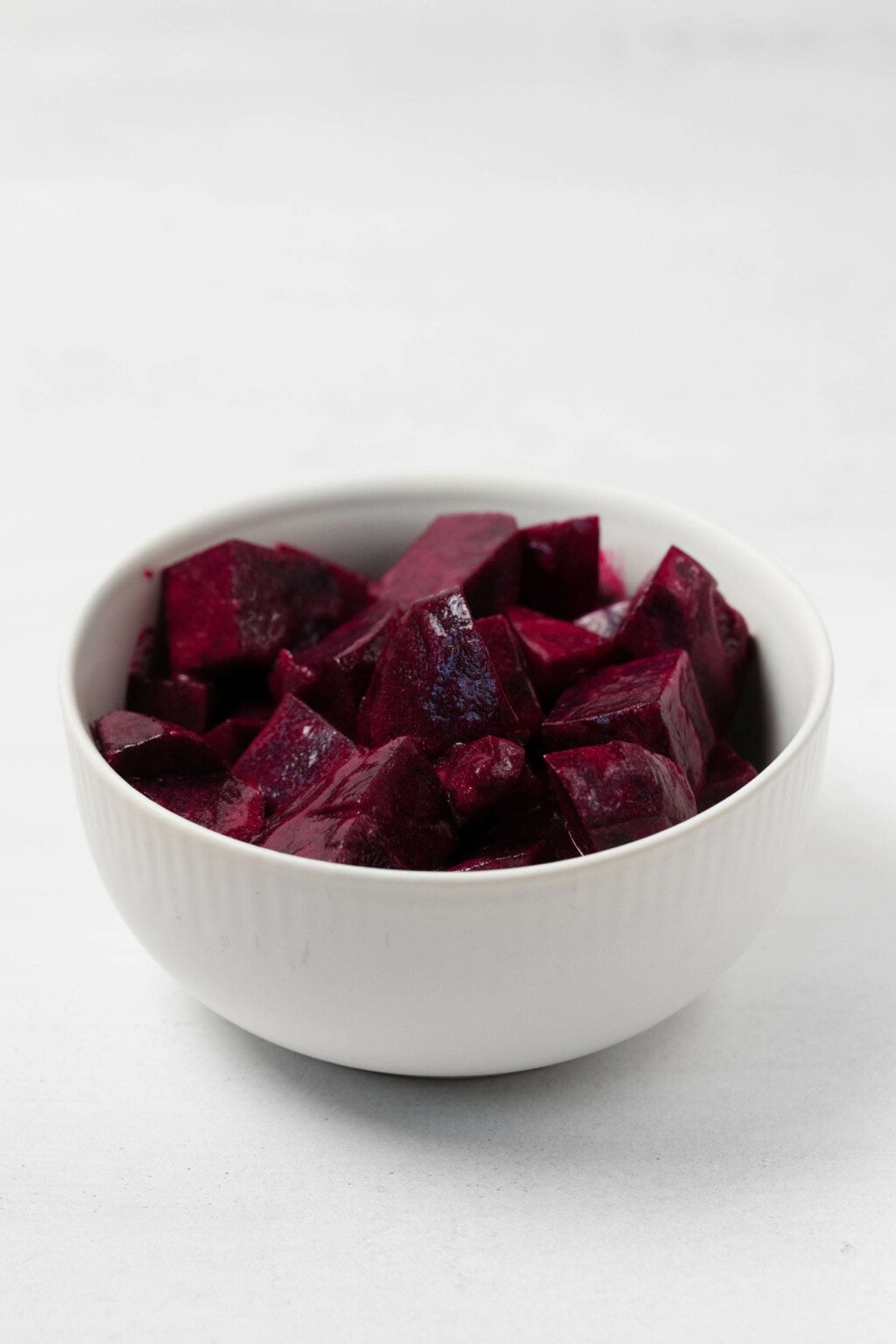 Memorial Day weekend came and went, and June is only a few days away. We're now officially entering picnic season.
In my mind, picnic season doesn't only describe literal picnics, though those are certainly a summertime delight.
Picnic season is also a time of year for hodgepodge meals. You know the kind: lunches and suppers made up of cold grain or bean salads, maybe leftover slaws or salads, or some pickled or marinated things. With good toast or pita to scoop it all up.
Picnic meals can be a little random, but that's sort of what makes them lovable: it's the freewheeling, easygoing energy of summer, served up on the table.
These marinated beets are a perfect component for picnic meals. And if that's not how you intend to enjoy them, you'll probably be able to find plenty of other uses for them.
The marinated beets are very simple to make, and they're perfect for meal prepping.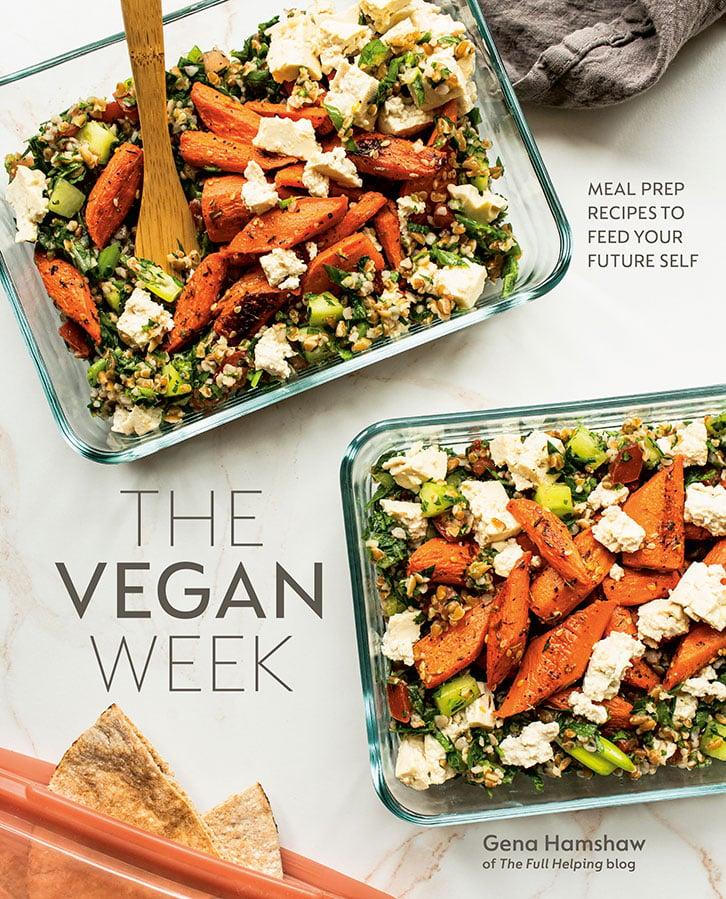 Embrace the joy of eating homemade food every day with the hearty and wholesome recipes in The Vegan Week.
Whether you have three, two, or even just one hour of time to spare, The Vegan Week will show you how to batch cook varied, colorful, and comforting dishes over the weekend.
What are marinated beets?
Marinated beets are just what they sound like: cooked beets that have been marinated for flavor.
The marinade is variable, of course. I use olive oil, red or white wine vinegar, Dijon mustard, and salt. In the recipe card, I offer a few flavor variation options.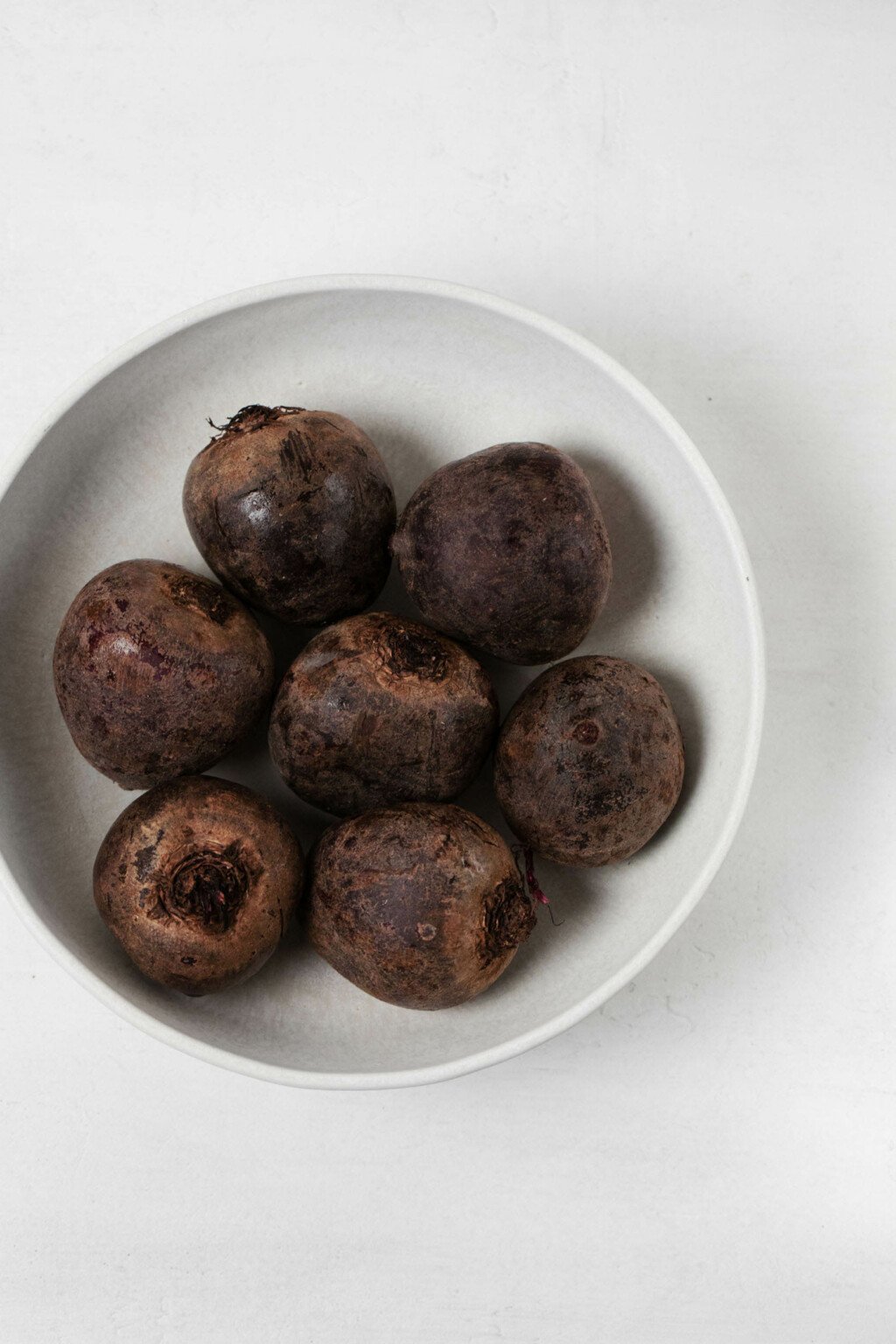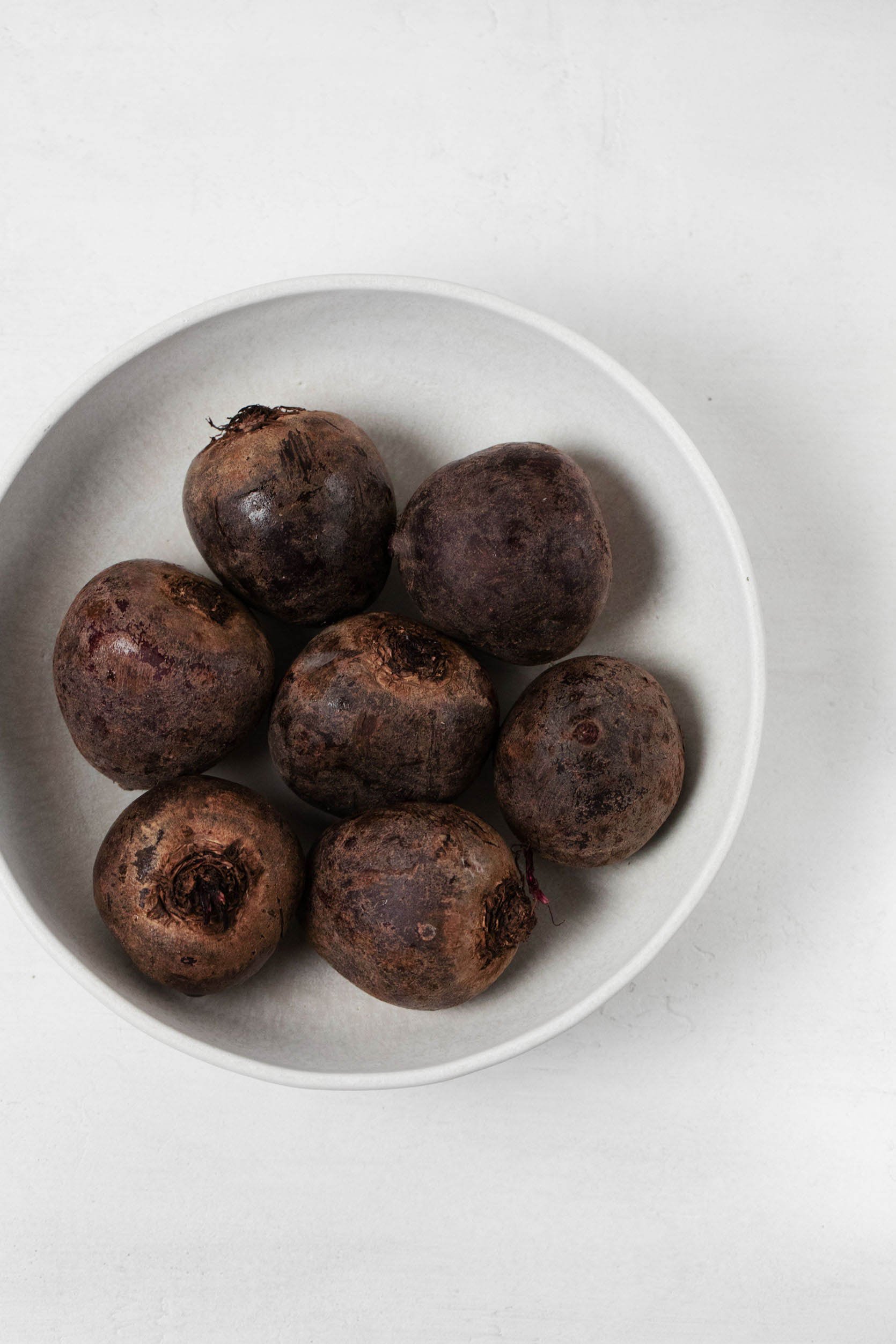 How should I cook the beets?
Beets can be steamed, roasted, or prepared in a pressure cooker. But my favorite cooking method is to make simple, oven roasted beets.
Roasting beets in the oven creates beets that are exceptionally tender and sweet. If you foil-wrap the beets when you roast them, you'll also find that oven roasting is incredibly easy!
Roasting beets in foil will allow you to slip off their skins under cold, running water after cooking. No messy peeling required.
In effect, it's a way of steaming beets without using boiling water.
I recommend oven roasting your beets prior to making this marinated beet recipe. However, you can also peel and steam the beets on the stovetop, if you prefer.
You can also boil them or make them in a pressure cooker.
How to prepare marinated beets
Marinated beets are the epitome of a humble recipe with big returns. So much texture and flavor, so little effort. Here are the steps.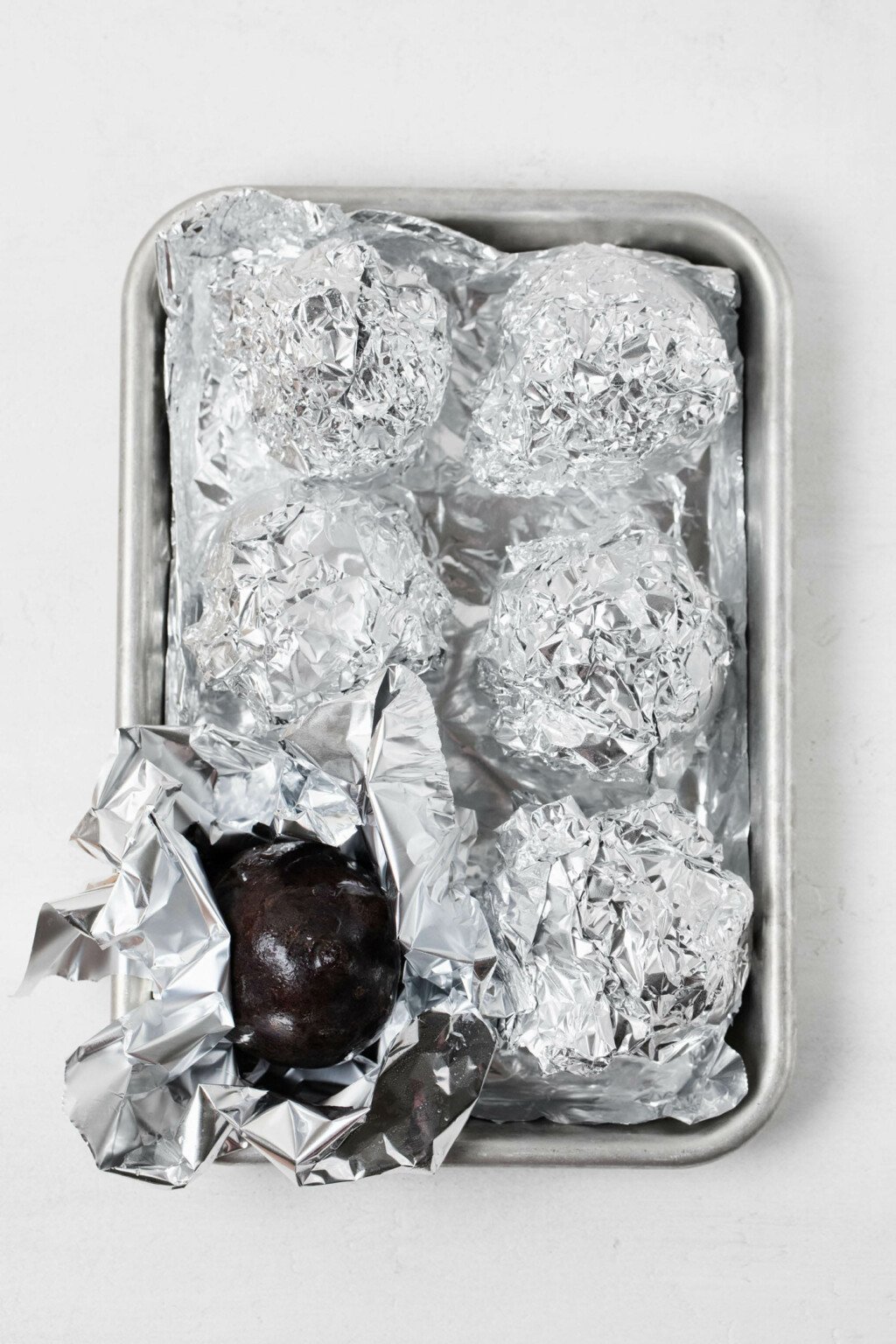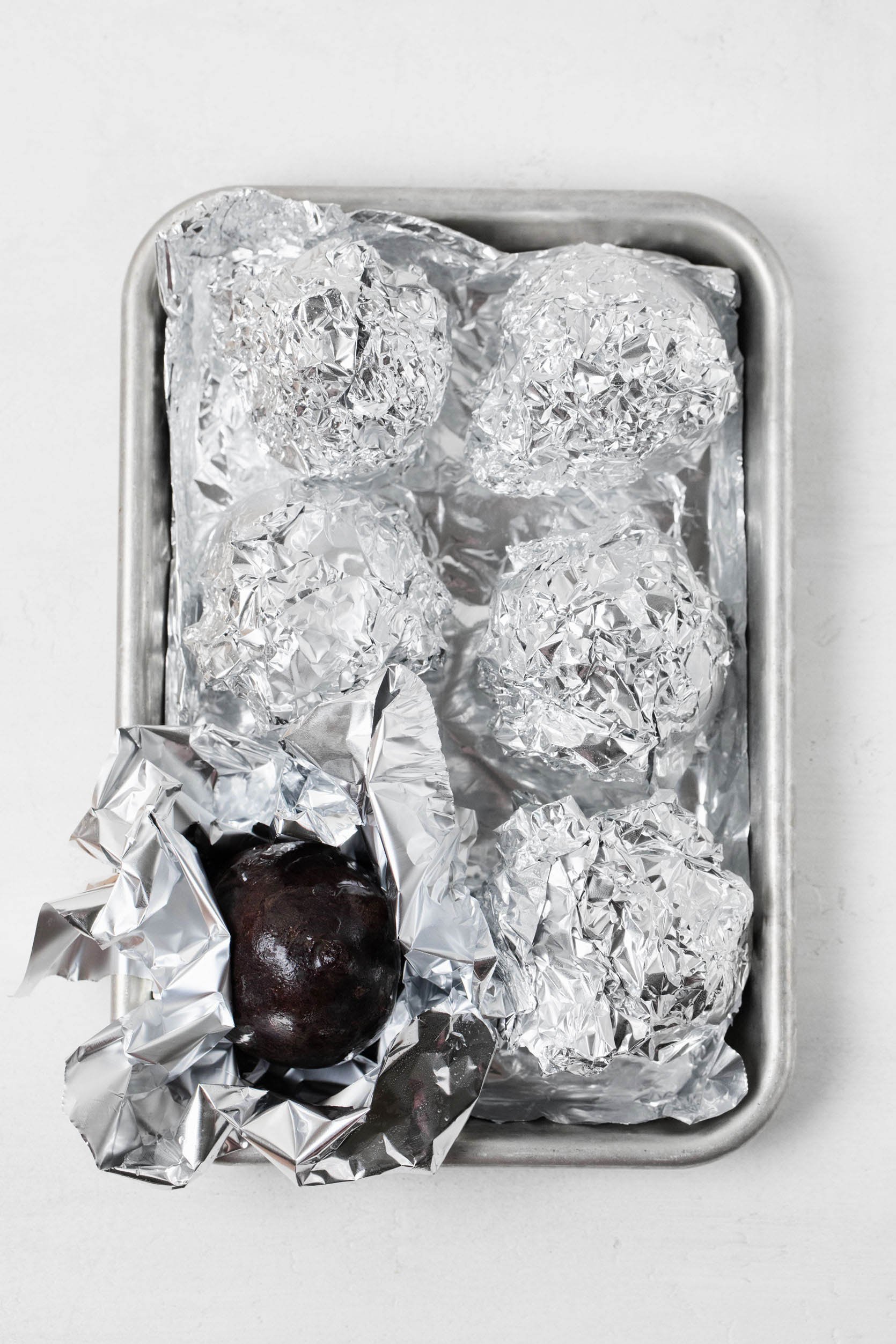 Step 1: Cook your beets
I recommend oven-roasting the beets in foil.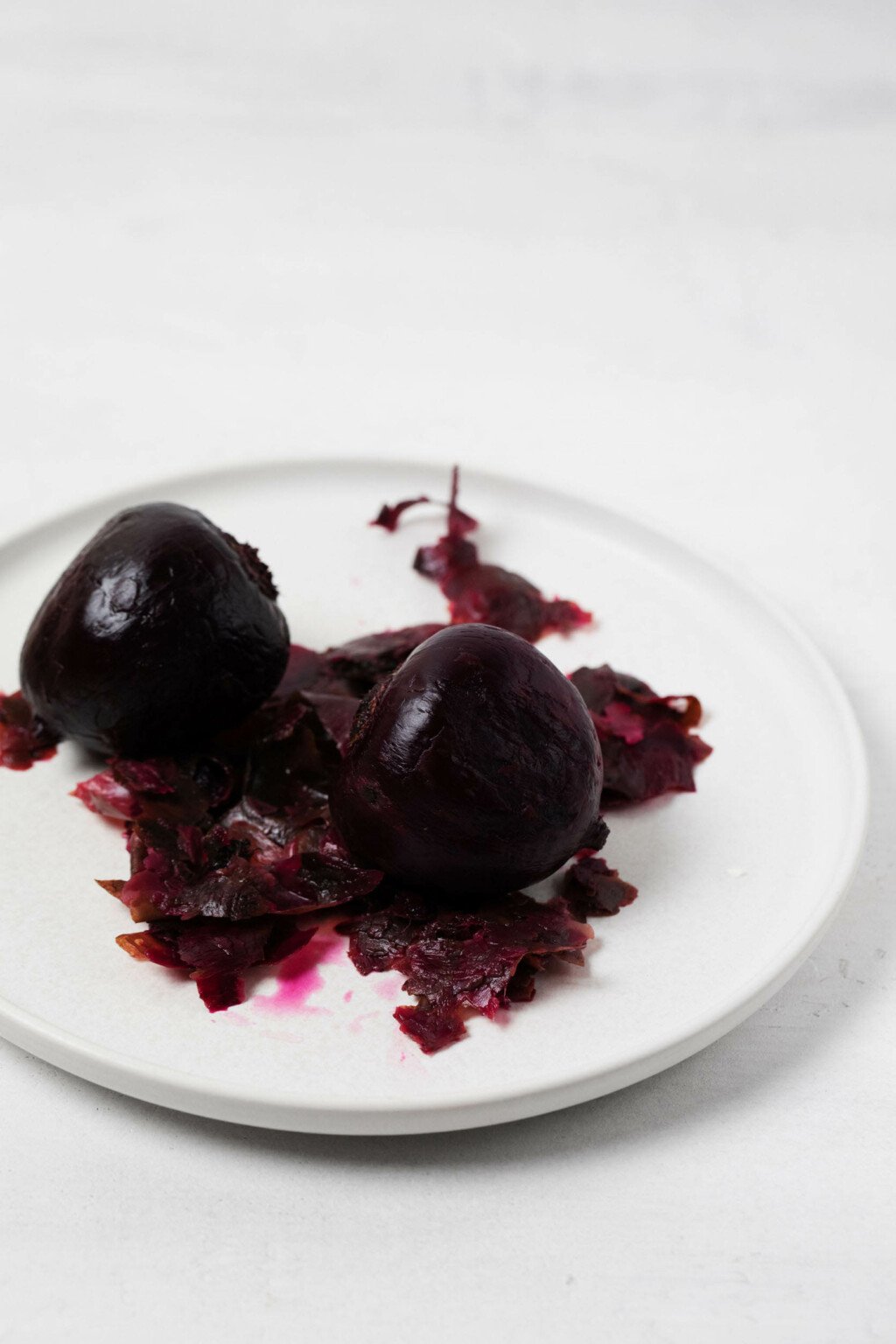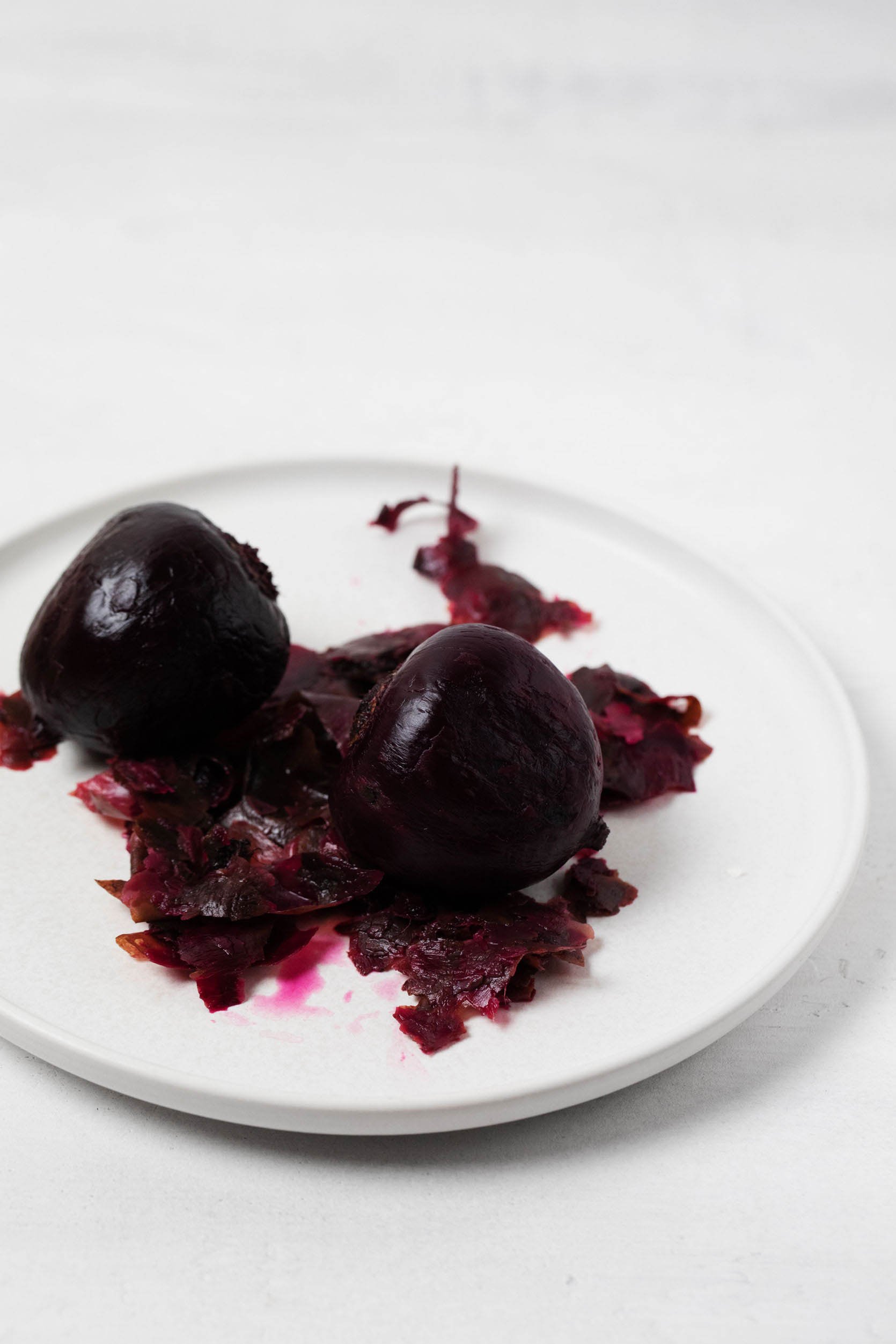 Step 2: Remove the skins
Slip off the beet skins under cold, running water. This will give them a smooth, pleasant texture.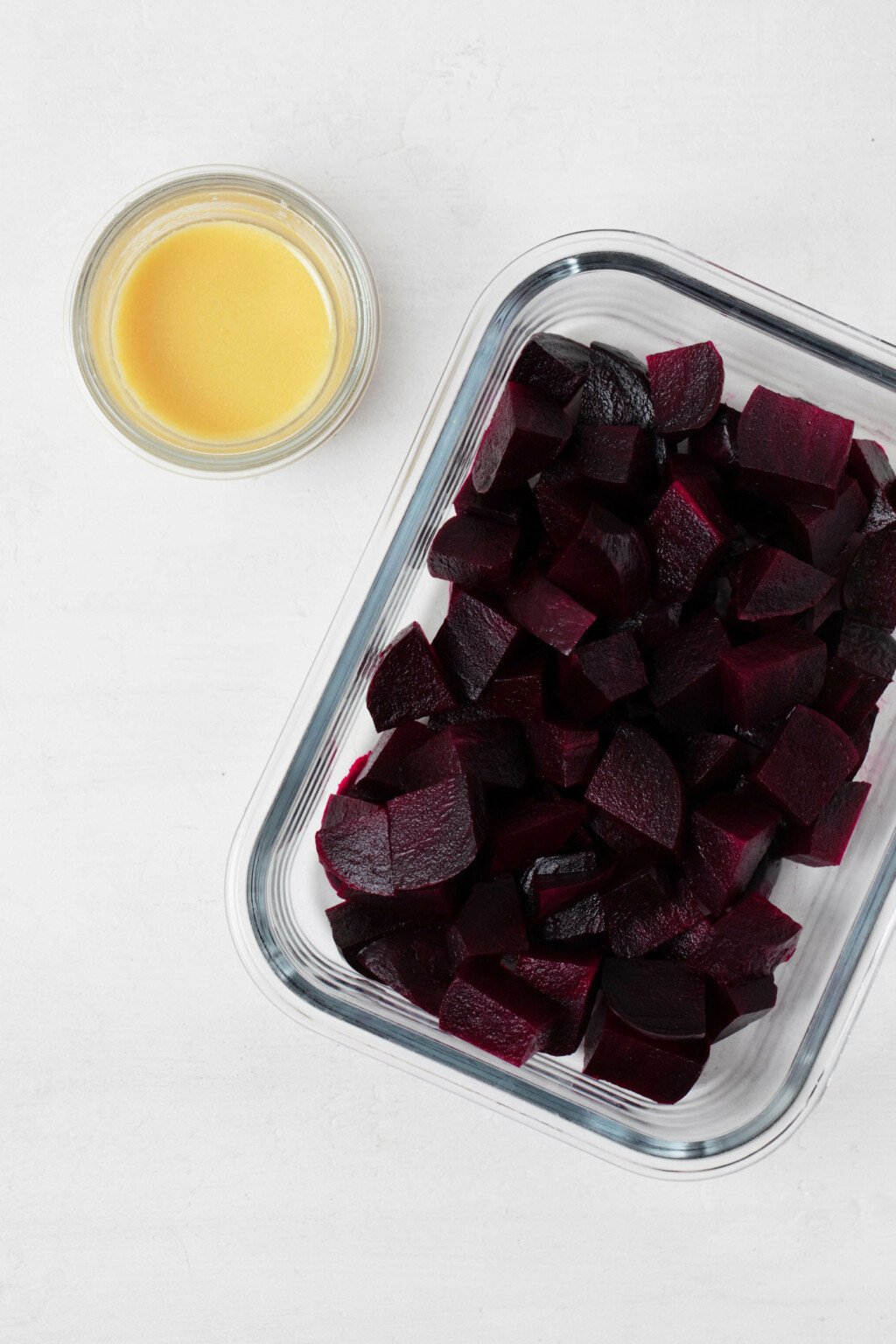 Step 3: Transfer to a storage container with a tight-fitting lid
I find it easiest to prepare the marinated beets right in the storage container that I'll use to store them.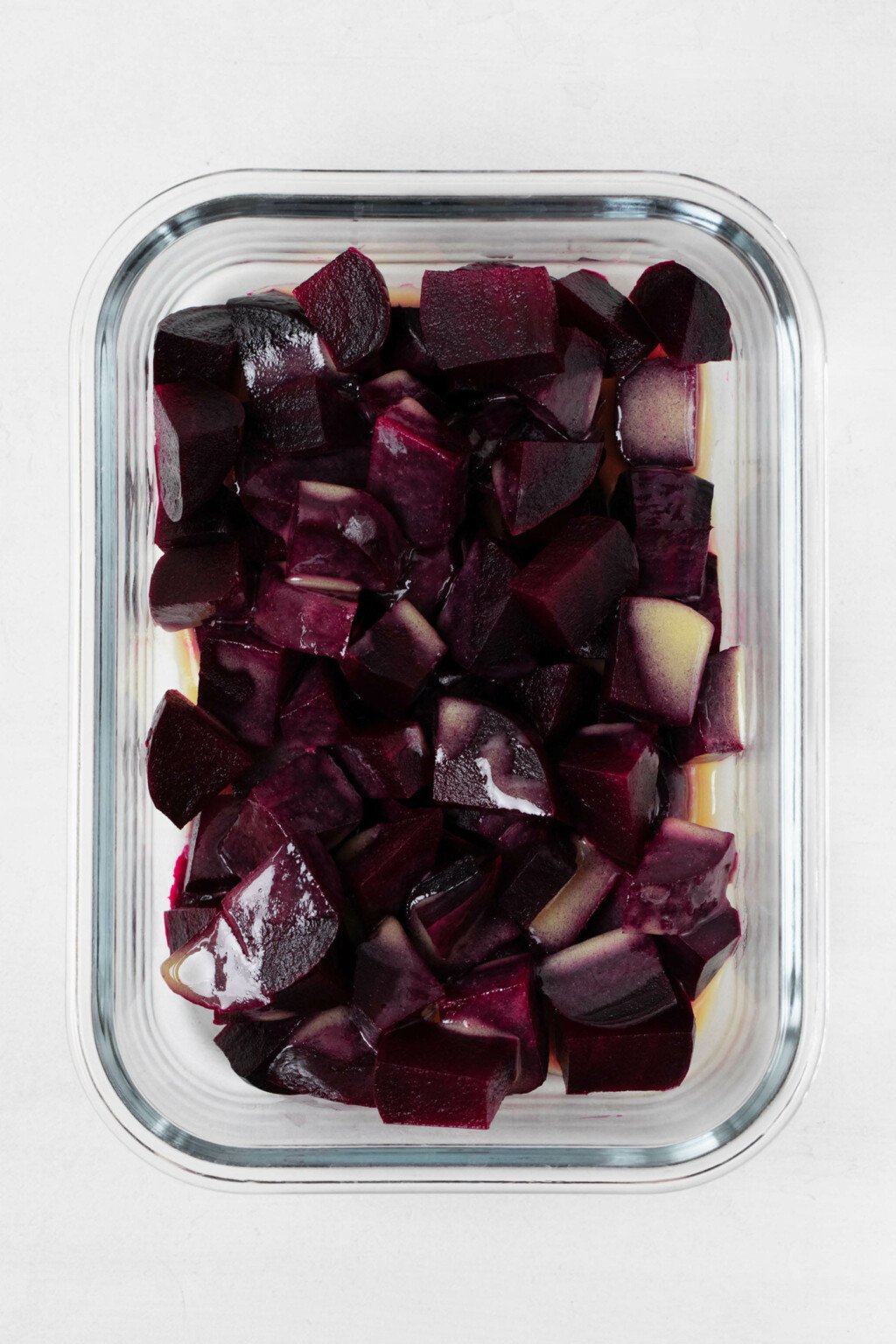 Step 4: Add dressing
The dressing, or marinade, here is so simple: just olive oil, white or red wine vinegar, Dijon mustard, and salt. Plus freshly ground black pepper to taste.
Step 5: Shake!
Once you've added the marinade, or dressing, to the beets, simply cover the storage container. (This is why it's important to use a container with a tight-fitting lid.)
Give the container a good shake, and the marinade will distribute evenly over the beets.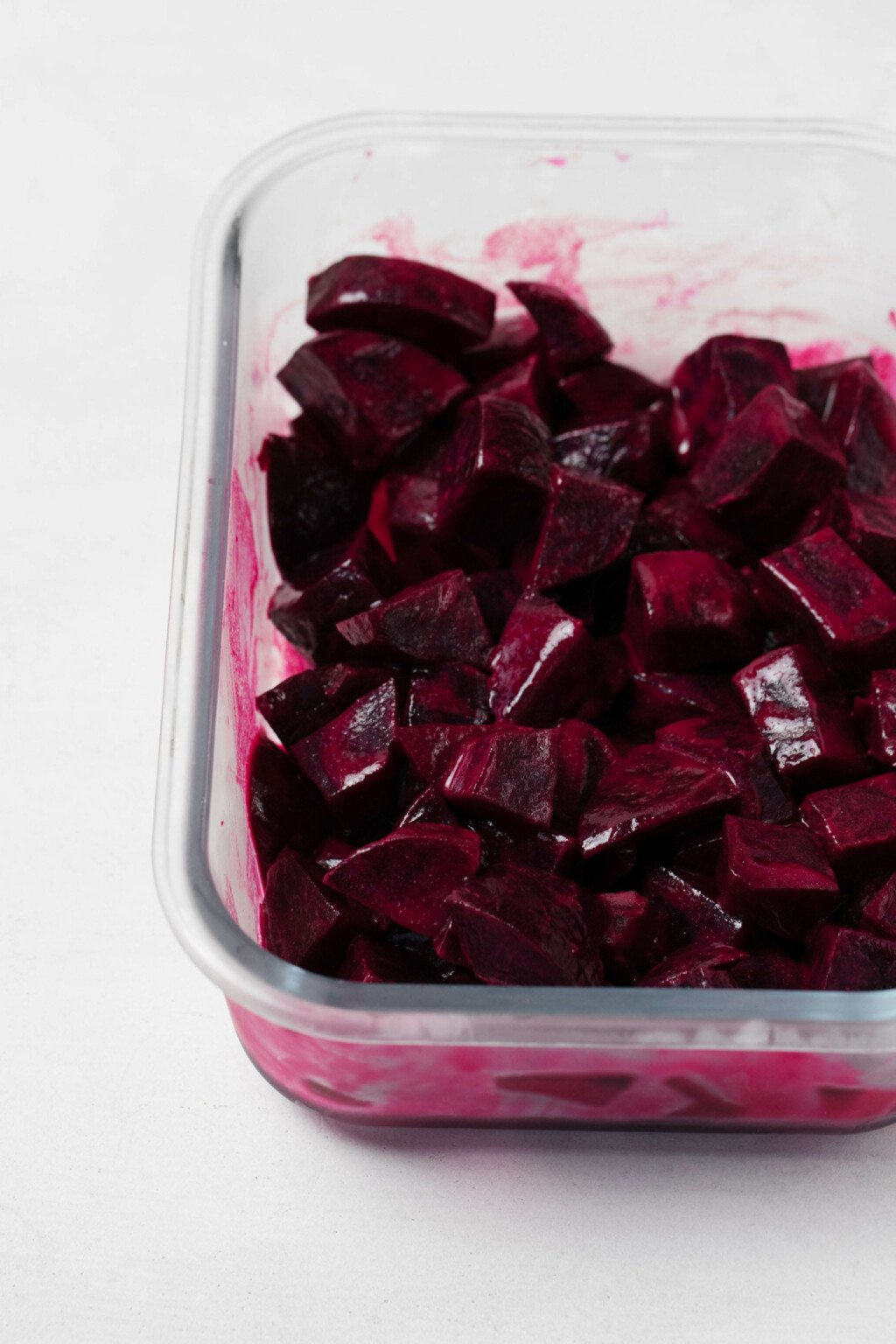 Step 6: Marinate and store
The beets should be marinated for at least 8 hours, or overnight, before you eat them. A full 24 hours of marinating will make them extra flavorful.
However, you can certainly marinate and store them longer. The marinated beets can be stored in their airtight container for up to 5 days in the fridge, total.
What to do with marinated beets
Adding a big scoop of these beets to your next vegan lunch bowl is never a bad idea.
Throwing them into a big, summery salad for extra texture and flavor is also a good bet.
I love creating an easy pita pocket with the beets, some chopped avocado, chickpeas or white beans, and a big handful of peppery arugula.
You can also create a stellar crostini or toast situation with a layer of cashew cheese, topped with marinated beets.
The beets even make a nice addition to cold pasta salads (speaking of picnic season).
Or, you can just scoop up the beets with some toast points or crackers, as a nice little snack. No need to be fancy about it.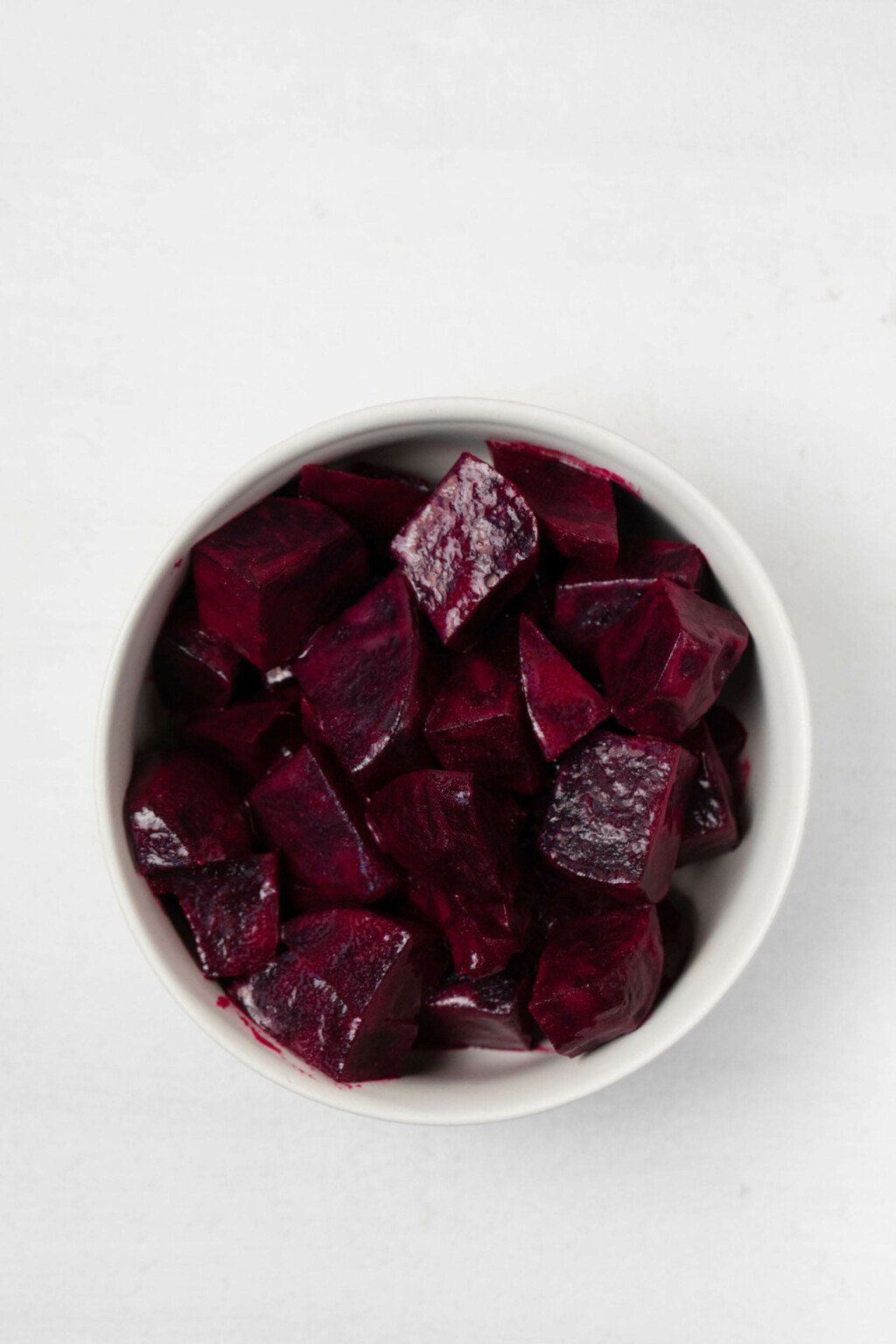 What type of beets should I use?
You can use red, golden, Chioggia (striped), or baby beets to make this recipe. I usually use red or golden.
Can marinated beets be frozen?
Technically, you can freeze the marinated beets, yes.
In spite of the fact that I freeze nearly everything, I don't love the texture of defrosted beets. They can become a little waterlogged.
So this isn't a recipe I'd plan to freeze. Honestly, though, if you have to choose between letting the beets go to waste and freezing some, I'd recommend taking a chance on freezing. If you stuff the beets into a pita, or something like that, you'll hardly notice if they're a little mushy.
Additions and variations
My favorite spin on this recipe is to add fresh, chopped chives or herbs to the roasted beets.
In fact, the inspiration for the recipe was Amanda Hesser's excellent recipe for beets and herbs salad on the Food52 site.
Sometimes I enjoy the marinated beets in a state of ultra-simplicity. When I feel like adding fresh herbs, it's usually chopped chives or dill. Parsley and tarragon can be nice, too.
To give the beets some crunch, try adding chopped, roasted pistachios, toasted pine nuts, or another roasted, chopped nut. Cashew Parmesan cheese can be a very nice addition, too.
Finally, you can add a surprising amount of flavor variety and character to the beets by switching up the type of vinegar or acid that you use in the dressing. I've tried:
Freshly squeezed lemon juice
Raspberry vinegar
Balsamic vinegar
White balsamic vinegar
Sherry vinegar
Apple cider vinegar
Champagne vinegar
Fig vinegar
I like bright, fruity, and sharp vinegars for the marinated beets: think champagne, white wine, or raspberry.
Balsamic vinegar is my vinegar of choice nearly all the time, but here, its sweetness doesn't feel entirely balanced with the sweetness of the beets themselves.
Still, this is really just a question of what tastes good to you. Have fun, experiment, and continue to enjoy this simple recipe again and again.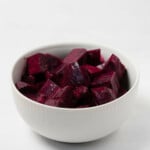 5-6

cups

simple oven roasted beets

(1 batch)

2

tablespoons

olive oil

1 1/2

tablespoons

white or red wine vinegar

1

teaspoon

Dijon mustard

1/4

teaspoon

fine salt

Freshly ground black pepper to taste

Chopped herbs of choice

(optional, to taste)
Cut the beets into pieces that are about 1-inch/2.5cm large, or bite-sized. 

Place the beets into a glass storage container with a tight-fitting lid. Whisk together the oli, vinegar, mustard, and salt. Pour the dressing over the beets. Cover the storage container and gently shake it to disperse the dressing and coat the beets. Taste the beets and adjust the vinegar, mustard, salt and pepper to your liking.

Cover and transfer the beets to the oven and allow them to marinate overnight (at least 8-12 hours). Marinated beets will keep for an additional 4 days in an airtight container in the fridge.
I'm definitely feeling into the warmth and sense of possibility that comes along with summer right now.
Here's to many outdoor meals and colorful spreads of food. I hope these simple beets will find their way into some of your warm weather dining. Enjoy!
xo