This kombucha berry smoothie is so refreshing! It's made with ingredients that may be beneficial for gut health, including kombucha and fiber-rich berries and greens. Avocado adds a wonderful creaminess. Plus, all about Seed's science-and-plant-based Daily Synbiotic!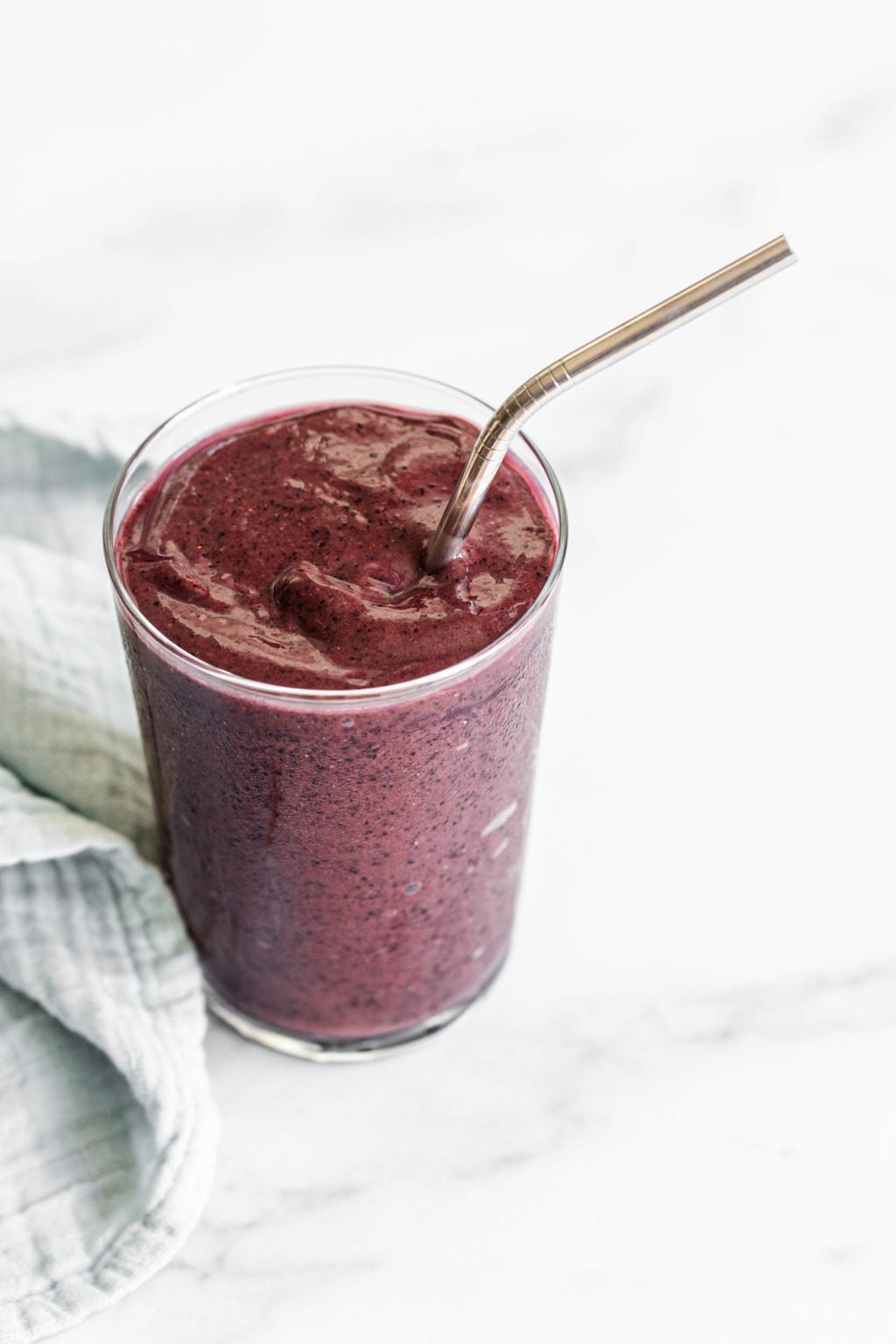 I'll be traveling more than I'm used to this summer. Apart from that, my schedule will be hectic, especially in comparison to the monotony of quarantine life.
Travel and disruption are two of the things that tend to impact my digestion. It's been years since I struggled with IBS, but there are a few triggers that seem to make my digestive system more sensitive than it usually is.
Stress is the main trigger. Travel, or any major change in schedule, is another. I'm dealing with both right now: considerable work stress (offset by summery good times) and a lot of weekends away.
It's a good moment for Seed's probiotic to enter my life!
Seed Daily Synbiotic (DS-01)
As a dietitian who works with digestive struggles, I'm discerning and thoughtful in how I talk to my clients about probiotics.
Probiotics—strains of bacteria that are thought to be beneficial to health—can help some people to experience greater well-being. But they aren't always beneficial, depending on individual circumstances. And the quality of the probiotic matters a lot.
I always advise my clients to seek out a probiotic that's research-backed and science-based. Seed's Daily Synbiotic, a prebiotic and probiotic blend, meets that standard.
The value of this probiotic goes beyond digestive health. It was developed for systemic benefits beyond digestive health. It contains 24 strains of broad spectrum probiotics and prebiotics formulated for digestive, immune, and skin health.
Seed's reference library contains information on the research that was called upon in the synbiotic's development. The synbiotic is currently being studied in two clinical trials.
The reference library also includes information on the synbiotic's rigorous allergen, pesticide, and thermostability testing. The product is vegan, of course, and gluten free.
Speaking of, Seed's Daily Synbiotic is shelf stable—it doesn't require refrigeration, as some other probiotics do.
In addition, the Daily Synbiotic is a 2-in-1 ViaCap, which means the outer prebiotic protects the probiotic from digestive enzymes, stomach acid, and bile salt. This ensures that the probiotics will actually make it to the small intestine for delivery into the colon, rather than being destroyed by the digestive process.
Seed's pledge to the earth
Another awesome Seed feature is that the product is totally sustainable. It's delivered monthly in a shipping box that's made from algae. This algae would otherwise be damaging to marine ecosystems.
The Daily Synbiotic arrives in a glass bottle, which you can keep. Refills arrive in home-compostable, bio-based pouches that keep oxygen and moisture out of the product.
My experience with Seed
I've been taking Seed's Daily Synbiotic for the past month. I've never felt more confident about a probiotic from an evidence-based standpoint. And I really like the company's values: a vegan product that's also focused on kindness to the planet.
Through this busy time, I've loved carrying around the Seed travel vial, which can easily hold a week's worth of the Daily Synbiotic. It fits into backpacks, weekend bags, and carry-ons. I'm glad to be taking a product that might be beneficial to my digestive health, which has been solid in spite of work stress lately.
If you're curious about Seed and would like to try this earth-friendly, vegan Daily Synbiotic out for yourself, you can get 15% off your first month's supply of Seed's Daily Synbiotic by using code GENA15 at checkout on the Seed site.
Science smoothie: kombucha berry smoothie
So, where does the kombucha berry smoothie fit in?
The makers of Seed offered me the challenge of creating a "science smoothie." This smoothie needed to be rich in some of the ingredients that research suggests are important for gut health: vegetables, fruits, nuts, beans, and whole grains.
It's never a hard task for me to come up with plant-based recipes, and this smoothie was no exception. I started making it while I was in Colorado last week. It was perfect refreshment for long workdays and piping hot temperatures.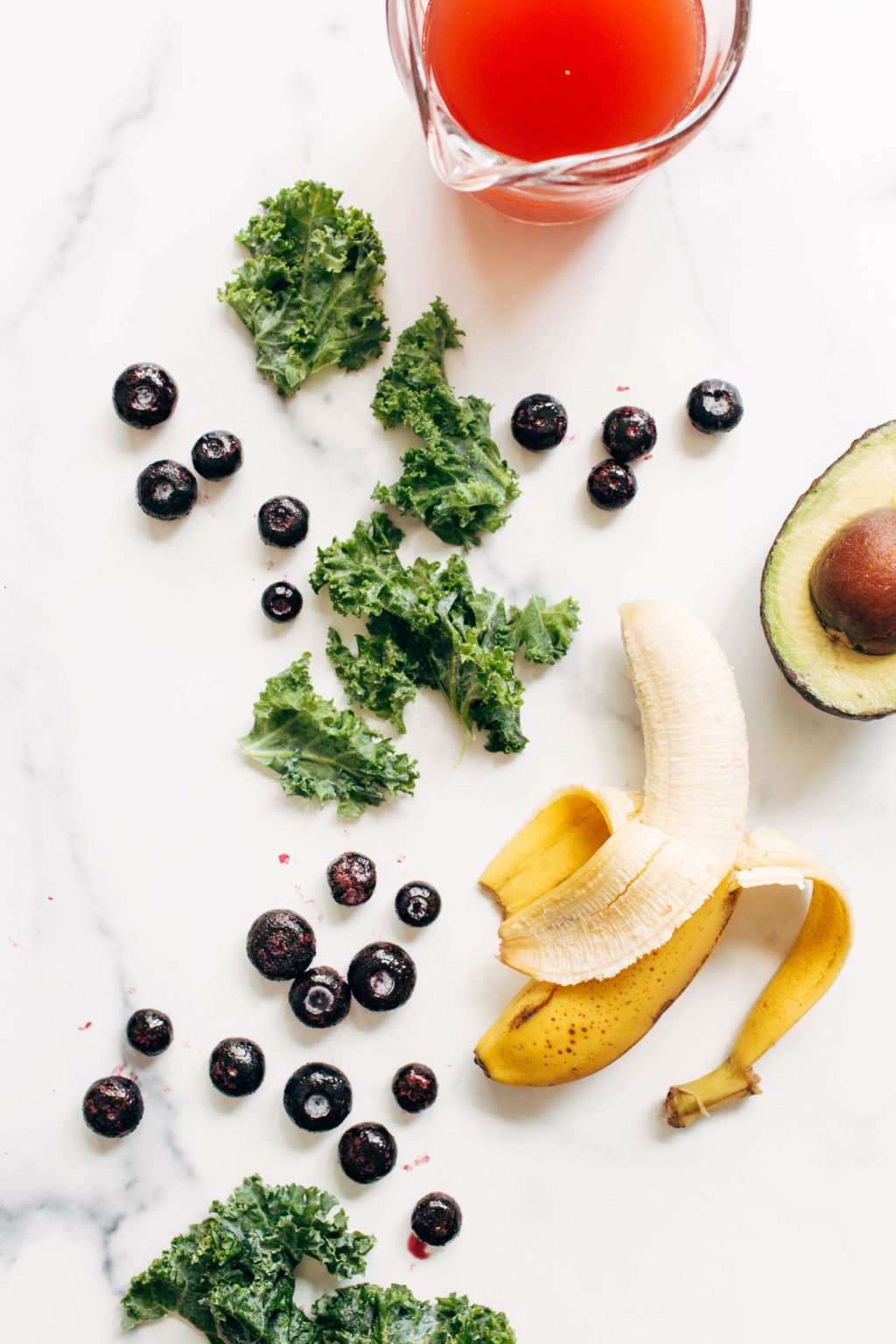 Kombucha berry smoothie ingredients
To be honest, it would never have occurred to me to use kombucha as a smoothie base! I always end up using plant milk or coconut water in my smoothies.
My friend Ashley mentioned that she had recently been using kombucha as a smoothie base and that she loved the results. I thought it was a super intriguing idea. Since kombucha is itself a fermented food, and therefore a source of gut-friendly probiotics, it seemed like a perfect base for my science smoothie.
The rest of the ingredients here are straightforward. I add blueberries, which are full of phytonutrients that might help to benefit cognitive health and protect against chronic disease. They also add sweetness, and they give this smoothie a pretty, deep purple color.
I like an opportunity to sneak greens into a smoothie. The kombucha berry smoothie has kale, which I often clean and freeze in silicone bags for smoothies. Spinach or chard will also work well. Leafy greens add more phytonutrient power and dietary fiber to this already nutritious blend.
I add banana for sweetness. I love the flavor of banana in smoothies, but it can quickly become overpowering. My intention is for berries to shine in this kombucha berry smoothie, so I only use half of a frozen banana. If you're not a banana smoothie person, you can increase the blueberries to 2 cups.
Finally, I love the fluffy, creamy quality that avocado lends to smoothies. The kombucha berry smoothie has one quarter of a large, Hass avocado.
I think you'll find that the kombucha makes the smoothie light, while the avocado makes it just creamy and satisfying enough. I also like that avocado provides a little healthful, satiating fat to the blend.
Preparing the kombucha berry smoothie
This recipe is nice and simple. Just throw the ingredients into a blender, blend, and serve.
I like to start by adding 1 1/4 cups liquid total (3/4 cup kombucha + 1/2 cup water) and add more water to thin. Sometimes I want a thinner and more drinkable consistency, and sometimes I prefer a thicker smoothie that's more like nice cream. You can use your judgment for this!
Serving the kombucha berry smoothie
I like to enjoy this smoothie as a refreshing afternoon snack. If have someone to share it with, so much the better. If not, I can cut the recipe in half or keep half of the ingredients frozen for my next refreshing treat.
I also enjoy the smoothie is as part of breakfast. It's great with a slice of peanut butter toast or a homemade breakfast muffin (or another breakfast baked good).
Can you make smoothies ahead of time?
There are a few approaches to making smoothies ahead of time. The first—my favorite—is to place all the frozen ingredients needed for the smoothie into an individual, freezer safe container. When it comes time to make the smoothie, everything is portioned and ready to go. You simply add liquid and blend.
You can also make the kombucha berry smoothie first thing in the morning and store it at least through lunchtime. I like to do this in a mason jar (or another reusable container) in the fridge. The smoothie will get looser as time goes by, but it will still be delicious.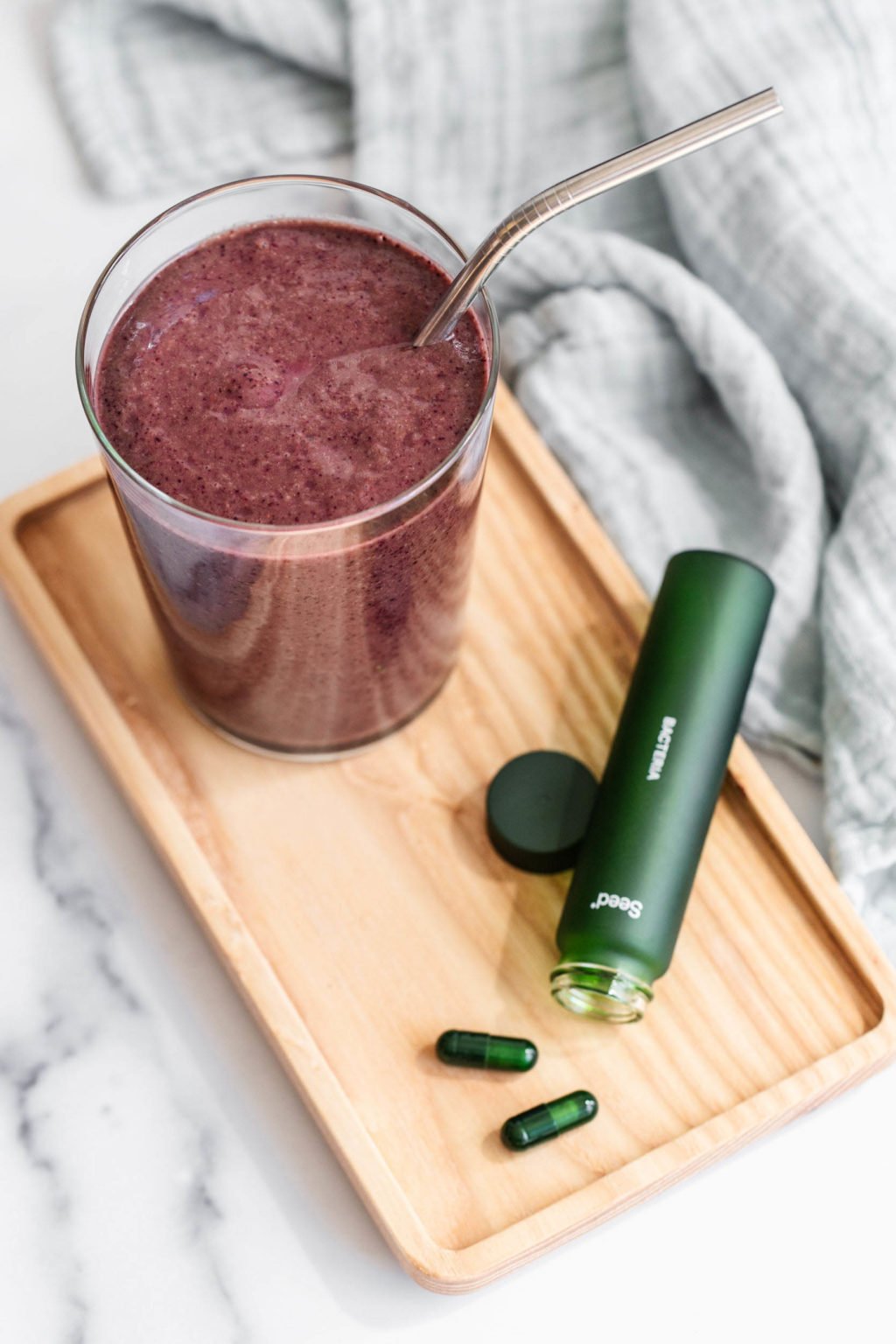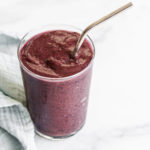 1 1/2

cups

frozen blueberries

1/2

frozen banana

(cut into pieces)

1 1/2

cups

frozen kale

1/4

Hass avocado

(save the rest for meals or freeze for future smoothies)

3/4

cup

kombucha of choice

1/2

cup

water

(plus more as needed; see instructions)
Blend all ingredients together in a powerful blender till smooth and creamy. You can add more water as needed to thin the smoothie, or you can leave it very thick (more like a fruit-based ice cream) if you prefer. Serve or store in an airtight container in the fridge.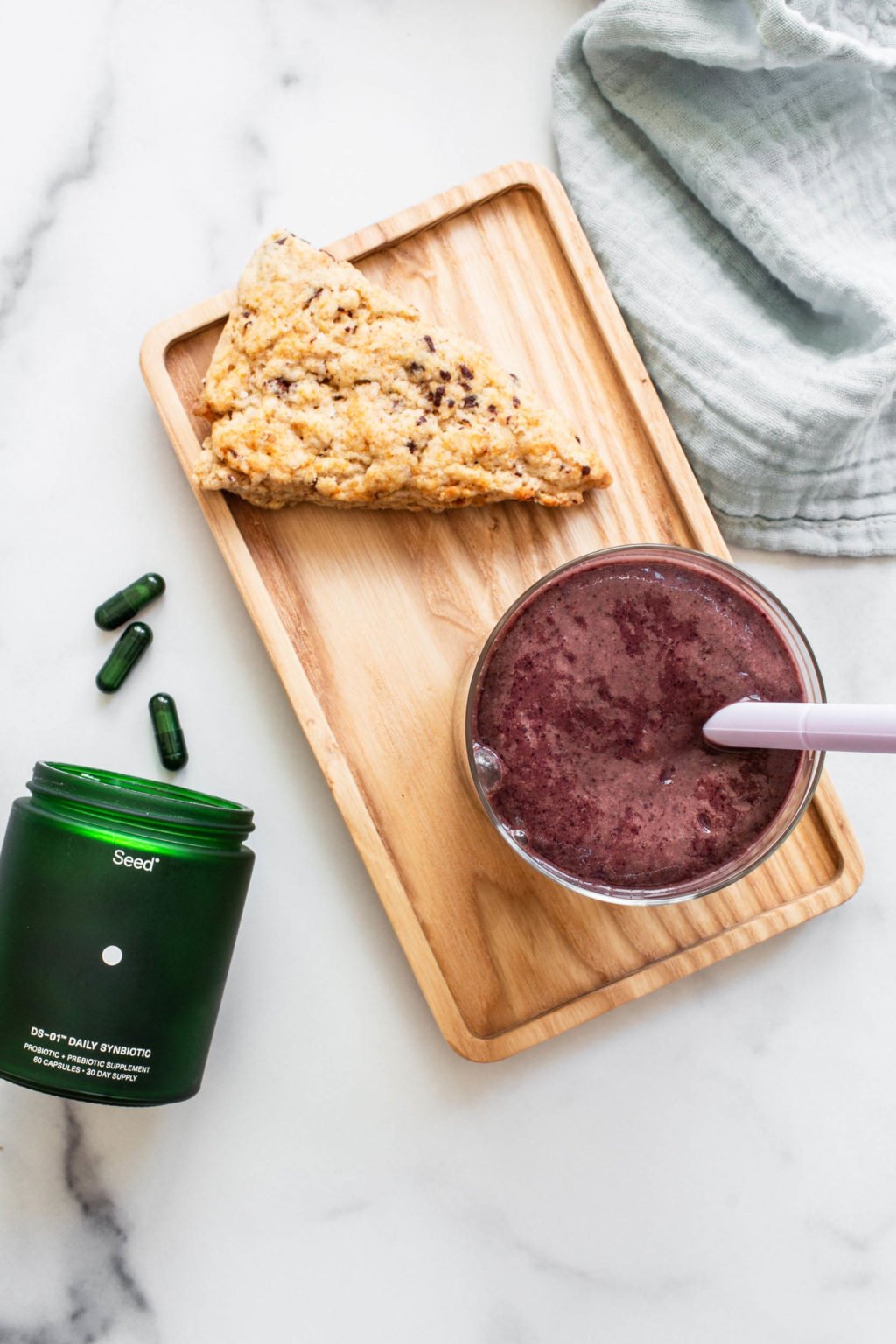 I'm so glad to finally have a probiotic + prebiotic that I can really feel confident about. Again, you can try out the Daily Synbiotic for yourself with a 15% discount on your first month's supply by using code GENA15 at checkout on the Seed website. As you explore the site, you'll also find more information and links to interesting research.
Stay cool, everyone, and happy summer sipping.
xo
This post is sponsored by Seed Daily Synbiotic. All opinions are my own. Thanks for your support!