My Low-Carb Chocolate Zucchini Bread recipe is perfect when your garden is exploding with zucchini!
Low Carb Bread
This easy recipe for low carb bread is also fantastic if your CSA share is erupting with the prolific produce that is summer squash.
Healthy Low-Carb Chocolate Zucchini Bread Recipe
The best thing about my Low-Carb Chocolate Zucchini Bread recipe is that it's so delicious your friends will gobble it up without ever knowing it's healthy! 
How to Make Bread
This low carb dessert recipe is also super easy to make.
Readers tell me they turn this into a one-bowl recipe by mixing up all the ingredients in the food processor, then grating the zucchini right into the batter.
Recipes with Food Processor
Recipes like this have turned my food processor into my all-time favorite kitchen tool.
Zucchini Bread Healthy
Sweetened with honey and a bit of vanilla stevia, this summer dessert makes an excellent healthy snack for kids.
It's equally delicious for dessert with a cup of my low-carb Iced Ginger Chai.
Low-Carb Chocolate Zucchini Bread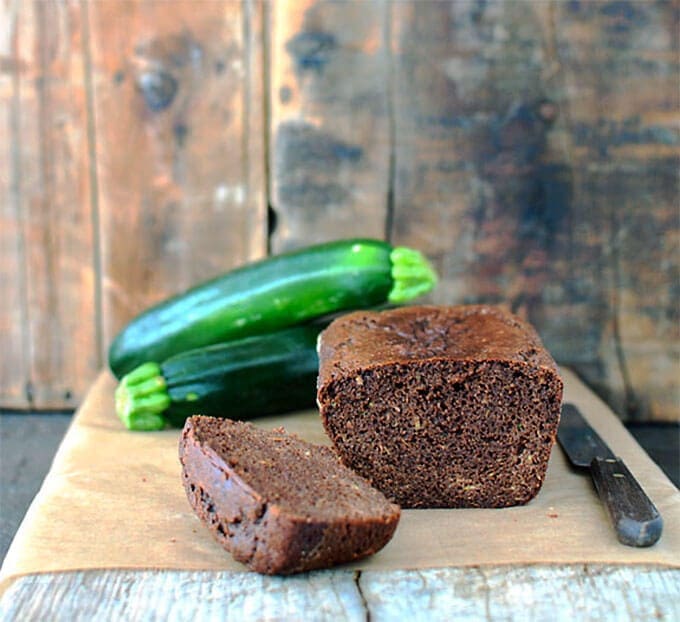 Pulse in salt and baking soda

Pulse in eggs, coconut oil, honey, and stevia

Briefly pulse in zucchini

Transfer batter to a greased

mini loaf pan

, dusted with almond flour

Bake at 350°F for 35-40 minutes

Cool for 2 hours

Serve
Prep Time 15 mins
Cook Time 35 mins
Total Time 50 mins
Prevent your screen from going dark
How to Store Recipe for Chocolate Zucchini Bread
To store this recipe for chocolate zucchini bread, wrap in a paper towel, seal in a plastic bag, and refrigerate for up to one week.
Zucchini Bread Chocolate
I'm a huge fan of any easy zucchini bread recipe, but since chocolate has my heart, this one is my fave.
Easy Zucchini Bread Recipe Gluten Free
Yes, this low carb bread recipe is gluten free!
Every recipe on my website is not only gluten free, but grain free, low carb, and made with nutritious ingredients, as well.
Coconut Oil Good for You?
One of the healthy ingredients that gives this bread a moist, rich texture is coconut oil.
Studies have shown that in addition to numerous other health benefits, coconut oil can help the immune system mount resistance to viruses.
Is Zucchini Healthy?
Zucchini is an incredibly healthy vegetable –well, it's technically a fruit.
 This summer squash is a superfood full of Vitamins C and A, and loaded with potassium, and folate. Furthermore, zucchini is nutritious because it's:
High Fiber
Low Calorie
Antioxidant Rich
Recipe for Healthy Zucchini Bread
If you're worried is chocolate zucchini bread healthy, worry not, it is very healthy for all of the reasons above.
On top of that, the antioxidants in the cacao powder take the nutrition level of this dessert up another notch.
Keto Diet Recipes
My husband absolutely loves this healthy bread recipe and he has no dietary restrictions.
But like me, you may be following a low-carb, high-fat (LCHF) diet, if that's the case, check out my Keto Diet Recipes page.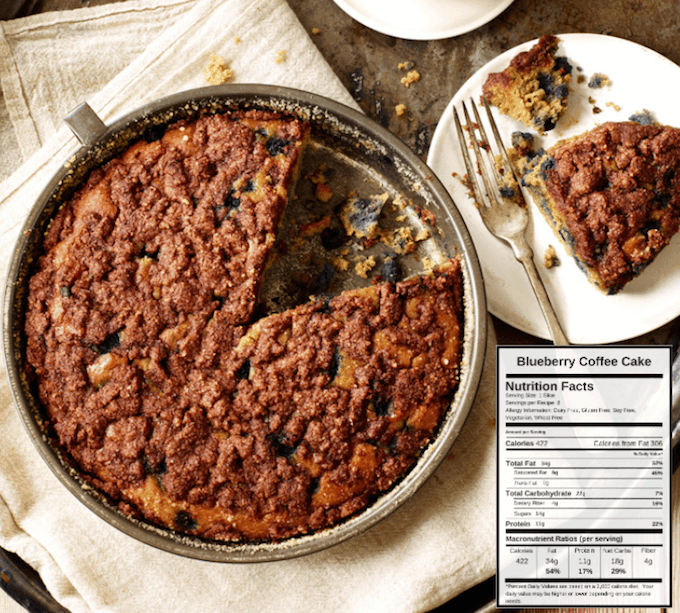 Nutrition Info Keto Diet Recipes
If you're looking for recipes with macros, you will want to get your hands on copies of my books!
I provide nutrition information for the recipes in each of my three books.
Can't decide which book to get? My New York Times best selling book, Paleo Cooking from Elana's Pantry is the best place to start, with a ton of low-carb, high-fat (LCHF) easy keto recipes.
Barnes & Noble has it in their system as a Keto Cookbook. Check out all of the low-carb recipes and get the macros here!
Zucchini Dessert Recipes
Now, back to zucchini recipes. As the warm weather marches on, the zucchini will keep growing, and growing some more!
Here are some of my other healthy zucchini recipes to help you take charge!
For a full write-up on all things zucchini, check out my Easy Keto Zucchini Recipes roundup.
Low-Carb Zucchini Bread
Looking for a recipe for Low-Carb Zucchini Bread?
This fantastic low-carb bread is made with an almond flour base and has eight ingredients total, including the salt and baking soda! It's that classic summer dessert everyone loves.

Nut-Free Zucchini Bread with Chocolate Chips
My Nut-Free Zucchini Bread with Chocolate Chips is made with a coconut flour base and sweetened with Swerve and vanilla stevia.
Your nut-free and chocolate-loving friends will be overjoyed with this delicious loaf.

Lemon Rosemary Zucchini Bread
My Lemon Rosemary Zucchini Bread, made with the pairing of lemon and rosemary, is a next-level flavor bomb in your mouth experience.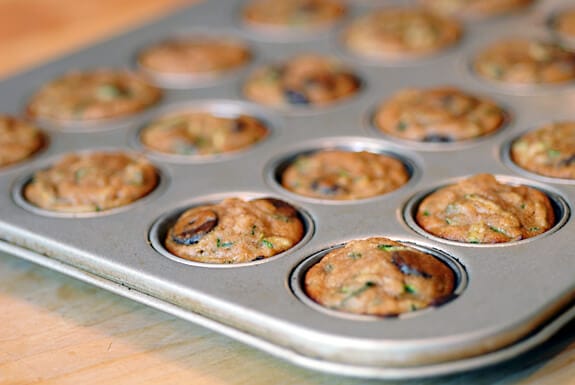 Nut-Free Chocolate Chip Zucchini Muffins Recipe
My healthy Zucchini Muffins recipe is made with a coconut flour base and lightly sweetened with honey.
It's a recipe for healthy muffins that my boys have loved since they were little.
Back then they used to scoop the batter into the muffin cups, and thought that was a really big deal. ❤️
Zucchini Recipes Easy
All of my recipes are super easy, but these zucchini recipes for bread will save you more time than most.
Zucchini Cooked
Zucchini isn't just for baking! When zucchini is cooked into zucchini noodles, it's delicious too!

Zucchini Noodles
Zoodles, zucchini noodles, whatever you call them, my Zucchini Noodles are a delicious low carb noodle replacement.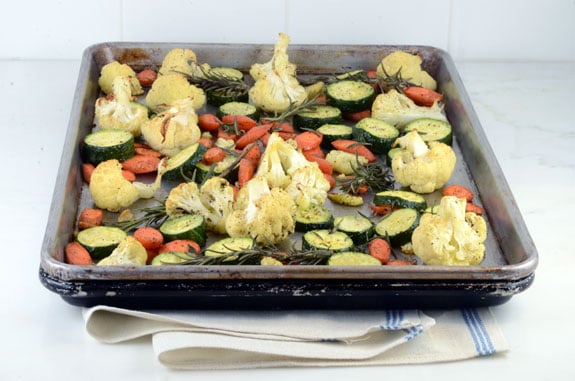 Roasted Zucchini in Oven
One of our go-to easy side dishes is roasted vegetables.
My Roasted Cauliflower Carrots and Zucchini is our favorite blend of roasted vegetables and are so easy to make.

Asian Stir Fry with Zucchini
Asian Stir Fry with Zucchini (an exclusive recipe from Paleo Cooking from Elana's Pantry) is such an incredibly deliciously healthy dish.
Yes, those words can go together. For more deliciously healthy recipes, check out my book below. 
Zucchini Growing in Garden
Do you have so much zucchini growing in your garden that you aren't sure what to do? I hope this post gave you a bunch of tasty ideas.
Recipes for Zucchini Desserts
Leave a comment with your favorite way to use up zucchini! Sweet or savory? Dessert of side dish? Let me know!
This post is an oldie but goodie from the archives, I first published this recipe in 2013.
---
Buy My Books!
---