My 2-Ingredient Chocolate Pudding recipe is a family favorite!
This recipe is a winner because it's so easy to make. On top of that, it's both a healthy recipe and a keto recipe –these are my specialties.
Desserts for Diabetic Recipes
I also want to take a moment to discuss sugar free dessert recipes for diabetics since lately so many folks with diabetes have been reaching out to me for support with their diets.
Low-Carb Chocolate Pudding Recipe
Along those lines, this dessert recipe with chocolate can be a fantastic low-carb dessert recipe for diabetics.
Low-Carb Chocolate Pudding Homemade
In the official recipe below, I use 70% chocolate because that's a fantastic option for my boys and people focused on healthy eating in general.
Diabetic Recipes for Dessert
But for those on the Keto Diet, you can swap out the 70% chocolate in the recipe and use darker chocolate to reduce sugar as well as carbohydrates.
Green & Black's 85% dark chocolate in bar form is perfect, and I often make this dessert recipe with chocolate that way.
Dessert Recipes for Diabetics
This keto version with 85% chocolate is not only a great dessert recipe for diabetics, it's a bit more sophisticated in its taste.
If you're used to sweeter desserts making it with the darker chocolate may not be palatable for you.
2-Ingredient Chocolate Pudding Recipe
Regardless of your diet restrictions, this 2-Ingredient Chocolate Pudding recipe is sophisticated yet simple.
All you need is dark chocolate and coconut milk.
Chocolate Mousse Vegan
This luscious low carb dessert recipe is rich, thick, and incredibly mousse-like –it's the best chocolate mousse that's vegan that you'll ever have.
How to Make Chocolate Pudding
To make this keto dessert recipe for diabetics, simply heat the coconut milk and chocolate in a saucepan, stir to combine, then transfer to small dishes, like ramekins or mason jars.
Refrigerate to set up and voilá, you have 2-Ingredient Chocolate Pudding, a dessert recipe that's quick!
2-Ingredient Chocolate Pudding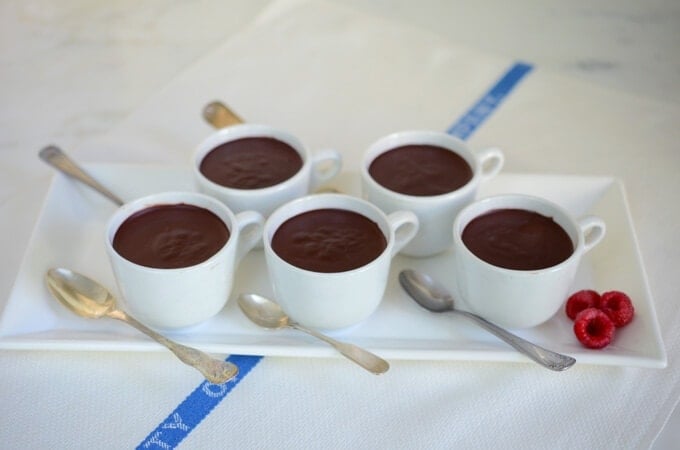 Prep Time 10 mins
Fridge Time 3 hours
Cook Time 10 mins
Total Time 3 hrs 20 mins
Prevent your screen from going dark
Easy Chocolate Pudding
I haven't tested this recipe with milk chocolate or semi-sweet chocolate because these types of chocolate have far more sugar and less fat than dark chocolate.
Chocolate Pudding Recipe Substitutions
Given this issue, I'm not sure if the pudding will thicken and properly set up if these substitutions are made.
If you do experiment, feel free to leave a comment and let me know if it worked!
Dairy Free Chocolate Pudding with Coconut Milk
I use coconut milk in this low carb dessert recipe because it's full of satiating healthy fats, and it tastes absolutely amazing.
Chocolate Dessert Recipes Low Carb
Along with that, I use dark chocolate because it's rich in antioxidants and packed with minerals including potassium, zinc, and selenium.
Health Benefits in Chocolate
I love chocolate! Who doesn't? It melts in your mouth and good chocolate has the most incredibly complex and rich flavor. I've done quite a bit of research on the Best Dark Chocolate Bars, so check it out!
The health benefits of chocolate are numerous:
High in Magnesium
Full of Antioxidants
Improves Blood Flow
Reduces Cell Damage
Heart Healthy
Just remember to stick to dark chocolate as semi-sweet and milk chocolate are high in sugar and lower in the superfood components.
Chocolate Pudding Fruit
If you're searching for more antioxidants, spruce up your dessert with some raspberries.
To indulge, serve this dark Chocolate Pudding recipe with Homemade Whipped Cream. It also pairs perfectly with my Fruit Salad.

Chocolate Pudding for Pie
My Chocolate Pudding Pie aka Chocolate Mousse Pie has only four ingredients. It's a dessert recipe that's simple!
All you need to make this chocolate pudding pie filling is chocolate, eggs, honey, and salt.
Pudding Recipes Chocolate
I love chocolate pudding desserts. I have several delicious pudding recipes for you to choose from.

Keto Chocolate Pudding Recipe
My Keto Chocolate Pudding contains only three ingredients –chocolate, coconut milk, and stevia.
That's right, easy peasy just the way I like it. Keto chocolate desserts are the best.

Chocolate Chia Pudding
Looking for chia pudding with coconut milk? My Chia Chocolate Pudding is a superstar recipe!
With healthy antioxidant-rich chocolate and fiber-filled chia seeds, this chia pudding with chocolate is a decadent and tasty functional food.

Chia Pudding Recipe
Chia pudding recipes are the best. My Chia Pudding is made with six ingredients –cashews, water, honey, vanilla extract, salt, and chia seeds.
Diabetic Diet Recipes
I've been following a low carb diet since 2014. At times I focus on consuming extra fat so that I can go into ketosis. I've read interesting papers on the neuro-protective effects of a keto diet.1
MS Diet and Keto
I've personally found that the keto diet is helpful in reducing the symptoms of the neurological issues resulting from my multiple sclerosis (MS) diagnosis.
Keto Diet Healthy for MS
When I began a keto diet, I went through my recipes to see which ones would comply with it.
I have created a fantastic Keto Diet Recipes page with all of my keto recipes. And if you're wondering, "What is the Keto Diet?" I have a brief to answer that question!
This post is an oldie but goodie from the archives. I first shared this 2-Ingredient Chocolate Pudding recipe in 2016.
---
Buy My Books!
---