I created this easy Baked Apples with Cinnamon recipe using a handful of incredibly aromatic and healthy ingredients.
Baked Apples with Cinnamon
I love making this easy dish as a shortcut to apple pie. 
For me, autumn isn't complete without this simple and sweet warm comfort food, though it's so spectacular we serve it all year round.
Healthy Dessert with Apples
This healthy recipe calls for apples stuffed with cinnamon sticks and vanilla bean.
I then spike it with lemon rind, currants (though raisins or dried cherries work just as well), and a splash of lemon juice.
Vegan Dessert Easy
This healthy dessert that's vegan is nutritious and easy to make, yet incredibly decadent.
How to Make Baked Apples
Baked Apples with Cinnamon recipe requires five simple ingredients and a baking dish.
There's no need to peel the apples.
Simply remove the core, stuff the apples with four incredibly fragrant ingredients, then place in the baking dish and bake the apples right in their skin.
Fruit as Dessert
I adore serving fruit as dessert to my darling family. It's fantastic fresh or like this, gussied up in the form of cooked fruit.
Low-Carb Dessert Easy
To make this a low-carb dessert that's easy, I decided not to add any sweetener.
This not only limits carbs but lets the flavor of the apples really shine through!
Apples Carbs
Baked Apples Simple
Since he was five or six, my older son and I have enjoyed making this healthy dish. It's one of our favorite fall rituals.
No Fuss Kid Recipe
By the time he was eight years old, my kiddo began making this easy apple dessert that's gluten-free quite often.
He loved cooking and being in the kitchen with me while I was busy beside him testing recipes for my first cookbook.
This was one of the recipes he made over and over again because it's truly a no fuss kid recipe that's easy to make with a big wow factor when it's done.
My little guy was very self-directed in the kitchen and still is now that he's twenty-three!
You can see him above making gluten-free croissants from scratch!
Easy Dessert with Apples
This dessert is not only easy to make quickly, it's a super fun project.
All you need to do is core the apples, set out the fillings and let the kids place them in the baking dish and stuff them, then eat them with homemade Vegan Vanilla Ice Cream.
Recipe for Baked Apples with Cinnamon
Here's my recipe, I'm hoping my son will share his with you one of these days!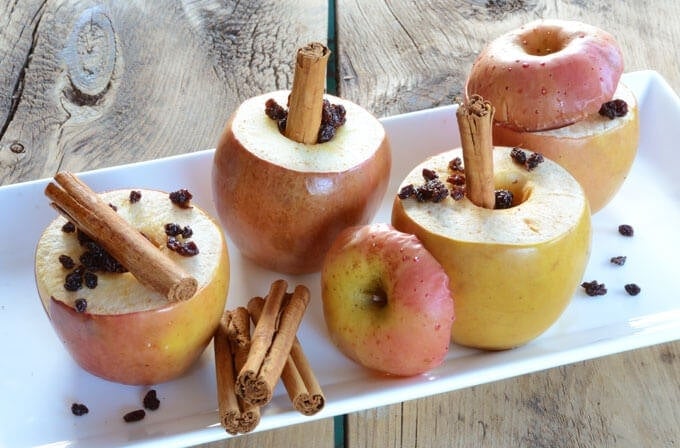 Stuff with lemon rind, currants, vanilla bean, and cinnamon sticks

Drizzle with lemon juice

Scatter remaining currants around apples

Bake covered at 350°F for 60 to 75 minutes

Serve
Prep Time 10 mins
Cook Time 1 hr
Total Time 1 hr 10 mins
Prevent your screen from going dark
What are the Best Baking Apples?
When I make an apple pie or apple tart, I tend to use Gala, Braeburn, or Jonagold.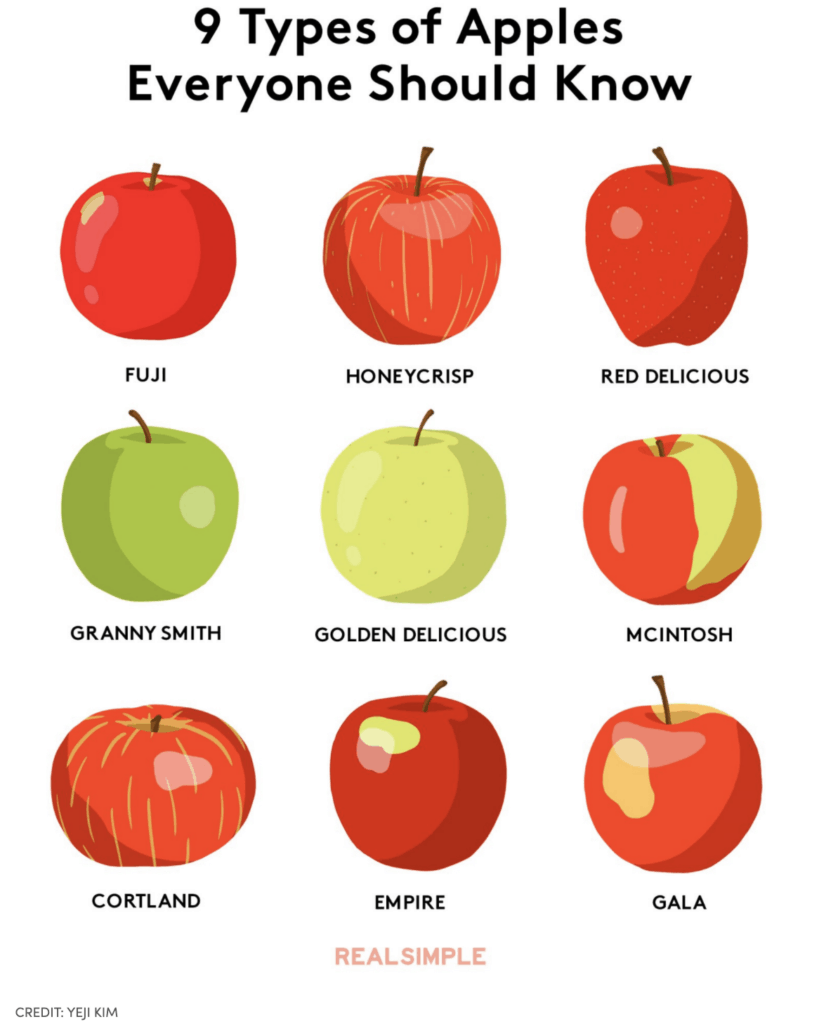 What Type of Apple for Baked Apples
You can use any type of apple to make this easy dessert quickly –sweet, tart, red, green –whatever your heart desires!
Types of Red Apples
Here are some amazing types of red apples:
Honeycrisp
Gala
Cortland
Fuji
Empire
Pink Lady
Types of Green Apples
Here are my favorite types of green apples:
Granny Smith
Golden Delicious
Crispin
Shamrock
Baked Apples Oven
It's so easy for kids to core a couple of apples, stuff them with yummy ingredients, and then hand them over to Mom to place in the oven.
Baked Apples for Oatmeal
The boys love making these Baked Apples with Cinnamon and mashing them into their oatmeal for a healthy gluten free snack.
Vegan Dessert Healthy
These Baked Apples are an effortless, yet healthy gluten-free, vegan dessert.
They're super satisfying on a chilly evening. To make a more decadent dish, drizzle with Almond Milk or top with my dairy-free Vegan Whipped Cream.
For a super luscious dessert that's vegetarian, check out my How to Make Whipped Cream in a Mason Jar tutorial and top these Baked Apples with that.
Healthy Apple Recipes for Dessert
Here are some of my other healthy apple recipes for dessert for you! They're so easy you can make them with your kids.

Homemade Apple Sauce
I love Homemade Apple Sauce and so do the boys. It's not fall without the perfume of homemade apple sauce filling the house!
I made this apple sauce recipe at least three times a week as the boys were growing up –often adding in fun antioxidant-rich twists such as strawberries or raspberries. So simple, yet so delicious.

Recipe for Apple Galette
My Apple Galette is certainly the most "wow-factor" apple dessert I have.
Not only does this dish look absolutely incredible, but you will also be blown away at how easy it is to put together.
Another great apple dessert is my Apple Fritters recipe –serve with Ice Cream for an extra delicious treat!

Baked Apples Crisp with Blackberries
My Baked Apples Crisp with Blackberries is made with a handful of healthy ingredients and delicious served with my Homemade Whipped Cream.

Recipe for Apple Tartlets
If this recipe for Mini Apple Pies from my third book Paleo Cooking from Elana's Pantry isn't the cutest single-serve dessert I don't know what is!
Baked Apples Recipe Healthy
Fall isn't fall without my low carb baked apple recipes –see for yourself how easy these are!
Apples Recipes for Dessert
So, to end this post, I have a funny story.
Every Thanksgiving I make an Apple Pie, because who doesn't LOVE apple desserts?
I also make my Chocolate Pecan Pie for Mr. Pantry, and my Pumpkin Pie for Baby Pantry.
Thanksgiving Desserts Recipes
Luckily I love cooking, and I adore baking at Thanksgiving even more. We love apple desserts, but we are a three-pie family every single year for turkey day.
Dessert Recipes Best
What's your favorite dessert –apple or not?! Leave a comment and let me know.
This post is an oldie but goodie from the archives, I first published Baked Apples with Cinnamon in 2007.
---
Buy My Books!
---