Summer is here and we're going bonkers for my Asparagus Salad with Tomatoes and Basil, making it just about every week!
Asparagus Salad with Tomatoes and Basil
This easy Asparagus Basil Salad is not only healthy, it's an incredibly tasty keto side dish.
I love my asparagus salad cold, but if that's not your thing keep reading for an awesome roasted asparagus recipe.
Summer Salad Easy
My Asparagus Salad Recipe is extra tasty during summer when vegetables are in peak season.
I found this recipe in Sunset Magazine. Actually, I didn't find it, our family friend Mrs. Rose introduced me to it when we had dinner at her house some time ago.
She was so amazing about all of our special diets (my son and I have Celiac Disease), but more on that in a bit.
Summer Salad Healthy
We had a fantastic gathering, and I have been making this easy summer salad ever since.
There's nothing better than a summer salad that's easy, the bonus here is that the ingredients make this summer salad healthy too.
Asparagus Salad with Tomatoes and Basil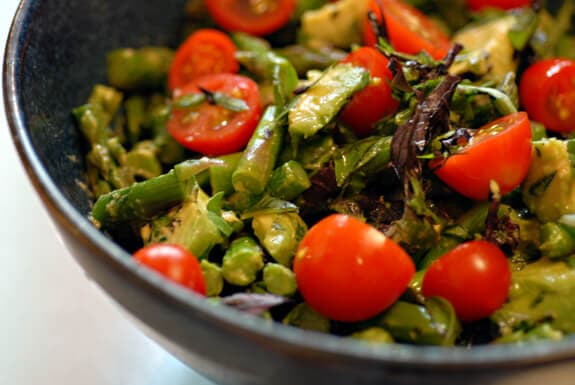 Steam asparagus for 5-7 minutes until fork tender

Place asparagus, tomatoes, avocado, and basil in a

large bowl

Stir in olive oil, lemon juice, and mustard

Sprinkle with salt and pepper

Serve
Prep Time 10 mins
Cook Time 5 mins
Total Time 15 mins
Prevent your screen from going dark
Tomato Salad Basil
I love tomato salad with basil, this pairing is such a classic!
My Asparagus Salad with Tomatoes and Basil takes things a step further, adding asparagus to the equation, as well as avocado.
Avocado Salad Recipes
Salad recipes that have blood sugar-stabilizing fat in them are a godsend to those of us on the Keto Diet.
Whether the avocado is in the dressing, or a main ingredient like the Kale Avocado Salad in Paleo Cooking from Elana's Pantry this "fruit" makes everything a little richer and healthier.
Keto Side Dish
This easy keto side dish is also great for those on a Gluten-Free Diet.
It's perfect for just about all diets, a total win-win because of its flavors –the basil and tomatoes make this salad pop, and it's something that everyone can enjoy.
Salad for a BBQ
This asparagus salad is summer in a bowl and also a wonderful salad for a BBQ or potluck.
Summer Side Dishes
One note, if you have a nightshade allergy, Asparagus Salad with Basil and Tomatoes is almost every bit as delicious if you leave out the tomatoes and still makes an amazing summer side dish.
And remember, my third book, Paleo Cooking from Elana's Pantry, is 100% nightshade-free!

Asparagus Salad Leftovers for Breakfast
Recently, I made a huge batch of Asparagus Salad with Tomatoes and Basil for breakfast with Hard Boiled Eggs.
Wondering how to make hard boiled egg? Yes, a healthy breakfast is easy when you pair veggies with a simple protein.
Asparagus Roasted
This recipe calls for steamed asparagus, but I've been making asparagus roasted, for as long as I can remember.
The Pantry Boys have also loved baked asparagus since they were little ones. If you're looking for an asparagus easy recipe, my Roasted Asparagus in the oven is for you!
Is Asparagus Good for You?
Wondering, is asparagus good for you? Yes, asparagus is a great source of nutrients!
In fact, it is a superfood full of healthy pre-biotic fiber. Asparagus is also:
Low Calorie
Supports Bone Health
Promotes Urinary Health
Why Asparagus Pee Smell?
One of the things that makes asparagus good for you is the sulfuric compounds it contains. The sulfur in asparagus is also what makes our urine smell funky.
Sulfer is an important compound that is beneficial to our bodies because it helps protect our DNA and is involved in cellular repair and rejuvenation.
Does Everyone's Asparagus Pee Smell? Yes!
Does everyone's pee smell after asparagus? The answer is yes. Not everyone can smell the sulfuric odor that urine takes on after eating asparagus, but, fun fact, everyone's pee has that smell.
Summer Salad Recipes
If you enjoyed my asparagus salad recipe you will love my other summer salad recipes below.

Easy Fruit Salad
The king of summer salad recipes, my Fruit Salad lights up any table and is a dish the whole family will enjoy.
Serving for dessert? Pro-tip: add a scoop of my Whipped Cream homemade recipe.

Spicy Coleslaw
The most perfect of summer side dishes, especially for a BBQ, my Spicy Coleslaw that's homemade hits the spot.
Spiked with ginger and lime, this coleslaw with Asian flavors is a refreshing summer delight.
If you are looking for inspiration for the rest of your meal, check out my Summer BBQ Recipes.

Cucumber Salad in Vinegar
Bubby's Cucumber Salad is beloved in our home. It's a great salad that's healthy, that I learned to make from one of my grandmothers,
It couldn't be easier to throw together, or more refreshing on summer days, but it's so good we have this cucumber salad in vinegar all year round!
Socializing with Diet Restrictions?
So, on to something I mentioned earlier here, handling diet restrictions when socializing. As everyone here knows and has likely experienced firsthand, this can be a challenge.
When family and friends don't understand, accommodate, or respect diet restrictions things can get a bit dicey.
In our case, at the social event mentioned above, we were truly blessed as Mrs. Rose made tons of healthy gluten-free food for us!
Maintaining Diet Restrictions
I believe it really is up to us to maintain our boundaries and not eat food that makes us feel awful, just to spare someone else's feelings.
How Do You Honor Your Diet Restrictions?
When forced to choose, I would rather hurt someone's feelings than hurt my body. Has anybody else been in a situation like that? If so, what did you do? Leave a comment and let me know!
This post is an oldie but goodie from the archives. I first shared this Asparagus Salad with Tomatoes and Basil recipe in 2010.
---
Buy My Books!
---