If you've never baked a flourless chocolate cake, please consider this serious encouragement. Not much of a baker? This is the cake that can change your mind. It's a classic. Nearly every great baker I know has a version in their repertoire. Likely because it's relatively simple to make, uses a short list of ingredients, and is a legit showstopper.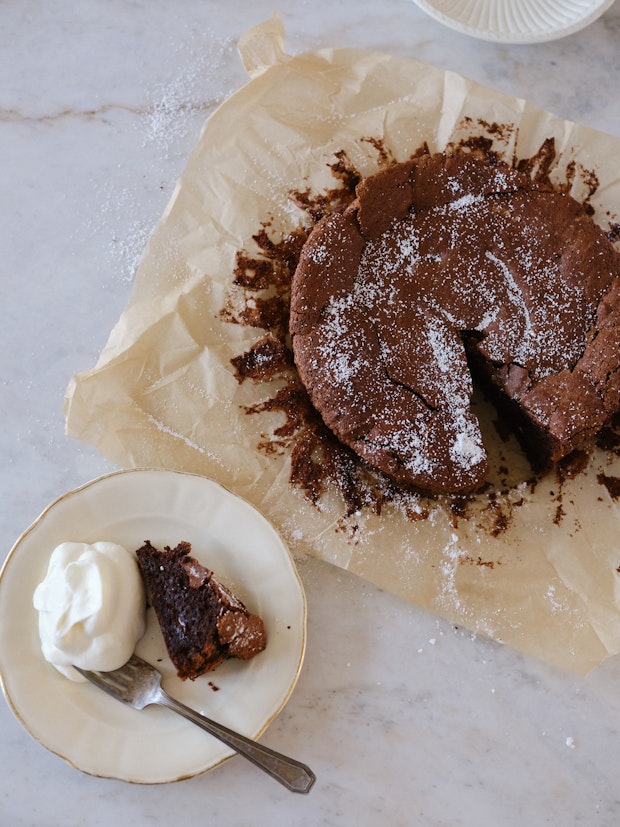 The magic of a flourless chocolate cake is the way it billows and expands as it bakes, then collapses onto itself once out of the oven. As it continues to cool the top sets and crusts a bit like meringue, and the center settles into the consistency of a sliceable chocolate mousse. I like to fold extra chocolate chunks into the batter just before baking for extra dense little pockets of chocolate. Once you get the basics of this cake down, you can use this recipe as a jumping off point for endless variations, and I talk through some of those down below.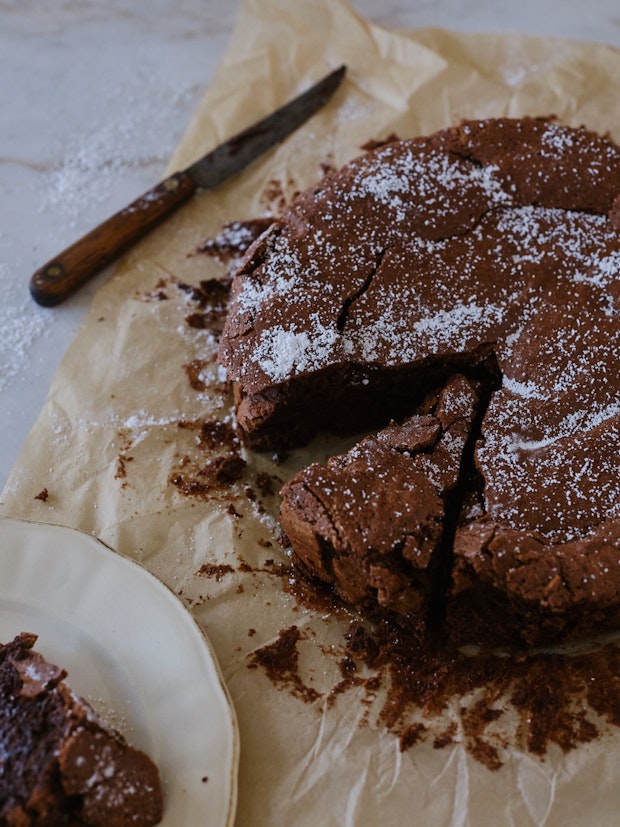 Let's Talk Technique //
What is a Flourless Chocolate Cake?
The formula for many flourless chocolate cakes, as well as fallen chocolate soufflé cakes, is similar. Recipes generally call for little or no flour, eggs, sugar, chocolate, and a fat (for example olive oil, butter, coconut oil, etc.). The technique goes something like this: melt the chocolate, stir in the fat, sugar, and egg yolks. Fold in the whipped and sweetened egg whites, then bake. The cake blooms as the air bubbles in the meringue expand in the oven heat. It falls once out of the oven, as the temperature drops. The resulting cake is woozy with melted chocolate, with a hint of the collapsed crust.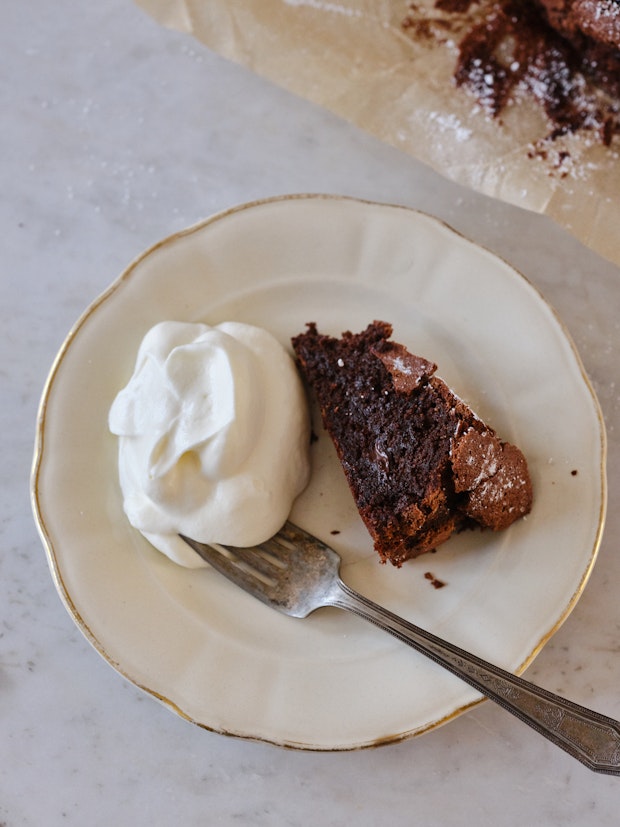 Flourless Chocolate Cake – What's The Best Type of Pan to Use?
The main thing you need to know here is that the cake you're baking is quite delicate. You can't turn it out like a traditional crumb cake or it will likely break apart. This leaves you with a couple options. Many people (myself included until recently) will bake this style of cake in a springform pan. It works great. 
I used springform until, I noticed Aran Goyoaga lines her standard cake (non-springform) pan with a big piece of parchment for this style cake. The paper hangs over the edges of the pan (see below), and you can lift the cake from the pan using the paper. It gives the cake a rustic vibe and you can serve it right on the paper – a detail I love. I almost always go the full parchment paper route with this cake now. But you can make the call.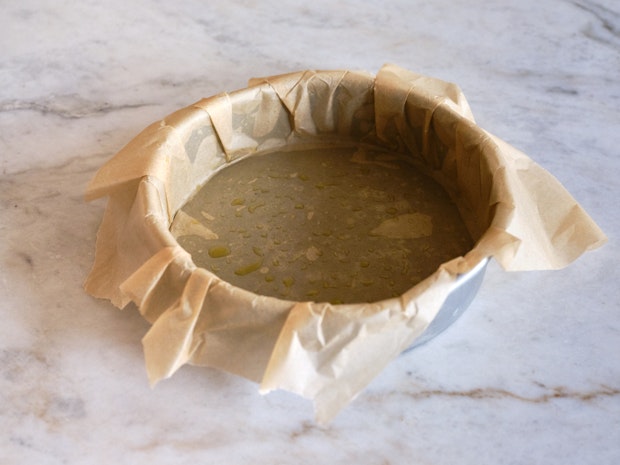 Parchment-lined cake pan pictured above.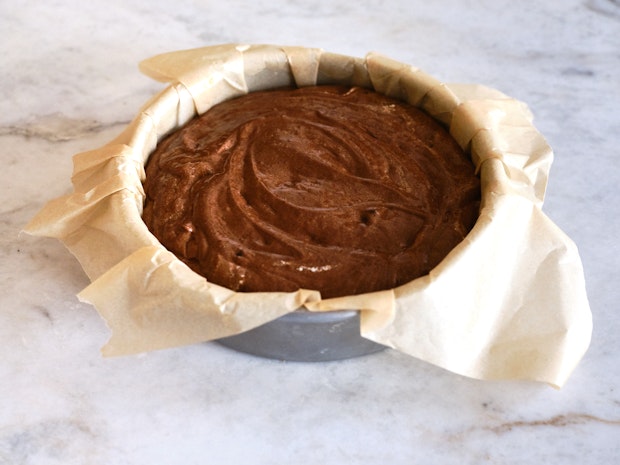 Cake batter in pan prior to baking (pictured above). And the cake immediately after removing from the oven (pictured below).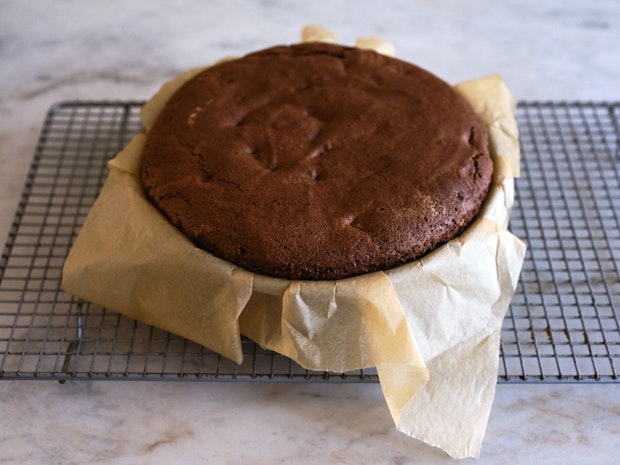 Also, What Size Pan will Work?
Unless you're making baby cakes, the standard size pan for this cake seems to be 9-inches, round. It's what nearly everyone uses, probably because everyone that bakes has a 9-inch cake pan, so recipe writers tend to default to 9-inch. That said, I bake this most often in my 8-inch pan (see photo). It's always cutting it close, but the smaller pan delivers a cake that is slightly more deep-dish and fudge-y. I'm writing the recipe for 8-inch pan, but if you're using 9-inch just reduce the baking time by five minutes to 35-ish minutes. 

Flourless Chocolate Cake Variations
The recipe I'm posting below is for a really amazing, straight-forward, flourless chocolate cake. It's the straight shot, no tweaks or extra flavor frills. The base recipe – good chocolate, eggs, olive oil, salt, and sugar — is wonderful as-is. In fact, I love it like this and don't think it needs a thing aside from a flop of barely whipped cream on the side. But! It's so much fun to play with variations, and I'm including this list of different directions I've taken it over the years. 
Flourless Chocolate Cake with Salted Buttermilk Whipped Cream

: Whip one cup of heavy cream until it thickens and begins expand. Gradually whip in 3 tablespoons buttermilk, granulated sugar to taste, and a small pinch of salt. Serve dolloped  next to your cake.

 

Espresso Flourless Chocolate Cake with Boozy Whipped Cream

: Add 1 tablespoon of espresso powder to your melted chocolate and proceed with the recipe of the recipe as written. Gradually add a bit of Kahlua, Bourbon, or Dark Rum and sugar (to taste) to heavy cream as you are finishing whipping it.

Flourless Chocolate Cake with Lemon Olive Oil

: Use a lemon olive oil in place of the olive oil called for. You can add lemon zest to the cake batter and whipped cream as well. And a finishing drizzle of lemon olive oil before serving doesn't hurt either.
Flourless Browned Butter Chocolate Cake: You can use melted butter in place of the olive oil if you like, you can also use beautifully aromatic, nutty browned butter.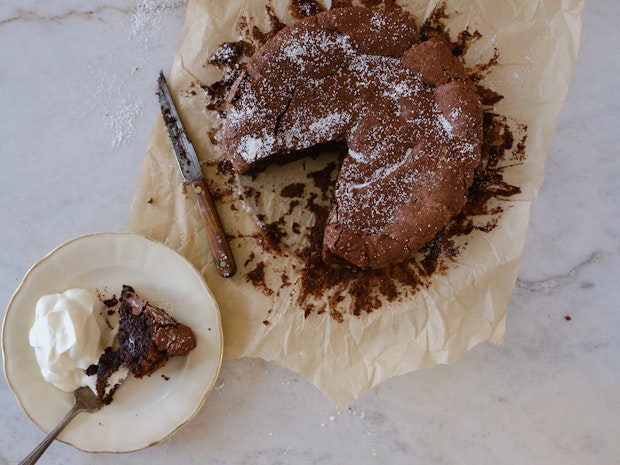 And a few more ideas!
Flourless Rose Chocolate Cake

: A bit of rose water (2 teaspoons) is a nice addition to the cake batter. You can also add a small splash to the whipped cream. In either case, some rose waters are strong than others so go easy the first time around and make note.

Spicing up the Powdered Sugar

: I love a dusting of powdered sugar as the finishing touch on this cake. You can add spices and fragrance to the powdered sugar as well. A bit of cinnamon, cloves, freshly grated nutmeg, espresso, etc. I keep some rose geranium leaves in a bag of powdered sugar for a couple days, remove, and the remaining sugar is beautiful fragrant. Have fun getting creative!

Nut-kissed Flourless Chocolate Cake

: Add

 

2-3 tablespoons of ground, toasted, almonds (or other favorite nut) to the melted chocolate and proceed with the recipe. You'll see this in many fallen chocolate cake recipes. And, if you're going to add the ground nuts, give a boost with a tablespoon on almond extract as well

Black Cocoa Flourless Chocolate Cake

: I've had in my notes forever to incorporate 1/4 cup of black cocoa powder into the melted chocolate mixture. This would lend that incredible black cocoa flavor I love. But I haven't tested it. Throwing it out there in case any of you want to beat me to it!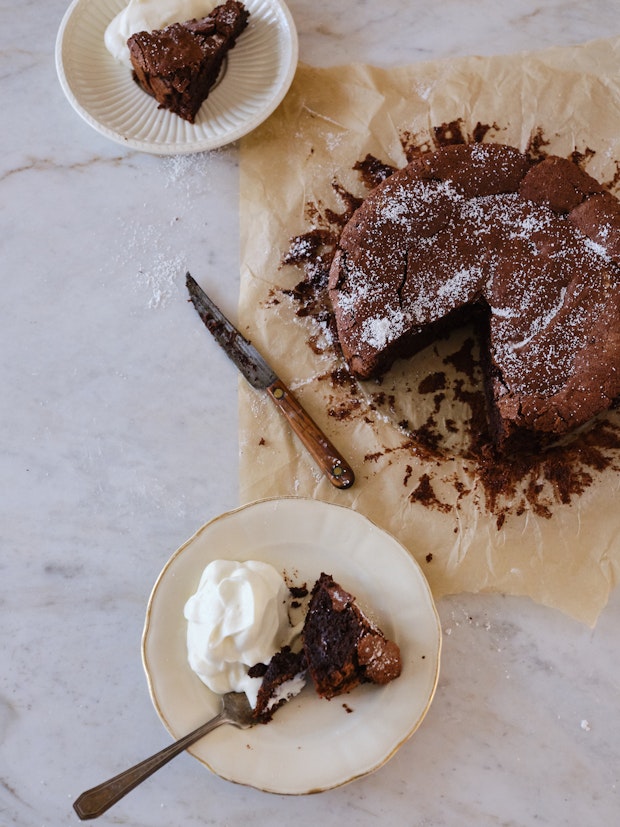 You can read more about the origins of the flourless chocolate cake, or torta tenerina, in this Florence Fabricant article from 2016,
Flourless Chocolate Cake Finds an Ancestor in Italy
.
I hope this cakes finishes off as many great meals on your end as is has on mine! And if you want the chocolate parade to continue, there is always my all-time favorite brownie recipe, this Chocolate Devil's Food Cake, or the perfect chocolate pudding.
Source link