I have the best chocolate cupcakes ideas for Halloween, plus other healthy tricks and treats and treats for your little ghosts and goblins.
Chocolate Recipes Dessert
Kids (big and small) will love my homemade Fudge, Fat Bombs, Keto Brownies, and more.
Better yet? These recipes will keep you and yours from drowning in this season of sugary sweets.
Chocolate Cupcakes Ideas for Halloween
But first, let's start with my gluten free, grain free, dairy free, nut free, Chocolate Cupcakes for Halloween.
Does it get any more allergy free than that? These cupcakes are perfect for everyone!
Chocolate Cupcakes from Scratch
While we can no longer give out homemade treats to our trick-or-treaters, my Halloween Cupcakes Ideas are perfect for gatherings and parties, and they scream celebration to your ghoulish guests.
Cupcakes Homemade
My boys and their friends went gaga for these homemade cupcakes when they were little.
I hope you enjoy these festive Halloween treats as much as we do!

Decorations for Halloween Cupcakes
In the recipe, the "ingredients" are my Chocolate Cupcakes, my Chocolate Frosting, and these adorable decorations pictured below.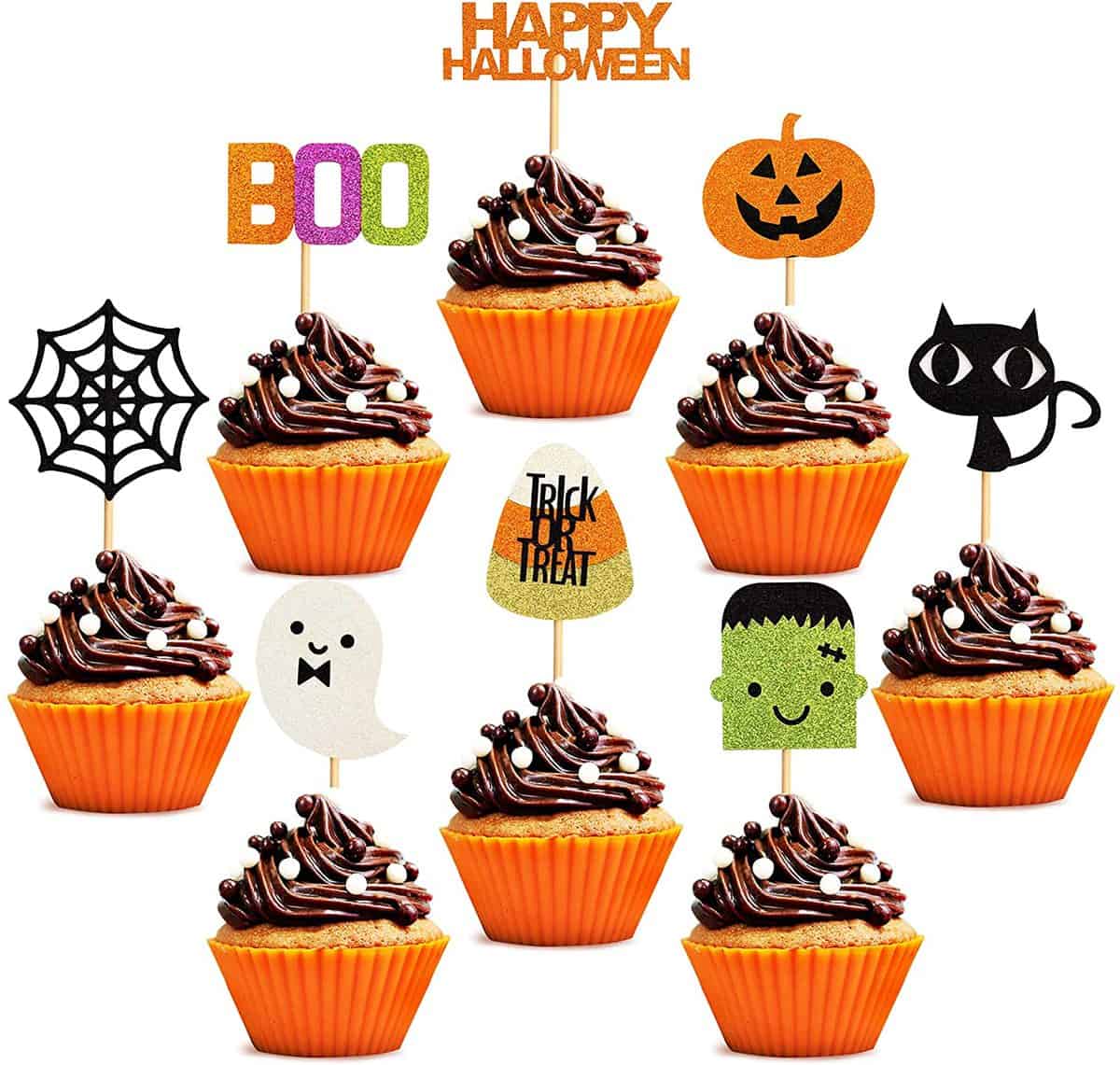 Here are some amazingly spooky, yet adorable cupcakes for your gluten free boys and girls.
Chocolate Cupcakes for Halloween
Bake Paleo Chocolate Cupcakes and allow to cool for 2 hours

Make Paleo Chocolate Frosting

Pipe frosting onto cupcakes

Place decorations on cupcakes

Serve
Prep Time 20 mins
Decorating Time 15 minutes
Total Time 35 mins
Tip! Because the cupcakes need to cool for 2 hours prior to decorating, I recommend making them first and then making frosting while the cupcakes are cooling.
Prevent your screen from going dark
Gluten Free Cupcakes Recipe
Many of you have made these cupcakes and know that this one pot recipe is incredibly simple to throw together.
All you need to do is place coconut flour, cacao, salt, and baking soda in a food processor, then pulse in eggs, coconut oil, and honey.
Bake, cool, frost, and bam, you're done.
Cupcakes Easy Recipe
With seven ingredients total, this recipe for healthy cupcakes is a time-saving home run.
Frosting Homemade
The frosting is an easy recipe as well, and has only three healthy ingredients –dark chocolate, coconut oil, and vanilla.
After you make it, put it into a pastry bag with your favorite tip.
I'm not sure which tip number I used as none of my piping tips are labeled, so apologies in advance for not being able to answer that question.


Vanilla Cupcakes Recipe from Scratch
My older son is a total chocoholic, and so is Mr. Pantry. Baby Pantry, on the other hand, loves all things fruity and vanilla.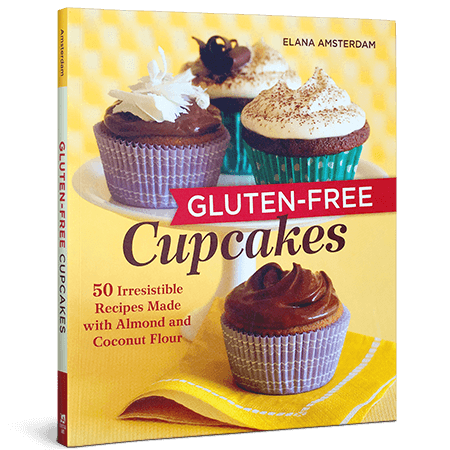 When I make these Halloween cupcakes for him, I use my Vanilla Cupcakes as a base along with the Vegan Buttercream recipe from my second book, Gluten-Free Cupcakes, pictured above.
Halloween Desserts Easy
If you're interested in more than cupcakes, I've compiled my favorite healthy homemade Halloween desserts for you below.
I hope you're able to find the perfect Halloween treat to make for your little ghosts and goblins.

Brownies Recipe from Scratch
Looking for a low carb treat for Halloween? My Brownies Recipe from Scratch, will rock your world.
These Keto Brownies are made with eight ingredients total and use macadamia nuts instead of flour as their base.
Add in baker's chocolate, eggs, coconut oil, erythritol, stevia, salt, baking soda, and there you have it! Healthy low carb brownies.
Because these contain erythritol I can't eat them, but my family adores this low carb recipe and so do readers in need of Keto Diet Healthy Recipes.
Gummy Bears Sugar Free
Gummy Bears for Halloween? Bear with me for a moment.
These adorable candies have four ingredients and you can make your own colors by adjusting the juice you use.
For Halloween, I use orange juice and grape juice to get orange and black gummies.
This is another recipe that my boys loved growing up, and one that I could feel great about making for them, given the high protein, low sugar content!

3 Ingredient Low Carb Fudge Easy Recipe
Are chocolate desserts that are easy to make your thing? My 3 Ingredient Low Carb Fudge is another no-brainer for Halloween.
When it feels like your family is drowning in candy made with high-fructose corn syrup my 3 Ingredient Low Carb Fudge will save you!
Chocolate chips, coconut milk, and vanilla powder are all you need to throw together this low carb dessert.

Keto Fat Bombs Chocolate Chip & Mint
My Keto Fat Bombs Chocolate Chip & Mint is an easy keto dessert recipe that will fill you with fat, rather than carbs, which spike your blood sugar.
Interested in learning more? If so I have a post on Intermittent Fasting for Beginners that will help you understand the benefits of burning fat for fuel.
Halloween Treat to Make
What's your favorite Halloween treat to make for this spooky holiday? Leave a comment and let me know!
This post is an oldie but goodie from the archives. I first shared my Chocolate Cupcake Ideas for Halloween in 2013.
---
Buy My Books!
---