These vegan chickpea burrito bowls are easy to meal prep and so delicious! They feature chickpeas that have been seasoned with salsa for fast flavor. Top them with my creamy cashew queso sauce for a vibrant and filling meal.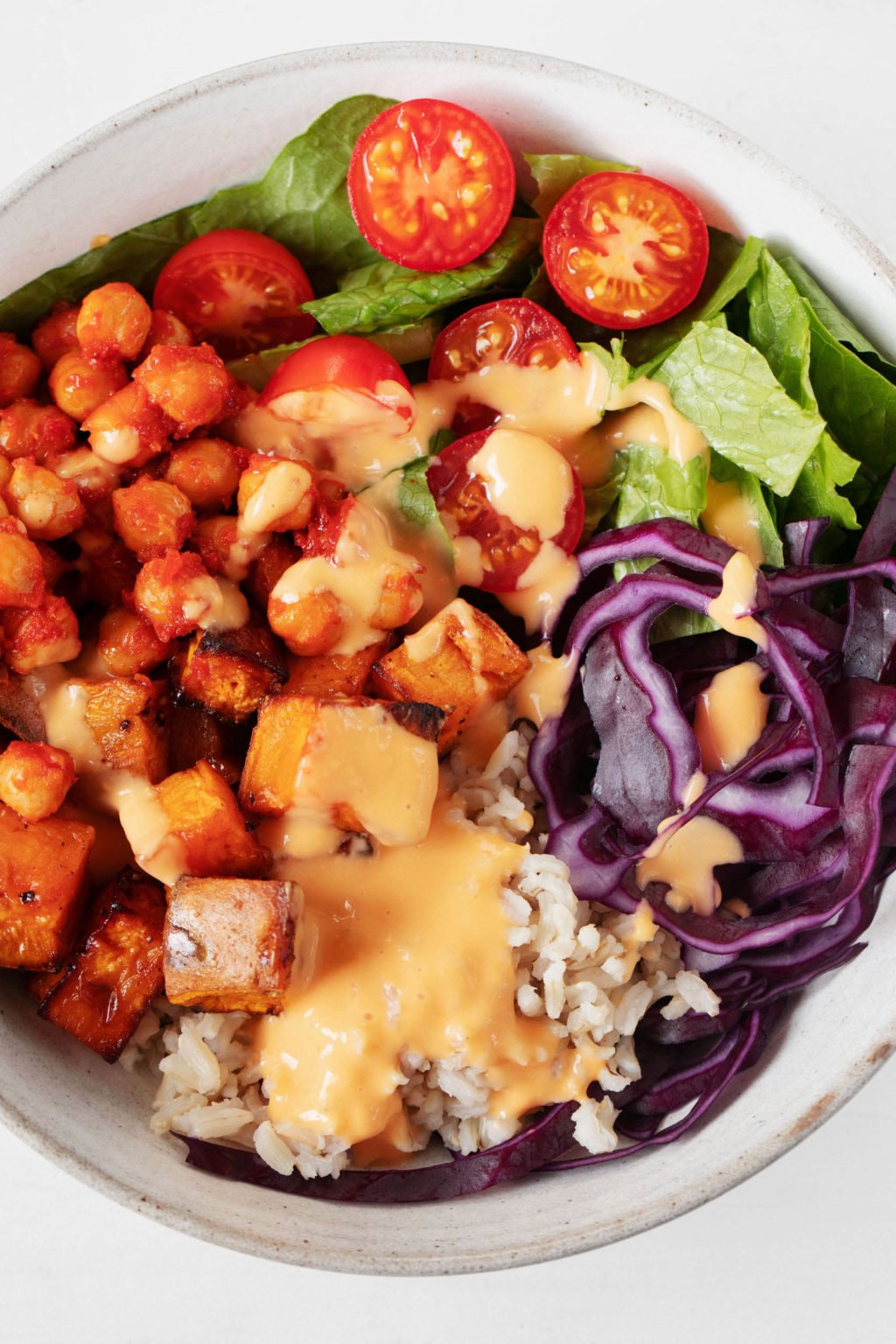 With the arrival of fall, I've been getting into a routine of meal prep at home. I'm batch cooking soups, baking plenty of muffins and baked oatmeal for breakfasts and snacks, and remembering to make at least a couple homemade dressings each weekend.
With a good dressing, a cooked grain, some veggies, and a vegan protein in hand, I have everything I need to create a balanced vegan bowl.
These chickpea burrito bowls are a great example. They've got a great sauce, which is the cashew queso I've been making for years. They also feature a whole grain, plenty of veggies, and chickpeas for protein. In other words, the grain + green + bean trifecta that so many plant-based eaters love.
There are a bunch of components in the chickpea burrito bowls, but each one is easy to prepare. That's especially true of the chickpeas, which are seasoned with my new favorite cooking hack (more on that below!).
I've been eating the bowls for both lunch and dinner, grateful for the color and texture and satisfaction they provide. Even though the bowls are simple—quite a bit simpler than nearly all of the bowls in Power Plates—I think they're worth sharing today.
Macronutrient balance (and why it matters)
I think that I probably sound like a broken record when I talk about macronutrient balance. Yet the topic is dear to my heart, and I can hardly think about assembling a vegan bowl without it springing to mind.
Macronutrient balance is one of the principles that I share with new clients who are hoping to feel more satisfied and energized by what they eat. It's also the organizing principle in Power Plates.
Macronutrients are the nutrients that we need to consume in large amounts in order to thrive. This distinguishes them from micronutrients, like vitamins and minerals, which our bodies require in only microscopic amounts. Macronutrients include carbohydrates, protein, fats, and water.
A lot of people who write about nutrition believe that there's an optimal ratio of macronutrients to strive for in a given day. I think that the ratio can be fluid and personalized. Some people feel better eating less fat and more carbohydrate, others more protein and fewer carbs. What works best for a person depends on lifestyle, preference, time of life, culture, and biology.
However, it's been my observation that people tend to thrive when they have a source of protein, carbohydrate, and healthful fat each time they sit down to eat. One macronutrient might be better represented than others, but all are accounted for.
In these chickpea burrito bowls, protein comes from chickpeas and cashew queso, which has quite a bit of nutritional yeast in it. Complex carbs are present in the rice, sweet potatoes, and the legumes. Healthful fat shows up in the cashew-based sauce and in the avocado oil that's used for roasting the potatoes.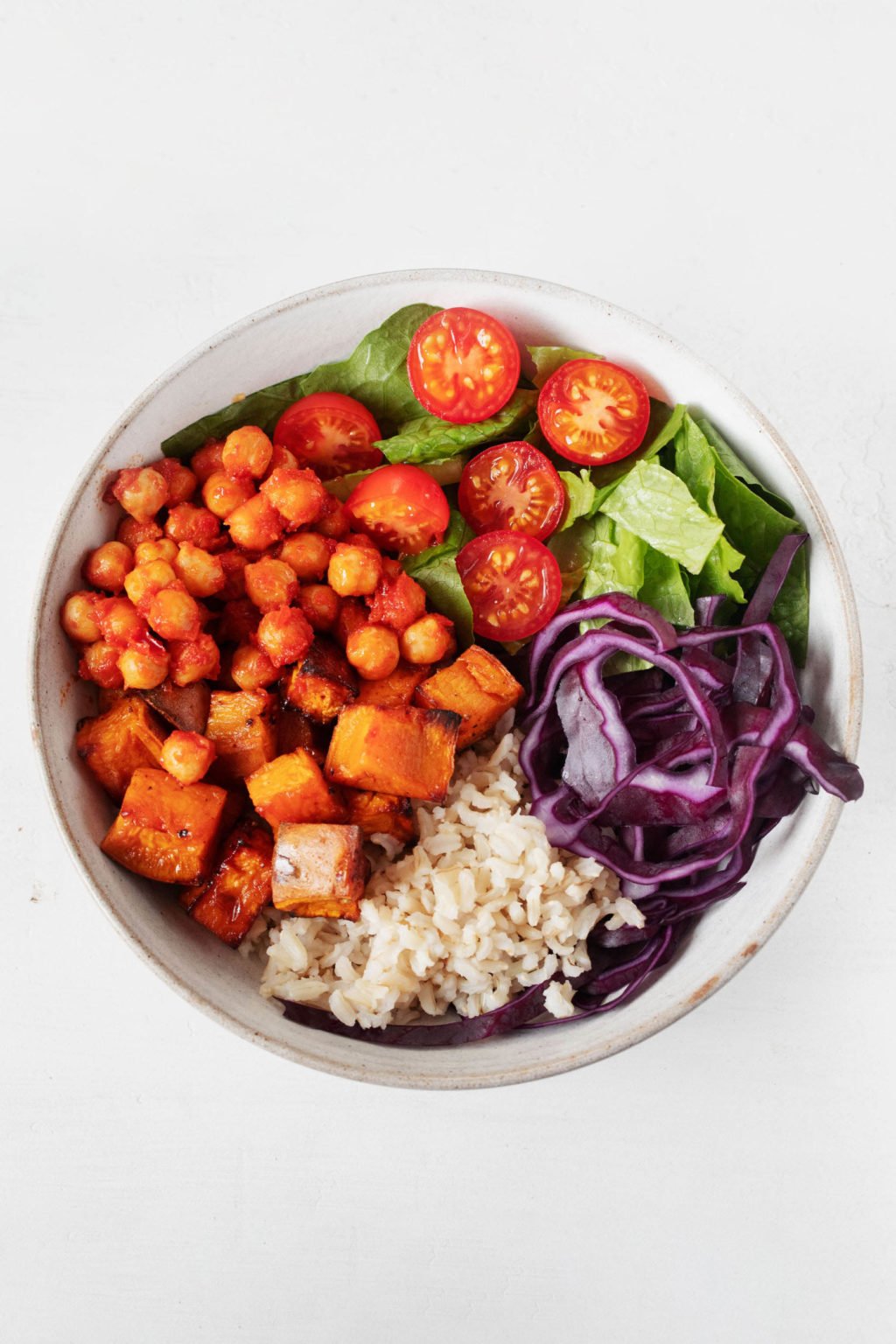 Seasoned chickpeas (and my favorite new cooking hack)
Chickpeas are not only the star protein in this recipe, but also a big source of flavor. While I'm not opposed to throwing unseasoned chickpeas into my bowls, I appreciate that these are saucy and bold. This is all thanks to the salsa that they're heated with.
At some point last year, my friend Ashley told me that she sometimes makes the Tofu Migas recipe from Power Plates using jarred salsa in place of tomatoes, onions, garlic, and spices. She told me that the recipe tastes nearly the same this way, all without the need to chop and mince vegetables.
It sounded like an ingenious cooking hack to me, and I decided to explore it. I've now gotten into the habit of using salsa as a meal starter. It works so well when it's stirred into rice or quinoa, and it's a fantastic addition to tofu scramble. Chopping onions and garlic is one of my least favorite cooking tasks, and this trick saves me the trouble.
Salsa simmering may be my new favorite way to prepare chickpeas! It's a similar idea to my chickpea scramble, but it's faster and easier. I'd love to try the chickpeas in tacos or in actual burritos, rather than bowls. I think they'd also be a good addition to pasta or pasta salad.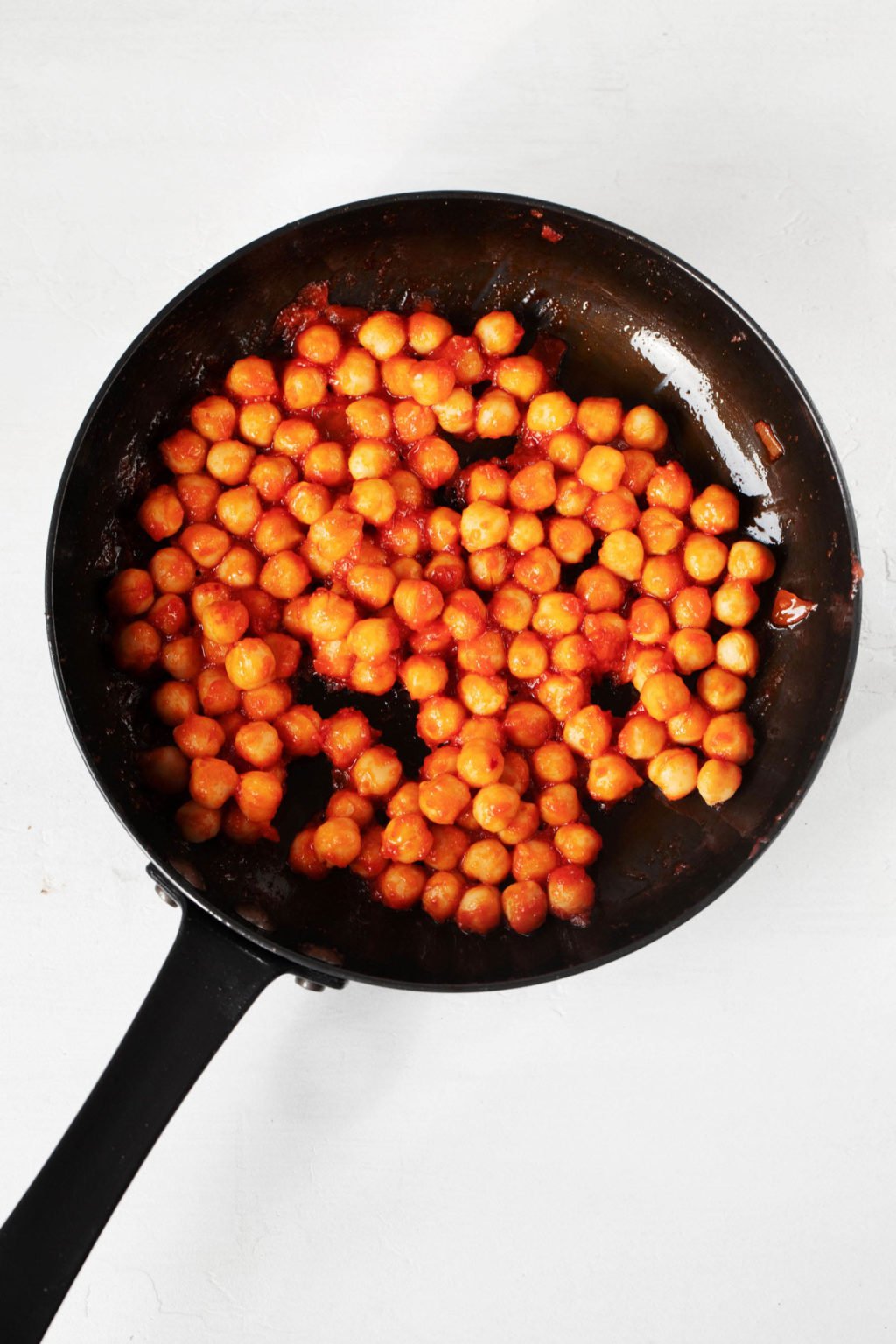 Assembling chickpea burrito bowls
The chickpea burrito bowls can come together very fast if you do some meal prep ahead of time. They're more time consuming if you make each component from scratch right before you serve them. But even then, none of the cooking for this recipe is difficult.
My weekend meal prep routine almost always includes a couple of dressings and a batch or two of cooked whole grains. I use these in salads and bowls as the week goes by. Accordingly, these burrito bowls call for my cashew queso (or another dressing) and cooked rice (or quinoa).
If these components are ready to go, the rest of the recipe can come together seamlessly. First, scrub and chop your sweet potatoes. Prepare them for roasting, then pop them into the oven.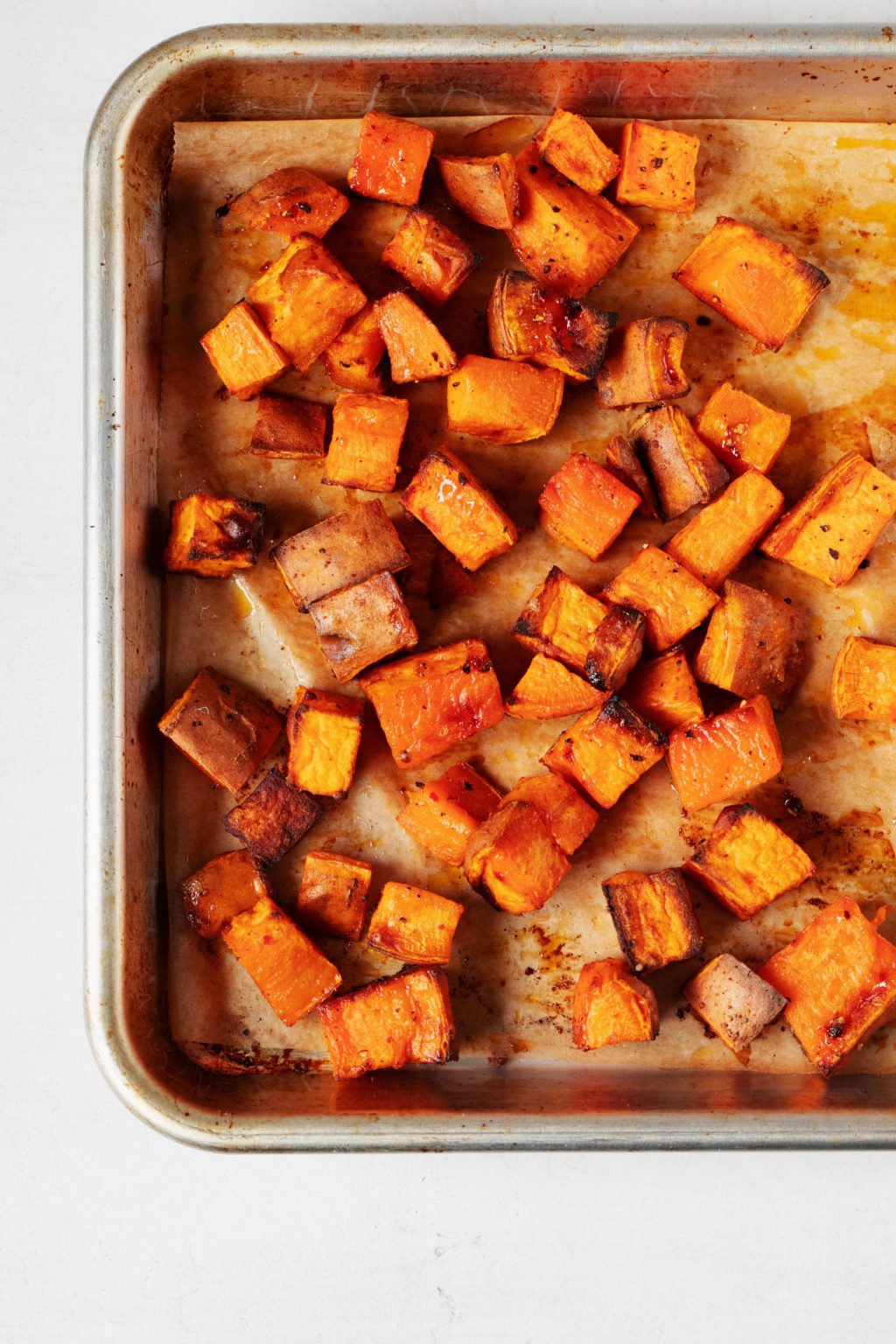 While the potatoes roast, you can warm up your seasoned, salsa chickpeas. You can also use this time to chop up the vegetables you'll need for assembling the bowls.
By the time the sweet potatoes are ready, you can put the bowls together, drizzle the dressing all over them, and eat.
If you're back in the office or busy with a fresh semester of school, the bowls make a nice, make-ahead lunch. Pile the ingredients into an airtight container and pop them in the fridge overnight. Store a small container of the dressing separately and pack it up with the rest of your meal in the morning.
Burrito bowl storage
All of the components here—the chickpeas, roasted sweet potatoes, dressing, and rice—can be stored for up to five days in the fridge. This means that they can easily be prepared in advance of bowl assembly.
The chopped greens and shredded cabbage will keep well for at least 3 days, and up to 5. Grape tomatoes can be halved right before you serve or pack up the bowls.
You can use your freezer to help with the recipe, too. The cashew queso, roasted potatoes, chickpeas, and rice can all be frozen for up to six weeks.
Variations & substitutions
The chickpea burrito bowl, like most bowls, is easy to adapt. Here are some fun and easy substitutions to try:
Instead of cashew queso sauce:
Instead of rice:
Quinoa
Millet
Barley
Bulgur
Cauliflower rice
Instead of roasted sweet potatoes:
Steamed or roasted new potatoes
Roasted carrots or parsnips
Grilled or roasted zucchini
Steamed or roasted broccoli or cauliflower florets
Roasted plaintains
Instead of chickpeas:
In addition, you can add some extra texture in the form of toasted nuts or seeds or crumbled corn chips. You can also throw in leftover roasted veggies or other odds and ends that need to be used up. Make the recipe your own!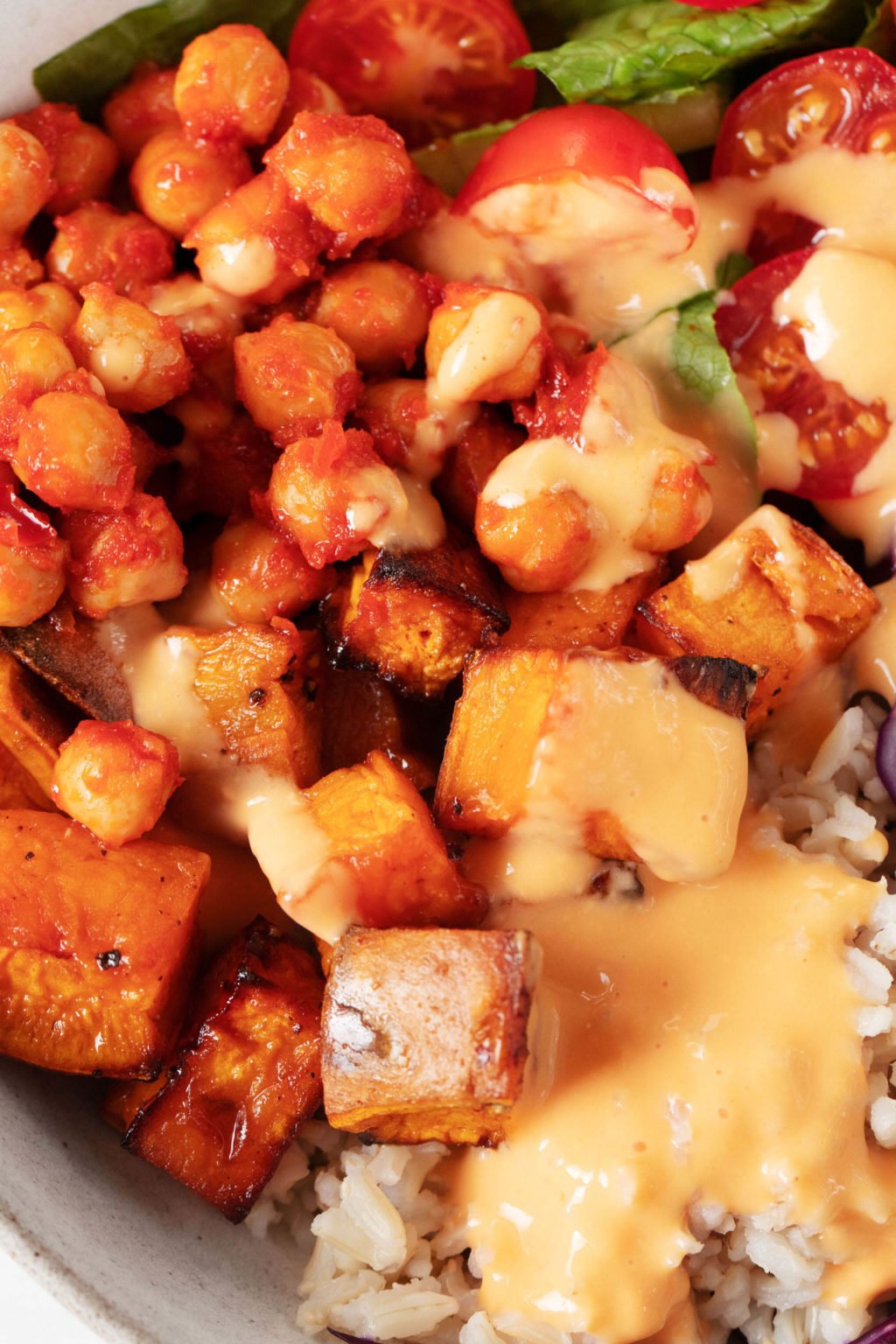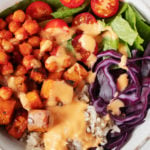 For the roasted sweet potatoes
3

medium

or 2 large sweet potatoes, scrubbed and cubed

(about 1 1/4 lb)

1 1/2

tablespoons

avocado oil

Kosher salt and freshly ground black pepper
For the seasoned chickpeas
1 1/2

cups

cooked chickpeas

(1 14.5-ounce can, drained and rinsed)

2/3

cup

salsa of choice
For the bowls
4

cups

packed, chopped romaine lettuce

2

cups

packed, shredded purple cabbage

2

cups

cooked brown rice or quinoa

1

cup

halved cherry or grape tomatoes

1

cup

cashew queso or all-purpose cashew cream 
Preheat your oven to 425F. Place the sweet potatoes on a parchment or foil-lined baking sheet. Drizzle the potatoes with the oil and sprinkle them with salt and pepper. Use your hands to stir the potatoes, coating them with the oil. Transfer the potatoes to the oven. Roast for 30-35 minutes, or until the potatoes are tender and browning and crisping at the edges. Stir the potatoes on the sheet after 15 minutes of baking, and check them for doneness starting at 25 minutes. 

While the potatoes roast, heat a skillet or frying pan over medium low heat. (Nonstick is best for this, but well-seasoned cast-iron will work, too!) Add the chickpeas and the salsa to the skillet. Cook the chickpeas, stirring every couple of minutes, until the salsa has reduced and the chickpeas are warm and coated with the salsa, about 5-7 minutes. Remove the chickpeas from heat.

Layer the romaine and purple cabbage in four bowls or storage containers. Add about a half cup of the cooked grain (brown rice or quinoa) to each bowl. Divide the cooked chickpeas and sweet potatoes between the bowls. Top each bowl with a quarter cup of the tomatoes. Then, drizzle each bowl with about a quarter cup of the cashew queso or cashew cream. If you're prepping the bowls ahead of time, wait to add the sauce until you're ready to eat. Enjoy!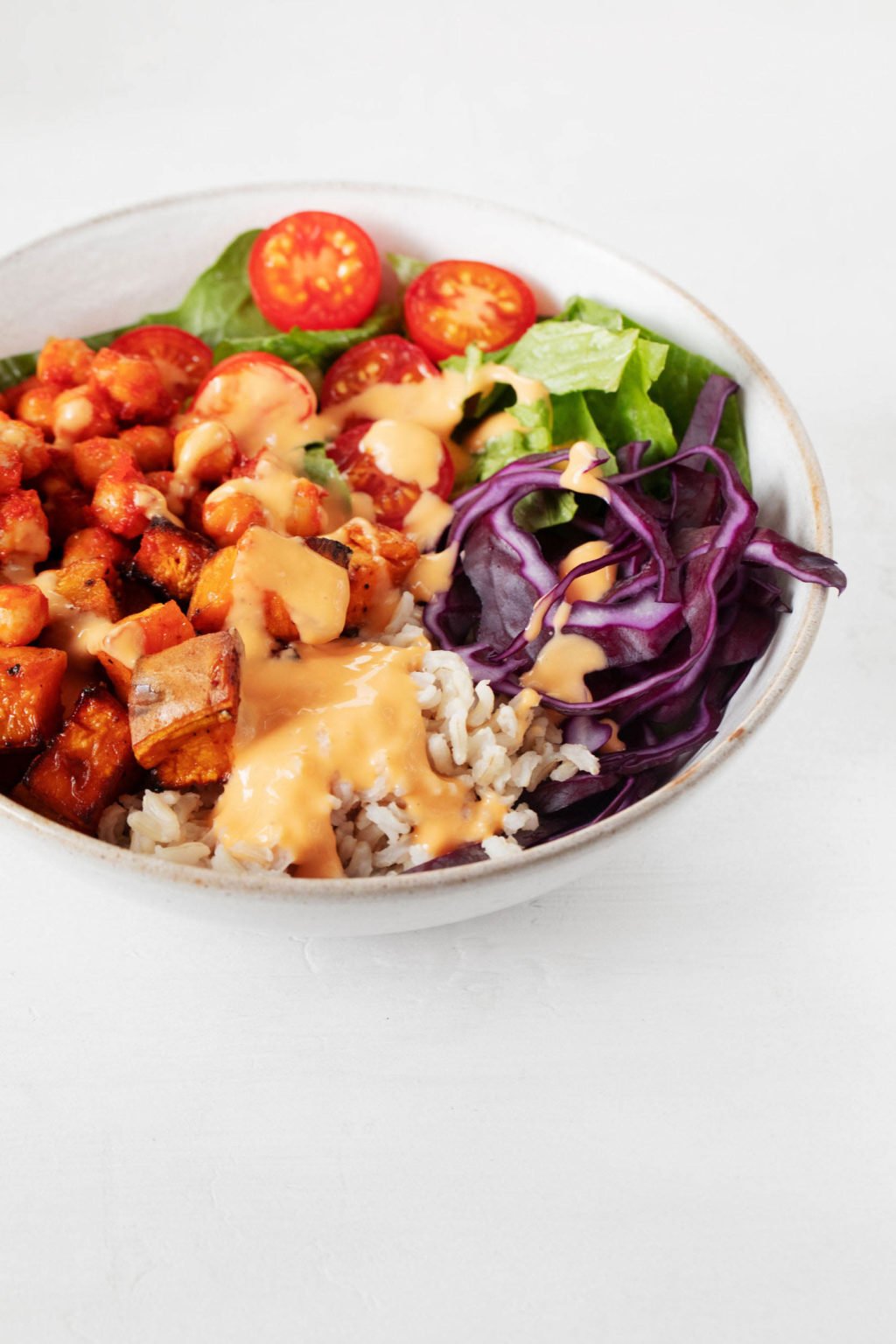 My cooking was the least organized it has ever been through most of quarantine. While much of the world seemed to embrace home cooking with gusto, I was heating up frozen food and failing to do the preparation and planning that I often try to help my clients with.
Had I not been trying to write a cookbook, I would have been at peace with this. It was a wild time, and we all got through it however we could.
Still, it feels nice to be getting back to my normal kitchen routines. I feel calmer about cooking than I have in a while. I wouldn't say I'm organized, but I have more of a rhythm going than I did a year ago. I've been using my weekends wisely and enjoying the ability to eat leftovers during the week. Little by little, right?
Maybe these bowls will help to make your own food routine a little easier. I hope that they do.
xo