Cauliflower Alfredo sauce turns a nutritious crucifer into the base of a delightful, creamy dairy-free pasta sauce. You can store it or use it to make an easy vegan Alfredo pasta with spinach. The pasta dish features prebiotic foods, which may benefit digestive health.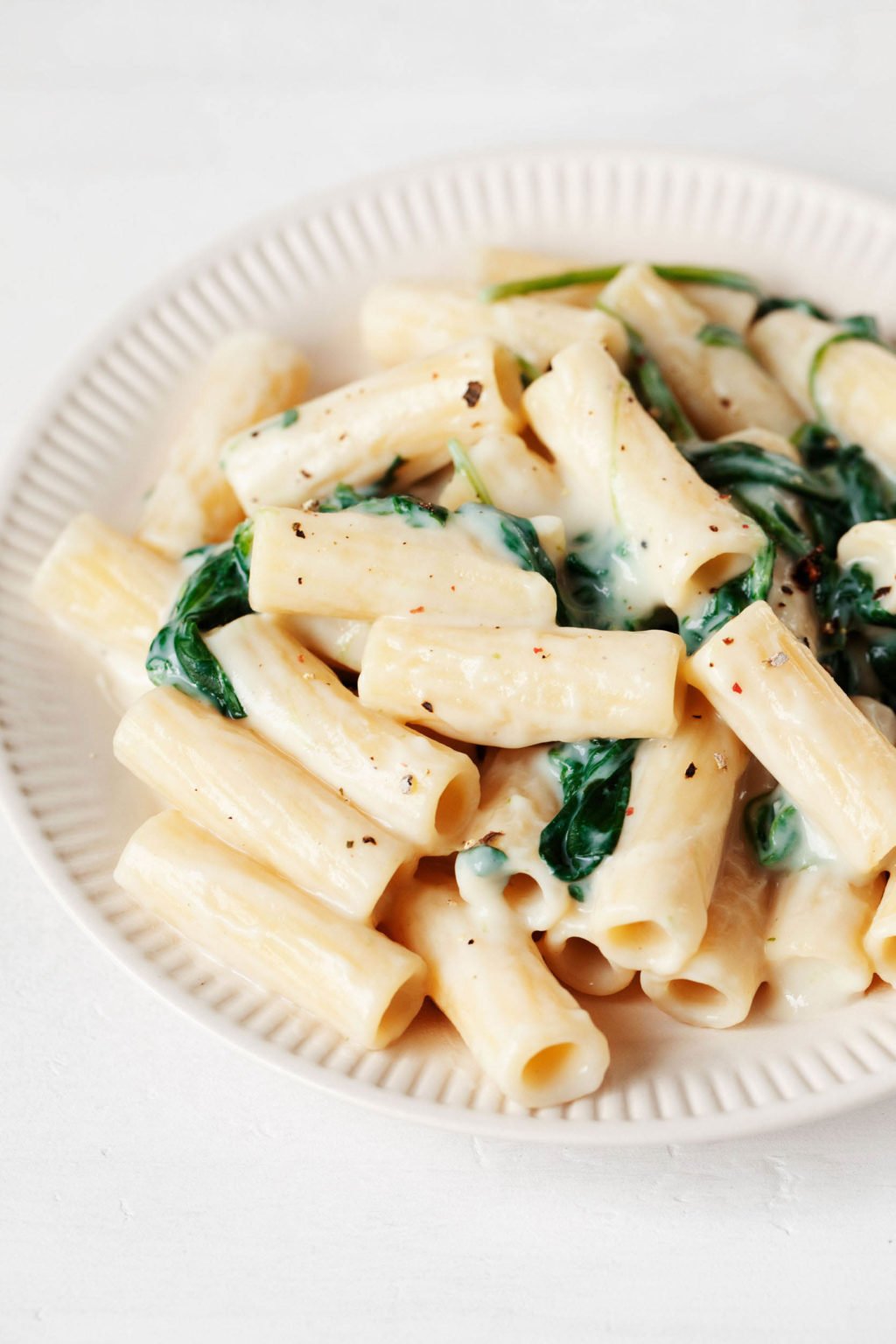 Hi friends! Thank you for the kind responses to Sunday's post. I'm happy to say that a new oven has been installed and inspected and deemed safe to use.
Speaking of that, I've moved into the dessert phase of my recipe testing endeavors. After long days of trialing batches of baked goods, it's a relief to have an easy, comforting, and nutrient-dense plate of pasta for dinner. The creamy cauliflower Alfredo sauce that I'm sharing today has made many such meals possible.
I've seen a bunch of recipes for cauliflower Alfredo sauce over the years. Most recently, I stumbled on this one from the folks at Purple Carrot, which looked great. I loved the idea of adding spinach to the finished pasta. I try to add greens to my meals whenever I can, and pasta is such a good vehicle for them.
In the last few weeks, I've experimented with a few batches of creamy, cauliflower Alfredo sauce. I decided to add a nut or seed to the sauce—more on that below—and I'm really happy with the result.
A pasta with prebiotics
Do you hear more and more about prebiotic foods these days? I sure do, and I'm glad that these foods are getting attention.
Prebiotic foods contain types of dietary fiber that feed probiotics. Probiotics are strains of bacteria that have been associated with health benefits, including digestive regularity, skin health, and immunity. Prebiotic fibers and probiotic bacteria have a synergistic relationship.
Prebiotic foods include garlic and onions, chicory root, Jerusalem artichoke, asparagus, pulses, spinach, and cruciferous vegetables. The crucifer family includes the cauliflower featured in the cauliflower Alfredo sauce.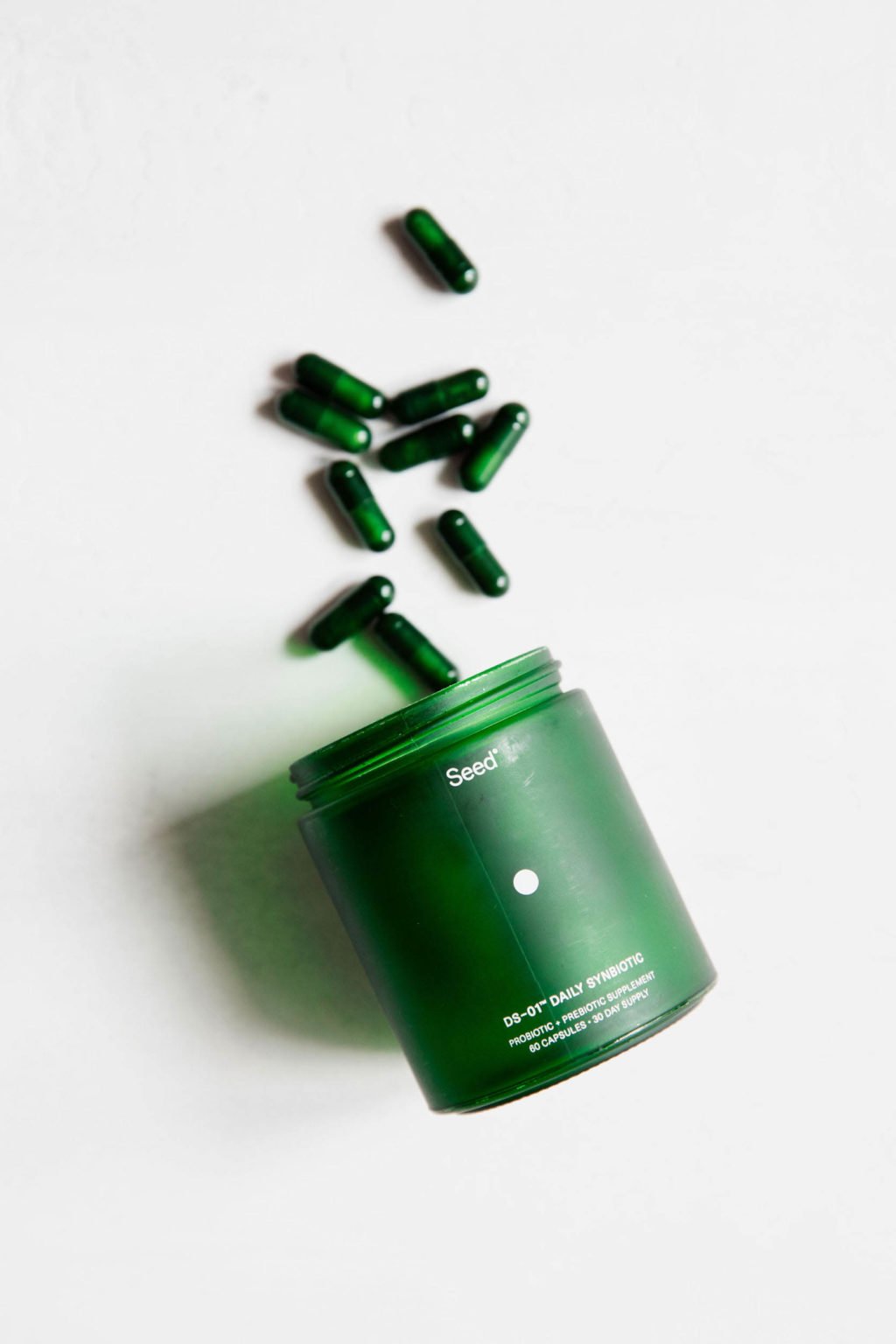 The Daily Synbiotic from Seed
I've learned a lot about prebiotic foods and the bacterial strains that they sustain this summer. Why? Because I've spent time getting to know the vegan Daily Synbiotic from Seed.
A synbiotic is a prebiotic + probiotic combined. Seed's Daily Synbiotic is a 24-strain, broad spectrum probiotic and prebiotic. It's formulated for digestive, gut immunity, and additional systemic benefits. I wrote about the Synbiotic earlier this summer, when I shared it in the company of a refreshing, kombucha berry smoothie.
Months later, I can report that I'm still taking and loving the synbiotic. It has supported me and contributed to my wellness through a summer that was a lot of fun, but also full of work stress and disruption. The Daily Synbiotic is now the probiotic+prebiotic that I recommend to clients and friends.
There are so many factors that make the Seed Daily Synbiotic unique. My favorites:
Sustainability
The Daily Synbiotic is delivered and packaged in a way that is gentle to the earth. The shipping boxis made from algae that would otherwise damage delicate marine ecosystems. The synbiotic arrives in a (very beautiful) reusable glass bottle. And refills arrive in bio-based pouches that are home-compostable, edible, and dissolve in water!
2-in-1 ViaCap Delivery Technology
The Daily Synbiotic is designed as a capsule-within-a-capsule. It has a prebiotic outer capsule made from Indian pomegranate that protects the inner probiotic capsule from stomach acid, bile salt, and digestive enzymes, ensuring 100% survivability to your colon. This prebiotic also protects the probiotic against moisture and heat. As a result, you don't need to store the synbiotic in the fridge.
The probiotic inner capsule contains Seed's proprietary formula of clinically and scientifically studied bacterial strains that support healthy regularity, gut barrier integrity, skin health, heart health, and so much more.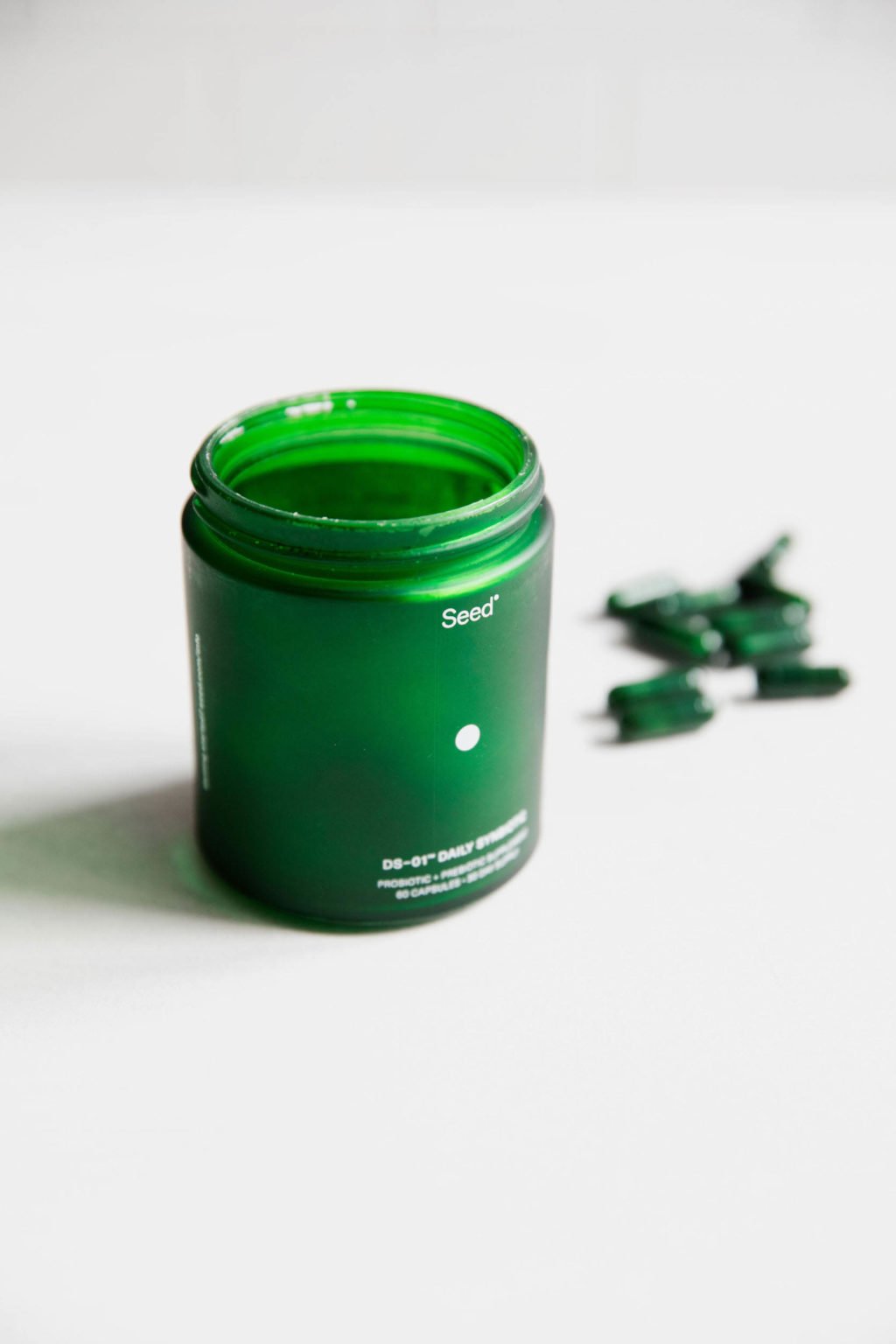 Responsibility
Seed's reference library contains information on the research that was called upon in the synbiotic's development. The synbiotic is currently being studied in two clinical trials. The reference library also includes information on the synbiotic's rigorous allergen, pesticide, and thermostability testing.
Seed is also passionate about clear communication. As part of my experience working with the brand, I needed to complete Seed University, a free online course on Instagram that outlined the science behind the product, the gut microbiome, and probiotics in general.
Some of it was familiar to me and some wasn't. I was very glad for an opportunity to learn. And I appreciated that the team at Seed is committed to evidence-based discourse.
Daily Synbiotic offer
If you'd like to try this earth-friendly, vegan Daily Synbiotic out for yourself, you can get 15% off your first month's supply of Seed's Daily Synbiotic by using code GENA15 at checkout on the Seed website.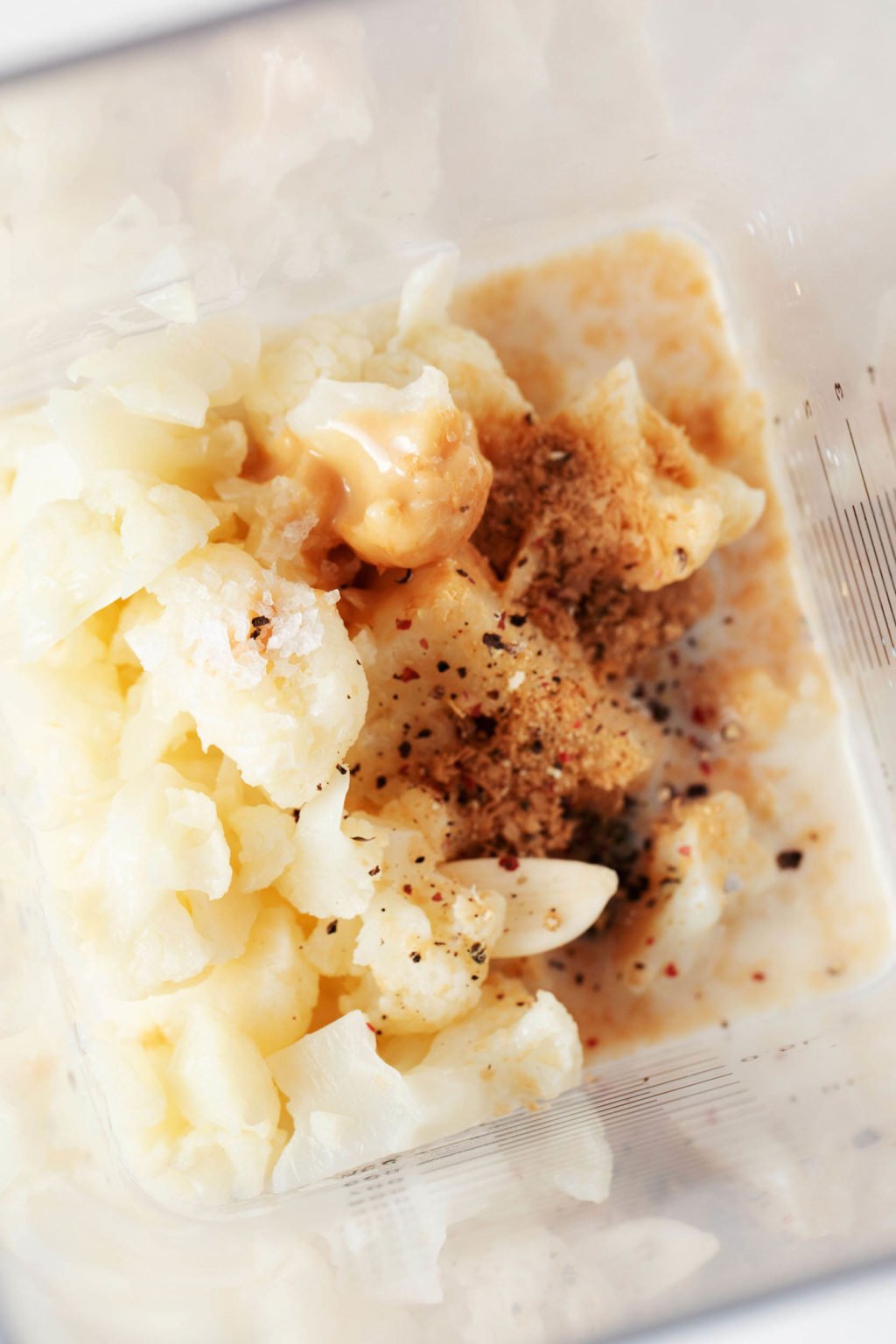 Cauliflower Alfredo sauce ingredients
This cauliflower Alfredo spinach pasta is created in partnership with my friends at Seed. I love this recipe for its nutrition and flavor. However, I also love the simplicity of its ingredients.
Cauliflower
Is there anything cauliflower can't do? Here, it provides a creamy and nutrient-dense base for a garlicky sauce. I'd love to try the cauliflower Alfredo sauce with broccoli in place of cauliflower at some point, but the color would of course be very different!
Nuts or seeds
I've made this sauce a few times, which means that I've had a chance to add different nuts and seeds. They increase the creaminess of the cauliflower Alfredo sauce, and they also add healthful fat and good nutrition.
For example, I've added tahini and cashew butter to the sauce. Each works well for creaminess. Cashew butter is a little sweeter, while tahini is slightly more bitter. I've also tried adding a few tablespoons of shelled hemp seeds, which are a great source of protein.
Finally, I've tried the cauliflower Alfredo sauce with soaked, raw cashews. Cashews are the basis of my simple cashew cheese and cashew cream. They work magic in creamy, dairy free recipes.
Nutritional yeast
Nutritional yeast adds a "cheesy" flavor to the cauliflower Alfredo sauce.
Garlic
The garlic in this recipe can be adjusted to taste. I'm sensitive to strong garlic flavor in cooking, so I have a light touch with it. If you love garlic, you should certainly add as much as you'd like.
White miso
Miso adds both saltiness and some umami to the cauliflower Alfredo sauce. If you don't have white miso at home, you can omit it and add a little extra salt to the sauce instead.
Non-dairy milk
Unsweetened plant milk is another source of creaminess for the Alfredo pasta. I like to make this recipe with unsweetened oat or soy milk; the latter will add some protein. Unsweetened cashew milk is also a good choice for the recipe.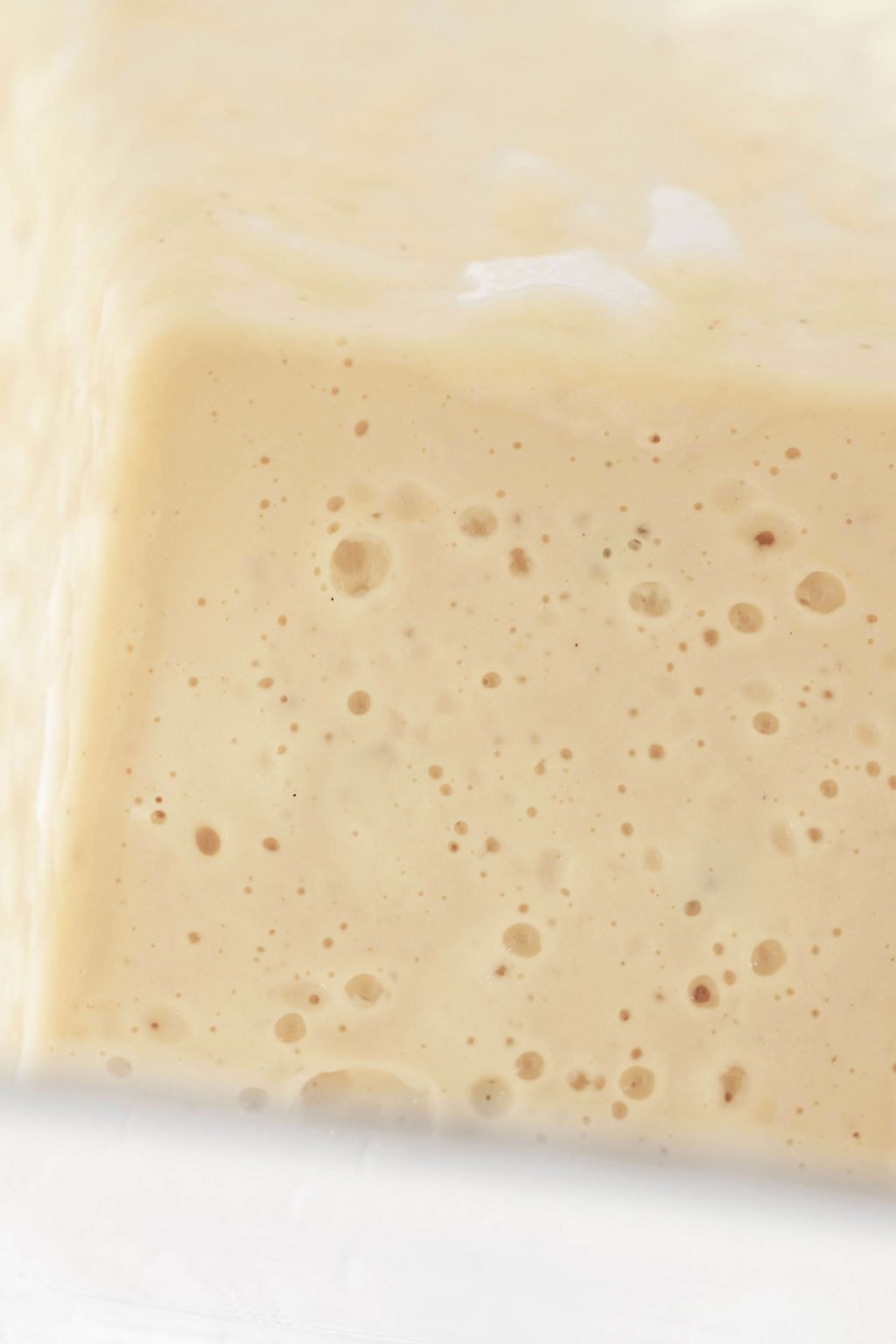 How to make cauliflower Alfredo sauce
Ease of preparation is one of the best things about this pasta. My goal when I made it was to combine as many steps as possible.
With that in mind, I used the same pot of boiling water to steam the cauliflower, boil the pasta, and cook the spinach. The cauliflower steams first. Then, you'll salt the cooking water and add the pasta. When the pasta is almost ready, you'll add the spinach to it.
The sauce itself is a breeze to make. Simply add your steamed cauliflower and other sauce ingredients to your blender and blend away.
Preparation & storage
You can use the cauliflower Alfredo sauce with pasta immediately after you make it. You can also store it for future use. The sauce will keep in an airtight container in the fridge for up to four days after you prepare it.
Can cauliflower Alfredo sauce be frozen?
Yes, you can definitely freeze the cauliflower Alfredo sauce. I like to do this in large, wide-mouthed mason jars. I'm careful to leave some head space at the top of the jar, which prevents the jar from cracks as the liquid inside freezes and expands.
The sauce can be frozen for up to six weeks.
Variations & additions
Spinach adds color and nutrition to an already wholesome pasta. However, you can add additional vegetables as you like. Broccoli florets, additional steamed cauliflower florets, cut green beans, peas, steamed zucchini or summer squash, and steamed kale would all make wonderful additions.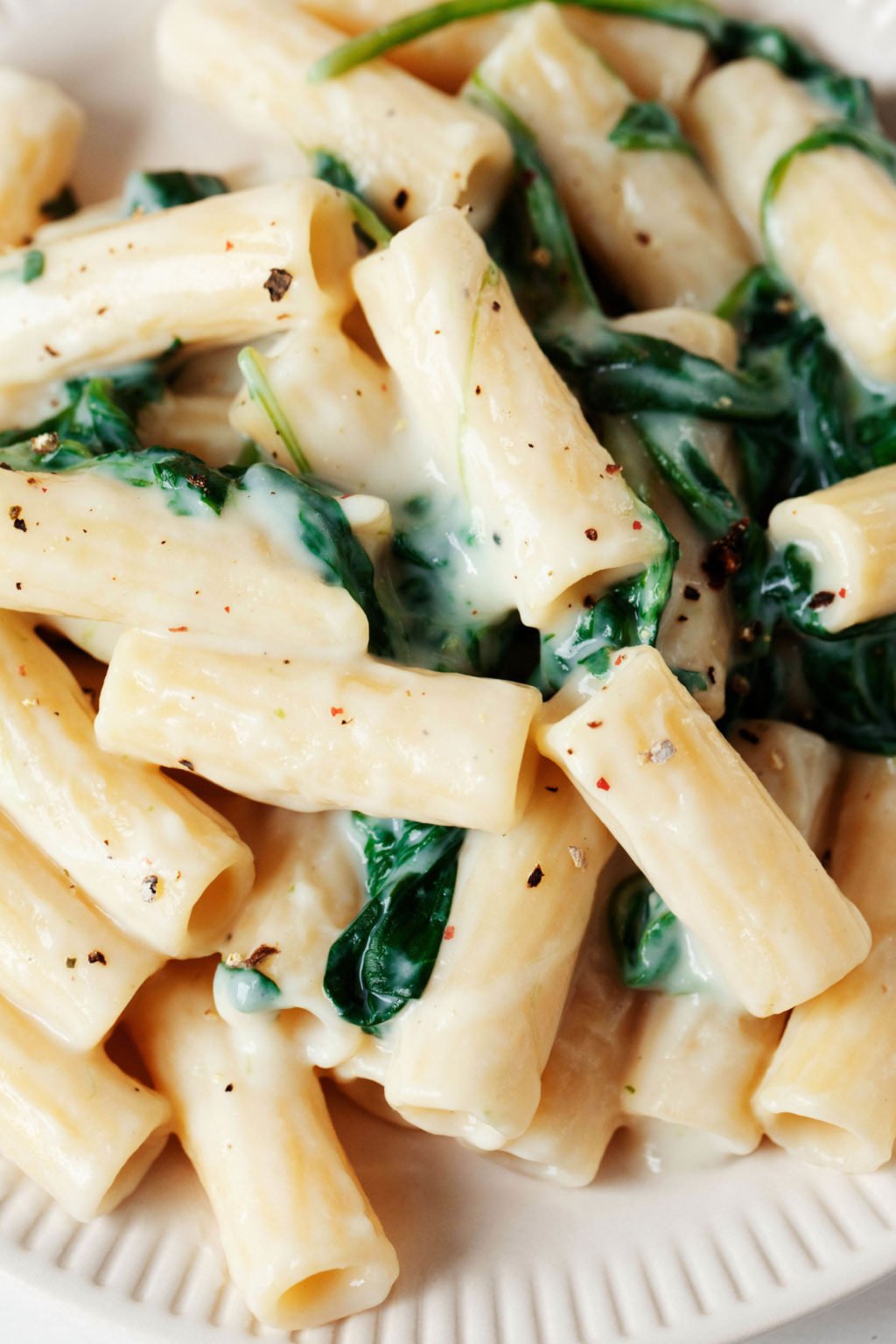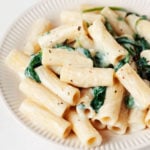 Cauliflower Alfredo sauce
1

small head cauliflower, thick stem removed and cut into florets and pieces

(about 1 lb after preparation)

1

cup

unsweetened oat, cashew, or soy milk

1/4

cup

nutritional yeast

1

tablespoon

white miso

1 1/2

tablespoons

freshly squeezed lemon juice

2

tablespoons

raw cashew butter, tahini, or shelled hemp hearts

(alternatively, you can use 1/4 cup soaked and drained raw cashews)

1

clove

raw garlic

1/2

teaspoon

fine salt

(extra for the pasta water, if making)

Freshly ground black pepper or crushed red pepper flakes, to taste
Pasta & spinach
8

ounces

medium pasta shape of choice

(I like penne, fusilli, casarecce, and rigatoni for this recipe)

A few big handfuls of baby spinach or washed and chopped kale leaves

cashew parmesan cheese

(optional, for serving)
Bring a large pot of water to a boil. Fit the pot with a steamer attachment. Steam the cauliflower till fork tender (about 10 minutes). If you're preparing the cauliflower Alfredo spinach pasta, reserve the boiling water.

To prepare the cauliflower Alfredo sauce, add the cooked cauliflower, milk, nutritional yeast, miso, lemon juice, nut/seed butter, hemp hearts, or cashews, garlic, and sea salt to a powerful blender. Blend till smooth. Taste and add freshly ground black pepper or crushed red pepper to your liking.

To prepare the pasta: remove the steamer attachment from the boiling water once the cauliflower is ready. Salt the water. Add the pasta and cook according to package instructions. In the last 3 minutes of cooking time, add the spinach or kale to the pasta and simmering water. 

Drain the pasta and greens and return them to the pot. Add the blended cauliflower Alfredo sauce. Mix everything and adjust salt as needed; add freshly ground black pepper to taste. Serve, topped with cashew parmesan if desired.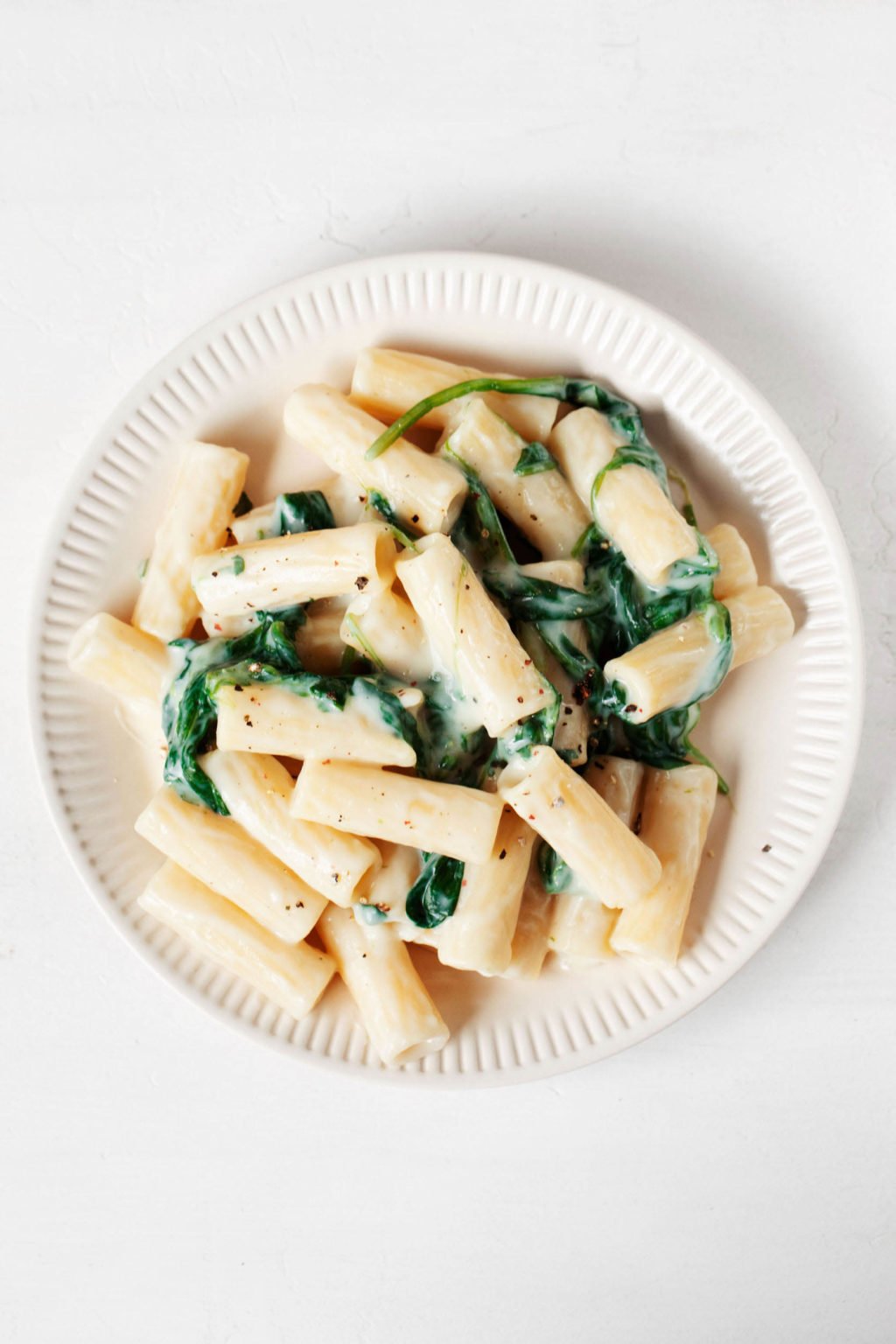 I hope that this simple pasta meal will bring you the same comfort and good nutrition it has brought me in the past few, hectic weeks.
The cauliflower Alfredo sauce itself is a versatile keeper. Use it with any pasta shape, drizzle it over baked potatoes or steamed greens, and so on. It'll deliver on nourishment and creamy goodness no matter what.
xo
This post is sponsored by Seed Daily Synbiotic. All opinions are my own. Thanks for your support!