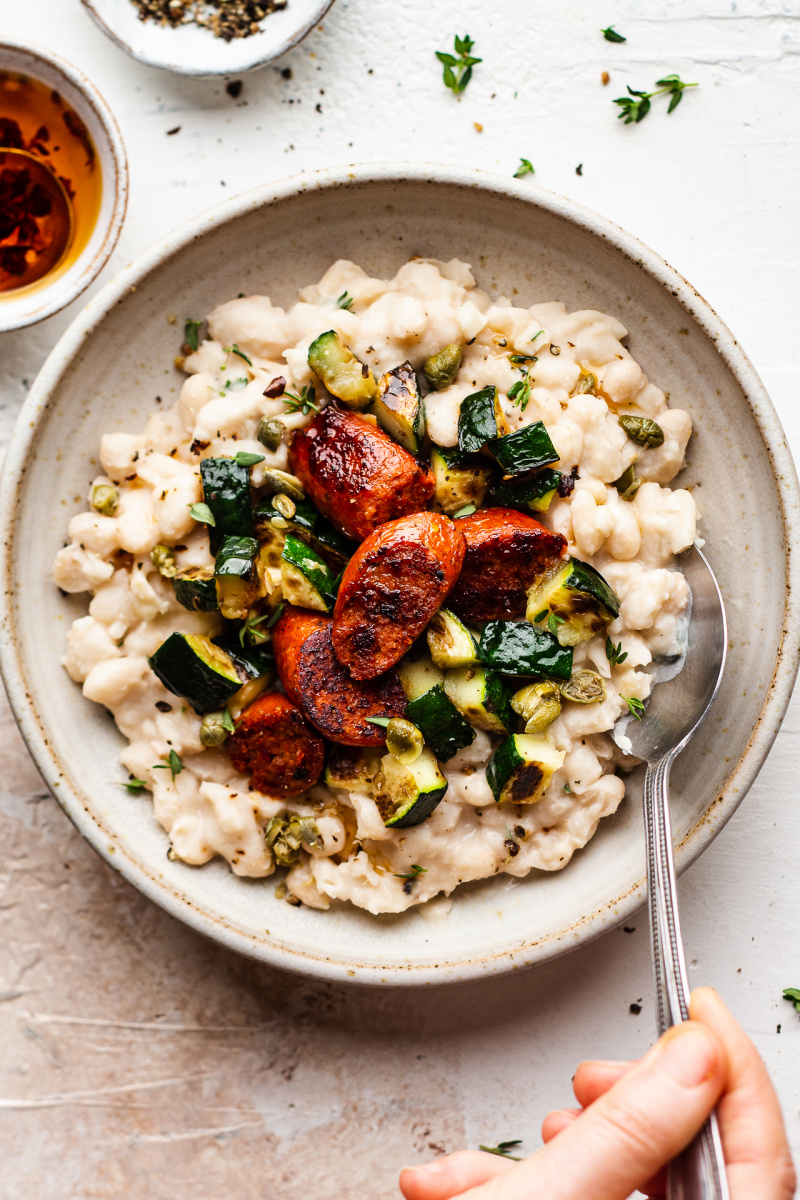 I hope you are having a good week and are full of beans! And if not, I'm certainly on a mission to set that right ? . It's funny how this saying basically implies that eating beans is key to wellness and happiness. And as it turns out it's damn right! Beans are one of the healthiest things to eat on the planet – I'm sure you have heard of Blue Zones?
In case you haven't, Blue Zones are five distinct places in the world where people have been found to live the longest and to be the healthiest. They could not be more geographically apart, they span across Japan (Okinawa), Italy (Sardinia), Costa Rica (Nicoya), Greece (Ikaria) and California (Loma Linda) yet what all these communities with the best health statistics have in common are certain lifestyle habits, one of them being a regular consumption of – yes, you guessed it! – beans!
Beans are little powerhouses of nutrition, they are cheap, easily available, store well and should be a healthy vegan diet staple food. With a little bit of knowledge and skill, you can transform a simple bag of beans into a comforting and nourishing dish that will have you hooked.
A common thing that makes people reluctant to consume beans is that they can cause an upset stomach, especially if you are not used to eating them on a regular basis. Like with most things, diving straight in and gorging on beans when your body isn't used to digesting them isn't a good idea. Ease in, start off gently, allowing your gut to develop relevant gut bacteria.
Another thing that helps with digestion issues, which I used to suffer from too BTW, is cooking your own beans from dry (which requires an overnight soak) and adding a piece of kombu (Japanese seaweed) to the simmering pot. As this Washington Post article explains: "Kombu contains enzymes that break down the raffinose sugars in beans, which are the gas-producing culprits. Once they are broken down, we are able to absorb more of the nutrients, and we can enjoy these legumes without as many intestinal complaints."
Flavourwise, beans are really versatile and go well with so many things, but I particularly love them with lots of garlic, thyme (or rosemary) and lemon. This simple Spanish-inspired recipe is what I've been enjoying for lunch for quite some time now. As I'm trying to shed a bit of pandemic-induced weight, this dish really sorts out my lunch as it's filling and extremely comforting while being low on calories too (if you are stingy with oil).
Cannellini beans, which sound Italian as they have been readily adopted in Italy, originate from Argentina and are beautiful in this dish. They keep whole when cooked but can also be decadently creamy when mashed and I like to have a mixture of both textures to keep things interesting. I simply sauté them in plenty of garlic and thyme, season with lemon and a dash of smoked paprika and top them with pan-fried vegan chorizo and zucchini, some chopped capers and a drizzle of chilli oil. When that gets boring, garlicky (of course!) pan-fried mushrooms and sautéed spinach or oven-roasted cherry tomatoes also make a great meal. I'm telling you, opportunities for texture and flavour are endless. I hope you'll give this simple midweek meal a go and that it will bring you some comfort if you do!
PS: If you make my cannellini beans with zucchini and vegan chorizo, don't forget to tag me on Instagram as @lazycatkitchen and use the #lazycatkitchen hashtag. I love seeing your takes on my recipes!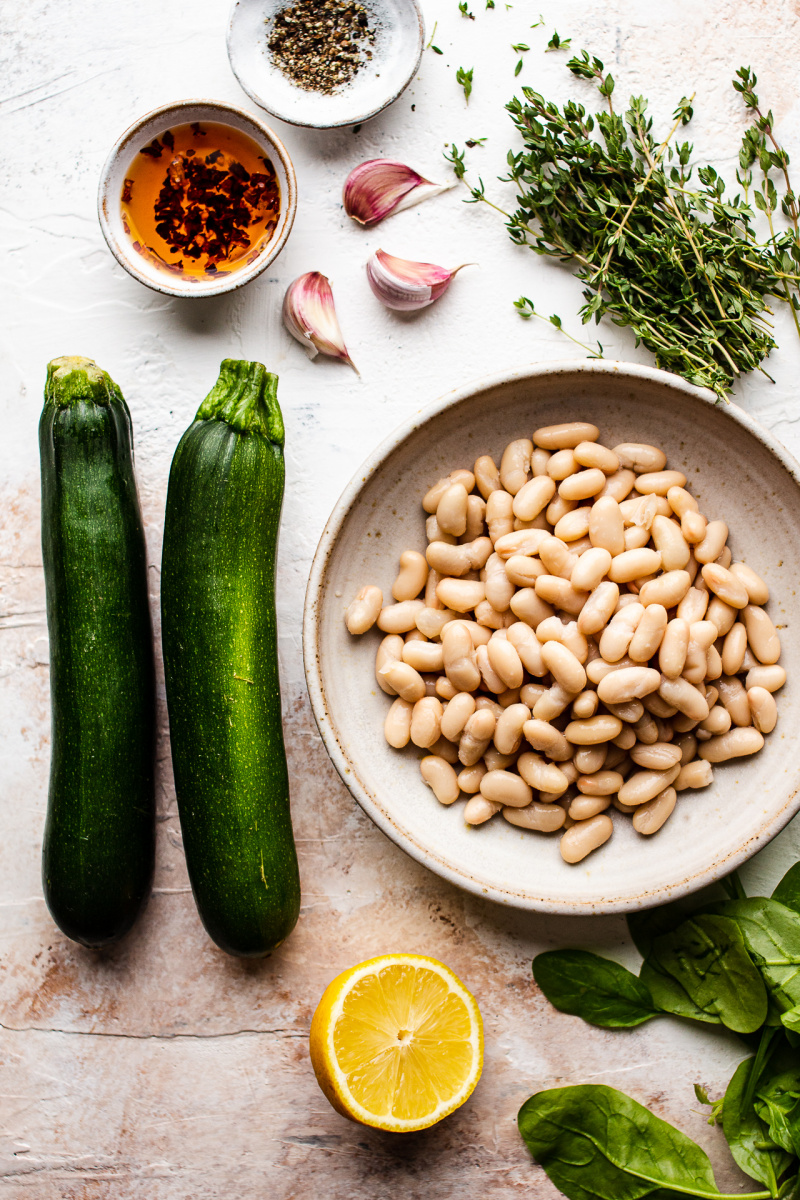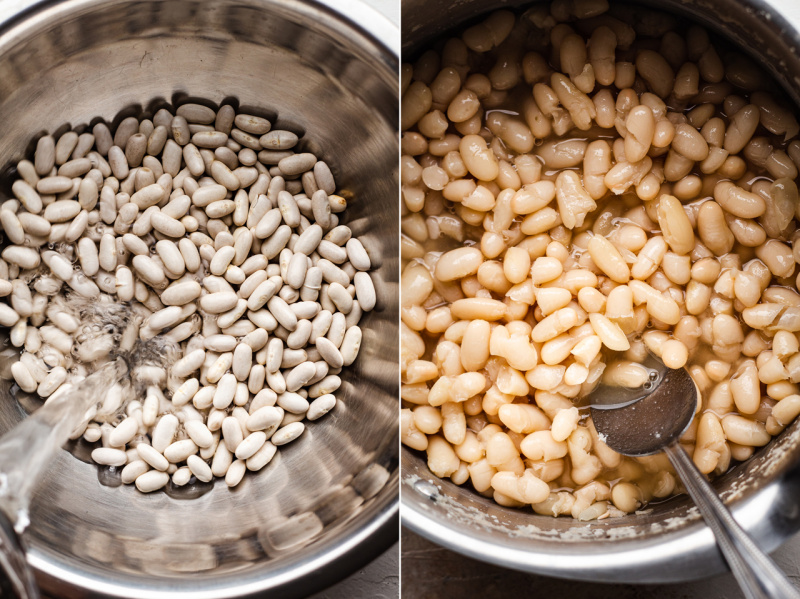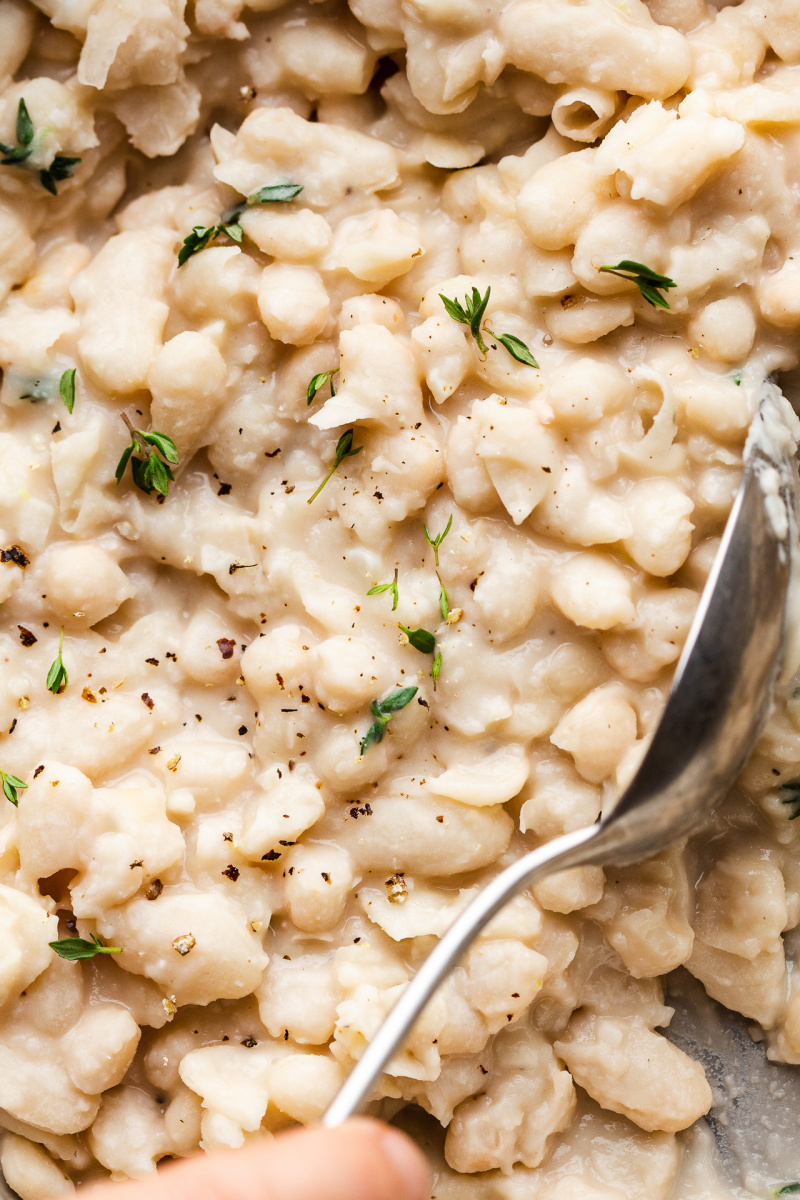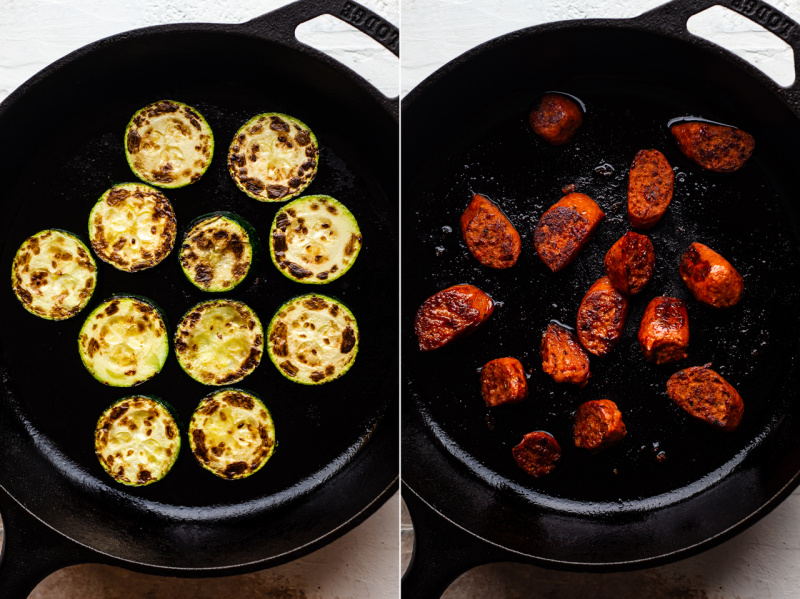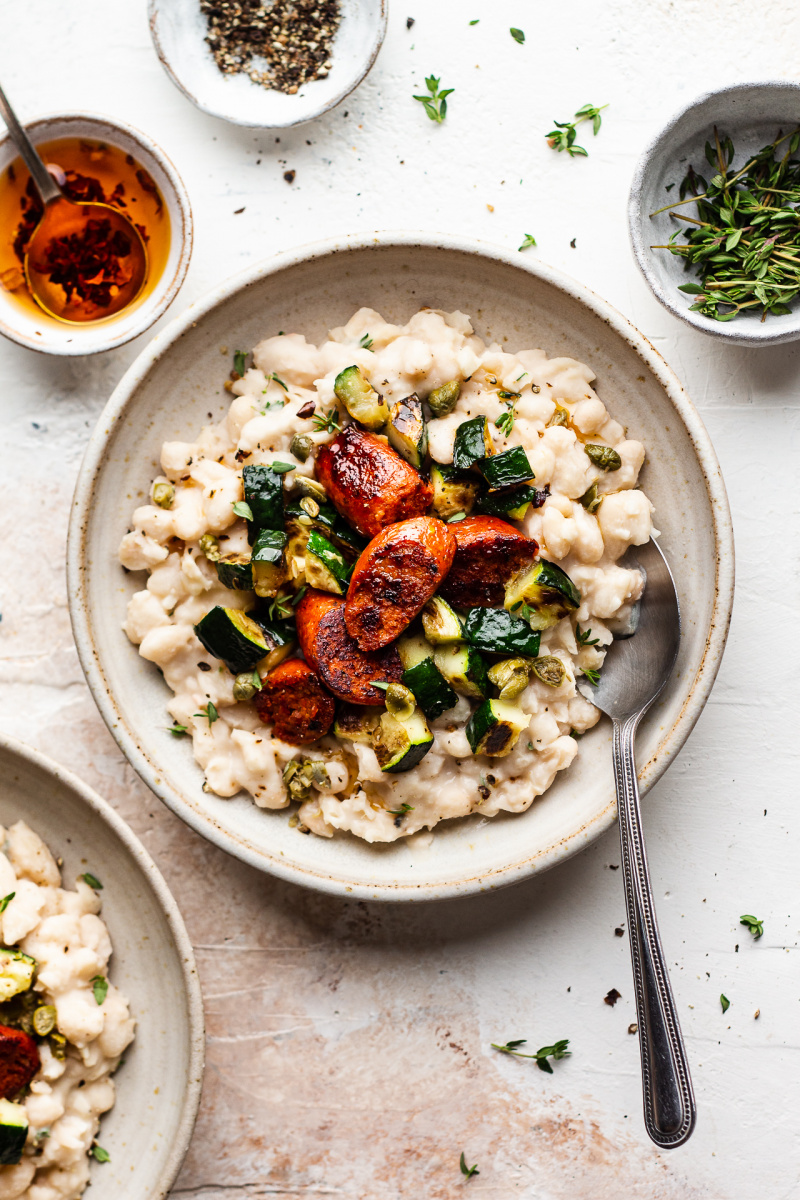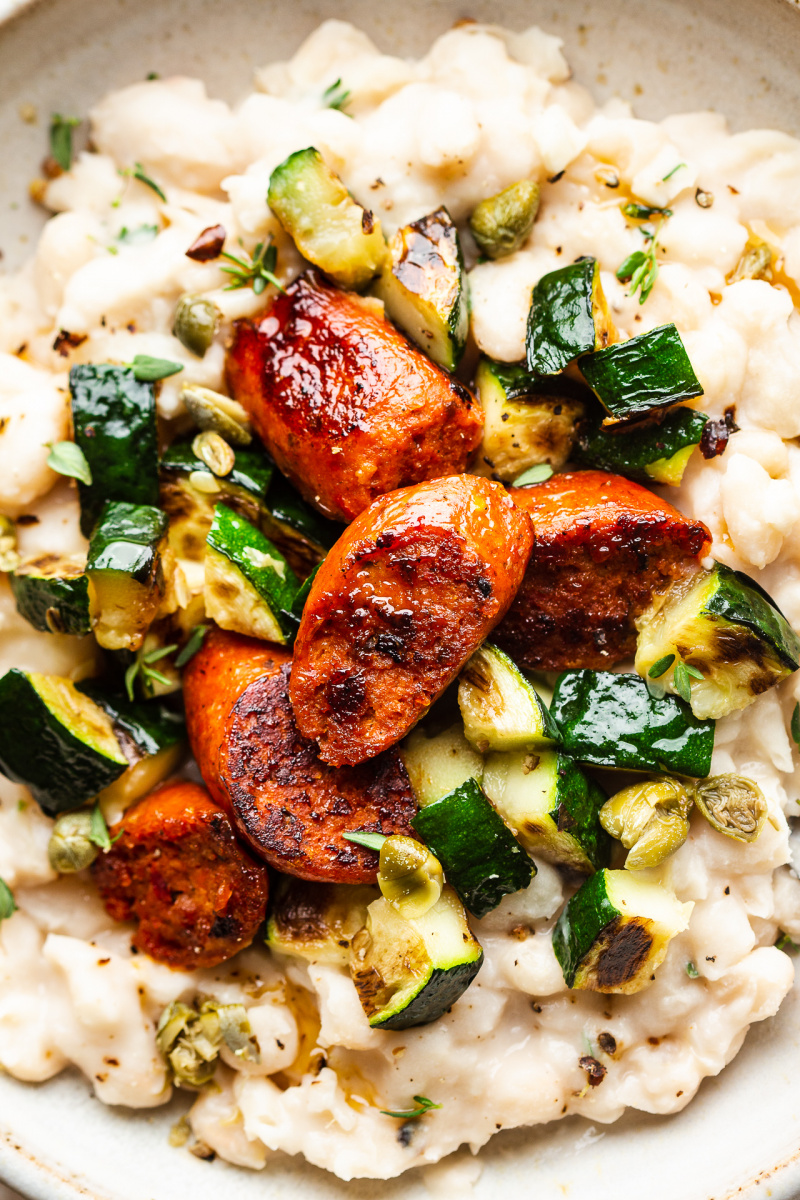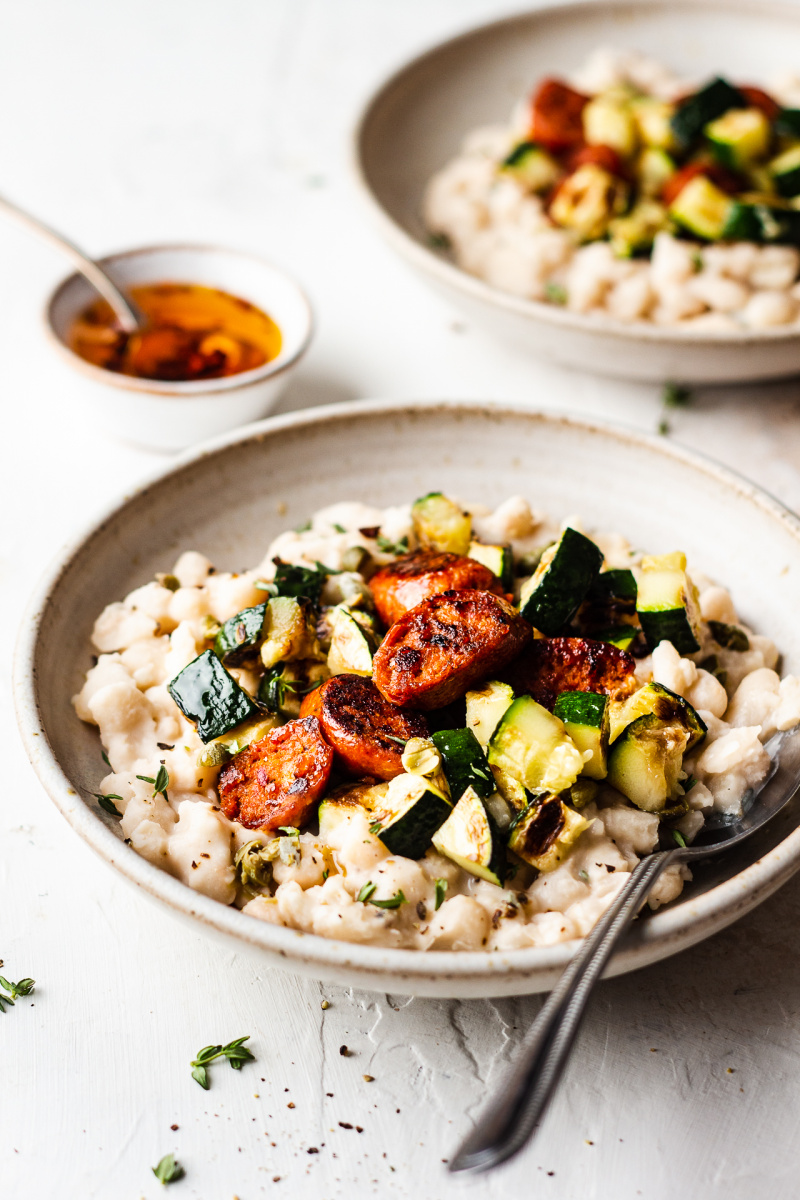 Ingredients
3-4 garlic cloves*, divided
salt and black pepper, to taste
2 tbsp / 30 ml olive oil, divided
8 sprigs of fresh thyme (or 1-2 sprigs of rosemary)
approx. 30 ml / 2 tbsp almond (or other) milk
2 x 400 g / 14 oz cans of cannellini beans (or 3 cups cooked*)
½ tsp smoked paprika, more to garnish
15-30 ml / 2-3 tbsp lemon juice, to taste
360 g / 12½ oz vegan chorizo sausages*
300 g / 10½ oz zucchini / courgette, thickly sliced
chilli oil, to serve (optional)
2 tbsp capers, finely chopped
Method
Chop 3 garlic cloves really finely. Slice the fourth one (skip if you don't love garlic) thinly, then sprinkle with some coarse sea salt and smash it with the side of a knife into a smooth paste. Scrape off the chopping board and reserve for later.
Heat up 1 tbsp of oil in a medium size pan. Once warm, add chopped garlic and sauté on low-medium heat, stirring frequently, until softened and fragrant but not coloured.
Add thyme leaves, a generous amount of seasoning, a splash of almond milk and drained beans to the pan. Using a fork, smash some of the beans and leave some whole.
Allow the beans to simmer gently for a few minutes, until hot and thickened. Add a splash more almond milk if needed.
Stir in garlic paste for a brighter garlic taste, season with smoked paprika and lemon juice to taste.
While the beans are simmering, heat up 1 tsp of olive oil in a heavy skillet. Slice chorizo on the diagonal into 1.25 cm / ½" pieces and pan-fry it until lightly charred.
Transfer fried chorizo to a plate, add another 1-2 tsp of oil to the skillet and pan and pan fry zucchini until lightly charred and blistered. Chop into smaller pieces.
Divide the beans between plates. Top with chopped capers, fresh thyme leaves and chilli oil (or quality olive oil) and pan-fried vegan chorizo and zucchini.
Notes
*GARLIC – if you prefer a mellower taste of garlic, you can replace the fresh clove with some roasted garlic cloves blended into the beans. To roast a garlic head, cut the top off, drizzle exposed cloves with a teaspoon of olive oil, wrap the entire head in kitchen foil / baking parchment and roast at 200° C / 390° F for about 30 minutes.
*DRY BEANS – if using dry beans (which I recommend), soak 1 heaped cup of beans in plenty of water overnight. Next day, drain and gently simmer in water until tender (about 75-90 minutes but the exact time depends on how old your beans are). To help your gut digest beans, add a piece of kombu (seaweed) to the pot. Discard after 30 minutes, do not let it overcook as it will disintegrate.
*VEGAN CHORIZO – I used M&S Plant Kitchen chorizo puppies in this recipe. If you are not keen on using vegan sausages, I also love having these beans with an assortment (I use chestnuts, oyster, shiitake but any will do) of pan-fried mushrooms and some sautéed spinach.
If you want more info on some of the ingredients that we use in our recipes, check out our
glossary
.