A 30-minute blender Burnt Basque Cheesecake recipe that has been tested more than three dozen times. Just blend, pour and bake. So easy that even the kids can make it. The easiest dessert in the world with a huge wow factor – delicious burnt top and creamy, custard-like molten center! Yum!
Jump to:
What is a Burnt Basque Cheesecake?
If you were to ever eat only one cheesecake, let it be the Burnt Basque Cheesecake. Invented in 1990 by chef Santiago Rivera of La Viña in San Sebastian, Spain; this bold and decadent dessert is a new and extremely popular addition to the culinary world. Called "Burnt" cheesecake due to its iconic almost-scorched dark surface, this cheesecake will have you begging for more.
A traditional cheesecake is cooked low and slow and often in a water bath in the oven. But a Burnt Basque Cheesecake is the opposite. You cook it at a high temperature for a shorter period to get that gorgeous burnt crust and silky, custard-like molten interior.
Why make my recipe?
I have baked this Burnt Basque Cheesecake 27 times! Each with different ingredient quantities, different temperatures and different-sized tins. I have been baking this cheesecake for the past 6 months and each bake has produced a delicious cheesecake. But I wanted it to be perfect, so I kept baking and my family loved the process. Who wouldn't love a delicious dessert like this pretty much every week for a few months? The recipe I share with you today is the best because,
You can make it in a blender! Just dump all ingredients in the blender, blend, pour and bake. So simple, even the kids can make it.
It is a solid, fool-proof recipe. It works. Every single time!
Follow my simple tips and you will get a stunning dessert everyone will rave about in just 30 minutes!
Unlike most Basque Cheesecake recipes, this is a smaller quantity. So you will get a regular-sized cake that will give you 8 small slices. Perfect for a small family or gathering of friends or even a couple to enjoy over a few days.
Ingredients
You only need 7 ingredients to make this delicious basque cheesecake
Full-fat cream cheese – Make sure this is at room temperature and chopped into tiny pieces.
Thickened cream – This is cream usually thickened with gelatine or equivalent thickener and has minimum 35% fat. This is the best cream for a gooey, custard-like center. You can use heavy cream as well.
Sugar – I use granulated raw sugar. It has a golden colour and adds to the richness and caramel tones. You can use granulated white sugar as well.
Eggs – Eggs should be at room temperature and approximately 60g each (whole). Free-range, fresh eggs have a higher viscosity and are perfect for this recipe.
Cornstarch – Also known as cornflour, this is the fine white powder used to thicken soups and sauces. You can substitute with plain flour or even leave it out completely. The burnt basque cheesecake still turns out delicious.
Vanilla
Salt
How to make Blender Burnt Basque Cheesecake?
Soften cream cheese at room temperature and cut it into cubes.
Add all ingredients for basque cheesecake in the jug of a blender.
3. Blend basque cheesecake batter until very smooth and lump free.
4. Line an 8-inch round cake tin twice with baking paper. Make sure a lot of the paper is overhanging.
5. Pour basque cheesecake batter into the prepared tin and allow it to sit for 5 minutes.
6. Pop the surface bubbles with a chopstick.
7. Bake burnt basque cheesecake as per the recipe.
8. Remove from oven and cool completely in the cake tin. The cheesecake will sink as it cools.
Serving Suggestions
The burnt basque cheesecake needs to be chilled in the fridge overnight before eating. Once the cheesecake has cooled to room temperature, cover the cake tin with aluminium foil or clingfilm and place in the fridge for at least 6 hours to chill. I like to loosely wrap my cake tin with the cheesecake in it with a large tea towel before placing in the fridge.
Before serving, get a large clean knife and a thick paper/cloth tea towel ready. Make the first cut. Because the burnt basque cheesecake is like custard on the inside and extremely gooey, the knife will have a fair amount of gooey cheesecake stuck to it. Wipe it off gently with the paper/cloth towel and make the second cut to get a neat and clean slice. Repeat this process for every cut you make into the cheesecake in order to get neat slices.
Serve this gorgeous burnt basque cheesecake with Pedro Ximenez sherry (I use the Barbadillo brand). We also love the Kellermeister Sable Chocolate Tawny and Galway Pipe 12-Year Old Tawny Port wine.
Basque Cheesecake Tips
Recipe FAQs
Why is my burnt basque cheesecake grainy?
If the cream cheese is not at room temperature, your cake will become grainy. Make sure the cream cheese softens completely at room temperature before you add it to the blender.
Why is my burnt basque cheesecake not smooth and molten?
The most important factor for baking the perfect basque cheesecake with a smooth, custard-like molten center is baking time and temperature. The cheesecake should be baked at a high temperature for a short amount of time (in this case 240°C for 30 minutes). It should be removed from the oven when it is still not completely set as soon as the baking time in the recipe is reached. If you shake the pan lightly, the cheesecake should jiggle. This means your basque cheesecake will be smooth and molten when cooled and chilled.
More Cake & Dessert Recipes
Recipe
Hungry For More Recipes? Subscribe to my newsletter. Check out Facebook, Instagram and Pinterest to see everything I share! And if you love cooking and new cookbooks, join my free Cooking Club on Facebook!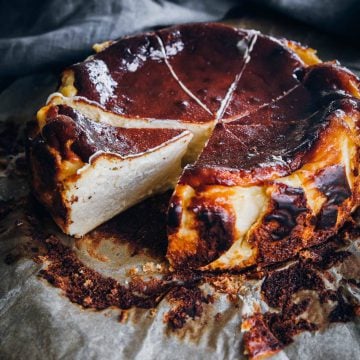 Add all ingredients in the jug of a blender and blend for 2-3 minutes until very smooth.

Pre-heat oven at 240°C (pre-heat for at least 30 minutes)

Line a 20cm round springform cake tin with baking paper (2 sets).

Pour the cake batter into the tin. Tap the tin on the countertop to release the air pockets. Allow the cake batter to sit in the tin for 10 minutes. Use a bamboo skewer or chopstick to swirl through the batter and to pop the air bubbles on the surface.

Place the tin in the hot oven and bake at 240°C for 30 minutes. Remove from the oven and allow to cool completely at room temperature. The cake will puff up a lot during baking and collapse and sink as it cools.

Cover the cooled cake with a sheet of aluminium foil and chill in the fridge overnight or at least 6 hours.
Eggs should be at room temperature and each whole egg should weigh approximately 60g.

The total cracked weight of 4 eggs should be approximately 210g.

How you prefer the cheesecake is a personal preference. I love it with a molten, gooey center which is how traditional basque cheesecake is. My boys prefer a firmer basque cheesecake. You can bake for an additional 1-2 minutes than what the recipe calls for. This changes the texture of the cake to your liking and also makes the top darker.
a. 30 minutes – creamy, firm custard-like middle with a slightly gooey molten center. (My preference)
b. 31 minutes – creamy, firmer middle, darker top.
c. 32 minutes – more cheesecake-like texture, much darker top.(my boys love this version)
d. 33-34 minutes – firm cheesecake texture, super dark top.
Cornstarch can be replaced by sifted plain flour. Also known as cornflour in some parts of the world, this is the fine white powder used to thicken soups and custards.
Make sure all ingredients are at room temperature – especially cream cheese, cream and eggs.
Chop cream cheese into smaller pieces before adding to the blender to ensure a smooth batter after blending.
Calories: 520kcal | Carbohydrates: 71g | Protein: 2g | Fat: 26g | Saturated Fat: 12g | Polyunsaturated Fat: 6g | Monounsaturated Fat: 6g | Trans Fat: 0.01g | Cholesterol: 42mg | Sodium: 131mg | Potassium: 92mg | Fiber: 2g | Sugar: 66g | Vitamin A: 555IU | Vitamin C: 0.3mg | Calcium: 69mg | Iron: 1mg
My Recipes, Your Inbox. Sign upE