The boys and I love making kale chips in the oven because it's a quick way to whip up one of our favorite easy keto friendly snacks.
We've been baking kale chips from scratch for more than a decade, and the entire family is addicted. In fact, my husband eats them as fast as we can make 'em.
Healthy Easy Recipe for BBQ Kale Chips in Oven
There are a couple of magical ingredients in this healthy easy recipe that give it tremendous flavor.
My BBQ Kale Chips start with a piquant spice rub combined with macadamia nuts to provide luscious fat and great texture that's rounded out with nutritional yeast, which adds a cheesy zing.
Healthy Low Carb Snacks
While we love any and all kale chips, we find that this recipe for low carb Barbecue Kale Chips yields an especially crispy, crunchy, keto snack.
With just one taste, it's goodbye high carb, processed potato chips, hello healthy kale chips!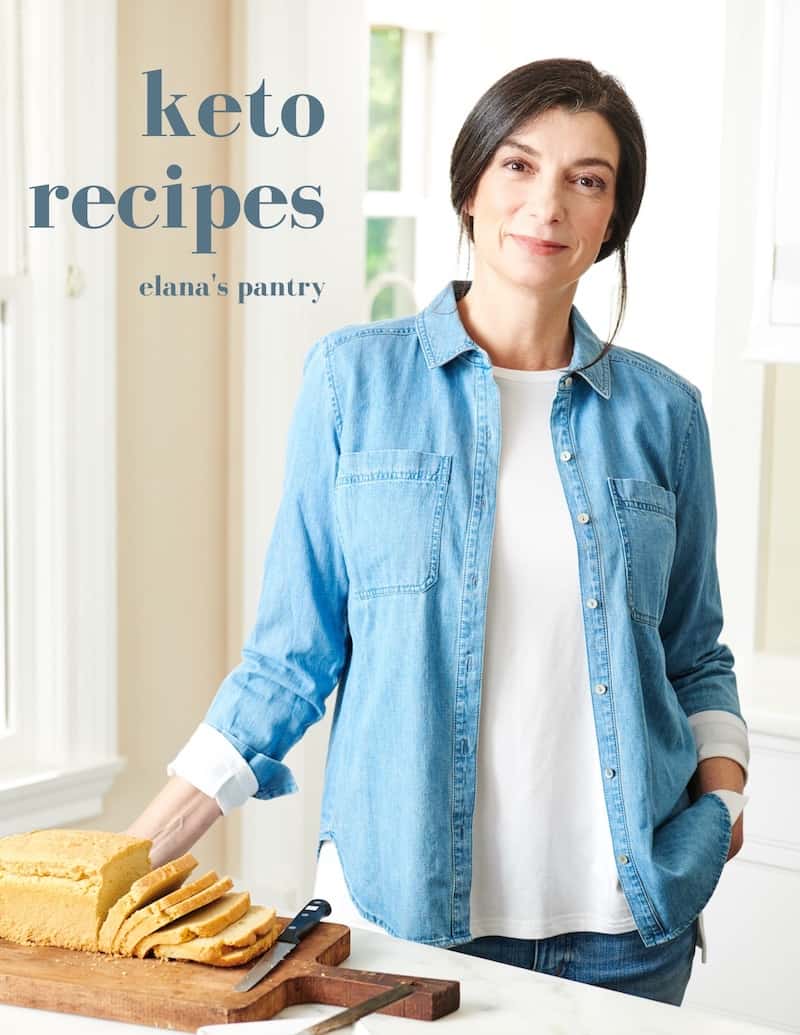 Get My Keto Recipes eBook
Free exclusive eBook, plus recipes and health tips, delivered to your inbox.
Instructions
Tear kale into 3-inch pieces, discarding stems

Massage oil into kale

In a food processor, briefly pulse yeast, macadamia nuts, and seasoning to texture of gravel

Massage seasoning into kale

Bake at 300°F for 25-30 minutes until crispy

Cool

Serve
Prep Time 10 mins
Cook Time 25 mins
Total Time 35 mins
Prevent your screen from going dark
Recipes to Make with 5 Ingredients
This easy homemade snack recipe is made with 5 healthy ingredients, starting with a dark green vegetable, kale, that's great for activating the methylation pathway.
Curly Kale
When it comes to kale, I use curly kale in my BBQ Kale Chips recipe because the increased surface area makes 'em crisp up quite nicely.
Just recently, I made these kale chips with lacinato kale, and this worked too.
I like varying the types of kale I use in this family friendly recipe to give my gut microbiome a nice variety of foods and fiber sources.
Organic Italian Olive Oil
When it comes to olive oil, truth be told, I'll use just about anything that's organic, whether from Italy, Greece, or California.
Olive oil is key to the crunch when making baked kale chips in the oven. Don't omit this crucial ingredient!
Organic Macadamia Nuts
The organic raw macadamia nuts provide a wonderfully rich mouthfeel to my BBQ Kale Chips, adding a rich, fatty base to carry the spicy, cheesy flavors.
Given that organic macadamia nuts are so pricey, I often switch it up and use conventional for this ingredient.
Is Nutritional Yeast Gluten Free?
I know you must be wondering –nutritional yeast in kale chips? Yes. Nutritional yeast adds a zesty, cheesy flavor to this dairy free recipe and is also full of nutritious B vitamins.
Primal Palate BBQ Rub
The amazing barbecue spiciness in this recipe comes from Primal Palate Barbecue Rub. I love this rub and so do my boys. They use it for grilling everything from poultry to meat and seafood to veggies.
This rub is so magical that one of the boys' friends compared the flavor of our Barbecue Kale Chips to Doritos!
Feel free to experiment with other flavor combinations and leave a comment to let me know if they work.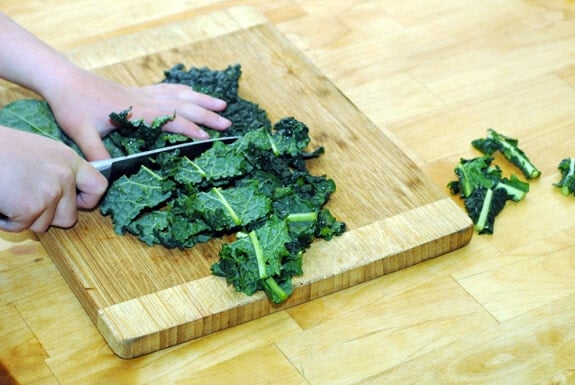 How To Prepare Kale
See those little hands above? They belong to my older son –I took that photo when he was 8 years old, and I was teaching him How to Prepare Kale.
I still remember that day like it was a minute ago, even though he is now in his mid-twenties.
How to Massage Kale
After we prepped the kale, washing and spinning it dry, I taught him how to massage the olive oil into it, which is as intuitive as it sounds.
What is Roasted Kale?
Wondering what's the difference between kale chips and roasted kale?
Kale chips are a form of roasted kale, but kale chips have added seasoning.
Kale Chips Baked in Oven
I bake my kale chips in the oven because it's quick, healthy, and easy. I've been to restaurants that deep fry their kale chips.
I'm not a fan of this for two reasons. First, deep fried foods can be a little taxing on the liver; second, if you're frying at home, the mess is unparalleled.
All in all, kale chips that are baked, not fried, are far easier to make and healthier too!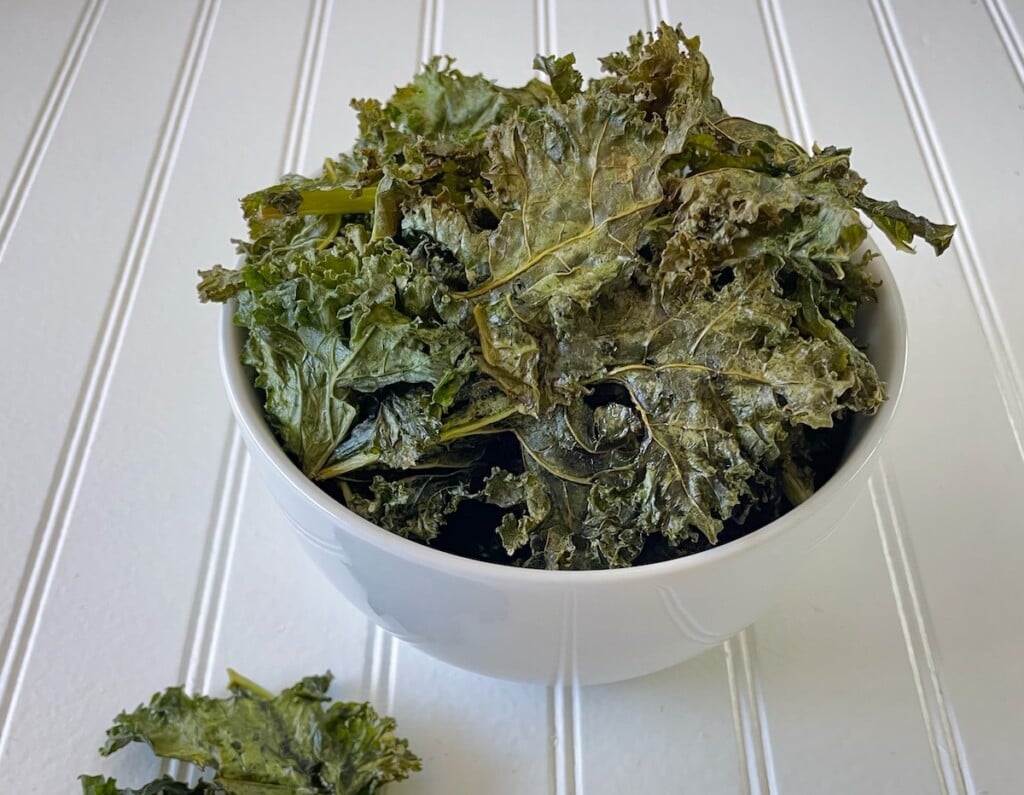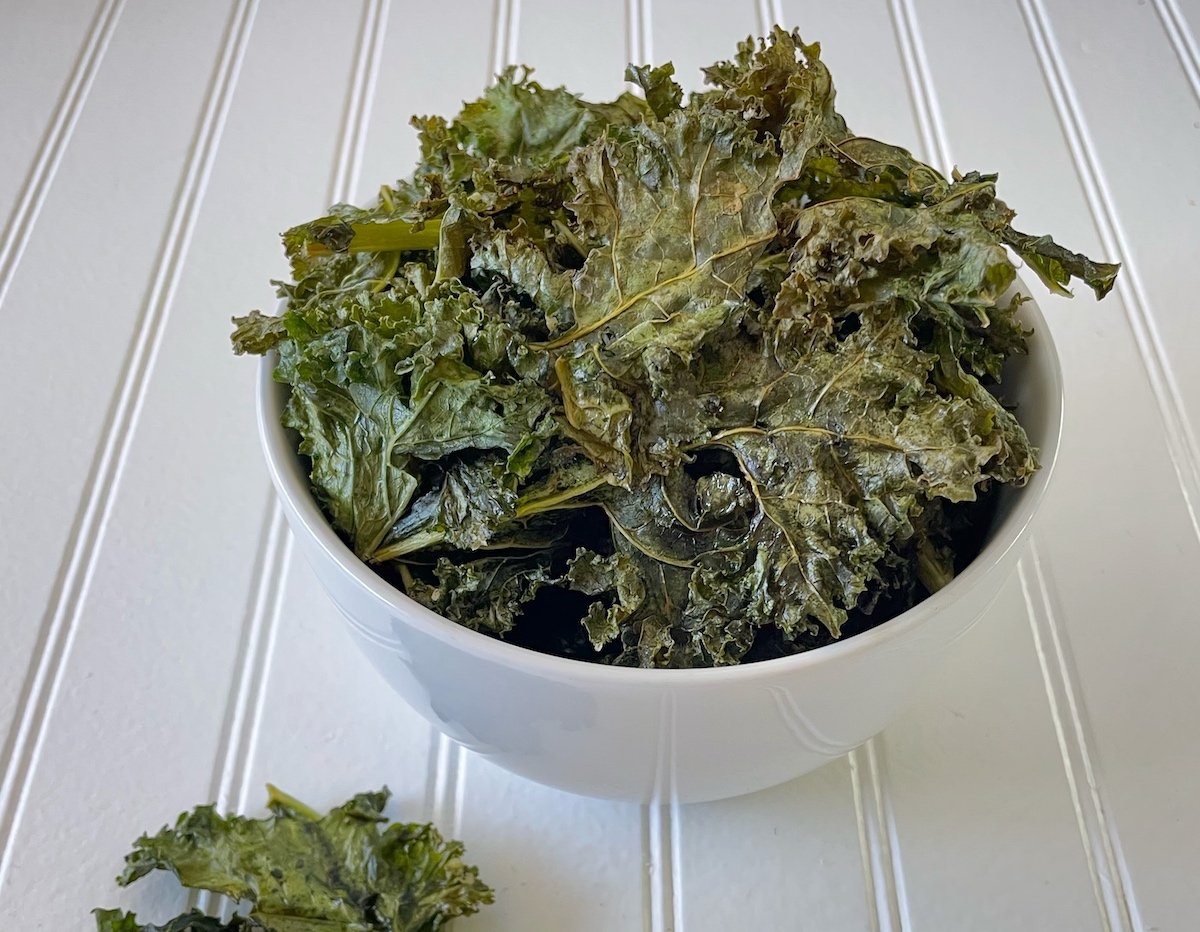 Salt and Vinegar Kale Chips Baked
Looking for more kale chips baked in the oven? Try my Salt and Vinegar Kale Chips recipe.
If you love salt and vinegar potato chips but follow the SCD (also known as the Specific Carbohydrate Diet), Salt and Vinegar Kale Chips are for you.
Healthier Foods to Eat: Kale
Kale is high in fiber and antioxidants, as well as the following nutrients:
Calcium
Vitamin A
B Complex
Vitamin C
Potassium
Did you know that ounce for ounce kale is higher in calcium than milk? This leafy green vegetable has around 250mg of calcium per 100g, while milk has around 110mg per 100g1 .
Keto Snacks
Looking for more healthy, nutrient dense snacks? Try my:
Family Friendly Recipe
This family friendly recipe is such a hit in our house that one of my younger son's friends used to request it every time he came home with my son from tennis practice.
I hope you and yours enjoy it as much as we do!
This post is an oldie but goodie from the archives. I first shared my BBQ Kale Chips in Oven recipe in 2016.