I make a lot of frittatas. They fill your belly, allow you to put neglected ingredients in your refrigerator to good use, and deliver a one-pan meal that is nutritious and filling. Breakfast, lunch, dinner – if you've got a six-pack of eggs on hand, a simple, satisfying meal is never more than a few minutes away.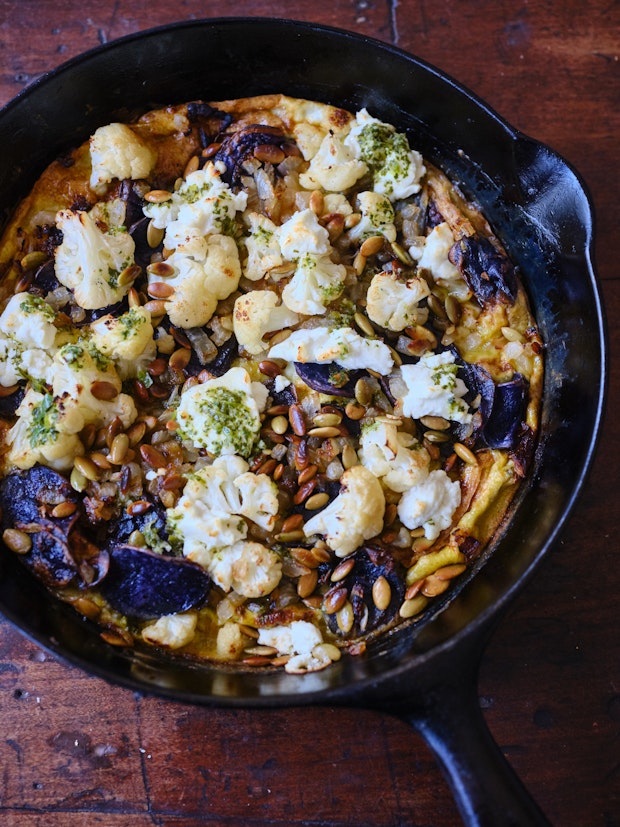 Frittata Inspiration
This particular frittata recipe was inspired by a few things – a small bag of little potatoes I picked up at the market, and some delicious vegetables that came courtesy of a nutrient-packed mystery box I picked up regularly from Mariquita Farm when I lived in San Francisco. That's what great about knowing how to cook a great frittata. You can switch it up using all sorts of different ingredients. And they're great for breakfast, brunch, lunch, or dinner. 
The Special Sauce
I'll let you in on a little secret, the magic touch in this particular frittata is the vibrant cilantro chile sauce I drizzle over the top of it. Drizzle the sauce over the eggs just before the frittata goes into the oven, then layer the potatoes and onions on top of the sauce – everything melds together into a color-flecked pan of deliciousness. The pumpkin seeds add just the right amount of crust – playing off the creaminess of the eggs and goat cheese. The cilantro sauce would also be delicious on Lori's Skillet Smashed Potatoes or these oven fries.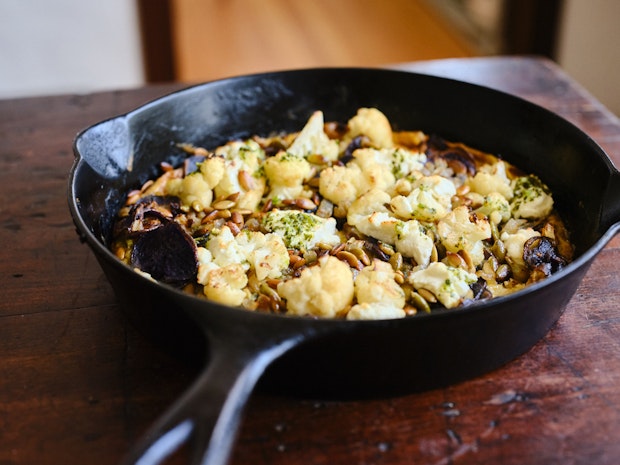 What is the Best Frittata Pan?
The main thing to think about when choosing a frittata pan is making sure it is oven-safe. I always reach for my well-seasoned cast iron pan. A lot of people like to use non-stick pans any time they cook eggs, and that is fine. For this recipe just be sure whatever you choose can handle a few minutes in a very hot oven. I love finishing my frittatas in the oven because they puff up, the eggs set up nicely, and the whole frittata comes together beautifully.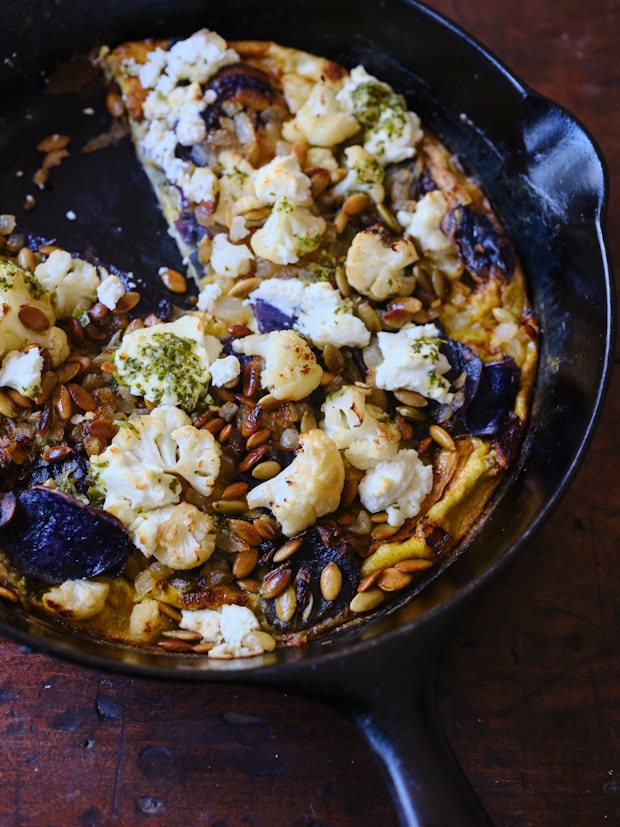 Favorite Frittata Variations
I switch up my frittatas a thousand different ways. Some favorite ways: add a big dollop of green or red curry paste to the whisked eggs. Sriracha is also fair game. You can switch up the cheese, or nuts, or top them with just about any pre-cooked vegetables. I love broccoli, or asparagus, or mix chopped kale into the egg mixture.
Give this a try! Other favorite egg recipes include: deviled eggs, egg salad sandwich, this skinny omelette, and pickled turmeric eggs. If you're looking for more brunchy breakfast recipes don't miss this healthy granola, or the best waffle recipe, these homemade cinnamon rolls, classic pancakes, tofu scramble, Herb Cream Cheese Scrambled Eggs, and the baked oatmeal is always popular!