Tofu scramble is the ultimate high-protein vegan breakfast! It's a quick and adaptable meal that can be modified in countless ways. Here are seven of my go-to, protein-packed tofu scramble recipes.
I'm all about breakfast this month, as back-to-school season kicks off.
For me, September isn't just about the literal return to school—though I do get excited to watch my friends' kids enter new grades. Early fall is all about getting back to business. It's a time to refocus. I'm hoping that the crisp weather and change of seasons will give me fresh energy to create.
School, work, and all of our other commitments demand good fuel. September and October always encourage me to look after my nutrition. They remind me to plan, prep, and keep a fridge stocked with wholesome staples, like dressings, whole grains, and beans.
The fall season also inspires me to try new recipes. I'm really hoping that's the case this year, given how tough cooking was for me this summer. No matter what, I can count on cooler weather to inspire new baking projects.
None of the creative energy or industriousness that I'm hoping for will be possible with a steady rotation of nutrient-dense vegan breakfasts. Breakfast is a cornerstone of my routine, the food that powers my day. I love my morning meals—and there's no breakfast I love more than tofu scramble.
Why tofu scramble is my number one breakfast
If I had to pick a favorite breakfast, tofu scramble would be it. Yes, I love many other breakfast foods. But tofu scramble wins for the intersection of flavors that I enjoy, satiety that lasts me hours, and nutrition that warms my vegan registered dietitian's heart.
Do I always make scramble in the morning? Honestly, no. If frequency of eating were proportional to enjoyment, I'd have a scramble four or five times each week. But even though it's quick by most recipe standards, tofu scramble is more hands-on than, say, toast. Or oatmeal.
As it is, I probably make myself a tofu scramble every other week. One of my favorite things about this meal is the fact that the leftovers keep well. When I do prepare it, I always enjoy it for the next few days in leftover form.
A versatile morning meal starter
Here's what else I love about tofu scramble: versatility! It's is a meal unto itself, but it can also be a meal starter.
Here is a short list of the many, many things I like to do with my tofu scramble:
Put it into breakfast tacos
Layer it on toast
Serve it with a (vegan) buttered English muffin
Use it as the protein component of a vegan bowl
Add it to vegan fried rice
Use it as an ingredient in vegan nachos
I'm sure I'm missing a lot of creative ideas. But the options above are enough to illustrate that one batch of tofu scramble has a lot of utility.
Tofu scramble nutrition
From a morning nutrition standpoint, tofu scramble can't be beat.
All of the recipes that follow are great sources of plant protein. Tofu is an excellent vegan protein source, and nutritional yeast, which is a common ingredient in these scrambles, is also high in protein. You can enhance the protein of your scramble by adding beans or a vegan meat (such as tempeh bacon).
Tofu is also a nutritional superstar in other respects. It's a good source of iron, and some varieties of tofu are also good sources of calcium. It provides thiamin, otherwise known as Vitamin B1, which plays a role in energy metabolism and cell growth.
Moreover, the phytonutrients in tofu may play an important role in disease prevention. Plant compounds in soy foods called isoflavones are associated with a decreased risk of breast cancer and breast cancer recurrence, especially when they're consumed early in life.
Those same isoflavones may also have a cholesterol-lowering effect. Consumption of them is associated with reduced rates of heart disease. They may also improve cognitive function in women who are post-menopausal.
What kind of tofu is best for tofu scramble?
I recommend using firm or extra firm tofu for your scramble recipes. Either will work. I used to always prefer my scrambles with a chunky texture and extra firm tofu. Lately, I'm preferring to use firm tofu and crumble it more finely.
I don't recommend soft or silken tofu for scrambling. It turns into mush in the warm pan, and you'll miss that crumbly texture.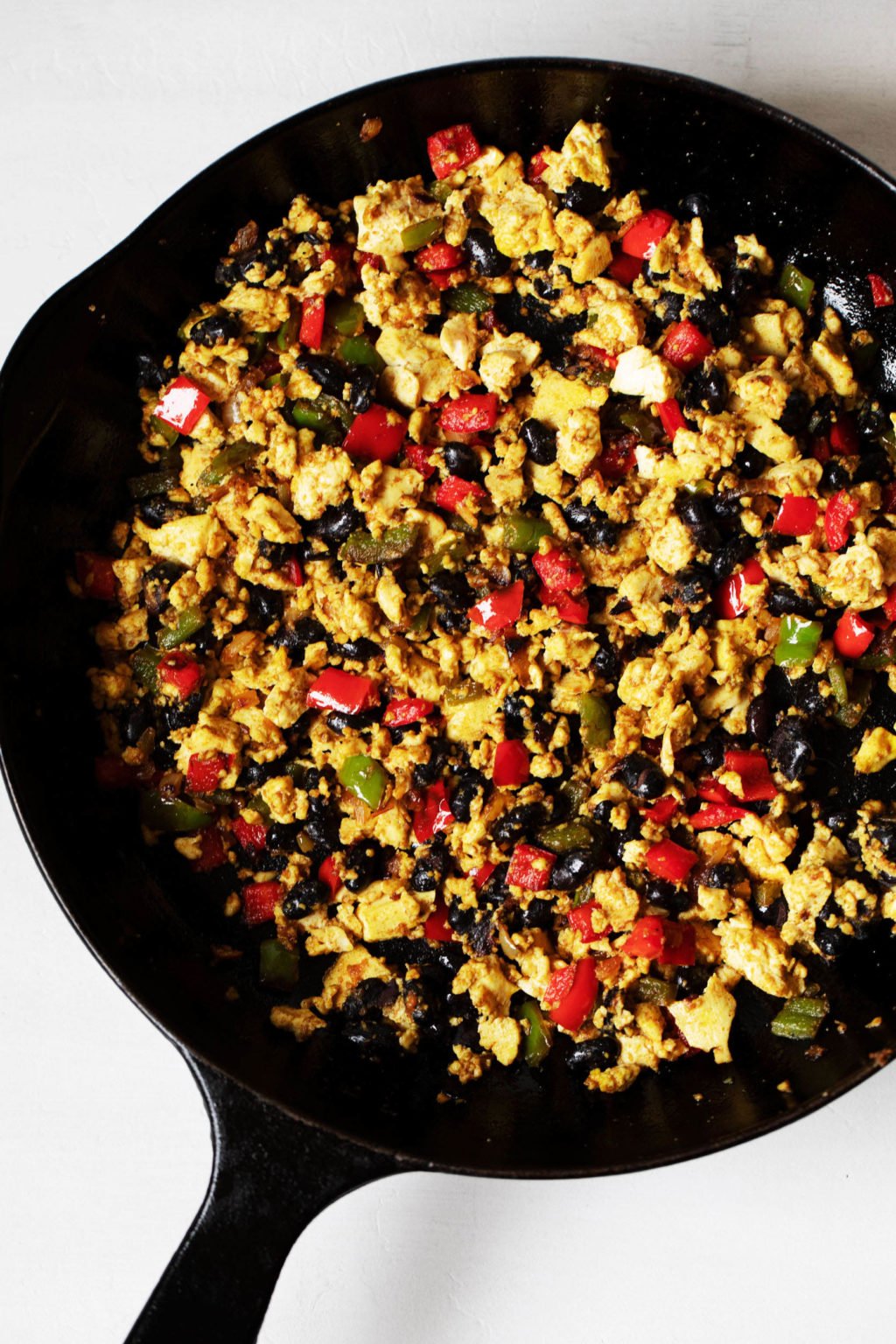 How to make tofu scramble
Tofu scramble is easy to make. So easy, in fact, that it was one of the very first recipes I taught myself to cook and cooked regularly when I first became vegan. There are really just a few steps.
Press
I recommend pressing your tofu gently before you crumble it. You don't need to press it for long or use a tofu press. Simply squeeze it with gentle pressure between two tea towels. This is enough to remove excess moisture, which helps the tofu to absorb flavor.
Crumble
Use your hands to crumble your tofu in preparation of scrambling. Again, you can choose to leave it in bigger pieces or to crumble it somewhat finely. Both are good choices. Think about the texture you want, and crumble accordingly.
Sauté your vegetables
Some scramble recipes call for a lot of add-ins and vegetable additions. Others are more pared down. You can make a tofu scramble as complex or as simple as you want it to be.
Before you add tofu to your hot frying pan or skillet, you'll want to sauté any vegetables that you're using until they're tender. I do this in olive oil, but you can choose to sauté with water or broth as well.
My customary vegetables additions are onions, peppers, and chopped tomato. However, I also like to add grated carrots, scallion, and chopped broccoli. Tofu scramble is a great vehicle for using up leftover bits.
Add tofu
Next, you'll add your crumbled tofu to the skillet. Stir it together with any vegetables you have.
Add seasonings
Now it's time to season your scramble. There are so many spices, herbs, and sauces to choose from. Here are the seasonings that I add regularly:
Turmeric (this gives the scramble a yellow color, similar to eggs)
Nutritional yeast (this adds savoriness)
Tamari or salt (I prefer tamari, which deepens the scramble's flavor and distributes evenly
Freshly ground black pepper
Mustard (I think this gives the scramble a slightly spicy, but not hot, kick)
Freshly squeezed lemon juice
Here are seasonings that I add when I'm in the mood for them:
Cumin
Smoked paprika
Sweet paprika
Oregano
Italian seasoning
Cajun seasoning
Curry powder
Hot sauce
There's nothing authoritative about this list! It's just a sampling of flavors that I've added to scrambles and liked. Once you grow accustomed to scrambling tofu, you can start to experiment with different flavor combinations that appeal to you.
Stir and heat through
Once the vegetables, tofu, and seasonings are in your hot skillet or frying pan, your scramble will almost be ready. I recommend stirring everything gently but thoroughly, so that the seasonings are evenly and well distributed. Then, continue to heat the scramble until it's nice and fragrant. You can do this over medium low heat.
At this point, your tofu scramble will be ready to eat or store.
My secret weapon ingredient
There's one ingredient that I add to my scrambles for a perfectly creamy texture and extra flavor: tahini!
Tahini isn't necessarily a traditional tofu scramble addition. But I think it makes a big difference. The fat in the tahini helps to carry flavor. I also think that the tahini gives scrambles a slightly creamy texture and helps to bring everything together.
I like the addition of tahini so much that I have a dedicated tofu tahini scramble recipe. More on that below.
Storage
Tofu scramble can be stored in an airtight container in the fridge for up to five days. Most of these recipes make four servings, so you likely won't need to store it that long.
The scrambles are excellent make-ahead breakfast options for busy work or school days. To make the scramble more portable, you can stuff it into a wrap or combine it with black beans and brown rice to make a breakfast burrito.
Can I freeze tofu scramble?
You can absolutely freeze tofu scramble, and I often do. Most scrambles can be frozen for up to six weeks. Freeze them in individual portions if you think you might like to defrost one meal at a time.
I am always so grateful when I find these little protein-rich breakfast care packages in my freezer. I thaw them overnight and give thanks for something nutritious and ready-to-eat in the morning.
7 protein-packed tofu scramble recipes
I could go on and on about the flexibility, usefulness, ease, and wholesome features of this morning meal! But food speaks louder than words.
Here are seven protein-packed tofu scramble recipes to make, adapt, and use as a starting point for your own scrambling adventures.
Tofu tahini scramble recipe
It's worth sharing a little bit more about the tofu tahini scramble above. It's an old recipe that I've returned to many times, and it's different from your run-of-the-mill scramble in a few ways.
First, the tofu is cut into small cubes, rather than crumbled. This makes the dish not traditionally "eggy," but it still eats and tastes like a tofu scramble. I enjoy the different texture, which is enhanced by the addition of chickpeas (extra protein!) and cherry tomatoes.
The scramble incorporates tahini, as some of my other scrambles do. But it also uses hummus. More chickpeas, more tahini, more flavor. The hummus is bright and tangy and adds something special to the meal.
Because the tofu tahini scramble is not super egg-like, it's an especially good recipe to enjoy at any time of day: breakfast, lunch, or dinner. You could even turn it into an appetizer for friends by serving it with endive or romaine leaves for dipping.
Here's the recipe!
Fall has two effects on me, and I feel them by turns: it can make me feel focused and motivated, and it can also make me feel scattered and un-grounded. Returning to my kitchen and getting back into the rhythms of making wholesome, filling food contributes to my focus and helps to ground me.
May these savory vegan breakfasts do that for you, too. Happy scrambling.
xo