The right tools make cooking easy and efficient! Here are the must-have kitchen essentials, ranging from basic utensils to high-quality cookware.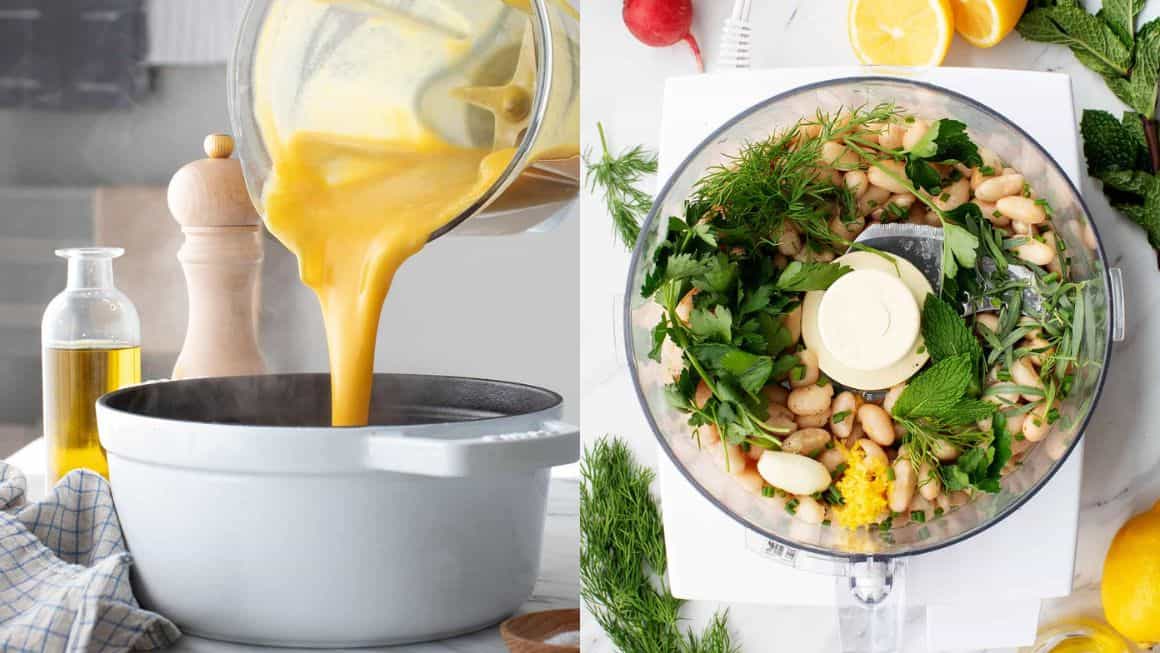 In my opinion, every home cook needs certain kitchen essentials. These basics make cooking easier, more efficient, and—best of all—more enjoyable. With the right tools and equipment, you'll have more flexibility in the kitchen. You can whip up a creamy pureed soup with a great blender, get a perfect sear in a cast-iron skillet, and make pancake batter or cookie dough with good measuring cups, mixing bowls, and a trusty silicone spatula.
I'm sharing my complete list of these kitchen essentials below, plus recommendations of brands I use and love. I hope it helps you stock your kitchen with long-lasting, high-quality basics that make cooking simple and fun.
My Picks for the Best Kitchen Essentials
My Favorite Cooking Tools
A good blender is a kitchen must-have. You'll use it to make flavorful sauces, creamy soups, nourishing smoothies, and more. In terms of quality, you can't beat this Vitamix blender. It effortlessly purees ingredients like fruits, veggies, and even nuts (no soaking required!) to a silky smooth consistency. Compared to other blenders, it's a bit of an investment, but if you ask me, it's well worth it. This blender is SO powerful, and you'll have it for years.
A Dutch oven is another of my favorite kitchen essentials. These sturdy, lidded pots are great for making soups, stews, and sauces and baking bread. I use Staub's 5-quart cocotte so often that it's always on my stovetop…unless I'm using it to bake something in the oven. I like that this cast-iron Dutch oven has an enamel interior, which means it doesn't require seasoning and is easy to clean with soap and water. As for cooking, it conducts heat seamlessly and has an internal rainforest effect, keeping food tender even (or especially) if it's cooking for a long time. It's pricier than some other options, but it will last a lifetime.
I reach for my 10-inch Staub Cast-Iron Fry Pan daily. It's perfect for everything from sautéing veggies to making frittatas and works just as well on the stovetop as it does in the oven. Like the Staub Dutch oven, its interior is coated with enamel, so you don't have to season it, and you can easily clean it when you're done. It comes in a bunch of pretty colors too, which makes it great for displaying and serving meals!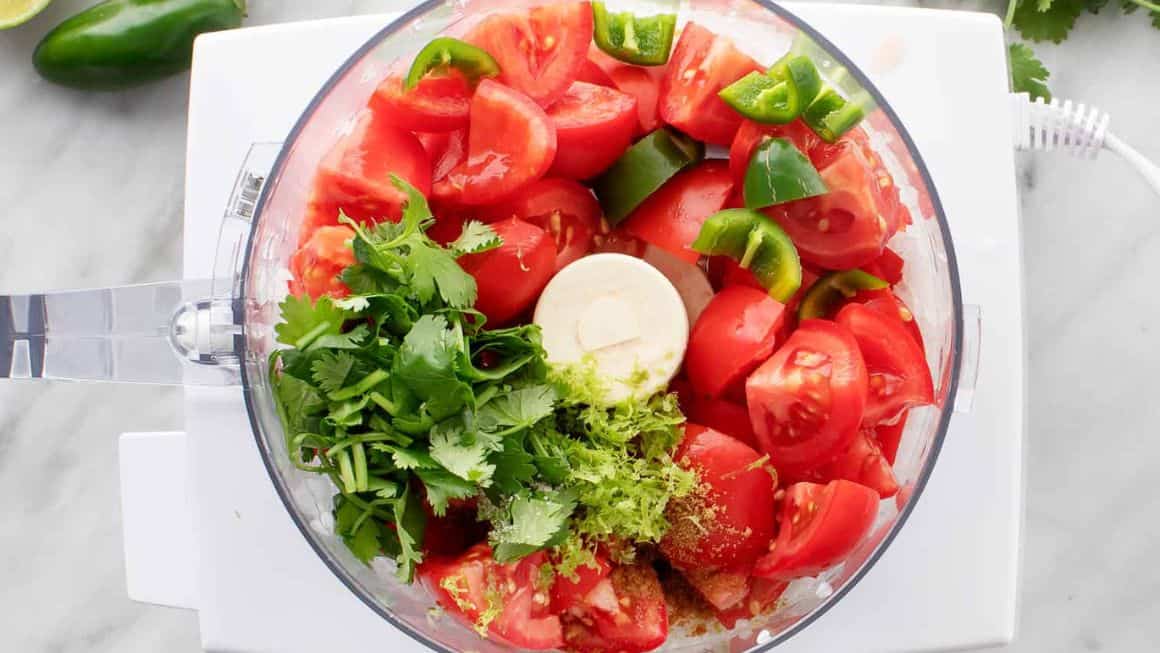 If you're wondering whether you really need a food processor, I say, get one! For me, it's one of the top kitchen essentials. I use it to make dips, sauces, veggie burgers, pie crust, and more. This 7-cup Cuisinart processor is sized so that it works nicely for a variety of recipes, and it comes with attachments for chopping, pureeing, shredding, and slicing veggies and cheese. I also love how easy it is to use and clean.
In addition to the cast-iron pieces above, I recommend stocking your kitchen with an all-purpose set of pots and pans, including a small and medium saucepan, regular skillet and lidded skillet, and stock pot.
For stainless steel cookware, I love Calphalon's 10-piece pots and pans set. Each piece distributes heat evenly and has a long handle that stays cool on the stove, so you don't need to grab an oven mitt every time you touch it. The whole set is dishwasher safe, too, for easy clean-up.
If you're looking for something nonstick, I recommend Caraway Home's 9-piece ceramic set. Its sleek surface is ideal for cooking pancakes, omelets, and scrambled eggs. I love that this set is easy to clean with soap and water and is nontoxic.
Buy the Calphalon 10-Piece Pots and Pans Set:
Buy the Caraway Home 9-piece Nonstick Ceramic Cookware Set:
A wooden spoon is my go-to utensil for stirring and sautéing! Each spoon in this three-piece OXO set (which contains a large, medium, and small spoon) has a sturdy grip that feels secure while mixing. These spoons are also safe to use on all cookware.
Technically made for fish, this turner will help you lift and flip delicate foods without breaking them—think pancakes, omelets, etc. I also like it for serving, as its long, oversized head allows you to scoop up a lot of roasted vegetables, for example, at once. I swear you'll reach for it more than any other spatula in your drawer!
You need a good colander for tasks like draining pasta, rinsing canned beans, and washing veggies. This OXO colander shows that it's possible to elevate even the simplest of kitchen basics. Its non-slip handles provide a comfy, stable grip, and its unique design drains quickly—it has more, but smaller, perforations than a typical colander. It also nests in most mixing bowls for easy storage.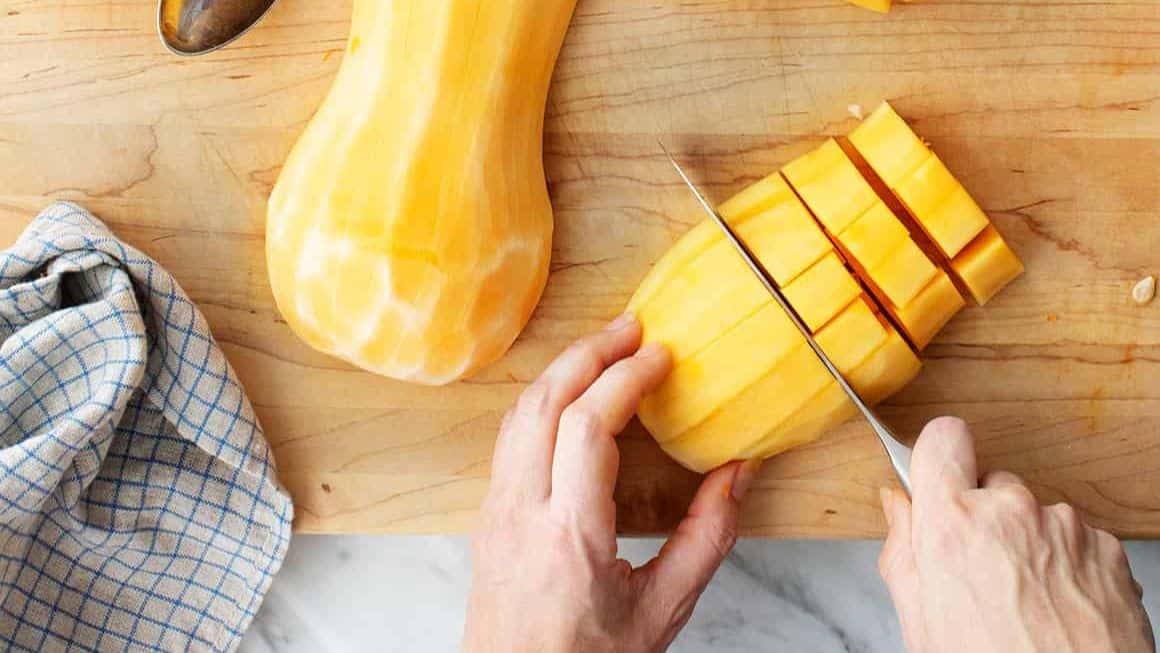 A good cutting board is hands down one of the top kitchen essentials. This John Boos board has been my go-to for years—it's lightweight, but it doesn't slip on my countertop, and the wood material helps preserve the sharpness of my knives. The board is also reversible, with a completely flat side that's ideal for chopping veggies and another side with groove around the edges for catching liquids from juicy foods like tomatoes.
My Favorite Chopping Tools
10. Best Knives: Chef's Knife, Serrated Bread Knife & Paring Knife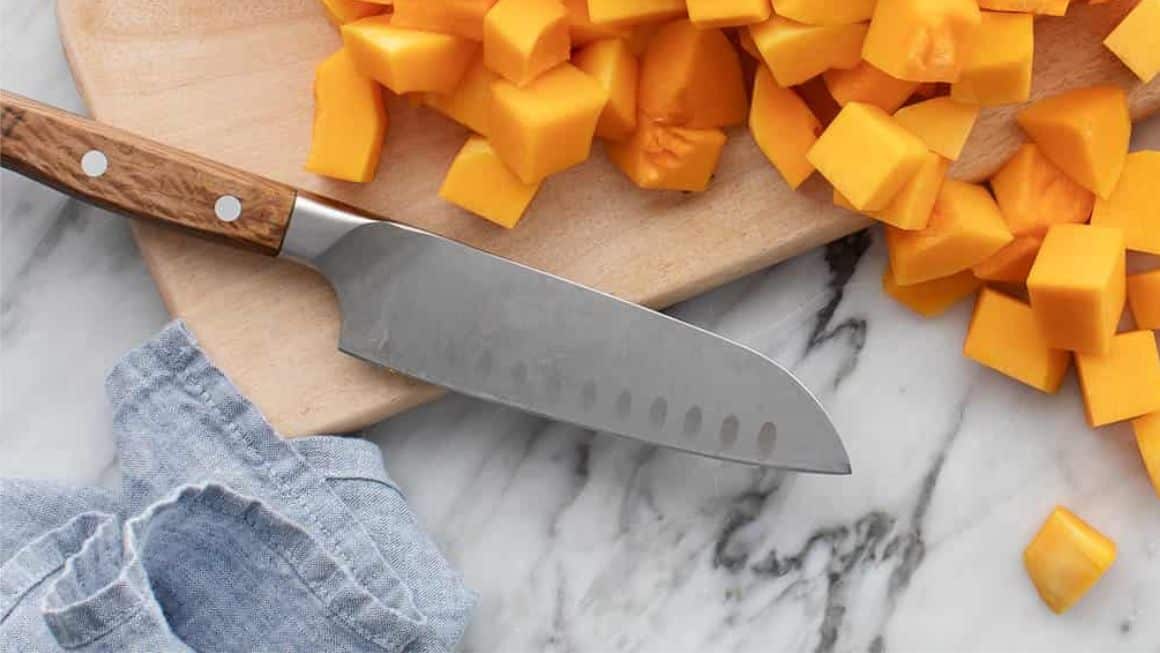 A high-quality knife set makes chopping anything more efficient and a lot safer! I'm a big fan of Zwilling's knives. For a standard chef's knife, I love the Santoku Knife, which is both sharp enough to cut through spaghetti squash and comfortable to hold. For a serrated knife—to cut things like bread and cake—I love the brand's Twin Signature 8-inch Bread Knife. And for slicing smaller fruits and veggies with precision, you can't go wrong with the brand's 4-inch paring knife.
Buy the Zwilling Pro 7-inch Hollow Edge Santoku Knife:
Buy the Zwilling Twin Signature 8-inch Bread Knife:
Buy the Zwilling J.A. Henckels Paring Knife: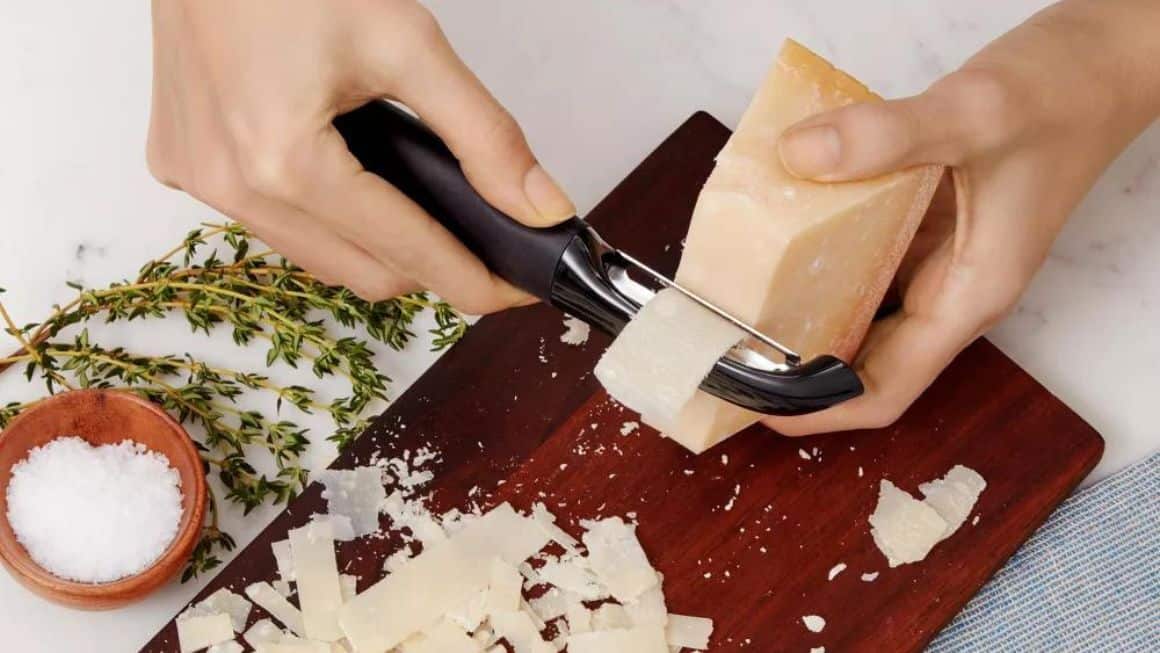 A peeler might not be the first thing that comes to mind when you think of kitchen essentials, but you'll want one for peeling fruits and veggies and shaving cheese. I love OXO's. Its stainless steel blades effortlessly remove the skin from vegetables with a tough exterior, and it boasts a soft, grippy handle that makes the repeated motion of peeling easier. Another big plus? It's dishwasher safe.
A zester is one of the most under-appreciated kitchen basics! I use mine for zesting citrus as well as grating garlic, fresh ginger, and hard cheeses like Parmesan. This Microplane zester is easy to clean and will last for years.
My Favorite Baking Tools
For any avid baker, a KitchenAid stand mixer is at the top of the list of kitchen essentials. It kneads bread and pizza dough, beats butter and eggs for cakes and cookies, and whips up the creamiest frosting. And if you'd like to make it an even more versatile piece of kitchen equipment, you can explore the KitchenAid attachments, which will allow you to use the mixer to make homemade pasta, ice cream, and more! I love that this kitchen basic comes in a fun range of colors (mine's yellow!) and lasts for years, making it a worthy investment piece.
I can't recommend these mixing bowls enough! They aren't the flashiest items, but that's exactly what you want with basic kitchen supplies. They're made of heavy-duty glass that stands up to all kinds of mixing and whisking and are freezer, microwave, and dishwasher safe. In other words, they're mixing bowls you'll use over and over again.
The perfect accompaniment to a mixing bowl set? Whisks and mini silicone spatulas. Plateau Elk's simple whisk set comes with three stainless steel whisks of different sizes for making everything from icing to salad dressing. As for the Cuisinart mini spatula set, it's fantastic for mixing and scraping down bowls, pans, and containers of any size. Both sets are easy to clean—they can just be thrown in the dishwasher when you're done cooking.
Buy the Plateau Elk Whisks for Cooking:
Buy the Cuisinart Mini Silicone Spatula Set:
16. Best Measuring Tools: Hearth & Hand Cups & Spoons
Everyone needs a good set of measuring cups and measuring spoons. I love these ones from Hearth & Hand! Their stainless steel material holds up better than plastic, and their flat bottoms prevent them from tipping and spilling on your countertop. Plus, the measurement quantity is engraved, not just stamped, on the handle of each cup or spoon, so it won't wear away with repeated use.
Buy the Hearth & Hand with Magnolia 4-Piece Measuring Cup Set:
Buy the Hearth & Hand with Magnolia 5-Piece Measuring Spoon Set:
Cookies, sheet pan gnocchi, roasted vegetables—if you're making something that goes in the oven on a flat surface, you'll need baking sheets. I love Nordic Ware's 3-piece set, which includes a quarter sheet, jelly roll, and half sheet pan. These pans are made of pure aluminum, which provides uniform heat conductivity for an even bake. It is also resistant to scratches and has natural non-stick properties, so you won't have to pry things from the surface or scrub too hard to clean it.
Whether I'm making pie crust or pita bread, this rolling pin helps me get my dough to the exact right height and consistency. It has a unique tapered design that allows you to cover more area as you're rolling. It's made of sturdy (and pretty!) maple wood that holds up to regular use.
My Favorite Serving Tools
19. Best Dinnerware: Hearth & Hand with Magnolia Modern Rim Stoneware
Cooking tools aren't the only kitchen essentials—you need dishes for serving (and eating off of!) too. I love the earthy, minimalist look of this dinnerware from Hearth & Hand, which is both dishwasher and microwave safe. I recommend stocking up on the dinner plates, salad plates, pasta bowls, small bowls, and one serving dish to perfectly plate your delicious creations. Great for entertaining!
Get the Dinner Plates, Set of 4:
Get the Mini Bowls, Set of 4:
Get the Pasta Bowls, Set of 4:
Get the Salad Plates, Set of 4:
Get the Large Serving Bowl:
These glasses are great for everything from water to lemonade to a sparkling paloma cocktail. They have a cute fluted design at the bottom and are dishwasher safe.
I love serving appetizers on this wooden platter. It's perfect for a cheese board, vegetables with green goddess dip, a fruit platter, or anything else you want to serve to guests. It also looks lovely, whether it's actively in use or serving as a decor piece in your kitchen.
Scoop up salad, pasta, and more with this two-piece serving set. Made of solid wood with a wavy grain, it's a sturdy, attractive tool for serving whatever you're cooking.
No list of kitchen essentials is complete without storage containers! I use this 8-piece glass storage set from Rubbermaid for storing leftovers and meal prepping lunches. Each container is leak-proof and airtight with a vented, microwave-safe lid. I also love that the clear glass material allows you to keep tabs on the leftovers you have to use up in the fridge.
These OEKO-TEX-certified kitchen towels have a unique, grippy texture that makes sopping up spills or drying dishes a breeze. They also look great hung on a rack in your kitchen—the gray and cream stripes hide stains and hold up well to repeated machine washes.
You've stocked up on these essential kitchen tools. Now, it's time to put them to use! Cookbooks are a great source of recipe inspiration, and I've written three. My latest, Love and Lemons Simple Feel Good Food, is full of plant-forward recipes that suit every meal, mood, and budget. Half the recipes are "at-the-ready," meaning they're easy to throw together with on-hand ingredients. The other half are "in advance" recipes, which you can prep ahead. All of them will give you a chance to use these kitchen basics.
You might also enjoy my other two cookbooks: Love & Lemons Every Day and The Love & Lemons Cookbook. Both of them are packed with delicious vegetarian recipes!
Prices were accurate at time of publication.