These teriyaki tofu noodle bowls come together in only fifteen minutes, thanks to Nasoya's Plantspired TofuBaked. They're high protein, nutritious, and flavorful. You might want to double the miso chili sauce: it's addictive!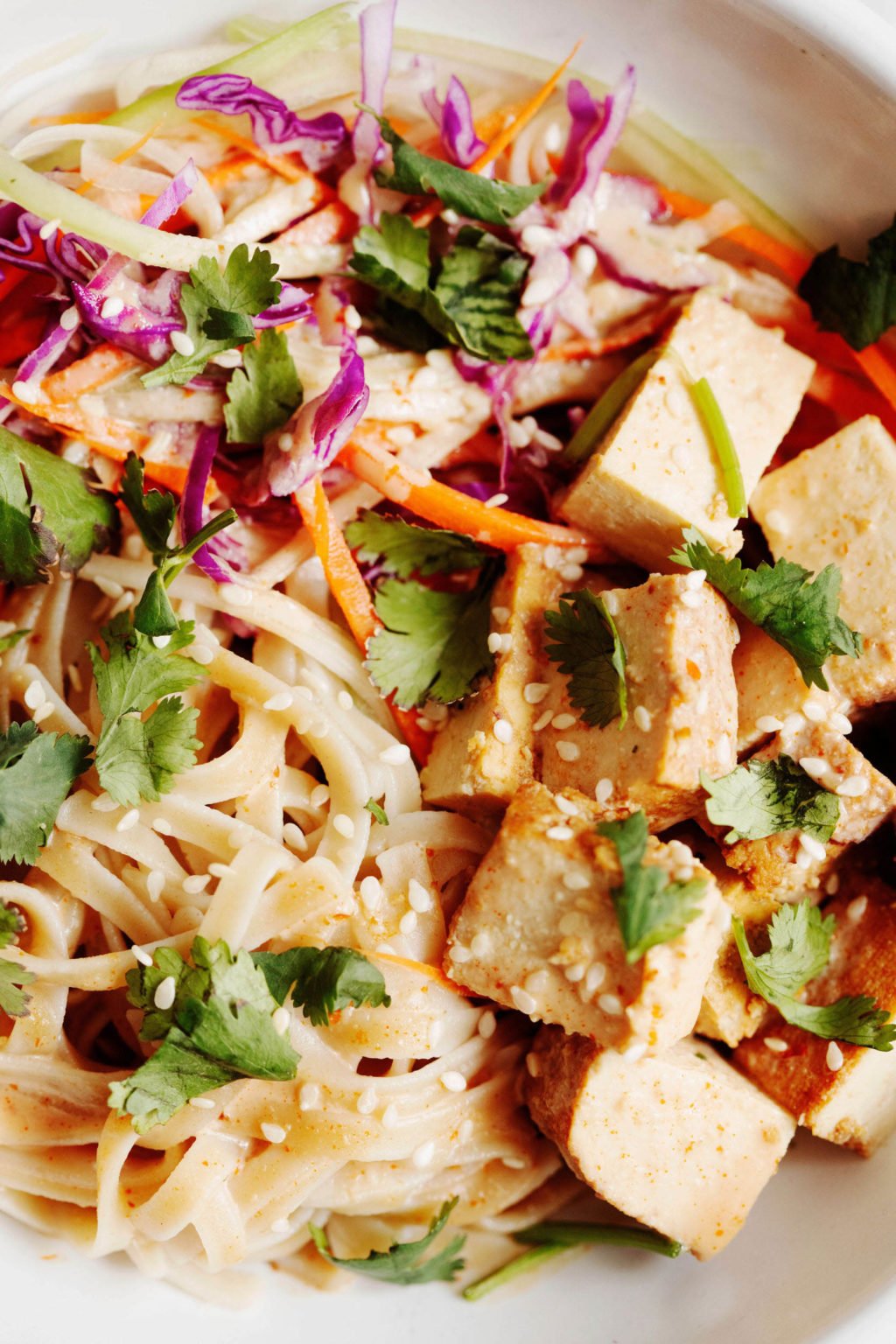 The last year has really taught me how to use my favorite store-bought products wisely and effectively. Like many people, I developed a case of serious cooking fatigue in quarantine. Relying on a few grocery store staples (OK, more than a few) helped me to avoid feeling overwhelmed. It gave me comfort and sanity.
I'm finally starting to enjoy cooking again. But I have no intention of giving up the habit of keeping my freezer and fridge stocked with intelligent, versatile, convenient vegan products.
Nasoya's Plantspired TofuBaked is one of these. And it's the foundation of the teriyaki tofu noodle bowls that I'm sharing today. They're a perfectly nutritious and satisfying vegan lunch, and—thanks to the TofuBaked—they're effortlessly high in plant protein.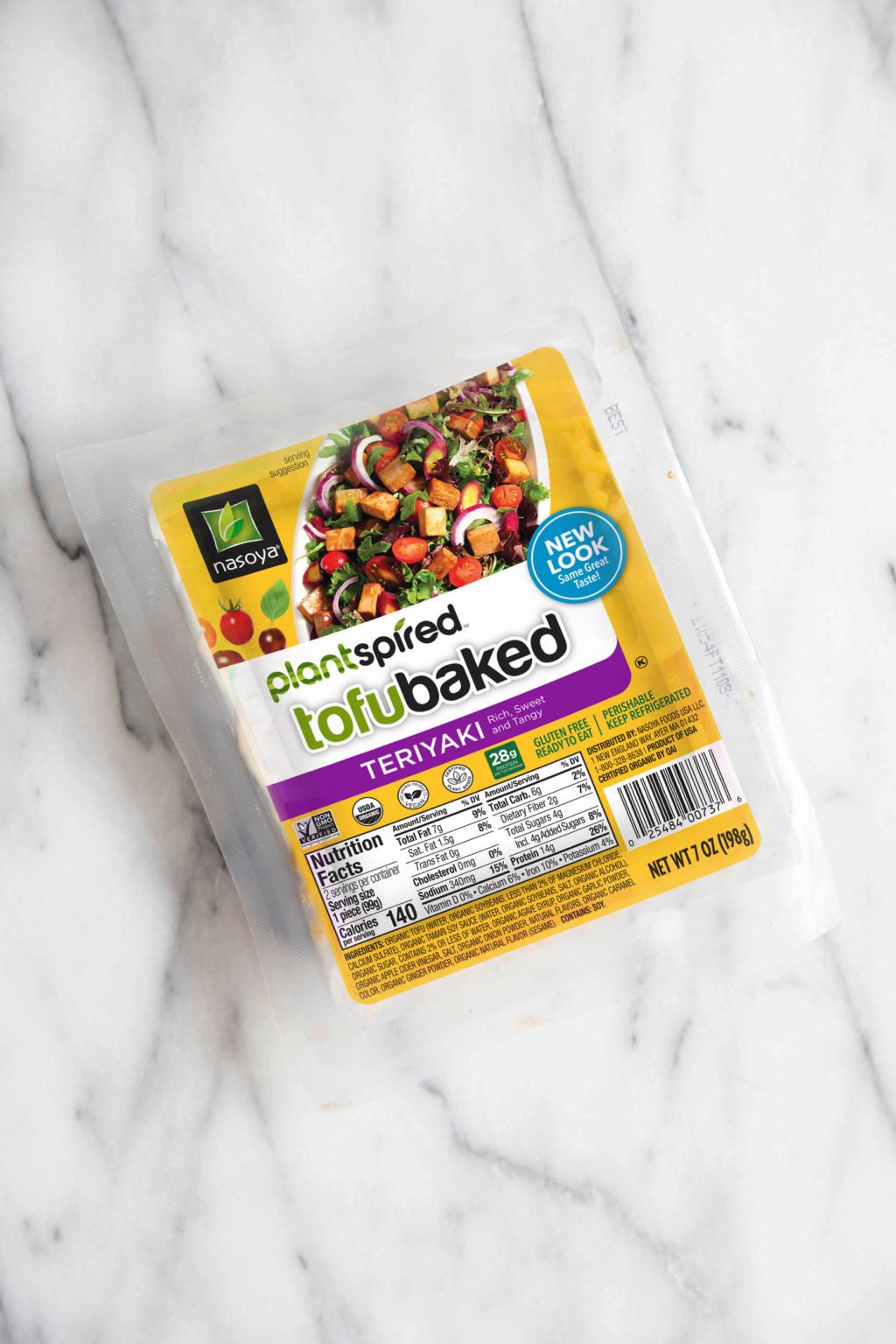 What is Plantspired TofuBaked?
Plantspired TofuBaked is a ready-to-eat, seasoned and baked tofu from my favorite makers of tofu, the folks at Nasoya. TofuBaked comes in Teriyaki and Sesame Ginger flavors. I'm using the Teriyaki variety here. It can be enjoyed either hot or cold (I keep it cold for the teriyaki tofu noodle bowls), and it's so versatile.
I've piled it into many lunch bowls, just like this one. I also regularly add it to stir fries, salads, and wraps.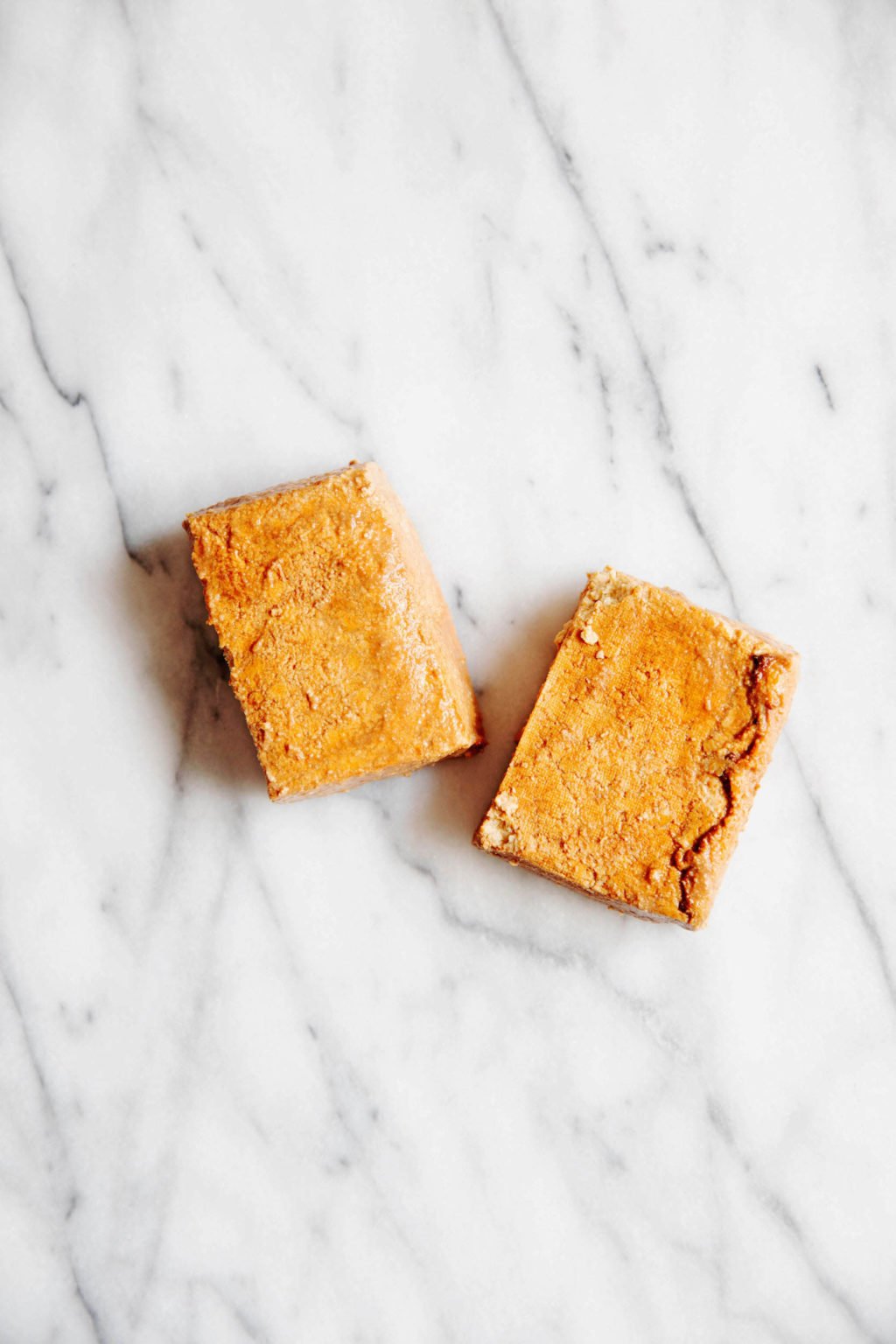 Tofu health benefits
Tofu is an ingredient MVP in my cooking. I love what it can do in recipes: it's sturdy enough for grilling, absorbs flavor perfectly for homemade vegan feta cheese, and the silken version can be turned into a creamy pudding or soup.
I also love tofu for its solid nutrition. Tofu is a source of vegan protein, of course. It's also rich in anti-inflammatory phytonutrients, a source of healthful fatty acids (which aid in satiety, among other things), and a good source of plant-based iron.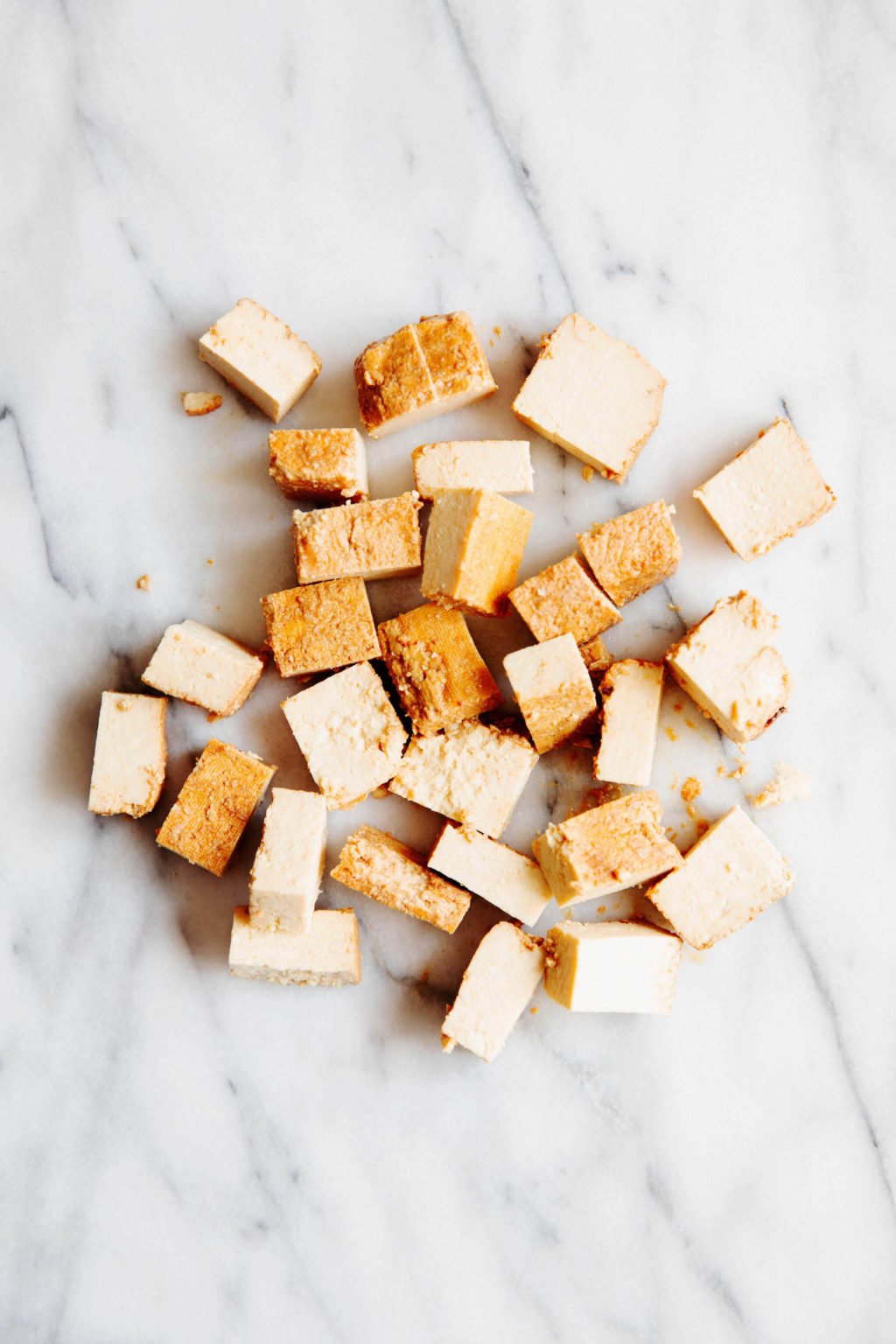 In the tofu noodle bowls, marinated and baked tofu joins forces with pad Thai noodles, crispy raw vegetables, and a spicy, savory miso chili sauce. Altogether, it's a meal that's as varied and satisfying and colorful as it is nutrient-dense.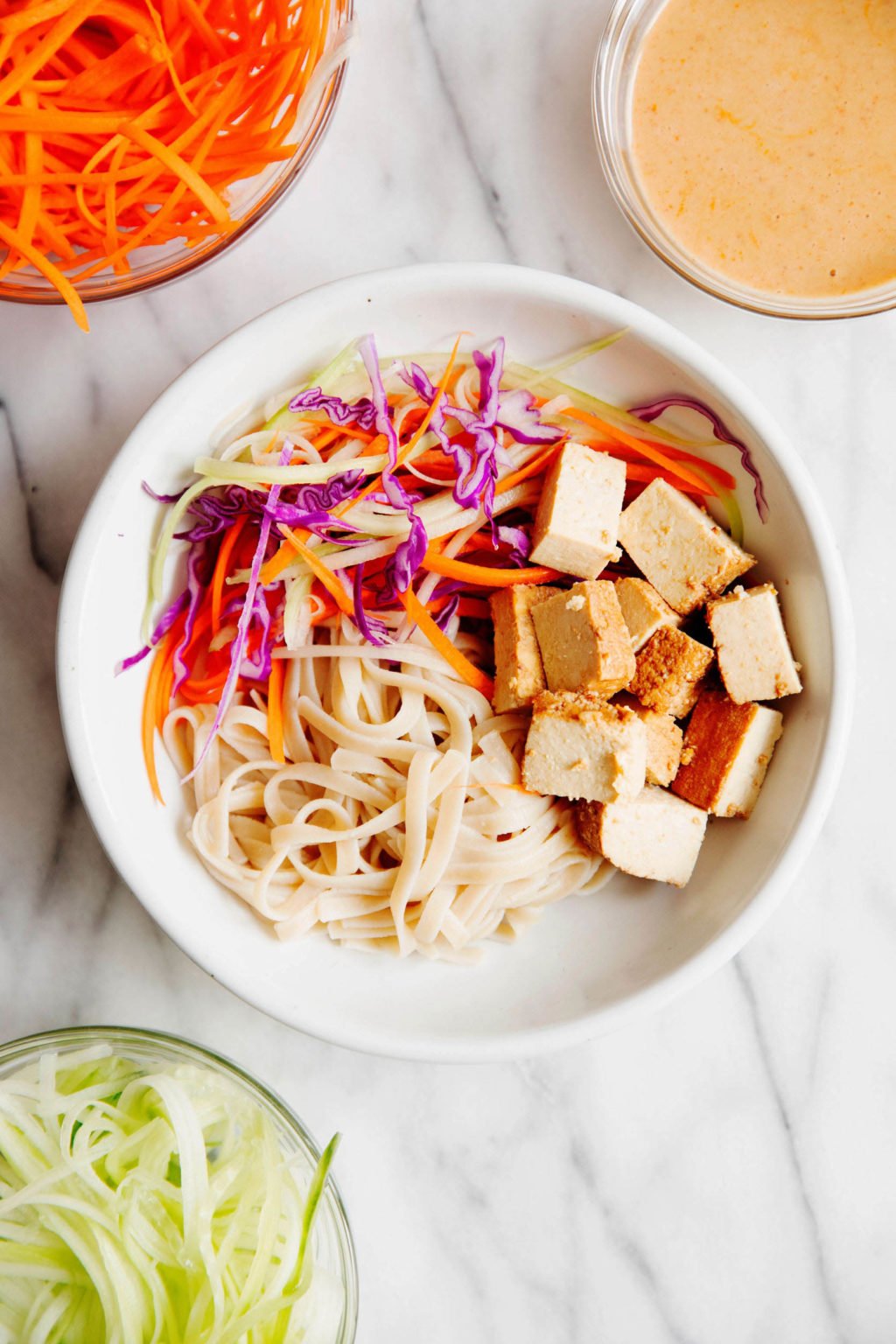 Assembling teriyaki tofu noodle bowls
These bowls are so easy to put together!
Step 1: boil water
I find it easiest to boil the water for the teriyaki tofu noodle bowls first thing. This way, it reaches a rolling boil just in time for all other components of the recipe to be almost ready.
Step 2: make the sauce
This sauce is based off of the sauce for the umami bowls in Power Plates, except that I use cashew butter here, rather than almond butter. I love the neutral, mild flavor of cashew butter for sauces like this one; it allows the spiciness of the chili sauce and the taste of sesame oil to shine through.
I prefer to use raw cashew butter, but roasted cashew butter is also fine. If you don't have cashew butter, you can substitute almond butter without any problems!
Step 3: cube the tofu
Since Plantspired TofuBaked is already marinated and fully cooked, you only need to cube it to get it ready for the teriyaki tofu noodle bowls.
Step 4: prep your vegetables
This is fastest and easiest with the use of a food processor for grating and shredding. But you can also use a mandolin or a julienne peeler to speed the process along.
Step 5: boil your noodles
Once you blend the sauce and prepare your vegetables, the water should be boiling nicely. At this point, you can simply add your noodles to the water and allow them to soften. Pad Thai noodles typically only take minutes to be fully cooked.
Step 6: assemble
To serve, just divide the cooked noodles, vegetables, cubed tofu, and sauce between bowls. Garnish with sesame seeds, if you like!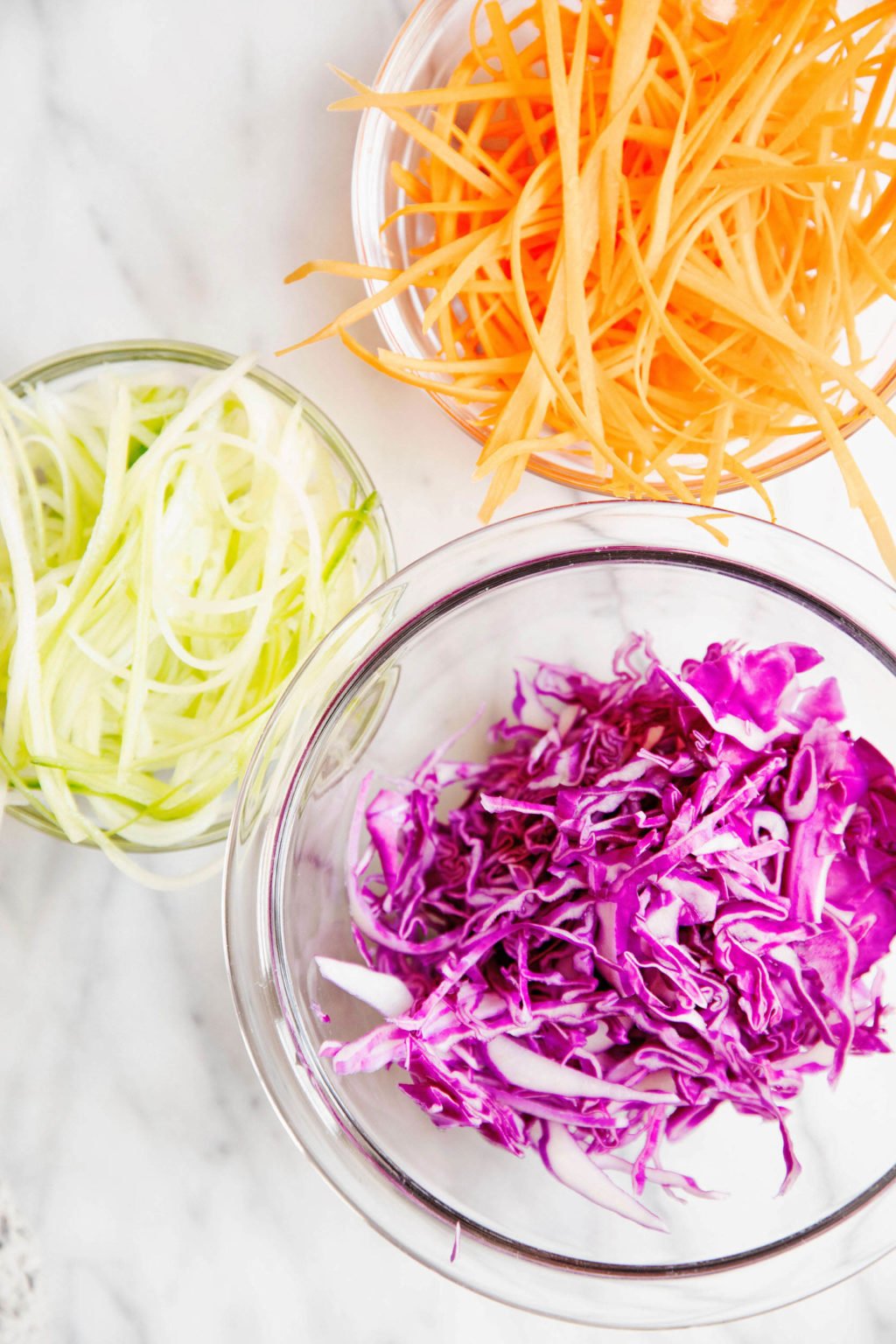 Teriyaki tofu noodle bowl meal prep
This recipe becomes even faster if you prepare just a few of the components ahead of time. Not the tofu, which is just about ready to go. But the sauce will keep for up to six days in an airtight container in the fridge, so it's easy to prep in advance.
I also find it really helpful to wash and chop vegetables over the weekend as part of my own prep. This usually includes cutting broccoli into florets, shredding cabbage, grating, chopping, or julienning carrots, washing and chopping kale, washing and cutting collards into ribbons, etc.
It's a lot of work, but I'm always so grateful to have done it when weekday cooking rolls around.
It's easy to shred the cabbage, grate carrots, and julienne or chop cucumber ahead of time for the teriyaki tofu noodle bowls. The cut vegetables can be stored in an airtight container with a small piece of damp paper towel for freshness; they'll last up to two days before you assemble the bowls.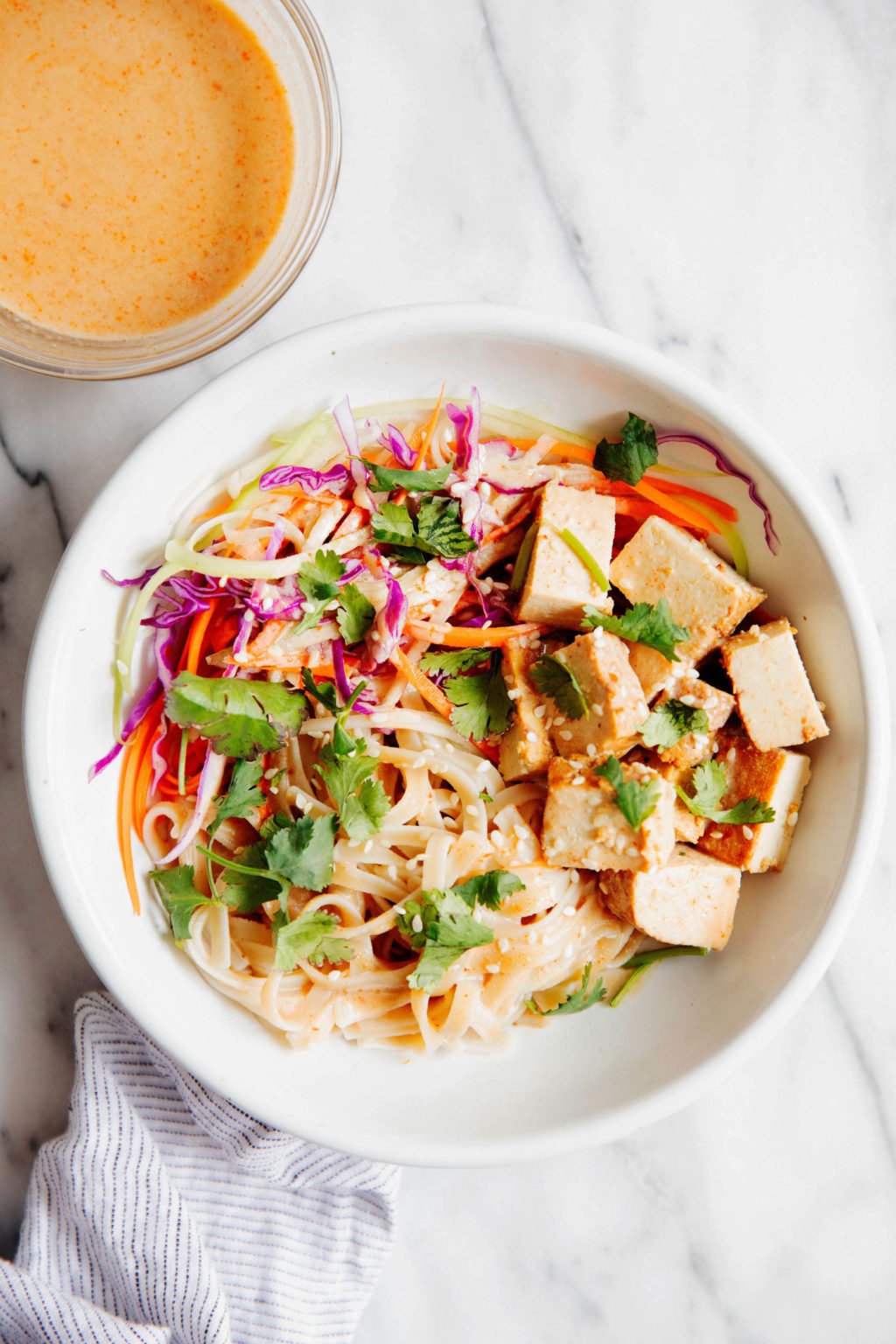 Storing teriyaki tofu noodle bowls
Once mixed and assembled, the bowls will keep well in an airtight container in the fridge for up to two days.
More quick & easy tofu recipes
Nothing enriches a plant-forward lunch with protein more efficiently than tofu. Here are a few other of my favorite quick, easy lunch ideas that feature tofu as a star ingredient: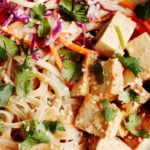 For the miso chili sauce
2

tablespoons

white miso

2

tablespoons

cashew butter

2

tablespoons

warm water

2

tablespoons

rice vinegar

1

tablespoon

tamari

1

tablespoon

maple syrup

2-4

teaspoons

sriracha or gochujang

(to taste)

1/4

teaspoon

garlic powder
For the noodle bowls
3

carrots, peeled and julienned

1 1/2

cups

shredded purple cabbage

1

cucumber, julienned

14

ounces

Nasoya Plantspired Teriyaki TofuBaked 

(2 containers)

8

ounces

pad Thai noodles

(any variety, or substitute udon or soba noodles and cook according to package instructions)

2

tablespoons

hulled sesame seeds

chopped fresh cilantro or green onions, optional
Bring a large pot of water to boil.

Whisk together the dressing ingredients till smooth. Cut the TofuBaked into cubes.

Boil the noodles according to package instructions and drain.

To assemble the bowls, divide the cooked noodles, vegetables, and Plantspired Teriyaki TofuBaked into bowls. Top with the miso chili sauce, sesame seeds, and cilantro or green onion, if using. Enjoy!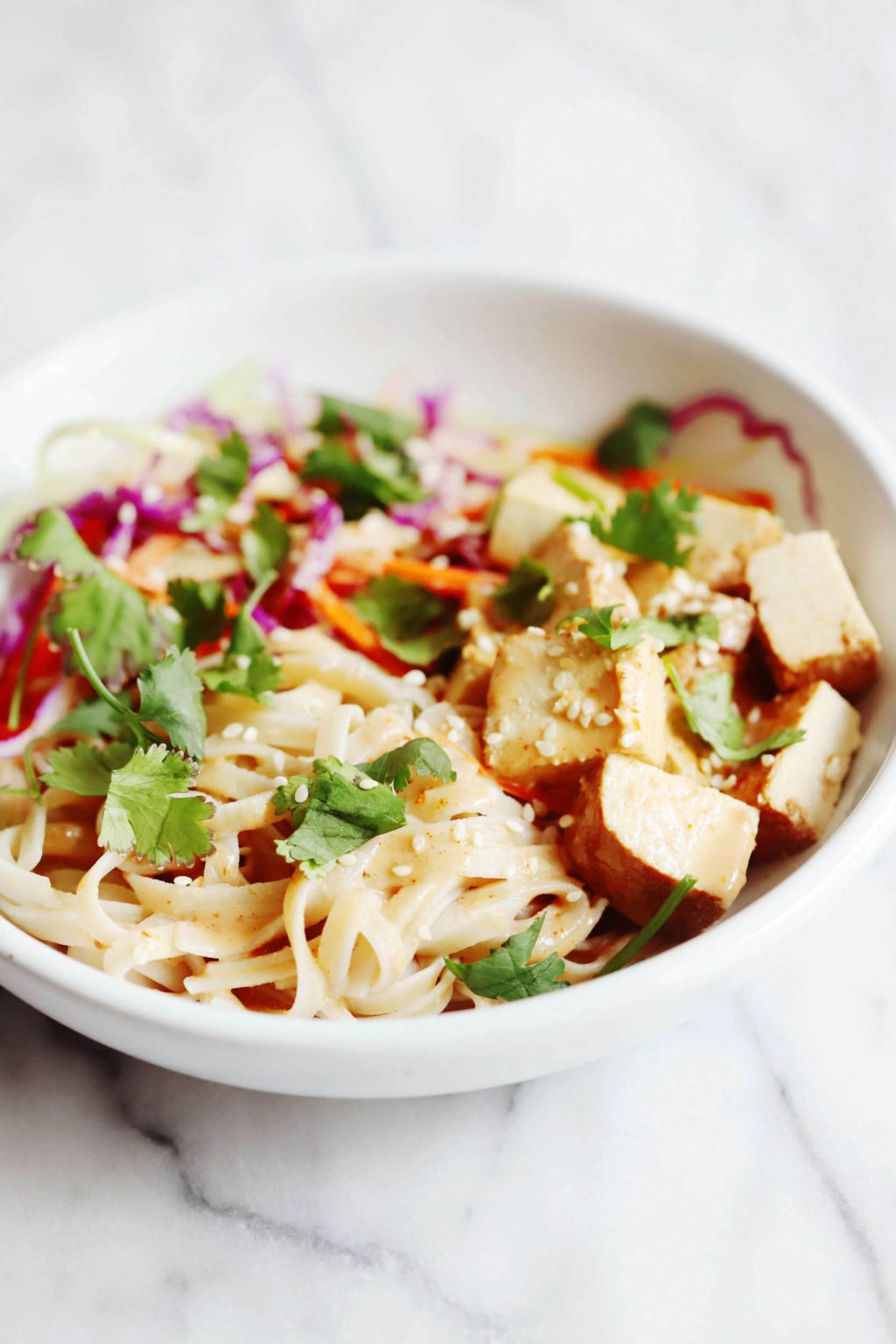 I'm looking forward to a whole summer of fast, flavorful, filling vegan lunches like this one. Enjoy!
xo
This post is sponsored by Nasoya, my favorite brand of tofu. All opinions are my own. Thanks for your support!