Eggplant is nutritious and oh-so-versatile! Here are 10 flavorful vegan recipes that show off the many ways that you can prepare eggplant at home.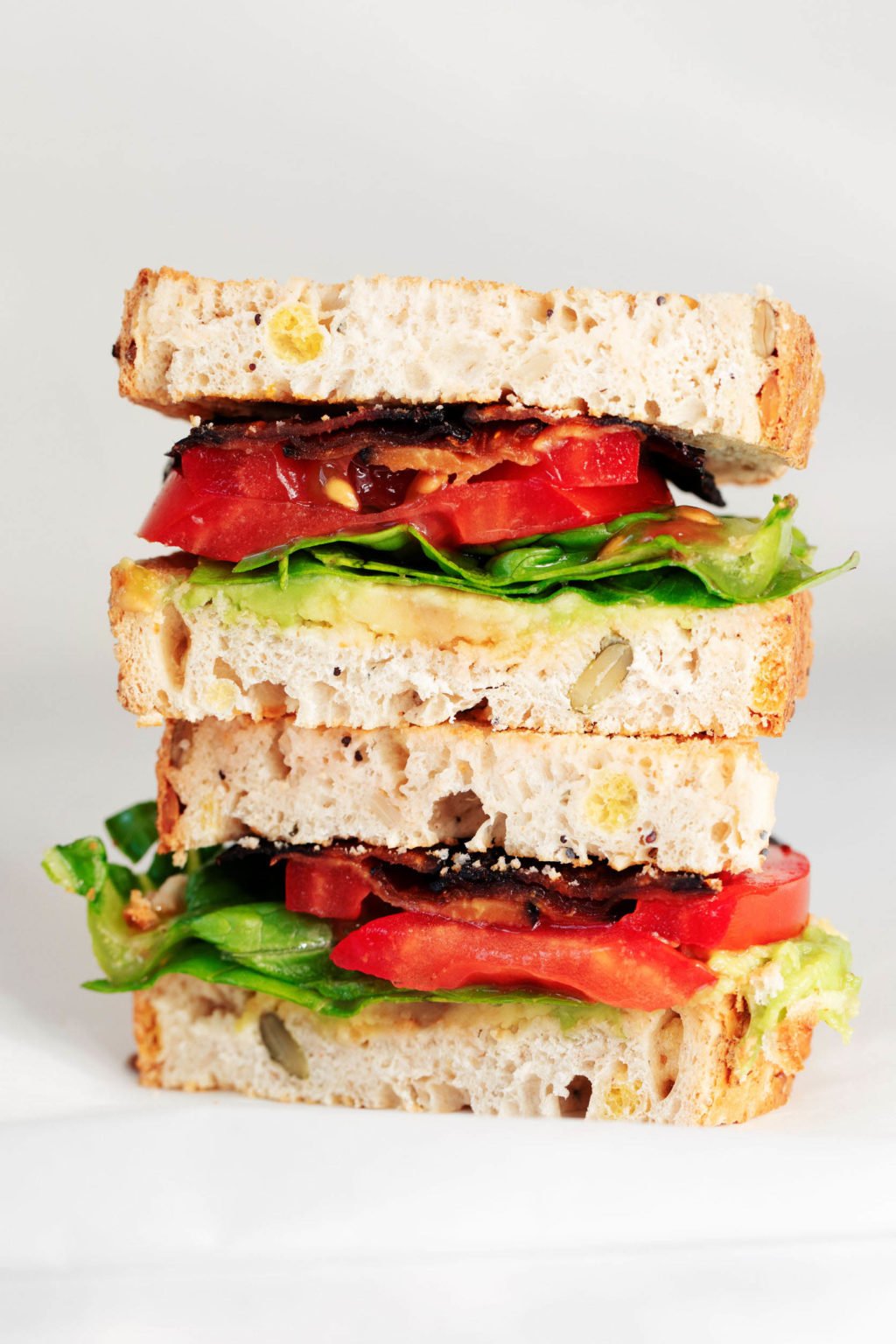 It's eggplant season!
August and September are my favorite time of year for produce. Deep purple, shiny eggplant has a lot to do with this.
I know that eggplant can be controversial. Along with beets and mushrooms, it's one of the foods that my nutrition clients most often report being squeamish about.
Me? I'm a devoted eggplant fan. Eggplant is hearty, it soaks up flavor efficiently, and it is amazingly versatile. It can be baked, fried, stuffed, sautéed, or even turned into vegan "bacon," as you'll see in the vegan eggplant recipes that follow.
Eggplant is also a good source of nutrition.
The health benefits of eggplant
Eggplant is rich in health-supportive phytonutrients. Eggplant owes the beautiful purple color of its skin to anthocyanins. These are plant pigments that are associated with possible protection against cardiovascular disease and some cancers. Anthocyanins may help to enhance memory and boost cognitive function, and they're also associated with anti-inflammatory action.
Eggplant is also a source of lutein, a carotenoid that may be beneficial for eye health.
Finally, eggplant is a high fiber food. This means that it can help to keep us full, to keep blood lipids in check, and to benefit digestive health.
Types of eggplant
I nearly always cook with globe eggplant, which has a meaty texture and deep purple color. I also really like Italian eggplant, which is similar but a little smaller. Italian eggplant has super tender flesh, which is perfect for my Pasta alla Norma or stewed eggplant tomato lentils.
I love slicing Japanese and Chinese eggplants, which are long and thin, into circles, then adding the slices to stir fries. It's also fun to add lengthwise slices of these varieties to the grill.
Finally, Indian eggplants, which are short and round, are my perfect for stuffing.
You can learn more about types of eggplant in this handy primer.
How to cook eggplant
Eggplant can be grilled, pan-fried or sautéed, baked, stewed, or grilled. Eggplant flesh is sponge-like, and it absorbs flavor easily, so I think it's a great choice for marinades.
Before cooking a globe or Italian eggplant, you'll want to trim off the top. It's not usually necessary to remove eggplant skin, though if a recipe calls for doing that, then there's probably a good reason.
To salt or not to salt eggplant?
Whether or not to salt eggplant flesh prior to cooking is a topic of debate! Salting is thought to reduce any potential bitterness in eggplant.
Some say that ripe eggplant isn't bitter and needs no salting. Others feel that salting doesn't make a difference one way or the other.
Me? I'm pro-salting. I do think it helps to reduce bitterness, and more importantly, I think that it helps to tenderize the eggplant flesh. I almost always salt eggplant before cooking with it, unless I'm making baba ganoush.
Many of these vegan eggplant recipes call for a salting step. Plan accordingly!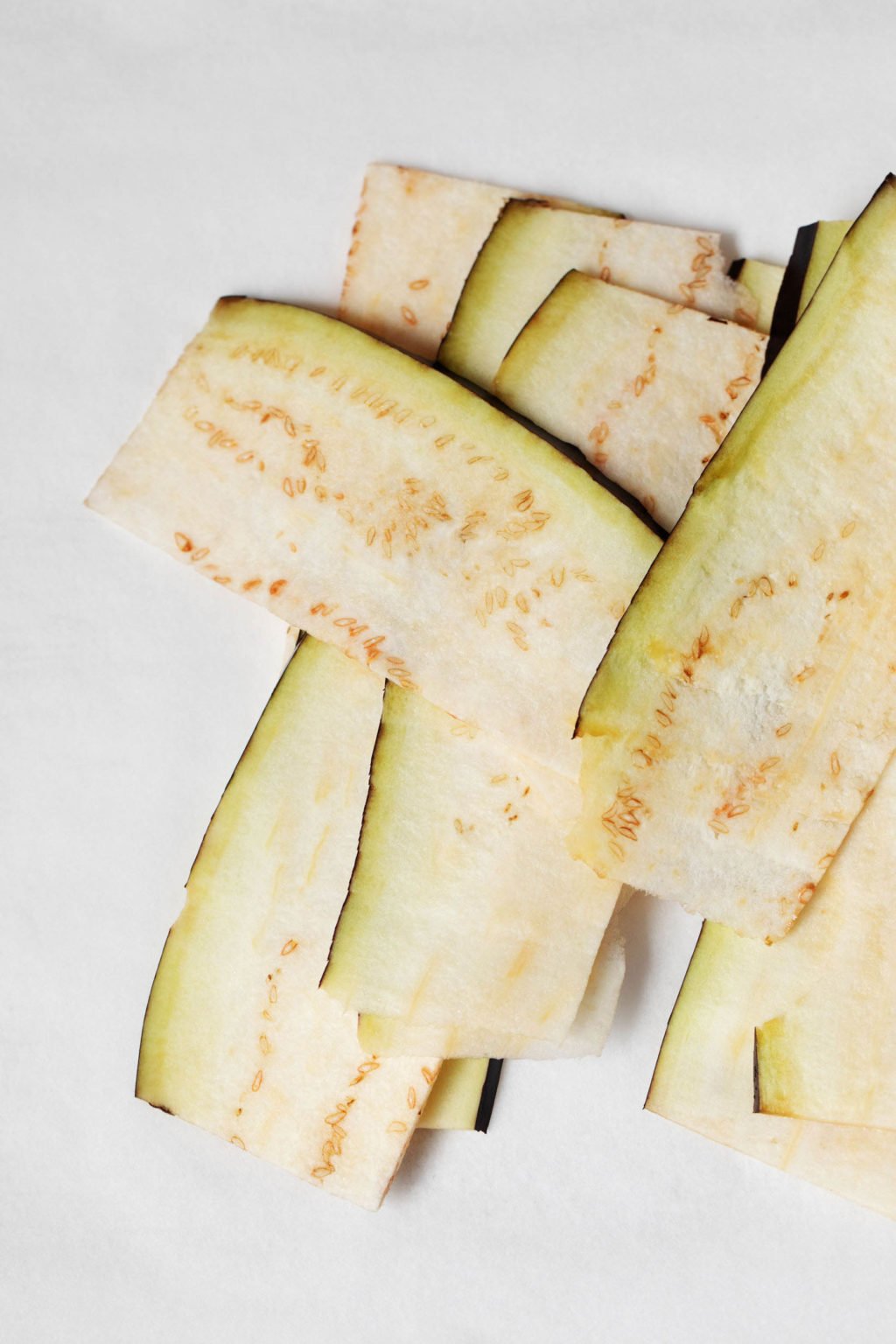 10 flavorful vegan eggplant recipes
Here are ten of my favorite vegan eggplant recipes, which I hope show off the summery goodness and versatility of this nightshade.
There are stews, pasta dishes, stuffed eggplants, grain-based meals, a creative eggplant rollatini, and—last but definitely not least—a vegan eggplant bacon that'll add salty, smoky goodness to all of your late summer BLTs.
Eggplant bacon! Who knew, right? This is an old recipe of mine, which I originally prepared raw, in a dehydrator. Now I make it in the oven, and I prefer the baked version. I think it has a better texture and a deeper, more complex flavor.
You can learn more about making vegan eggplant bacon in this post! In the meantime, here's my go-to recipe.
Speaking of this, a BLT for lunch is sounding really great right about now.
I hope you'll enjoy the eggplant recipes—and all of the joys of late summer at the farmers market!
xo